BLOG Lessons from Growing Too Fast
Lessons from Growing Too Fast
POSTED BY The Prim Pack | Feb 16, 2022 Few things require as much grit, endurance, passion, humility, and commitment as growing a successful business. It is not for the faint of heart. One of the things that makes it so challenging is that you have to be able to see where you are right now and where you want to grow. You have to understand your business's pace.
Most people don't have a problem with this when growth is slow. But it's an entirely different matter when your growth is too fast.
Growing Pains and Why Scalability Matters
Most business owners are eager for growth, so reading that growth can be happening too fast is almost painful. But we can speak firsthand to how growth that is too much and happens too rapidly can be more of a curse than a blessing.
This is something you've seen in other areas of your life. When I was in junior high, I hit a growth spurt a year before all the other girls in my district. All of my practice and training went into playing the post position. For two years, I was competitive, until my freshman year. That's when all the other girls caught up to or surpassed my height. Not only was I no longer the tallest on the court, but I also had no experience with ball-handling or shooting outside the key. I went from this really exciting potential to being mediocre at best.
This is why it's so important to grow at a healthy rate: you're far more likely to have a scalable business with a strong foundation. Otherwise, your business can't maintain its growth, and it will collapse as quickly as my basketball career.
5 Lessons Learned from Growing Too Fast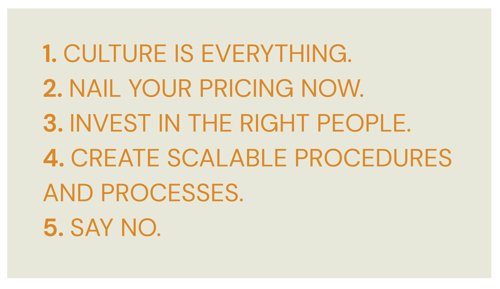 We've tried to be very honest about how we have experienced this kind of unsustainable growth firsthand. We made some very costly mistakes. We've done our best to learn from them, and we are incredibly grateful to now have some valuable lessons and the best team we have ever had in our history. But we don't want you to repeat our mistakes. Here are five lessons on business growth you can take from our story:
Culture is everything. Nothing you do is as significant as caring for your team well and building a

strong culture

, yet few business owners can even define what it is. Your

team's culture

is who you are, how you treat one another, and how you do your work. We have personally seen the greatest success in hiring one person (our incredible and essential

Chief of Staff, Annie

) who owns our culture for our team.
Nail your pricing now. While multiple factors can impact a huge, rapid spark in business growth, one of the most common is simply having your product or service priced too low. While this can result in a lot of business upfront, none of it will be sustainable growth. Eventually, your team will be working for a price that is too low and leads to burnout. Nail your pricing now. You will lose some customers, but you will retain and earn the right customers, and you will become profitable and healthy.
Invest in the right people. When you experience insane, rapid business growth, it's tempting to go on a hiring spree and just hire the first people who come to you. Avoid this temptation at all costs. The result will be hires that aren't compatible with your company. Instead, take the time to hire the right people in the right roles and train them well to succeed. We understand that this process takes time, and it may be time you don't feel like you have. But trust us, it is better to be very transparent with your customers rather than scrambling to hire people who will either quit, cause problems, or be fired in a few months.
Create scalable procedures and processes. You know how you always see reminders to regularly check the batteries in your smoke detectors, or to put together an emergency disaster kit? And we all brush off these reminders, only to completely regret it whenever an emergency actually arises? This is a perfect principle for owning your own business. It's easy to keep doing things the exact same way, only to realize that way is terrible when your company has to grow. Build out processes now that

focus on scalability

so you can keep using them later: training new team members, onboarding/offboarding clients, collecting accounts due, renewing contracts, etc.
Say no. I know firsthand how mind-boggling it is to think about turning down growth opportunities. But there are opportunities that aren't the right fit for your company. Say no to them so that you can be healthy enough to say yes to the right companies down the road.
We Want to Partner With You
We know exactly what is required for healthy, sustainable business growth. We know what it takes to keep your company running, whether you're in the middle of lean times or growth that you can't maintain.
We don't just want to empathize with you. We want to take our experience and expertise and use it to help you grow your business. Interested in partnering with us? Let's get started.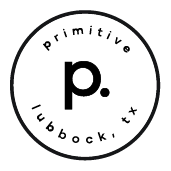 About the writer, The Prim Pack
I'm Buffy the Bison! When I'm not strolling through the plains of West Texas, I am proud to represent Primitive and the digital craftsman it is home to.