BLOG Primitive Employee Spotlight: Annie Gilbert
Primitive Employee Spotlight: Annie Gilbert
POSTED BY The Prim Pack | Dec 21, 2018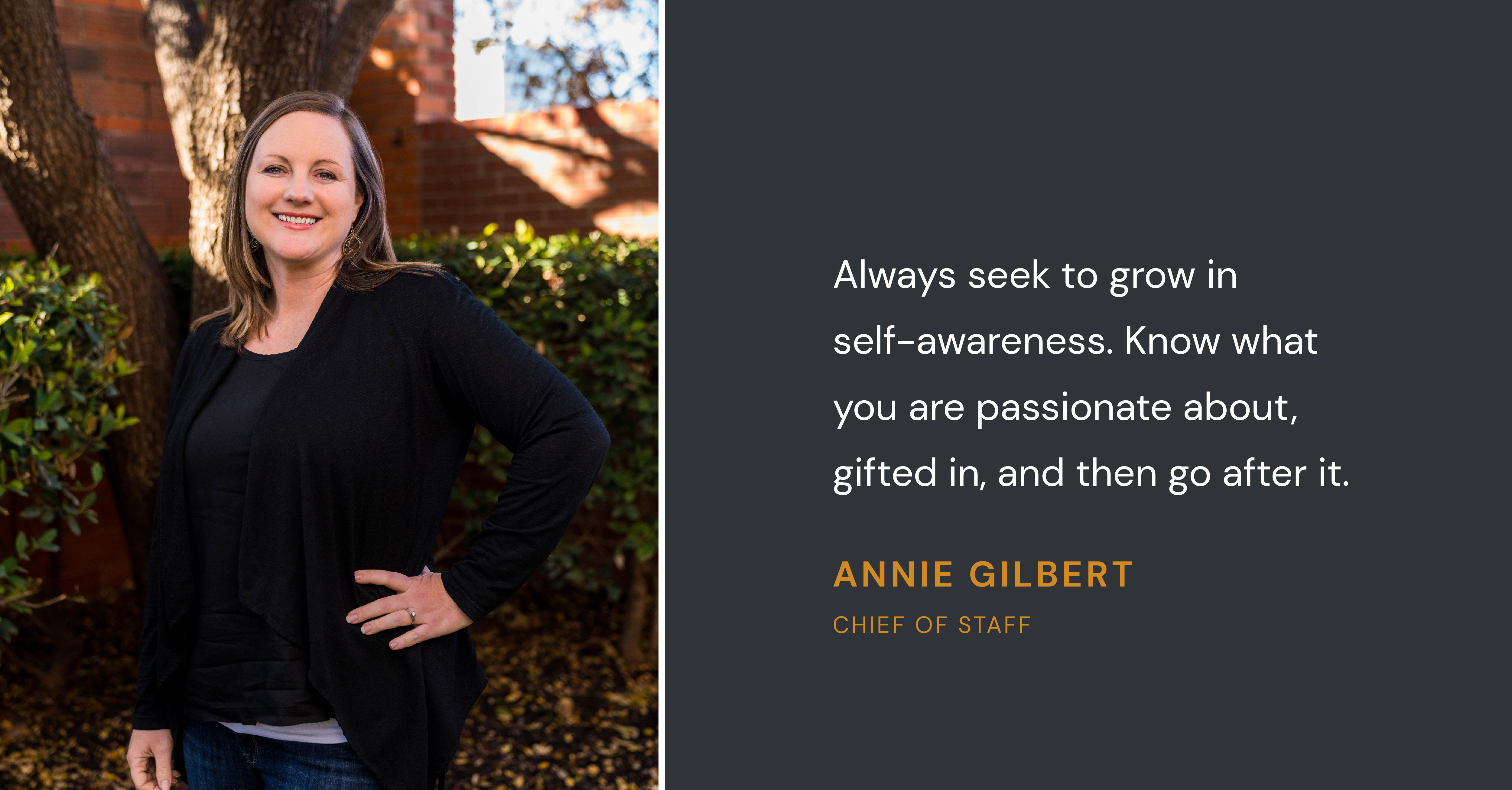 Job Title: Chief of Staff
What is your job description?
My job is to focus 100% on our team and provide them with the resources they need to be successful in their roles.
The avenues through which I do this are:
Creating and maintaining a

culture

that upholds our vision, mission and core values

Providing

accountability

through reviews, feedback and check ins

Collaborating on the human side of

HR

to enhance the employee experience

Recruiting

really great team members and interns who fit the culture we have and are striving to have at Primitive.
What is your professional background?
I am a certified educator and Licensed Professional Counselor in the state of Texas. I have taught and counseled in a variety of settings over the years. I have taught overseas, served as the Director of Client Services at a non-profit and a lot of things in between. My main goal is to help people, so as long as I can do that in a job, I am open to the different shapes that may take.
What brought you to Primitive?
My husband and I have known Kade for a long time. He knew I was a counselor and reached out to let me know Primitive was looking to hire for this position. I was excited about the possibility because I knew of the company and had heard really great things about it. At first, I didn't quite understand how I would fit into a digital marketing world. However, once I read the job description, I was really interested and knew it could be a great fit for me.
As someone with extensive experience in education and has a background in non-profit work, what is it like working with those focused on creating digital solutions?
It is a very fast-paced and exciting environment with a lot of variety, which I love. I have needed to be creative in past positions, but the creativity I am surrounded by here inspires me to think outside the box in problem-solving, relationships and workplace solutions. It's a big jump from teaching elementary art, to managing and leading a staff of 50+ in a digital solutions agency, but in some comical ways, it can be really similar.
How are you able to apply your background to Primitive?
Basically, my role boils down to caring for our people, and that looks different every day. My experience leading a services team and training volunteers enables me to establish processes, such as a strong internship program and ongoing leadership training for our team. I get to support everyone from our C-suite executives to our interns. Sometimes they need to process through a work problem or a conflict with a teammate. Other days I am focusing on good internal communication and intentional transitions that take everyone's experience into account. My counseling skills and experience come in really handy in all these situations.
What gets you out of bed in the morning ready to come to work?
My kids get me out of bed early, but having a job I love makes it easy to be ready to go to work. I love the people I get to work with, and even on the hard days, I am excited to tackle challenges and figure things out as a team. Plus, it doesn't hurt that I know there's hot coffee waiting for me at the office.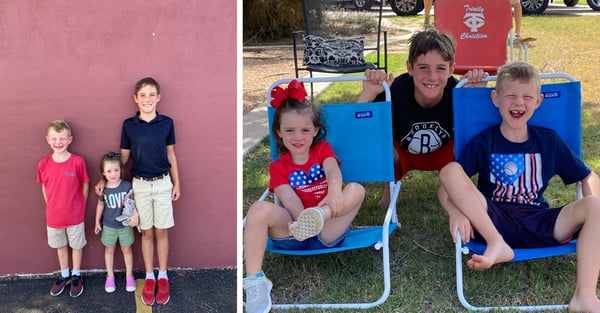 Managing culture with remote employees can be hard. What are three ways you're able to make remote employees feel included?
Remote work is something I'm still learning about, and it fascinates me. I think our local employees can learn so much about structure, productivity and excellent communication from our teammates who have experience working remotely. One thing we do each year, whenever possible, is to bring our remote employees to Lubbock for an all-team meeting that is spread out over the course of a few days. Although we are not able to do that this year, we will still take a few days to engage in team building and team development through a virtual all team meeting.
Consistent connection is essential, and that is what I continue to hear from our remote teammates. We provide opportunities to connect through monthly virtual hangouts, and most recently, our discussions on racial equality and workshops around the CliftonStrengths. Making the effort to get to know each other as humans, not limited to the realm of work, makes a massive difference. I think one of the most important things we can do to help our remote employees feel included is to communicate well and often, so they do not feel out of the loop on what's going on in the company.
What's your favorite project that you've worked on so far?
I have really enjoyed rewriting the employee handbook. It's been a long-term project where I've taken the vision of the CEO, the culture we want to create, and the policies that will make that possible and worked to communicate it all clearly and creatively. It has been a rewarding project because the end goal is to put something in each team member's hand that shows them we care about them first and foremost. It's also really great to have access to in-house designers who can make projects come alive with their incredible skills.
Who's greeting you when you get home from work?
I'm married to Brandon and we have three kids, two boys and a girl.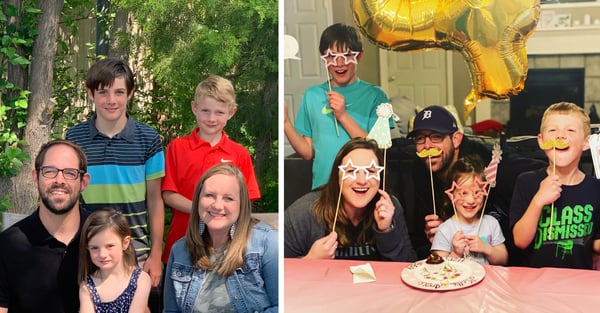 What do you like to do outside of the office?
My husband is on staff at our church, and we love serving there. I can usually be found teaching the two year old class on any given Sunday morning. Family is very important to me, and as our children grow they are involved in more activities all the time. We spend quite a bit of time in the gym watching our oldest play basketball. We love spending time as a family going hiking, traveling and exploring new places with new adventures or just staying in and watching movies together. Recently, I've spent a lot of time in the kitchen trying new recipes and have also taken up gardening. I also enjoy reading, writing and staying active, running and doing yoga.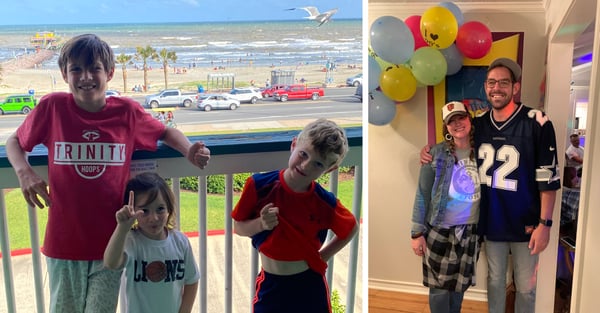 How do you juggle your work and your personal life?
Thankfully, my job offers flexibility to be there for my family when I need to be, and also have a career I'm excited to pursue. I try to consistently set and reevaluate boundaries when it comes to work and home. There are definitely times that it's hard, but with my husband's amazing support, we work together and make a great team. I find that having a plan that gets everyone on the same page and realizing that things don't always go according to that plan is really helpful. We usually sit down on Sunday night and talk about all that is going on that week. I do the same thing at work, prioritizing my to do list and making adjustments as needed.
What's something people at the office would be surprised to know about you?
I'm an open book, so it's difficult to think of something that would surprise people about me. I have two tattoos. I don't like to dance. Speaking in front of a group of adults terrifies me every time.
How do you define 'success' in your job?
During my first All-Team meeting after being hired on at Primitive, I told the team that because this was a new and different role for me, friends and family were constantly asking me how my new job is going. Every time someone asked me, I felt confident in saying, "I love it." (If I could ask someone to design a job that perfectly fit me, this would be it.)
Success in my job would mean everyone at the company being able to say the exact same thing for themselves.
Words of wisdom to pass along?
Always seek to grow in self-awareness. Know what you are passionate about, gifted in, and then go after it.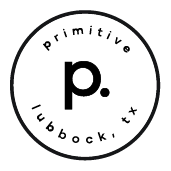 About the writer, The Prim Pack
I'm Buffy the Bison! When I'm not strolling through the plains of West Texas, I am proud to represent Primitive and the digital craftsman it is home to.