BLOG Search, Social, or Video: Which Digital Ad Channel is Right for You?
Search, Social, or Video: Which Digital Ad Channel is Right for You?
POSTED BY The Prim Pack | Jun 29, 2022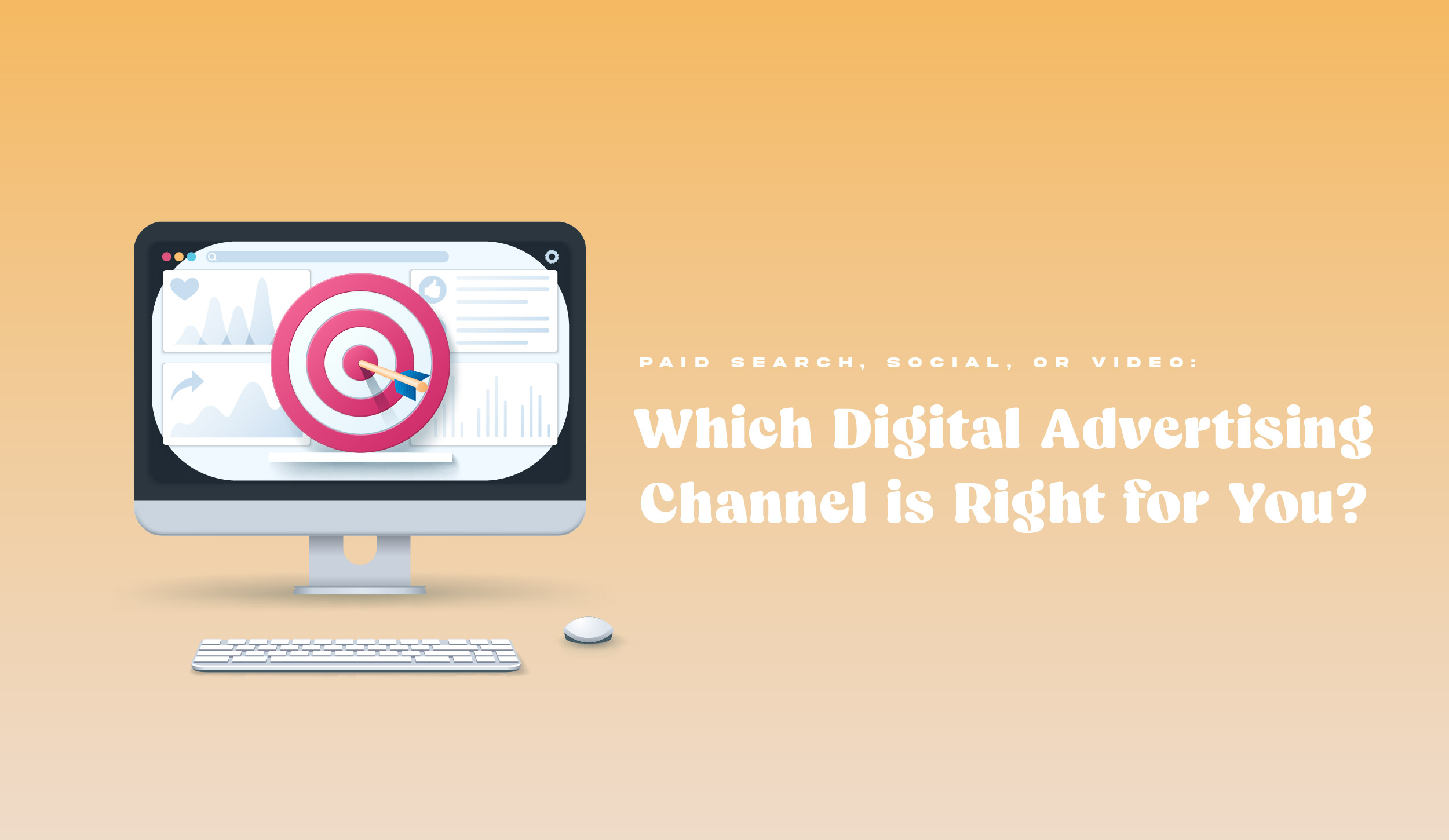 We are officially past the point in marketing history when running digital advertising campaigns is something your business should just consider. Now, it's a non-negotiable part of running any sort of successful digital marketing campaign.
Many business owners are tempted to think of digital ads as a separate thing from their digital marketing strategy – something they'll include if they think about it or if they have a little extra in their budget to spend.
Instead, digital advertising should be considered an integral part of your overall digital marketing strategy.
Think about it like ice cream: if you take a banana split and nix the bananas, the sauces, or the whipped cream, you just have scoops of ice cream with some nuts or sprinkles. It's not the same. Trying to create and execute a digital strategy without digital advertising is just scoops.
If you want the really delicious results, you've got to include digital ads.
What are the Different Digital Advertising Channels?
In order to build out a successful digital advertising campaign, you've got to know what you're dealing with.
You could spend a ton of time on the internet, researching your options in regards to the kinds of digital ads you can use, as well as where you can place them.
Or…you could just keep reading to learn how to effectively build out digital ads that connect you with prospects and help you grow your business.
First things first. We're going to give you the scoop on the different digital advertising channels available to you.
Paid search: These are ads built through Google Ads manager, and appear when a user conducts a specific search. There are three main types of Google Ads:

Display ads that appear at the very top of a screen. These can be a

Google listing

, a shopping ad, or an image. Almost exclusively, they will appear near the top of your screen.
Search ads that appear within search results. Usually, these occur at the beginning of search results and have the word "Ad" next to them. Sometimes you will see them at the end of search results on page one, right above where you would click to go to page 2.
Video ads that appear on YouTube. We are diving more deeply into these below.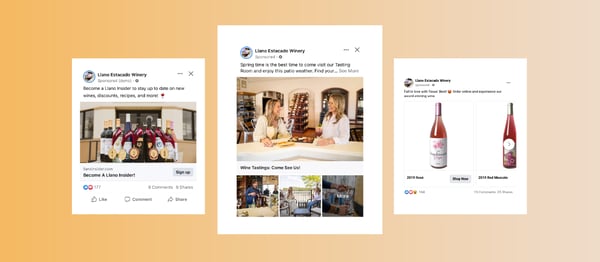 Paid social ads:

There are almost as many types of

social ads

as there are different platforms. The platform you will choose depends completely upon your customer, but the most common are Facebook, Twitter, Instagram, and LinkedIn.

Sponsored pages: a sponsored page post encourages new likes or followers to an account.
Sponsored posts: sponsored posts appear within a new viewer's newsfeed and can incite engagement or clicks to a specific link.
Sidebar ads: a display ad on the sidebar of a platform like Facebook or LinkedIn that takes a user to a specific page on your website (usually a landing page with a form to fill out to receive an offer or demo).
Carousel ads: these occur within a newsfeed and allow you to add multiple images to an ad. Carousel ads are great for visuals and the inclusion of different links or landing pages.
Videos: a video ad on social can be a sponsored story (like on Instagram) or a video within a newsfeed.


Video ads: Because Google owns YouTube, you can purchase video ads as part of your Google Ads Campaigns. You see these ads anytime you watch a video on YouTube that is longer than a few minutes. The most important consideration with these ads is to pack everything you can into the first five seconds, otherwise, most viewers will skip back to what they are watching as soon as they possibly can.
What
Factors Help Me Decide the Right Choice?
Trying to decide which digital advertising channel is best for your business feels a bit like staring at all your options at an ice cream shop.
Honestly, all of them are good. You can't really go wrong with ice cream. (Unless it's sherbert, but if you consider that ice cream, we have much larger problems.)
But just because the options available to you are good, that doesn't make them the best choice for your business.
So, how do you decide which channel or channels best meet your digital ads needs? Glad you asked. We're covering that and more below. (But please, feel free to pause your reading and grab a scoop or two of ice cream. We'll wait.)
Your customer. You can have the best business model in the world, with the slickest

branding

, and the

healthiest culture

. But if you don't invest in knowing your customer inside and out, none of it will ever be effective. Your customer should influence every aspect of your digital marketing, particularly your ads.

Where do they spend most of their time online? Advertise there.
Where do you anticipate they will be in their buyer's journey when they encounter this ad? If you're running an ad on paid search to attract new website visitors, that is going to require a very different message and approach than a social ad to retarget people who have been following your brand for a while.

Your budget. Yes, you need to spend money to make money. But if you outspend on your digital ad campaigns, you won't be making money, you'll just be covering expenses. You need to have a budget for digital ads, and then you have to stick to it. Some things that impact your budget include

Size of your target audience
Desired keywords
Length of campaign
Competitors

Your desired message or method. In the same way that different content platforms have different messages and methods, so too do your different channels for digital advertising. Are you wanting to show your audience how your software management works? Do you want your audience to have a glimpse of the difference after your company puts on a new roof? These ads require visual methods, like photos or videos. Knowing how you want to deliver your ad helps you decide which channel is the best fit for you.
Your intended outcome. The action you want your audience to take influences the kind of ad you create. If you're wanting to drive sign-ups for a free demo of your project management software, then you might want to focus on LinkedIn ads geared toward marketing directors or account managers. But if you want to increase the size of your contact database for the same software, you would want to focus on paid search ads where people are searching and considering options. If you want to show what your software is like in action, then a video ad or an ad on a platform like Instagram stories would help you better connect with your intended audience.
Best Practices for Running Digital Ads
Regardless of which digital advertising channel you choose, there are some best practices that will ensure your ads are effective, successful, and delightful.
Like many aspects of digital marketing, digital advertising is a surprisingly mixed bag. In some ways, it feels incredibly simple and straightforward: connect with your audience where they're already spending a ton of time, grab their attention, and then direct that attention to a specific space on your website.
But in some ways, planning and executing a digital advertising campaign feels overwhelming. How much should you budget? How do you really know which channels will provide the greatest return on investment? How do you pack the right message into such a small space? Are the goals and objectives you've outlined actually going to contribute to growth and profitability?
You could spend countless hours trying to sort all of this out, researching the best trends, making and learning from mistakes, testing new platforms, etc. Or, you could find a partner.
If that feels more up your alley, we would love to partner with you. We run digital ads for every single one of our digital marketing clients. We know this industry, we've seen firsthand what works, and we have a full team of creatives in our arsenal to create the most engaging and delightful ads.
To share what we know and have learned in our past decade as a digital solutions agency, we've put together a free guide to digital ads. Grab yours below!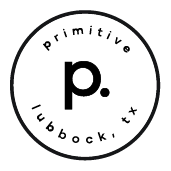 About the writer, The Prim Pack
I'm Buffy the Bison! When I'm not strolling through the plains of West Texas, I am proud to represent Primitive and the digital craftsman it is home to.