Developing a Website Design Strategy for 2021
Posted by Lacey Wilcox | January 20, 2021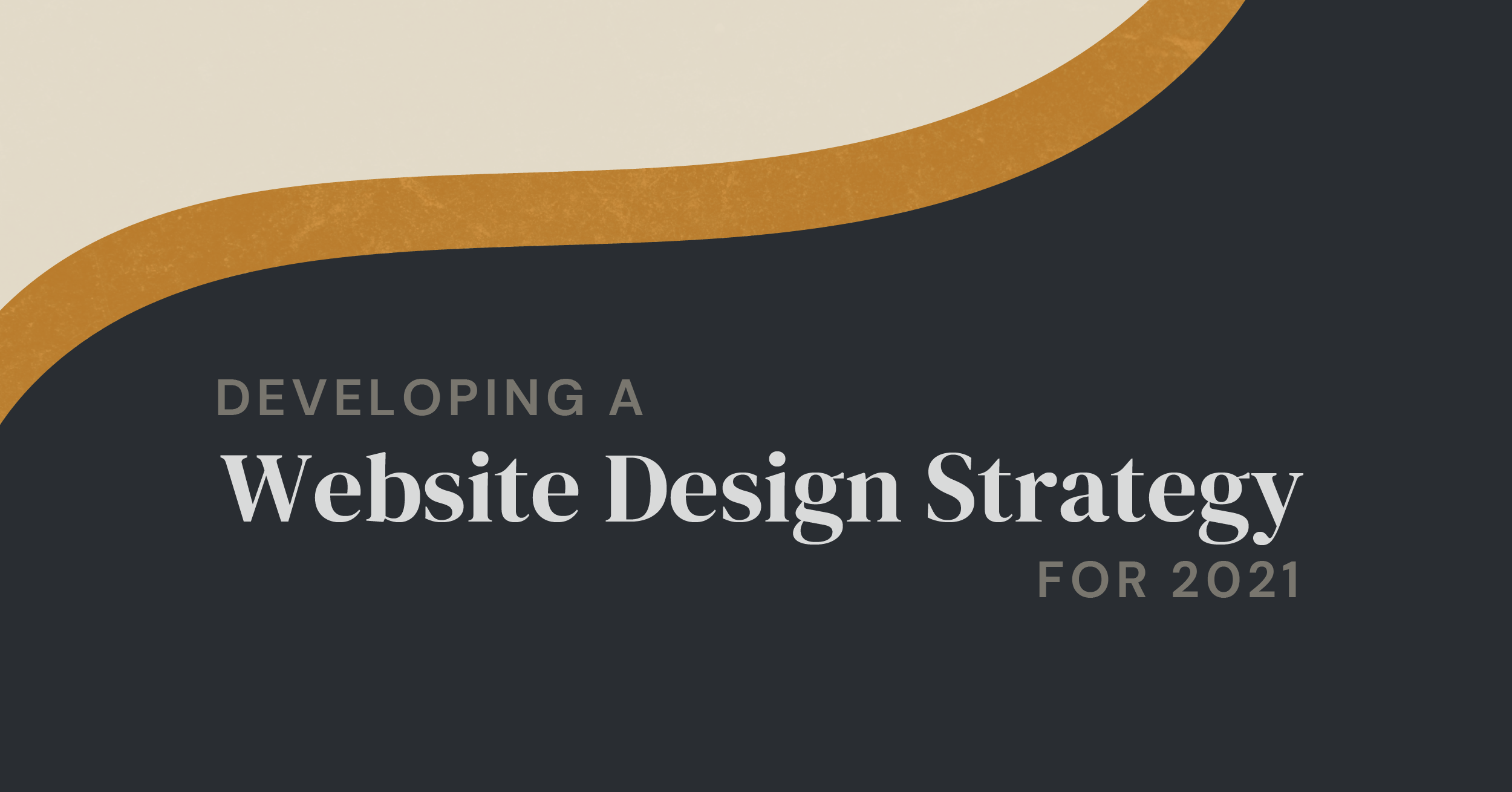 We can probably all agree that there were multiple lessons that came out of 2020 that we will not soon forget. (Raise your hand if toilet paper is on every grocery list from here to eternity.) But for business owners, one of the biggest takeaways from the past year is the importance of being able to conduct your business digitally or virtually. This doesn't mean your well loved mom and pop hiking store needs to move solely online and shut its doors forever. It just means that you need to have the ability to run your business online if the need arises.
We're not going to make it sound like creating a digital operating plan for your business is something that happens in a couple of steps. It's definitely a process that involves a lot of moving parts, but the absolute most important component of that process is your website. Throughout this year, we're going to share blogs, offers, and more that help your business grow and thrive online. (Make sure you subscribe and never miss a post.) Today, we're going to focus on what you need to do to develop a website strategy to help your business run just as well digitally as it does physically.
Focus on Your User
While many things in the world of web design and digital marketing seem to change overnight, this is one that stands the test of time. Before you put anything online, it needs to be vetted through the lens of your ideal customer (or what we like to call your buyer persona).
If you're reading this blog, there's a pretty good chance that you already care about your visitor's experience on your website, but this is going to have to become hyper-focused as things continue to move even more online. When you know your ideal customer inside and out, you have a great sense of the information visitors will want to find as soon as they come to your site, and can create a website strategy that makes this information accessible. You'll also be able to immediately answer initial questions first time visitors or prospective customers will have – that way they'll have more time to spend on other areas of your website. The result from this intentionality is that your site is helpful, intuitive, easy to use, and very likely to hold visitors' attention.
Build Out a Keyword Strategy
Your user needs to be your primary focus, but after that, your secondary focus needs to be upon the keywords and phrases your ideal customer would use when searching for your business. A tool like SEM Rush or Google Keyword Planner can help you identify a specific set of keywords and phrases to include throughout your website, as well as where to place them so that you have the greatest chance of performing well in search.
(Note: this is a pretty intense topic, one that can't be covered well in a paragraph or two. For more in-depth, helpful information, check out our blogs about on-page SEO factors and the relationship between SEO and web design.)
Create a Site that is Adaptable
Once you've identified what it takes to make your site as user-friendly as possible and well poised to rank highly for keywords, you've got to focus on what you need to make your website design adaptable.
In a situation like COVID-19 (and any situation that could arise in the future), it's imperative that you have the ability to adjust and change your website quickly, easily, and effectively. Keep your pages and your copy up to date, share your hours of operation, and make it clear how you're handling a specific situation, such as COVID-19. For example, if your mom and pop hiking store has to shut its doors for a period of time, make it clear and simple for visitors to see how they can still buy from you during this time: Is your inventory available on your website? Could users text someone on your team, place an order, and then pick it up curbside? Do you offer delivery for people out of state who have used your store before and want to support it again? Your website strategy needs to include a plan for how your site can evolve and change as needed.
Be Personal
A huge risk that comes from focusing on your digital presence is that you lose some of the connection that comes from person to person interaction. If there's anything that has been clear from the past year, it's that you will never regret being kind and genuine with your audience. Consider having a video on your homepage welcoming visitors and helping them know what to expect from your website and your company. Include real photos of you and everyone on your team so that prospects and customers can put a face with a name. Take the time to make it clear what you do, how you do it, and why it matters. Be professional, but don't hesitate to be warm and conversational as well.
Create Digital Options (for Everything)
Whether it's a signup form for your soup kitchen, a free class you offer to subscribers, or shopping options for your beloved hiking store, make sure you have a digital solution for every aspect of your work. This ensures that even if you can't greet customers face to face, you can still conduct business with them at any time.
Some examples of things that need to have digital possibilities:
Signup sheets, payment forms, etc
Classes or gatherings
Calendars of events
Reservations/appointments
Consultations/demos
Shopping/curbside pickup

Any documents needed for sales
Invest in Your Website, and Your Business
We understand that it is a little overwhelming to think about creating an online option for many aspects of your business. It feels like there is so much to do at once. That's where a method like growth-driven design (GDD) can serve you and your business incredibly well. The idea behind GDD is that your website is a constant work in progress. Each month, we work with our customers to identify which aspects of their website they want to update: new pages, tweaks to current pages, or the addition of a video, landing page, etc. The end result is a website that is always poised to meet the needs of your customer and your business, and you and your team never feel overwhelmed trying to keep up with updates.
Want to find out about what growth-driven design can do for your business? Click the button below to learn more!