BLOG Primitive Employee Spotlight: Lacey Wilcox
Primitive Employee Spotlight: Lacey Wilcox
POSTED BY The Prim Pack | Apr 2, 2021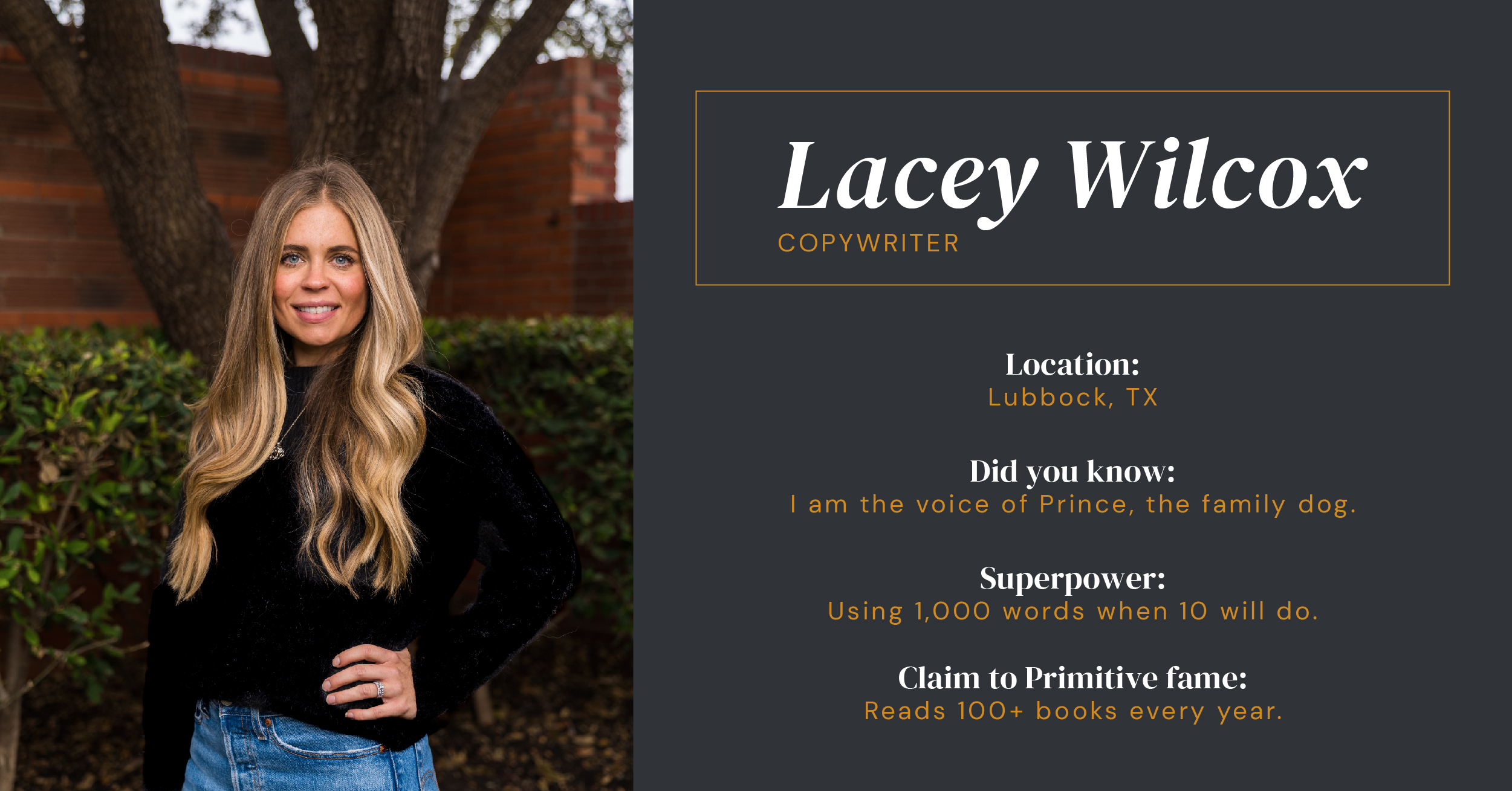 Name: Lacey Wilcox

Position: Copy ArchitectLocation: Lubbock, Texas

Job Description:
I create copy for Primitive. My work is primarily focused on long-form copy, like blogs and offers, which is good, because my superpower is using 1,000 words when 10 will do.
Tell me a little bit about your background.
I actually graduated college with a degree in elementary education and a minor in Spanish. But, I've always loved writing: whether it was a diary for my nine-year-old self, my junior high book reports, or research papers in college. That love of writing eventually found its way online, and Primitive has been such an incredible opportunity to use it.

What are your favorite parts of your job?
I enjoy writing and communicating, and using those tools to help businesses grow. But my absolute favorite part of this work is our team. It's impossible to say enough about how talented, committed, funny, kind, and driven they are, and how well that is reflected in their work. I'm not exaggerating when I say they are the best.
Have you noticed any career/skill overlap between when you were a teacher and your current position? Drastic differences?
I tie way fewer shoes now than I did as a teacher, and it's really nice to not have to eat lunch so early each day. But I always think of my work as a copy architect as its own form of teaching. Some people who come to our website know exactly what they want or need and just want to be able to contact us as quickly as possible.
But others aren't even sure what they are looking for – they need content that teaches them about digital storytelling and strategy, what components are a must for their website, or how custom software might solve their problems.
What are some challenges you've faced since starting with Primitive?
I always joke that I'm not smart enough to work here, but sometimes that joke feels more like reality when I'm trying to share about something related to software or web development. The amount of time I spend researching that content and bugging my teammates with questions could be its own sitcom.
What do you like to do outside of the office?
I really enjoy cooking for my family, and we've always dabbled in having a garden. It's evidence of God's grace that anything has ever grown because I'm notorious for killing plants in my house. We really enjoy putting together charcuterie boards, and this winter, we experimented quite a bit with recipes in our new air fryer. So far, the family favorite is cinnamon sugar donuts. I'm definitely a huge Avengers nerd, and while I can usually convince Kade and Selah to watch with me, I always know Kase is up for some Marvel action.
We also love to travel any chance we get. The city of Boston is a family favorite, and we go to the beach every year with friends. My kids started the tradition of doing a polar bear plunge anywhere we go that has water. That's a lot of fun when it's warm water off the Gulf of Mexico, but it can get pretty chilly when you're at Yellowstone Lake and the water is 30 degrees! We have a goal of visiting every national park before Selah goes to college. We just reached our 10th park this spring break, so we have 50+ to go!
Word around the block is you're an AVID reader, and that's putting it lightly! What are some of your favorite books that you've read lately, and of all time?
I'm going to do my best not to use 1,000 words here. I absolutely love reading. I primarily lean towards novels, but I will literally pick up almost anything. I try to read 100 books a year, but if I'm stressed, that number goes way higher ;).
Obviously, my all-time fav is Harry Potter and the Sorcerer's Stone (I love them all, but there's just something so magical about the first one). I've been on a re-read of Jayber Crow by Wendell Berry, and I think I enjoy it even more than I did in college. Nobody can create worlds quite like J.R.R Tolkien or George R. R. Martin, and I'm also reading Dune by Frank Herbert. You'll have to get Zane Ennis's impression to see if the movie will be any good or not, but the book is just a really great example of storytelling from different perspectives, building a unique and intriguing setting, and creating an arc that holds up just as well in its past as it does its future.

What is something not everyone knows about you?
(Keep in mind that my background is in teaching children.) Three years ago, Selah finally managed to convince Kade to buy her a dog (yes, it was absolutely one of the best decisions we ever made). But from the day we brought him home, I've always talked for Prince. It started as a way to delight my kids, and then just became the norm around here. (We're only slightly crazy, I promise.) I can't tell you how many times a day my kids ask, "What does Prince say?"
I've always wanted to write chapter books for kids, and someday we hope to turn all of these crazy conversations into a book.
Who do you admire?
Too many people to count. I admire Kade for his tenacity, optimism, and generosity. My kids are so kind, innocent, and hopeful. I admire my parents because they worked so hard and were so intentional in raising my sister and me. My grandma is the most talented artist, and I love how she's still focused on getting better at her craft. I also really admire John R. Erickson, the author of the Hank the Cowdog series. My kids and I had the opportunity to listen to him a few years ago, and one of the things he shared is that he always wakes up early to write. If you're a rancher, that might mean you need to get up at 4:00 in the morning to write. That's the kind of dedication I want to bring to anything I do.
How do you stay motivated?
I don't know that I have a great answer to this question. Everyone has times when they would rather stay in bed or just watch Netflix. But I think something that has helped me is that I genuinely enjoy the things I have to do: I love to help my kids with their school, and I love getting to contribute to Primitive. It makes it easier to want to show up and do the work.
Do you have a favorite quote or mantra?
I used to have a page on the Notes app of my phone where I wrote down quotes I like, and my Kindle is full of passages I've highlighted, but one thing I think about often is "Gratitude leads to excellence."

What's your secret to success?
I think there are far better sources for answers to this question, but I believe gratitude is so critical and can help develop other worthy qualities. When I am truly grateful, I am more likely to be humble, work hard, give generously, be more patient and understanding, steward my gifts well, and take more delight in what is right in front of me.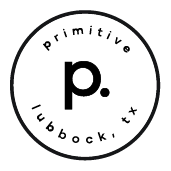 About the writer, The Prim Pack
I'm Buffy the Bison! When I'm not strolling through the plains of West Texas, I am proud to represent Primitive and the digital craftsman it is home to.