Primitive Employee Spotlight: Kade Wilcox
Posted by Admin | July 30, 2020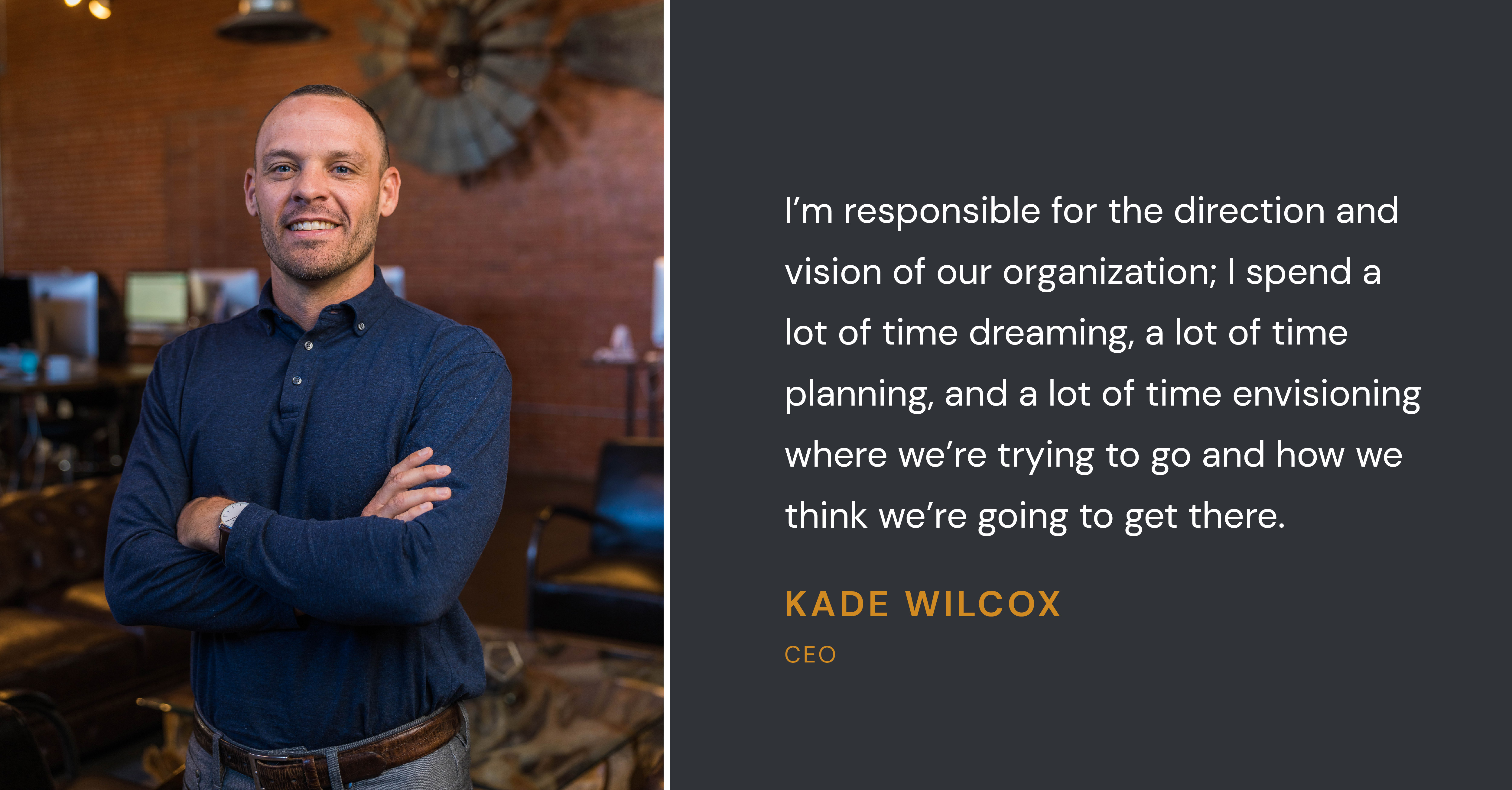 Name: Kade Wilcox
Position: Co-owner and CEO, Primitive
Location: Lubbock, Texas
You wear a lot of hats! Tell us what the role of CEO at Primitive entails?
I'm extremely involved in sales and it's something I spend a good deal of my time on. However, on top of that, I'm responsible for the direction and vision of our organization; I spend a lot of time dreaming, a lot of time planning, and a lot of time envisioning where we're trying to go and how we think we're going to get there. That's probably one of my favorite things to do.
I also, whenever possible, try to speak into our culture. Jerred, co-owner and Chief Technology Officer of Primitive, and I care a lot about the culture of our organization, who we are, what we believe, how we do business, how our team works, and how they feel about working here.
Building relationships and building the future of our company – I enjoy all of it.
Would you say being a salesman and a dreamer are two fundamental backbones behind Primitive's beginnings?
For the first several years we were really intentional anytime we picked up a new client; we really wanted to make sure that we could serve them well, and that the relationship was beneficial to them before we went out and tried to acquire more business.
When we started, we didn't even have a name for the "business." It was more of a side hobby or side hustle for supplemental income that we did for several years. But, almost a decade later, here we are, pushing over 50 employees and getting the chance to serve a lot of really fun people and their businesses. In many ways, it feels like we're just getting started.

What made you so confident and that you guys had a recipe for success?
I think a large part of it had to do with the fact that we weren't afraid of failure so we weren't afraid of trying something new. We were really motivated by the fact that these businesses were spending their hard-earned money on us, while simultaneously being of the mentality that we would rather die than lose.
So, because we were so committed to making it work, a natural side effect of it all was to have a lot of confidence. Our clients are trusting us to help support their businesses and we're going to do everything we can possibly imagine to help them be successful.
So when did you take it to the next level? Would you say it was when Jerred came on board?
A couple of things happened, and it all kind of merged together around the same time. To sum it up, we started thinking about Primitive in terms of a real business.
How do we build out our organization? How do we start to define our organization in terms of systems and processes? How do we communicate and manage our customers, the technologies and tools that we use? How do we start building out a team?
But, to bring the story back a step, I was doing CrossFit at the time and so was Jerred, but we didn't know each other. We went to the same gym and the same church but the opportunity to meet never came up. But, one day after a workout, I overheard Jerred talking to someone about a website, and I remembered we had a customer who had website needs but always outsourced those needs to freelancers.
And to be honest with you, when I look back on that time it was a miserable experience. Everytime I would sell a website it would reflect on my relationship with the client. I had no control over the timing or quality of the projects which meant a lot of them went south, and that was on me.
But, when I overheard Jerred and this guy talking about websites, I thought to myself, "I wonder if Jerred wants to partner."
Within a week or so, we were doing our first project together... and it was a home run. He was exceptionally good. And after a little while we hired a business coach, Jason Blummer, who eventually asked us this amazing question.
"Are you better together or apart?"
We racked our brains trying to figure out how to answer that question and in no way did we ever determine that we're better apart. So every time we uncover something deeper or think through something critical, we ask that question. The answer has and always will be, "No, we're better together."
That event happened in 2014 and ever since then it's been an upward trajectory and a remarkable partnership. He's a really good friend, and I think we're perfect together for partners.
I'm the balloon, he's the string.
How would you describe the type of work Primitive does?
Literally, we help companies grow.
I think one thing that makes us different, with all due respect to other marketing companies, is we feel, by no means, that we're perfect. What does differentiate us, however, is that we feel as though we have a greater understanding of how organizations and how businesses function.
So, when we work with our customers and we're dialoguing with them and collaborating with them about their business goals or their challenges or their unique opportunities, we're not pursuing it from a marketing perspective. We're pursuing it from the same position they are, which is as business owners and as business people.
What keeps you hungry to grow Primitive?
That's a good question. I am from Nazareth, Texas – a very small, rural community – and I saw hard work and commitment modeled for me my entire life. I love working, and working hard, and I think that's why Jerred and I have gotten along so well.
I think one thing that motivates both of us is we don't want to just be the people who are always talking about what we want to become or what we want to accomplish or where we want to go. We want to do, and do right.
What does the future of Primitive look like?
This is probably obvious, but we want to keep growing — not just for the sake of growth, but because growing creates a tremendous amount of opportunities. The more sophisticated you are and the more expertise you have in something, the greater the opportunities are to work with all different kinds of clients.
We take a lot of pride in working with "mom and pop" shops all the way up to massive companies, and everything in between. We feel as though that mindset has made us better because we can empathize with a variety of different types of businesses and sizes of businesses, along with the unique goals and objectives those businesses have.
The future of Primitive means truly partnering with organizations to accomplish their goals, solve their challenges, or capitalize on the opportunities in front of them with digital solutions.
How would you describe yourself in one sentence?
I'm serious, I like to work, and I'm pretty boring, but I'm a simple man and absolutely love being with my family.
How do you stay motivated?
The people around me motivate me. They work extremely hard and they're laser-focused on setting a standard of hard work and excellence. It's easy to be motivated when you're surrounded by really talented people who love their work, care about their work, and who are really talented and invested in working hard.
What would you say that you like to do outside of the office?
That's pretty simple. I like watching sports and I love being with my family. Jerred and I, and our families, have a place called Primitive Pines, and I absolutely love going there.
It's not primitive but it's surrounded by pine trees, so there ya go.
What is your favorite movie?
If I had to say my number one favorite movie of all time I'm going to say "Hoosiers."
Even though "Hoosiers" would take the top spot, there's a lot of really good ones. "Braveheart," "Gladiator," "Rudy," and even "The Greatest Showman" are up there. For a dreamer, "The Greatest Showman" is just epic.
How would you say you juggle work and family?
I don't want to sound like a martyr or anything because no one is forcing us to do it. But I really enjoy working. I think the benefit of the work I do, being the kind of work that it is, is that it can be done virtually. You can go to work early, leave early, work late, work on weekends, from practically anywhere, etc., as long as there's access to an internet connection.
So, consequently, the work I do provides me with a lifestyle that's both freeing and flexible. That alone makes it easier to balance work and family.


What is something that not everyone knows about you?
Most people don't know that I have a twin brother and I think it's actually most shocking when people see us side by side. I think the older we get, the more we look alike. But, truth be told, we don't look alike, we don't act alike, and we don't think alike.
Out of curiosity, who's the older twin?
I am by five minutes.
What would you say is your secret to success?
It's not magic. There's no substitute for hard work. I think the biggest catalyst to our success has been that we're not afraid to work hard and to figure it out. So when I think of what has made us successful or what have been the elements of our success, it's that God has been very generous to us, and we're not willing to be outworked by anyone.
We surround ourselves with an incredible team of incredibly talented and smart individuals. And we've also been willing to eat crow and own up when we're wrong and when we mess up. We learn from everything.
All of those components are what make us successful — it's not a secret.