Finding Answers in Big Sky Country: Financial Firm Research & Branding
Posted by Danielle Holmes | August 29, 2022
About Allied Investment Advisors
Allied Investment Advisors is a Billings, Montana, based financial firm. They opened their doors in 2009, at the height of the financial crisis. They not only stayed open, but grew. Allied did this by focusing on one client, one relationship, at a time. Their personal success recipe: expertise + attention to detail + caring for people.
They knew that to continue growing they needed a fresh look and a better understanding of their clients' needs.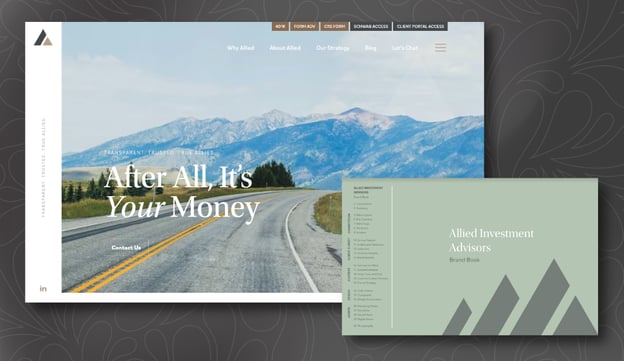 The Vision
When they approached us, they were ready for a complete rebrand. And they knew that a rebrand without research wouldn't work. The firm was stable, retaining clients, but they wanted the insight to grow their client base. So, before any new website, relaunched social, or upgraded newsletters, they went through a research and positioning project with Primitive.
The vision for the research project was to start with listening—listening to all stakeholders: Allied's team and their clients. And to let those initial insights lead the research direction.
The Brief
Stakeholder listening
Client research
Competitive analysis
Redefine brand
Create new brand color palette
Tools to tell their story
Use findings to inform new website and social media
Keep their Montana roots
The Team
Account Manager: Jeter Cotton
Research & Design: Jeremy Giovannetti
Our Approach
This project started with listening. Allied believed that the time they put into relationships with clients was key to client retention and confidence. When we listened to clients, we heard that while the relationships were important, performance mattered more.
These initial insights gave us a focus for competitive analysis reports and a direction to take secondary, in-depth client interviews and client surveys. After using qualitative techniques to evaluate interviews and quantitative techniques to look at data for our competitive analysis reports, we discussed initial findings with Allied.
At this point, one of our designers began work on color palettes, typography, and other visual assets for the brand.
The visual assets, the competitive analysis, takeaways, and writing and strategy guides were delivered in a beautifully packaged brandbook.
This process was successful because Allied was able to trust Primitive's expertise and collaborate with us.
Deliverables
Brandbook
Competitive Analysis
Website Strategy
Social Media Strategy
Highlights
How to Use a Brandbook
We always lead with a section on how to use the brandbook. Because a brandbook isn't helpful if you don't know how to use it. The Allied brandbook has guidance for designers, strategists, and copywriters.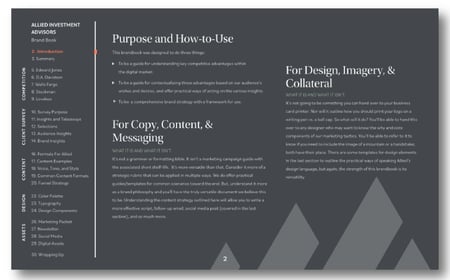 Client Survey Takeaways
This research revealed what clients needed that they weren't getting from the existing website and handouts. The key takeaways were about education. Clients wanted to see proof of performance and Allied's expertise.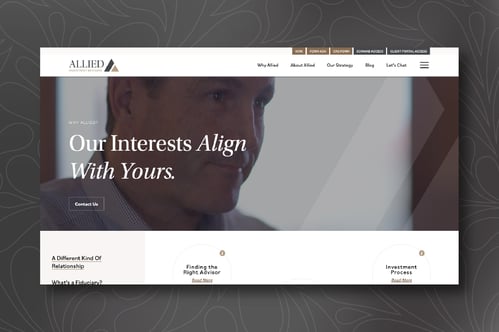 Truly Curious Clients
Allied wanted to know what their clients needed. They were willing to accept that their assumptions about their clients were off. This curiosity allowed our team to listen to all stakeholders and pursue a research direction that challenged Allied's beliefs about their clients.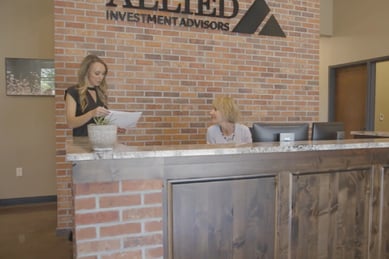 Informed Strategy
This research and positioning project was the first step in a client relationship with Allied. We were able to use the insights in this research to inform web design and social strategy. Using analytics and tracking lead generation, we were able to see the pay off. We love witnessing client wins!
Winning A Gold ADDY
That website, informed by our research, went on to win a Gold ADDY for overall website. That award evaluated copy, design, strategy, and development. We personally think this site won because our research helped us fully know the client. And that knowledge helped them trust us to innovate.
Client Take
Allied was an engaged partner in the research and web design process. They had this to say about their experience with Primitive:

"There was never a request that seemed out of bounds nor did we feel like we were requesting too much of the team. There were always clear goals set-out for each month of work, these were discussed with us to get our feedback and thoughts and then Primitive always delivered on the roll-out laid out for each month. Our feedback was always welcome and valued throughout the process."
And the stats from the new website speak for themselves:
40% increase in users
44% increase in pages viewed per session
100% increase in session duration
118% increase in page views