Everything is Better in Texas: Wines & Websites
Posted by Danielle Holmes | July 21, 2022
About Llano Estacado Winery
Llano Estacado Winery is a Lubbock, Texas, based winery. They're an established, award-winning brand. You can find their wines in stores across the country. Their market sales have grown to over 160,000 cases annually, with anticipated expansion. They run a tasting room on-site, use the winery as an event venue, have a cult-favorite wine club, and a new line of fruit wines.
The Vision
A UX friendly website that shows Llano wines for what they are—sophisticated, world-class, and a taste of Texas.
The new website tells the story of Llano. Not just their on-paper, recorded story, but the story of who they actually are. They are a winery that flipped the narrative of West Texas. West Texas is known for oil, cattle, and Texas Tech football. Their vision and persistence gave a new note to West Texas—award winning wines that you can savor with a bowl of chili or tacos.
The website reflects the beauty of persistence, vision, talent, and spirit that creates a new piece of cultural identity.
The Brief
UX focus

Mobile-first design

Highlight new and classic wines

Work with existing e-commerce partner

Showcase winery as venue and tasting room

Elevate the brand

Keep their Texas roots
The Team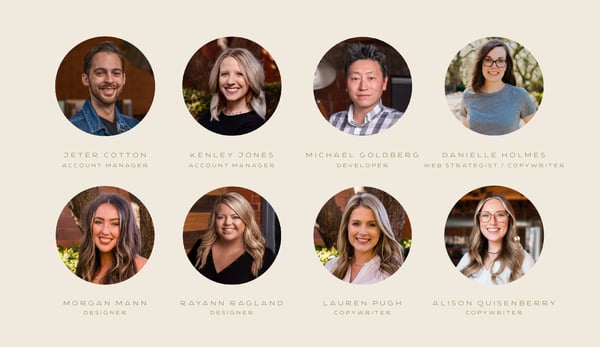 Our Approach
We're a team-led agency. And what that means is our creatives—copywriters, designers, and developers—have equal say in how a project comes together. And our account managers make sure we meet deadlines, have the experience to speak into strategy, and have relationships with our clients.
For website design and development, Primitive uses an agile process and a GDD approach. GDD stands for Growth-Driven Design. And basically, it means we build one page a time, with a launchpad that can stand on its own and quick-launch. You don't have to wait six months or a year to launch your site. If you're curious about our step-by-step process, read here. And if you're wondering why GDD, this and this should answer your questions.
The Pages
Home

Who We Are

Tasting Room

Find Our Wines

Our Wines

Llano Wine Club

Recipes + Resources

Accolades
Highlights
Interactive Wine Carousels For Featured Wines
These are geared for engagement and increasing time on-page. Plus, they are equal parts fun and classy.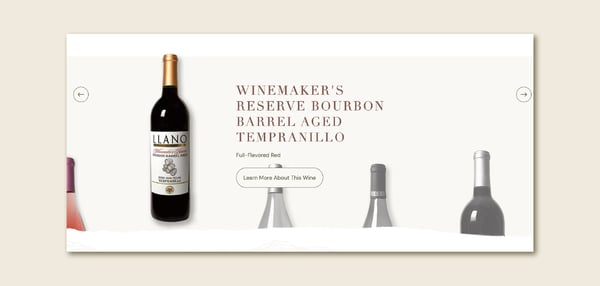 Client Reviews
You can't make these up. People love Llano Estacado Wine. And we love them! Greg S., bring your lovely lady friend in for a tasting and tag us in a picture on social media!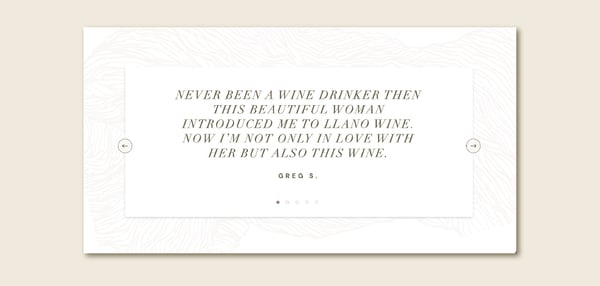 Who We Are
Great wine has history and character. And so does an award-winning winery. We brought this to life with a timeline and vintage photos. Nothing says West Texas wine pioneers like these photos.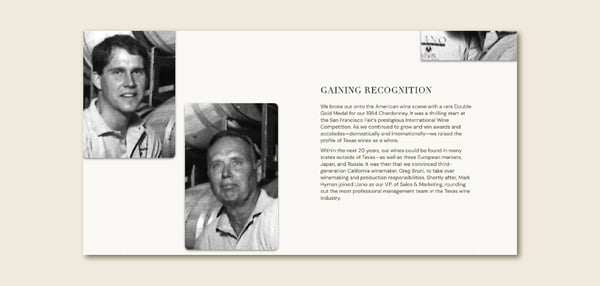 Embedded Video
Sometimes you need to HEAR a brand. And we think this video captures the spirit of Llano Estacado Winery in a way that only narrated video does.
More Than a Glass of Wine
We wanted to showcase all the ways to use Llano wine. This is especially important for consumers who order online or buy in grocery stores outside of Lubbock. These recipes and pairings are fit for a foodie. We also love the UX feature of being able to sort by wine, course, and dietary type.
Raise a glass with us!
Cheers to a new Llano Estacado Winery website!