The Do's and Don'ts of a Zoom Call
Posted by Lacey Wilcox | June 8, 2020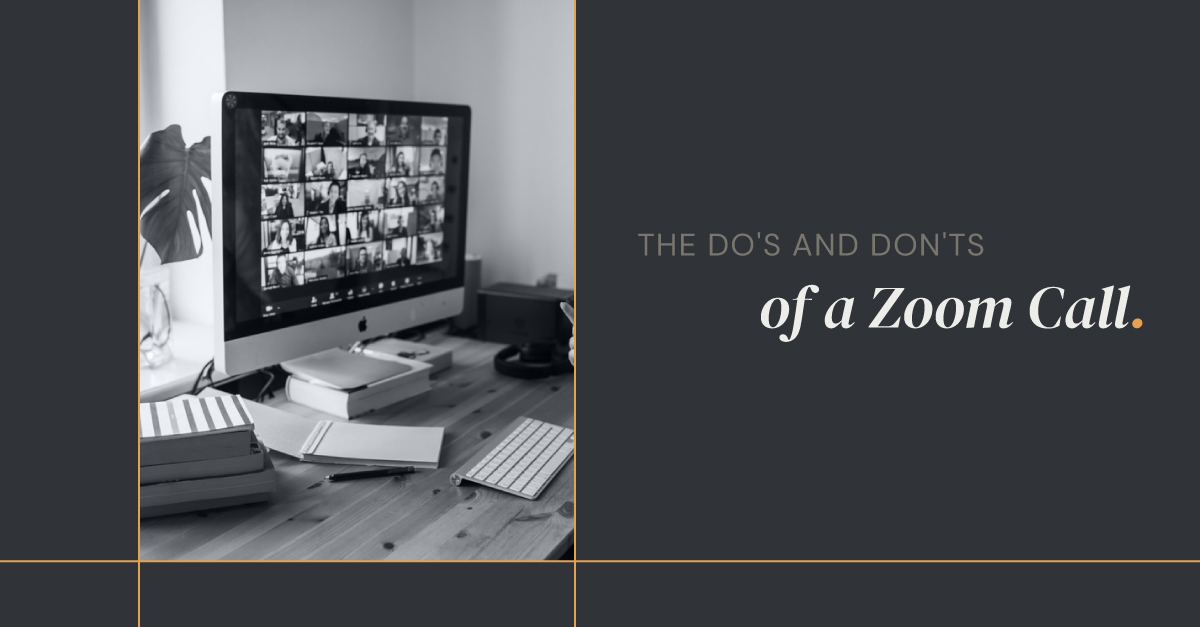 In today's digital world, video calls have become as commonplace as audio ones. With tools like Skype, FaceTime, and video conferencing software and applications, calling and seeing someone on the other side of the world is as easy as one-click shopping on Amazon. The advantages of video calls are pretty great for everyone, too. A video call allows you to experience a more personal connection versus the more distant experience that comes with a standard audio call.
While there are many tools that make it possible to video conference with teammates or have a discovery call with prospects, our preference is Zoom. We've experimented with many options on the market, but this has been a team favorite for its ease of use, functionality, and capacity to allow so many people to join a call at once. Because video calls have become so prevalent, it's a good idea to brush up on the do's and don'ts of a Zoom call so that the experience is a win for everyone involved.
The Don'ts of Zoom Calls
Some things are just better left avoided when you're on a video call, like eating your lunch or blowing gum bubbles. But there might be some "don'ts" you've never thought about before that can create a poor experience for you and others on your call.
Just to be safe, make sure you don't do any of the following:
Turn off your video. We get it. Video calls can be a little intimidating because the last thing you want to see (or have seen) is your face on a large screen. It's easy to hit the button that turns off your video, but that completely defeats the purpose. So, even though it's tempting to turn it off, leave your video on!
Have a Zoom call in a crowded place. Coffee shops are a great alternative for working from the office, but they aren't always the best place to have a video call because they can have a lot of background noise. If possible, have your call in a quiet area where there won't be a lot of people behind you that end up on the call.
Sit next to another person on the same Zoom call. If you and a coworker are on the same video call, make sure you're not located really close together. This can cause interference for both of you, which can make a call unpleasant very quickly.
Stray from the agenda. The face to face connection that comes with a video call can help the conversation flow more easily than it does in an audio call. But this makes it easier to get off track from the purpose of the call.
The Do's of Zoom Calls
Now that we've given you a list of things not to do on a Zoom call, let's look at the things you should do.
Check your internet connection. Nothing will kill a video call more quickly than poor internet. Test the connection beforehand by running a quick practice call with a few coworkers or friends.
Mute yourself when you're not talking. This might sound like overkill, but it's better safe than sorry. Muting yourself every time someone else is speaking prevents others from hearing any background noises around you.
Use headphones. This is another "do" that might seem like too much, but wearing headphones helps you hear everyone more clearly and vice versa.
Dress for the occasion. From the waist up, that is. If you're having a quick video call with coworkers, casual attire works great. But, if you're having a Zoom call with clients, just grab a more professional shirt before the call.
Make sure everyone is on their own video connection. This might be difficult to execute, but as much as possible, everyone on the call needs to have their own video. Both the sound and video qualities suffer if you try to have a group of people call another person. This tip is really important for calls with customers, and it's an absolute for building a strong remote team culture.
Create a Better Overall Experience
Video calls are a pretty great tool for any business because they help you offer a better overall experience. Everyone who is involved with the call benefits from the personal connection that comes from seeing another person's face, gestures, and expressions.
Video calls are also a powerful tool for connecting your team. Regardless of where everyone is, a video call can make it seem more like you're in the same room.