BLOG Primitive Employee Spotlight: Zane Ennis
Primitive Employee Spotlight: Zane Ennis
POSTED BY The Prim Pack | Nov 27, 2020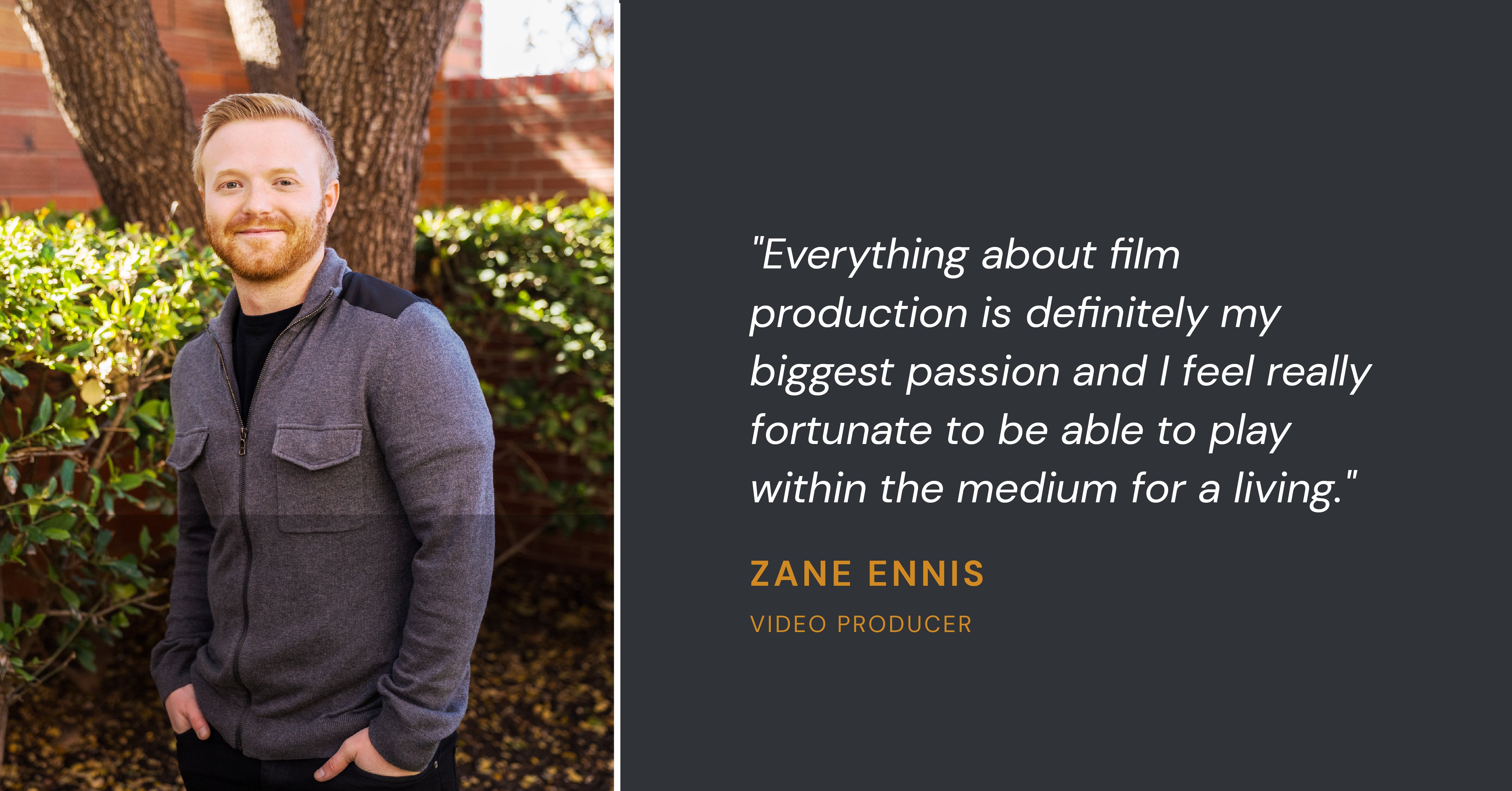 Name: Zane Ennis
Position: Video Producer
Location: Lubbock, Texas
Job Description:
Depending on the project, from script writing and pre-production, to production and post-production, to delivering the final project to clients, I can find myself working on all aspects of video production.
What is your personal background?
I was born in Amarillo, but my family moved to Lubbock when I was five. I have a younger brother and we're really close. When I was little I was set on being a professional baseball player and spent every waking hour playing baseball. I played baseball up through high school, but somewhere along the way I decided I wanted to make films for a living. I still love baseball so much and miss playing it every day.
How have you grown since your previous positions?
Significantly. I owned my own business for seven years doing freelance video production before joining the Primitive team, which was a great learning experience. But I have really enjoyed working with such creative people on a daily basis. Being able to collaborate with the other people on the Creative Studio team and getting to work with bigger and better tools has really helped me improve upon the skills I learned doing freelance work. It's also great to be surrounded by passionate people everyday. It really inspires me to want to keep learning and growing with each project I work on.
What made you so interested in video production?
Since I was really young I've been obsessed with filmmaking. My brother and I have always been huge film buffs. We started making our own home movies when we were kids on a Hi8 camcorder my parents bought. Ever since then I've always just made things. We made films all throughout high school and into college, which is when I really started diving deep into the history of filmmaking, specifically independent films and world cinema. Everything about film production is definitely my biggest passion and I feel really fortunate to be able to play within the medium for a living.
Tell us how you got started at Primitive.
It's actually a pretty interesting story. An employee at the time reached out to me via email about wanting to meet with me. Initially I assumed Primitive was wanting to contract me to do some freelance work. I had no idea I was actually walking into a job interview!
I always told myself I would never work a 9 – 5 job (I got spoiled working for myself), but after meeting with Primitive's CEO, Kade, and learning about the culture here, I decided that going to work for Primitive was the right move for me. It definitely was a difficult decision to give up the freedom I had working for myself, but I have no doubt it was the right one. It's been an incredible journey.
What do you most enjoy about your role at Primitive?
There are a lot of things I love about working here. First and foremost, the people are amazing. I really love spending time with coworkers. I can't imagine a better group of people to work with every day. Of course, I really enjoy what I get to do every day as well. It's really a dream come true to be able to create videos for a living. That doesn't mean that it's always fun, or that some days aren't really stressful, but it's definitely worth it. Just being able to play with the tools we have at our disposal has been a blast for me as well. The Sony FS5 is such an awesome camera and I'm stoked every time I get to bust it out for a shoot!
How do you (and the rest of the video team) find an appropriate balance between an end result that is both appealing and entertaining, and still plays a critical role in growing a business?
I think at the end of the day it's about finding the emotional core of what the client wants to communicate and really building from there. You have to have a strong message. Part of our job is helping clients discover what that message is and translating it into images. That being said, in today's world we're perpetually being bombarded with content. I think you have to really focus on how to grab people's attention and keep it. If you can't entertain your audience on some level, it really doesn't matter what your message is; they'll scroll right past your video in an instant. At least that's been my experience with social media.
What new techniques or tools are you interested in using in the future?
I get really excited about gear, specifically cameras and lenses. I would love to shoot with some higher end cinema cameras at some point like a RED or an Arri Alexa Mini. Currently I'm shooting on the Sony FS5 and I'm really pushing that camera as far as I can. The results are pretty stellar. That being said, if a client came to us wanting to produce something that looks truly cinematic, and they had the budget, I'd love to be able to play with some higher end tools.
What is the most challenging part of your work?
For me, it has to be finding the balance between satisfying the client and satisfying myself. Sometimes the best version of a video isn't necessarily what the client is looking for, and they want to make changes. That can be frustrating. But we've been working really hard to be very detailed up front before the cameras ever start rolling so that those instances are rare. I'm also a very competitive person, so seeing other people's work who are operating at a higher level can be discouraging. I try to not compare my work to other people who have the benefit of working with a bigger budget or better tools, but sometimes I just can't help it. It really drives me to improve my craft, and find a way to make the best possible product with the resources I have at my disposal. It can be painful, but I think it can also be a good thing.
Do you have a favorite project you've worked on at Primitive?
I really enjoyed making the "Horror Show" and "Just Chillin" spots for Overhead Door. It's nice when a client trusts you enough to get really creative. Making engaging videos for a garage door company isn't always the easiest thing, but I think we did a pretty good job with those projects. I also really loved making the Two Docs Brewery video for Downtown LBK. Because we had the time to really capture the whole story — from when construction was underway, to the soft opening — the video turned out really well. I was also able to really let the music just hammer away and help tell the story. It's a brewery after all, so the video needed to have a lot of energy. Also, we got to shoot some super cool slow-motion beer footage, which was definitely fun.
Where do you find motivation and inspiration for your work?
My inspiration really comes from watching films. I love diving into a director's body of work, studying it, finding the things that interest me the most, and then bringing those elements into my own work. Cinema is the highest form of video production. So I think to truly see what's possible, you have to study it. There's a great quote from Martin Scorsese's documentary A Personal Journey with Martin Scorsese Through American Movies that goes, "Do it like painters do; study the old masters, enrich your palette, expand the canvas. There's always so much more to learn."
What does a typical day look like for you? Are you someone who follows a similar routine each day, or do you prefer variety?
A typical day for me at Primitive is spent in front of the computer editing, for the most part. But it's hard to follow any kind of specific routine because we're constantly out of the office on shoots. I really love that part of the job. We never do the same thing twice and we're always meeting new people. It's great.
Do you listen to anything while you're working?
Occasionally I'll listen to music. It really depends on what part of the process I'm working on that day. If I'm writing a script or brainstorming ideas, I'll be listening to music that is in tune with that specific project. It's usually a soundtrack from a film, or something instrumental. Usually when I'm editing I can't listen to music because I'm having to focus on the audio for the video. I do most of my real jamming outside of Primitive.
What are your top five recommendations on Netflix?
Okay, so I'm going to get a little crazy with this one, but I can't just list five. I'm going to list five shows, five foreign language films, and five English language films. I'll try to leave stuff off the list that the majority of people have already seen like Breaking Bad, The Office, etc.
TV: Mindhunter, Russian Doll, Black Mirror, Twin Peaks, Wild Wild Country
Foreign Language Films: The Lives of Others, Burning, A Separation, The Diving Bell and the Butterfly, City of God
English Language Films: A Clockwork Orange, No Country for Old Men, Zodiac, Eternal Sunshine of the Spotless Mind, The Witch
How do you spend your free time?
Well, as you may have guessed, I spend a lot of time watching films. But I'm also a really social person, so I love hanging out with friends and meeting new people. I also recently got into golf and I've definitely been spending an insane amount of time on the golf course over the past few months – I'm addicted. Besides that, the rest of my time is spent working on personal projects like short films and music videos.
Who do you admire, or who is someone that has really influenced you and your work?
I really look up to the filmmakers who have shown me what cinema can be. I'm a huge fan of Stanley Kubrick, Federico Fellini, Ingmar Bergman, Akira Kurosawa, Andrei Tarkovsky, David Lynch, Quentin Taranino, David Fincher, Paul Thomas Anderson, etc. The list goes on and on. But, specifically, I'm really influenced by Kubrick. I spent many years back in the day obsessing over his films and his career. I also really admire my dad. He has been my biggest supporter for as long as I can remember. He totally believes in me. I definitely think there's a thing or two that I could still learn from him. He's the most selfless person I know.
What's something not everyone knows about you?
I played drums in a band when I was in high school called Through November. Man, those were the days. I also used to take gymnastics when I was younger, so I can do a standing back flip. It was WAY easier back then though!
You recently showcased your amazing home theater setup at one of our Monthly All-Team meetings. Do you have one item in your setup that would be your top recommendation to anyone just starting their own?
If you have a room you can dedicate to a theater, I would definitely recommend going with a projector over a TV. Of course, you'll have to black out the room, but you should never watch movies with the lights on anyway — come on, people! There's nothing better than having a HUGE 100 inch screen to watch movies on. Besides that, I would invest in a quality surround sound system. It doesn't matter how big the screen is if the sound is terrible. I absolutely love my Klipsch speakers.
Ok, let's talk cinema. In your expert opinion, what is the best movie or TV show of all time? Feel free to share specific scenes you really love. ;)
That's an impossible question to answer! I think my favorite show of all time might be The Wire; it's an absolute masterpiece.
As for my favorite movie, there are so many great films, I could never pick just one. That being said, I've always loved the opening scene of No Country for Old Men. The Coen Brothers are master filmmakers and that scene is such a beautiful, poetic way to start the film. Tommy Lee Jones' narration overlayed on top of the landscape footage perfectly sets the tone, while also addressing the themes of the story that will play out throughout the movie. All of this happens within a few lines of narration. There's no music playing, no manipulation of the audience. Only beautiful shots of the countryside are shown (lensed by the great cinematographer Roger Deakins). It allows the audience a moment of peace before chaos ensues. And of course, if you've seen it, you'll know how it ties into the ending. That whole movie is a masterclass in filmmaking.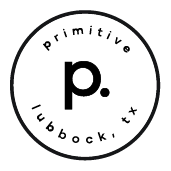 About the writer, The Prim Pack
I'm Buffy the Bison! When I'm not strolling through the plains of West Texas, I am proud to represent Primitive and the digital craftsman it is home to.