BLOG Primitive Employee Spotlight: Morgan Mann
Primitive Employee Spotlight: Morgan Mann
POSTED BY The Prim Pack | Mar 26, 2021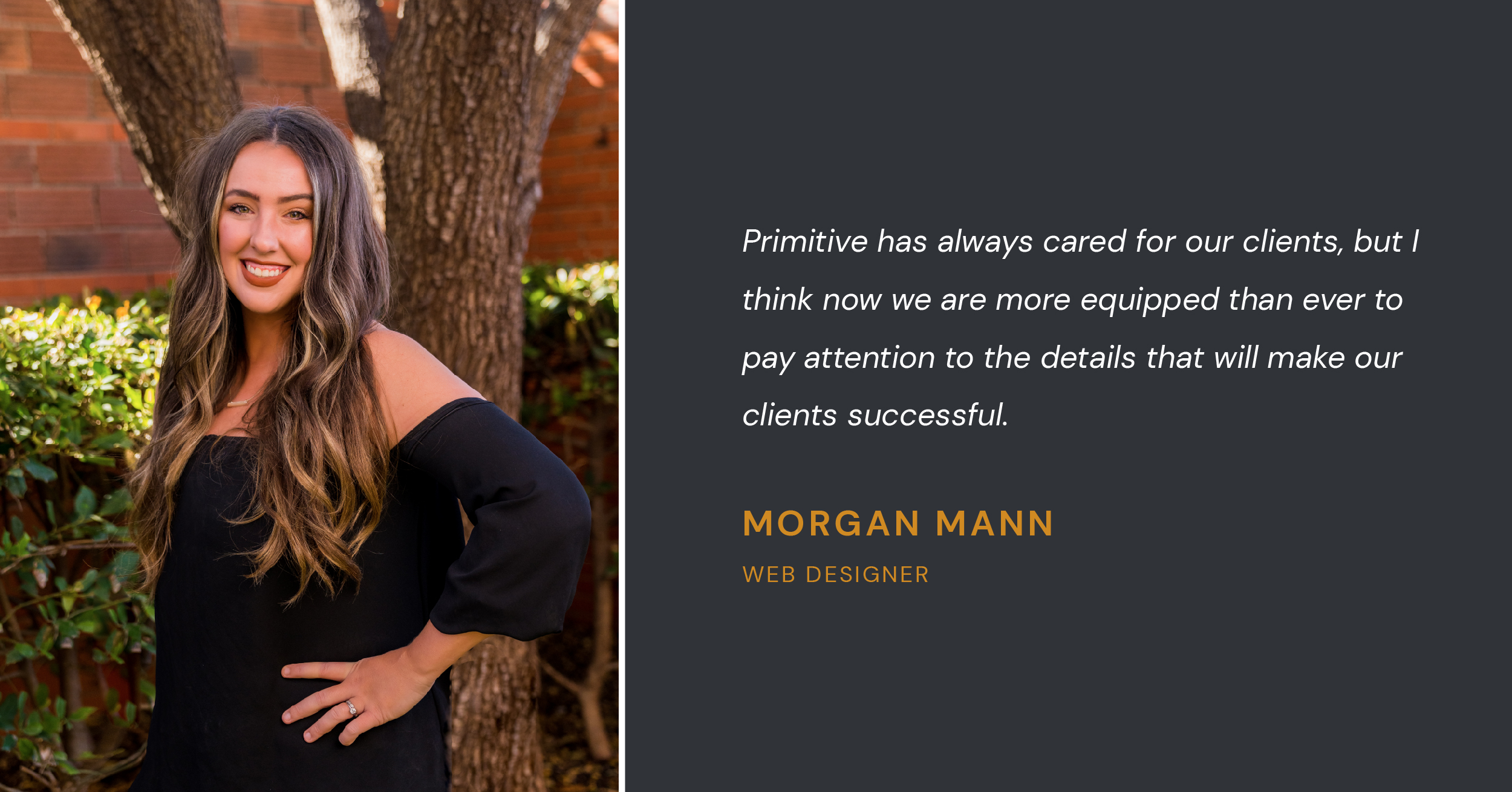 Name: Morgan Mann
Position: Web Designer
Location: Lubbock, Texas
Job Description: My primary role at Primitive is wireframing and designing websites for our GDD clients. While I do focus mainly on web design, I also get to dabble in branding and print design as well.
Tell us a little bit about your background and how you found Primitive.
I grew up in a small West Texas town called Tahoka, Texas. I grew up around agriculture (my dad is a farmer) and really wanted to pursue that direction in college. At Texas Tech, I majored in agricultural communications and agricultural education, getting my teaching certification also.
After graduation, I wanted to branch out of a career specifically in agriculture and find something more broad. I applied for a director of marketing position at a local hospital, where Kade and Primitive were filling that role. During the rounds of interviews, Kade interviewed me for the director position and then decided that I would be a great fit for his growing company. I accepted the position of project manager and then slowly moved into the role of graphic designer.
How/When did you realize you wanted to pursue a career as a graphic designer?
I had always loved doing anything creative and knew that was something I was passionate about. I was always discouraged to pursue graphic design because of the "lack of jobs" – which I now know is a hoax. I worked as a graphic designer at a student-lead graphic design company at Texas Tech called Picador.
Kade really was the one that pushed me to move into that direction because of all of the graphic design projects I had done at Picador and Primitive.
You're one of the original Primies and just celebrated your FIVE year anniversary at Primitive! What has changed the most since you started at the company and what excites you the most about our future?
When I started there was one other employee, so a lot has changed! We have moved to three different buildings, grown in the number of employees and clients, and changed lots of processes. Primitive has always cared for our clients, but I think now we are more equipped than ever to pay attention to the details that will make our clients successful.
Now let's dive more into you! Do you have a daily routine or particular steps that you take every single day before you start work?
Most mornings, I enjoy helping my husband, Hadley, feed our livestock. There is something so satisfying about drinking your coffee when it is still a little dark outside and getting something accomplished bright and early in the morning. This will all probably change when our daughter, Collyns, is born though!
How do you like to stay motivated?
I stay motivated by constantly updating my design knowledge and learning new things.
What's your favorite thing to do outside of work?
Anything creative! Personal design project, home decorating, etc.
Do you feel as though you've achieved a good work-life balance? If so, indulge us in a few of your secrets!
Yes! For a long time, I lived to work. I have two points that have helped me:
I think the secret to a good work-life balance is to have a routine that has nothing to do with work and everything to do with self care. If you have to work late a couple of nights at work, make sure to make up that time for yourself.
When you start feeling like work is taking over, ask for help. There is no shame in asking for ways to relieve some stress. Sure, there will be times when nothing can be done and you just have to push through. Most of the time though, there is some wiggle room somewhere. Burnout is real, y'all.
What is your secret to success?
I think my success at Primitive would have to be attributed to my ability to be adaptable.
And finally, if you had to listen to only ONE song on repeat while you work, what would it be?
That is hard, but I think:
So Long - Diplo feat Cam
or...
Cecilia - Simon & Garfunkel
or…
One Acre of Land - Sean McConnell
I know you said only one, but it is all about what song puts me in a good mood! I have great memories or moments tied to all of those songs.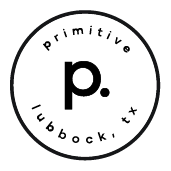 About the writer, The Prim Pack
I'm Buffy the Bison! When I'm not strolling through the plains of West Texas, I am proud to represent Primitive and the digital craftsman it is home to.