BLOG Primitive Employee Spotlight: Caroline Langdon
Primitive Employee Spotlight: Caroline Langdon
POSTED BY The Prim Pack | Dec 11, 2020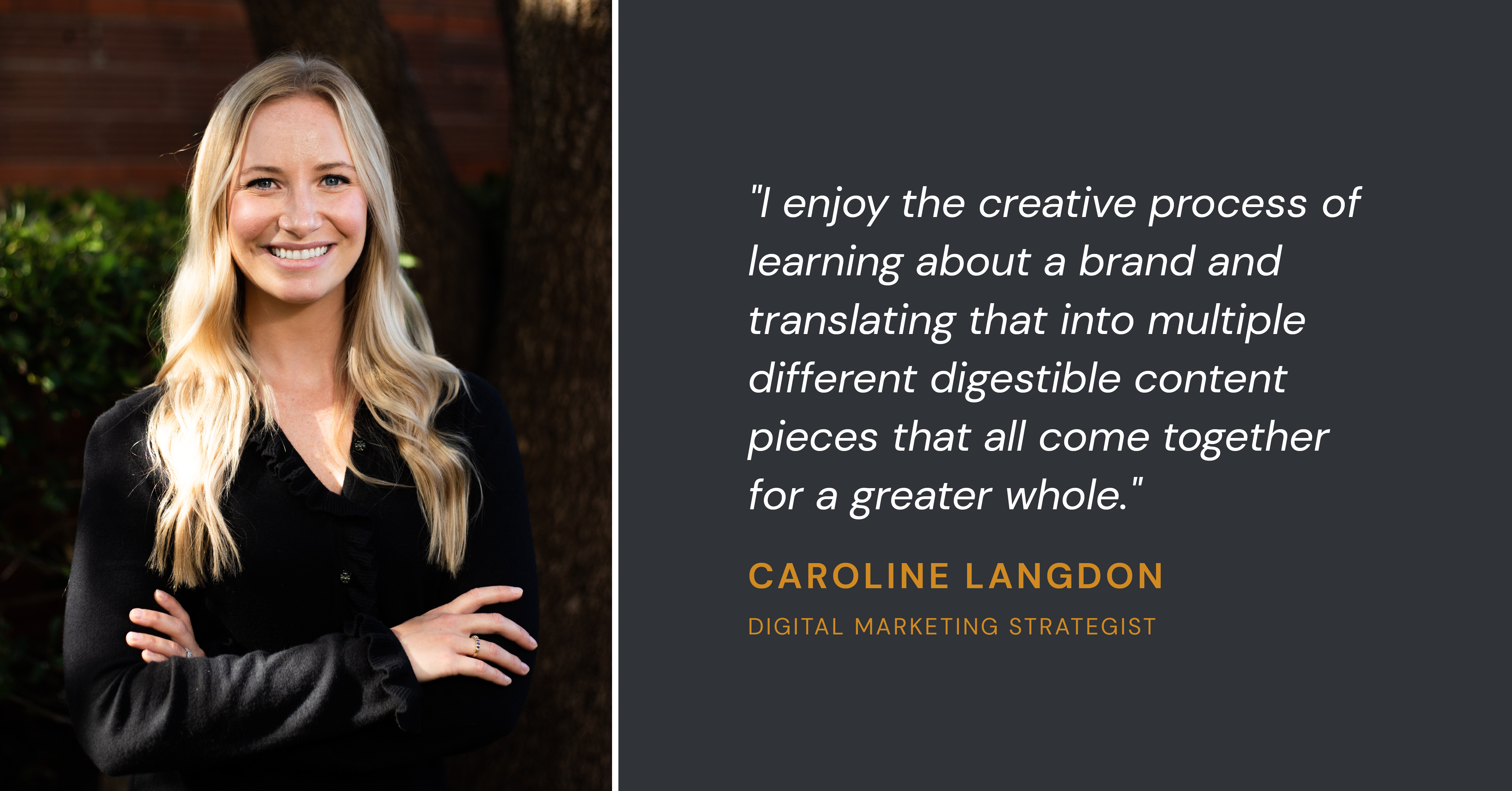 Name: Caroline Langdon
Position: Digital Marketing Strategist
Location: Lubbock, Texas
Job Description:
I execute client projects through the development of quarterly strategies, lead generation, analytical reporting, project management, and team development. I also identify and recommend strategic improvements for content development and business needs, and stay up to date on industry trends by learning, testing, and analyzing new technologies.
Tell us a little bit about your background and how you found Primitive.
I moved back to Lubbock in 2017 to continue my career in the digital marketing field. I first heard about Primitive through some coworkers who dubbed it as the "Google of Lubbock" based on hearing about its company culture. Immediately I put a goal in my mind that I would find a way to work at Primitive one way or another, and luckily the timing of the Digital Marketing Strategist position opening up and my job hunt beginning was perfect. I was so excited to find a company that valued its culture and employees just as much as the business it conducts.
When did you start with Primitive?
February 2020
What would you say are some of the biggest changes you've experienced since working at Primitive?
I have experienced a greater work/life balance and have learned to adapt much easier since working at Primitive.
I started at Primitive in February 2020 and we went into quarantine six weeks later. Although not the ideal way to meet new coworkers or start training for a new role, I was able to adapt and learn on the go. Throughout this time of life "happening" it showed me that everyone at Primitive really treats everyone with respect and we all value the work we do both in and out of the office.
What would you say are some of your favorite projects that you've worked on at Primitive?
While I don't have a favorite project, I do really enjoy bringing a brand to life whether that's through developing buyer personas, building a website, or through a creative endeavor like a video shoot. I enjoy the creative process of learning about a brand and translating that into multiple different digestible content pieces that all come together for a greater whole.
How has Primitive helped shape you into who you are today?
Primitive has made me a happier person overall. My work/life balance has leveled out because I'm surrounded by people who are similar to me in their career paths but who also challenge me and teach me new things. I'm respected as a person and not just an employee – all of these things make me happier to start my day and get my work done, as well as excited to learn new things to better myself for my work.
When you're happy doing the work you're doing, it translates into the rest of your day. And through this, I've become a much happier person.
What excites you the most about Primitive's future?
In the short term, I'm excited to be a part of Primitive's 10 year Prim-versary! Ten years in the making is a huge accomplishment and I'm so happy to be a part of it! Because of Primitive's core values, I know Primitive has so much more growth in store in the upcoming years.
When I joined the team, I was given a growth plan for myself. In fact, each team along with the entire company has a growth plan which contributes to the excitement of seeing how each individual's strengths will contribute to Primitive's expanding connections across the globe.
Now let's dive more into you! Do you have a daily routine or particular steps that you take every single day before you start work?
My daily routine has changed quite a bit since the pandemic happened. My mornings are my quiet time since I'm NOT a morning person. I get up and let the dogs out, have my breakfast and coffee, and listen to the news in the background. I continue getting ready for the day and check Slack and emails. At the end of the day, I have to have my scheduled gym time. I'm an OrangeTheory member and I love my time there to shake the day off and push myself out of my comfort zone.

As you know, Primitive is a very pet-friendly workplace. Tell us about your four-legged friends!
My dogs, Inca and Norman, bring me so much happiness! Inca is Norman's mom and we had Inca's mom, Abby, before she passed away. They're Australian Shepherds but Norman is an Aussie-Border Collie mix. Both Inca and Norman have been up to Primitive's office and made a lot of new friends. They truly believe they are little, furry humans and they enjoy being a part of anything and everything we do. (They even sit in chairs at the table if given permission.) They loved going to First Friday Art Trail, pre-COVID19, and we still enjoy getting to take them to local favorite, Two Docs Brewing
We've heard you love adventures, both outdoors and food-related! Can you tell us a fond memory that might involve both?
We took a trip to Italy and were able to take a cooking class while overlooking the beautiful Tuscan countryside. It was my whole family and everyone had their own dish that they prepared and we came together to enjoy the six-course meal while sitting in a lush garden breathing in the Italian air.
We were able to keep the recipes and we continue to make a few of the dishes at home and for any guests who come over!
What is something that not everyone knows about you?
At my wedding, I walked down the aisle to "Brick House." I love funk music!
I have three brothers and three sisters; I love being from a big family.
I love to cook but tend to burn at least one thing each time.
My bachelor's and master's degrees are both in Retail Management from Texas Tech and surprisingly, that course work helped me get into the digital marketing world.
I studied abroad in Edinburgh and London with the Retail Management program at Texas Tech. I even tried haggis — not too bad!
My next dream destination vacation is to Oktoberfest in Germany; I need to visit my German roots!
What is your secret to success?
Persistence and not being afraid to ask for what I want. I'm the only one that is going to fight hard for me. If I want something, I go after it. I don't stop learning and keep pushing forward.
Are there any words of wisdom or anything else that you would like to pass along?
The two things I tell students now:

1) Keep learning. Continue to grow and educate yourself and try new technologies, programs, or take courses.
2) Stop caring about what anyone thinks about you. Don't be afraid to go after what you want because you're afraid of what people will think. You're wasting your time. Just go for it.
And finally, if you could only eat one thing (or meal) for the rest of your life what would it be?
PIZZA! I would eat pizza for every meal, every day, for the rest of my life if I could! So many variations and different toppings – give me traditional or bougie and I'll eat it!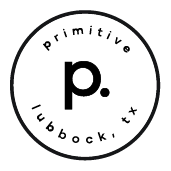 About the writer, The Prim Pack
I'm Buffy the Bison! When I'm not strolling through the plains of West Texas, I am proud to represent Primitive and the digital craftsman it is home to.