BLOG Primitive Employee Spotlight: Rayann Ragland
Primitive Employee Spotlight: Rayann Ragland
POSTED BY The Prim Pack | Jul 10, 2020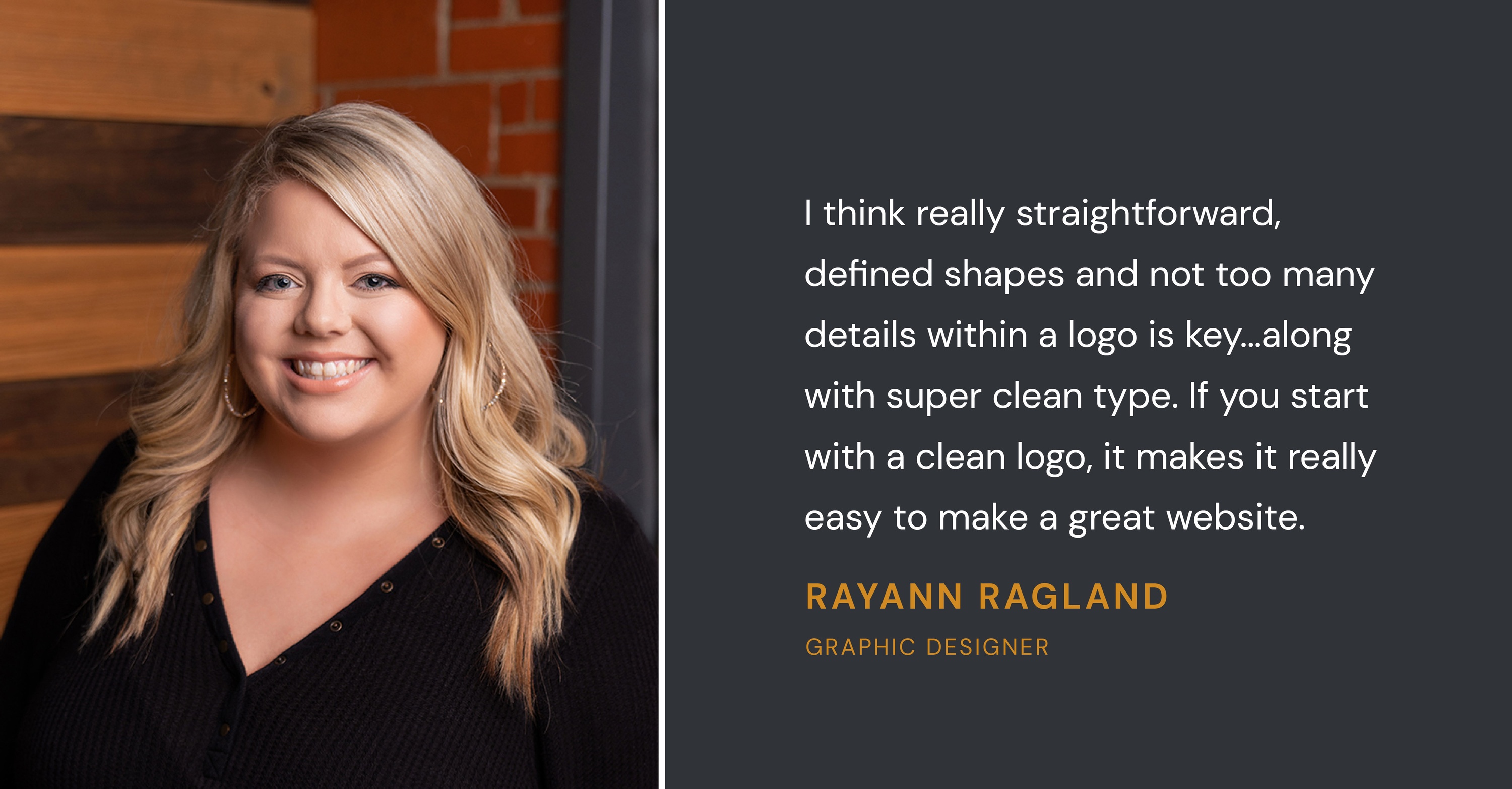 Name: Rayann Ragland
Position: Graphic Designer
Location: Midland
Job Description: As a designer for the digital and growth teams, I do various design work from social media to email and web.
Background:
I went to Texas Tech and I got a degree in graphic design. Then I began interning at Primitive in February of 2017 and graduated in May. That's how I got started.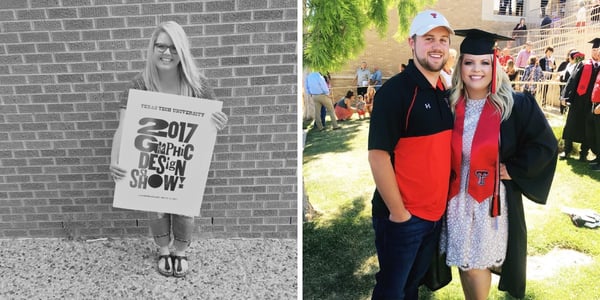 What made you interested in graphic design?
I didn't always know I wanted to be a graphic designer, but I always liked anything creative in high school. I was into art, like basic painting. Then, when I got to Texas Tech, I actually didn't know until orientation about the graphic design program and how great it was. Ever since then I have just loved it. They start you in basic art classes (like drawing) and then once you get past that, you enter into specialty classes like typography. That's when I really started to love graphic design.
Also, I think I always liked working on the computer, but I didn't really know about graphic design or at least the kind of graphic design that we do. So when I discovered that, it all clicked.
Tell us how you started at Primitive.
The first time I heard about Primitive, I read about it on an Instagram or Facebook post. Then, a couple of my friends heard about how Primitive has a really cool culture. So I started following along on Instagram, and realized I knew Whitney Whitt (a former Primitive graphic designer) a little bit from school. We had class together and I knew she worked at Primitive, and it always looked like she was having a lot of fun. So I saw a post on Facebook one day that they were looking for interns, and I was actually looking for an internship right about that time. Then I applied, and it all worked out.
What made you know that you wanted to work full-time for Primitive?
Just being in the office was a really fun place to be, and I never felt like I was at work in a way. I really just enjoyed my time there, and so I knew if it was a possibility I would love to go full-time. At the time I wasn't planning on leaving Lubbock, but it's still an awesome place to work even from Midland.
What made you want to work remotely?
My husband got a job in Midland, and we decided we were going to move from Lubbock. Primitive offered me a job when they didn't know I was leaving, and I just kind of jokingly said, "But I could always work from Midland." At that time, there weren't any remote designers and they weren't sure how that would work. At first, I started out part-time working with the social team doing design and contract work for eight months. However, after that I officially went full-time for the web team.
What are the benefits of being a remote employee?
Sometimes it's a little challenging, but overall it's worked out great. I really love it. Occasionally, I like to come to the Lubbock office to interact with the other designers.
Do you feel like working remotely maximizes your workday?
With an office, there's always going to be distractions. So it's good to have my own office, and when I really need to focus on work I can really get down and zone in on what's in front of me. It's also nice to be able to go home to my parents or something like that, since I'm able to work from wherever.
How does Primitive promote creativity?
That's something I've always liked about Primitive. They really do let you have a lot of freedom, and they're always open to ideas. They're never going to be closed off. There's always different ways you can approach projects, and I really like how open they are about having our creative freedom.
Where do you find inspiration for your graphics?
There's really not just one website. I do use Pinterest boards a lot and different design inspiration websites. I really use any website, especially since now I am designing websites and can pretty much find inspiration with anything. So mostly I'll start with Pinterest - sometimes it's a new, more defined board and sometimes it's just opening up a document and adding any photo I find interesting. Sometimes I may have to do that for a while to get inspired, and then sometimes I might see one thing and that might spark something in my brain and I'll run with it.
How do you determine the right colors or fonts?
That's something I've kind of had to learn with Primitive. All of our clients are so different, so I have to understand what their business is like, who they are, what they're looking for and go from there. I usually do that before I start looking at colors, fonts, etc. I'll usually start with a client's main colors and then maybe find a complimentary color that works well, and follow the same process with fonts. Sometimes a certain business will need a clean set of fonts that are very straight forward, like with any kind of medical field. Then, there are also some other clients that want all the fun fonts and colors, so it really just depends on the client.
What does a good logo look like to you?
I tend to like the really clean and simplified logos. I think really straightforward, defined shapes and not too many details within a logo is key...along with super clean type. If you start with a clean logo, it makes it really easy to make a great website.
Do you ever have "designer's block" and if you do, how do you get out of it?
It's pretty easy to get creative block. When I do get it, what tends to help me is to step back and get away from my computer for a while. Sometimes when I just sit there and I'm not finding inspiration, I just stare at the page for too long and it will not help. So, stepping away, getting a clear mind, and then stepping back to the project can help me a lot. Sometimes it does happen more often with being remote because I don't always have someone to bounce ideas off of, so making a Slack call to one of the other designers and bouncing ideas off them can always help, too.
What does it feel like to present your first versions of graphics?
I'm usually really attached to the design because I spend so much time and effort on them, and I want the client to like it as much as I do. It can be nerve wracking but also exciting, especially if the first design gets approved.
What are some of your favorite projects you've worked on?
The Tatum Tough Foundation was really fun to work on, because it was for a good cause and that is really exciting to me. When you have a good cause like that, it makes you that much more driven to work on it and I'm excited about the way the design turned out.
What do you like about the culture of Primitive?
I like the openness of the culture and how everyone is friends, not just coworkers. It's a fun environment to be in. I also like how open the dialogue is and how we have so much creative freedom.
How has Primitive allowed you to shape yourself?
Primitive has been a perfect job to get right out of college because they really encourage you to learn and develop your skillsets along the way. The other designers are always super helpful, and even through I wasn't super experienced in web design before this, they saw that would be something I could do. So it was a little bit of a learning curve at first, but they really helped me through that.
Why are you committed to Primitive?
I'm committed to Primitive because they really invested in me, especially being a brand new designer right out of college. I have grown so much at Primitive, so I know it's a really good place to enhance and refine your skills.
Is there anything you're excited for in the future of Primitive?
It's really exciting to see how much Primitive has grown even since I started working here. It's really exciting to be on the other side, and to see to see what all is coming down the pipeline for the company.
Okay, now let's talk more about you. What's your daily routine?
When I get up, I pretty much get straight to work. I will look at my Jira boards and see what I have going on, and then plan out my day and figure out what exactly I'm going to do. Then, I'll get to work. Sometimes I will make coffee, but mostly I just get straight to work.
How would you describe yourself?
I am a creative person, and sometimes it is hard to shut my brain off. I'm always thinking of things I could be doing or the next project I want to do - whether that be with design or projects around my house.
Do you have a work playlist? What's on it?
So I am actually kind of bad at making playlists, but I do have Spotify radio playing in the background. My music taste is pretty random. I'll pretty much listen to anything, but I do listen to a lot of country and 90s music.
How do you stay motivated?
I think what motivates me is I always want to be better, and so I'm always looking at my previous designs and ask myself, "What can I do to make this better?"
What do you like to do outside of the office?
Right now I really like my home projects and interior decorating, and I also go to a lot of sporting events. I like to watch baseball and football games.
Any favorite TV or Netflix shows?
I watch Netflix a lot. I have a lot of shows on rotation, like The Office, Parks and Rec, and Friends. Those are some of the shows that I've seen a million times.
How do you juggle work and family life?
When it's after hours or on the weekends, I usually put my computer away. Setting boundaries and making sure I keep my work within certain hours is really important. Being able to shut that side off and really engage in my family and friends helps me a lot because you can get really bogged down with work if you're always thinking of what you have to do, or what's next on your list of projects. I've had problems with that before, so making sure that I set those hours helps prevent history from repeating itself.
What is something not everyone knows about you?
In college, I lived in Italy for part of the summer for a study abroad program. It was crazy...I stepped way out of my comfort zone. I lived in Florence for part of the summer and I took a photography class, which was really fun. I got to travel to a lot of places like Rome, Paris and the coast of Italy (which was probably my favorite). I would love to go back there someday, it was so amazing.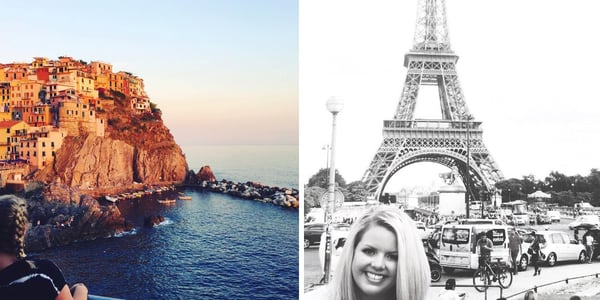 Who do you admire?
I really admire some of the other designers at Primitive. They helped me so much during my internship.
What is your secret to success?
Work hard and make sure everyday you try to get better and improve in every way that you can.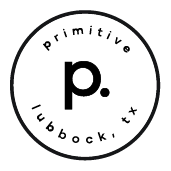 About the writer, The Prim Pack
I'm Buffy the Bison! When I'm not strolling through the plains of West Texas, I am proud to represent Primitive and the digital craftsman it is home to.