Digital Solutions for a Low-Touch World
Posted by Buffy the Bison | May 14, 2020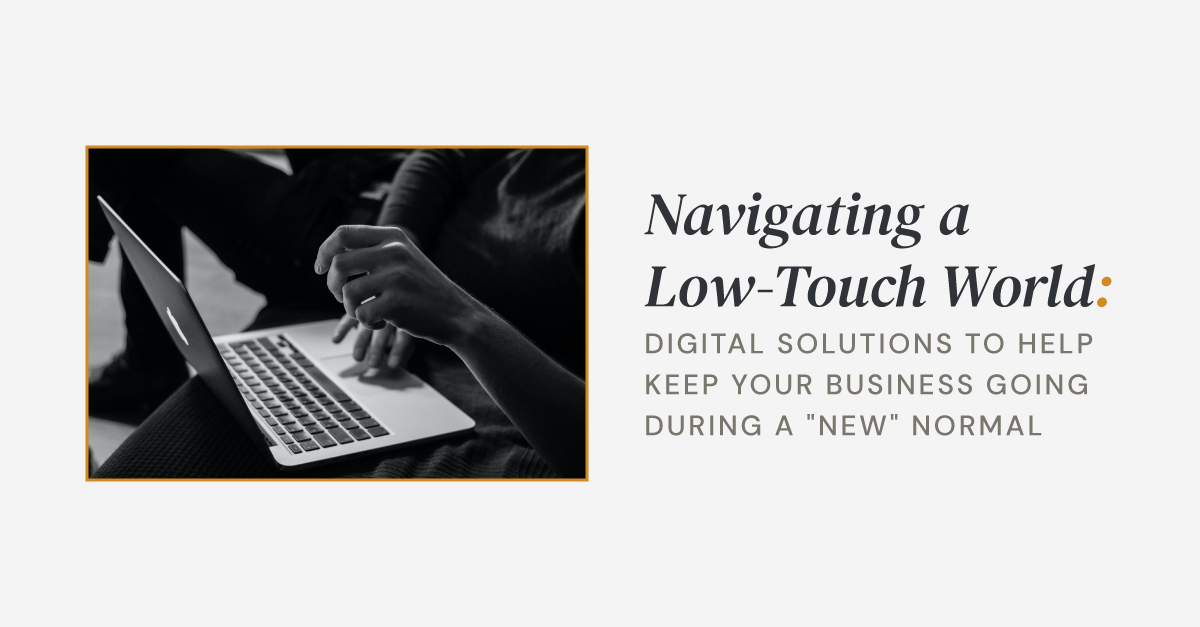 We have been in the throws of multiple, unprecedented changes – often one after the next after the next. And although change can sometimes produce a bitter taste in our mouths, it's critical as leaders to view change, especially within this context, as the catalyst for massive growth.

Here are three areas in which we've seen large changes occur, along with the digital solutions that are here to stay.
Content strategies
Let's think for a moment about the travel industry.
If a natural disaster occurs, many people in travel and transportation need to invoke agile methods in order to release important, relevant information to their clients.
The same can also be said for retailers looking to produce the next big innovation that outperforms their competitors, or even responding to pricing differentials by competitors, as well.
One of the first lessons learned in light of the pandemic is that changing your company's messaging to pivot quickly in response to current events (or competition, etc) is critical. And, depending on your targeted segments, one-size-fits-all messaging has become increasingly difficult to produce.
So how do you reach your target audience during times of uncertainty?
Pivot fast to meet your customers where they are. Agile content marketing methods thrive on flexibility, and with current times presenting a window of only a few hours to respond to clients, the need to invest in agile content marketing methods is now.
Consumer messaging
The brick and mortar stores have been temporarily shut down while COVID-19 had the globe sheltering in place. However, it has been the companies with eCommerce offerings, direct to consumer (DTC) platforms, and high engagement/brand trust with their audience that have been able to watch their marketing efforts yield a high ROI during this time.
However, to that point, not everyone is an eCommerce or DTC company, so with social media usage up, navigating a "new normal" means ensuring your company's messaging balances sensitivity with relevance and support.
That might sound like a tall ask for any business, but it's a growing requirement given the new state of our nation, and can be accomplished with a sound digital marketing strategy.
According to Deb Hileman, CEO of the Institute for Crisis Management, "News fatigue is a concern. It is easy to become overwhelmed, especially when various information sources contradict one another." The same can be said for communication that continues to blast the uncertain times we are living in as a result of the global pandemic.
Bottom line, consumers seek out the comfort found in the brands they trust.
If your business happens to be a brand that wasn't already on a consumer's short list, then now is the time to develop your brand's persona with finite detail and strategic consistency.
To make it easier to align consumer messaging across channels, websites like HubSpot and GlobalWebIndex publish the latest data insights and information to help businesses stay on top of consumer behavior changes.
Leverage technology
This last point springboards off the prior point of speaking to your consumer directly.
You must engage with your audience and meet their needs by leveraging the technology available. Much like how restaurant owners are shifting their main sources of business from dine-in to take-out, business owners around the world need to magnify the need to serve their customers in a world of social distancing constraints and limited resources.

In a continued exploration of the restaurant industry, and with dining out still risky, many businesses have been confronted with the task of learning how to communicate key information (hours of operation, service offerings, etc) to their consumers.
Email campaigns, personalized messaging, high-value content (learn how to make your favorite cocktail copycat, for example) and MarTech platforms (data collection, purchase management, and automated/personalized content) have paved the way for innovation and growth to emerge.
More ways to leverage technology for your business are:
Responsive websites - More people than ever are seeking information through their smartphones and/or tablets. As a result, many websites are seeing a large spike in traffic. However, if a site's speed is inadequate, the media takes too long to load or a host of other issues, a site's bounce rate can also increase.
Facebook or Instagram Live - Conferences are a trillion dollar industry and many companies have had to cancel these large networking events. Utilizing live broadcasts of these conferences helps to continue fostering valuable relationships and the exchanging of critical information.
MarTech platforms - Marketing technology (MarTech) platforms are a suite of tools (much like HubSpot) that can help perform multiple tasks all aiding in a specific objective. MarTech platforms can, for example, track consumer data (that can be used to make intelligent and strategic marketing decisions) while also keeping Dan updated on the status of the pizza he just ordered.
With the coronavirus proving so fluid, it's imperative for business owners to meet their clients where they are. In an increasingly digital world, the only solution is to focus on your digital solutions.
Schedule your free consultation to learn how digital solutions were made to enhance your company's growth.