5 Financial Firms with Killer Branding
Posted by Buffy the Bison | October 29, 2020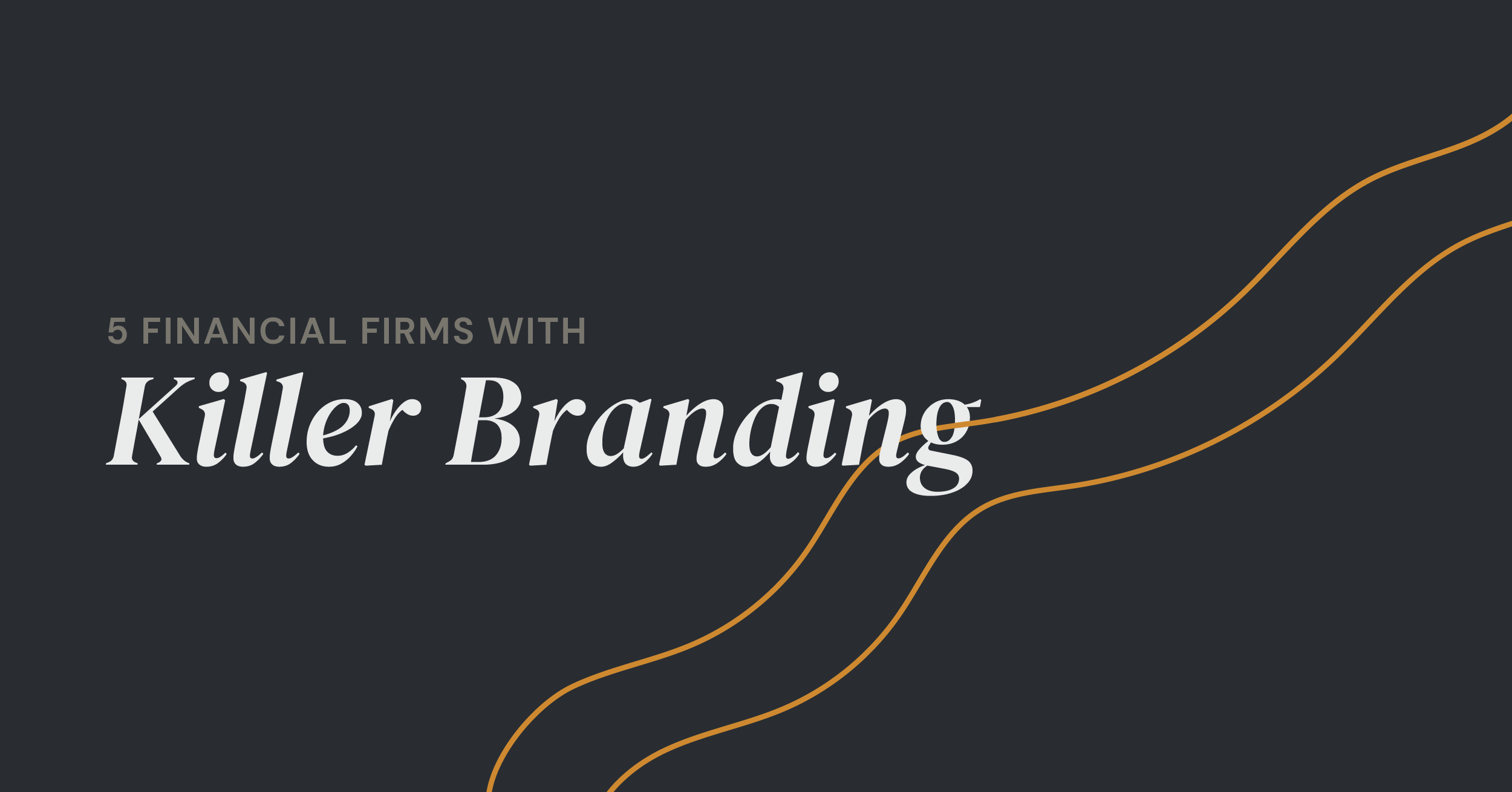 You can make a safe bet that a few eyes will roll when someone brags about their organization having "killer branding."
Couple that claim with an industry such as financial and wealth management, one that hasn't seen much variety or change over the years, and a team member or two might just choose to ignore the conversation entirely.
However, the financial landscape is undoubtedly turning a corner, and diversifying your brand from the industry landscape is now just as important as diversifying your portfolio.
Essential Branding Elements
Like stated, there were once only so many ways to set yourself apart from the competition, especially when it comes to financial management. But, it can and should be done.

When assessing the branding of your financial firm, it's smart to take a step back and look at it through the lens of any fill-in-the-blank type of business.

Take for example a large grocery store popular amongst midwesterners, Hy-Vee.
(As a former midwesterner, myself, I know the grocery chain well. And truth be told, there really is "A helpful smile on every aisle.")
Hy-Vee originated 90 years ago in Beaconsfield, Iowa, and since their genesis has proudly boasted over 245 locations, and over $10 billion in annual sales.
However, regardless of their booming success, and most recently becoming the first grocery store chain to automate the sanitation of their grocery carts, they have maintained their appeal and charm of being a "small town" store.
How? Killer, and consistent, branding and positioning.
But, as a completely different industry such as a financial firm who doesn't need thousands of square feet of brick and mortar space, how might you mirror the branding success of a midwestern grocery giant?
By focusing on these six key components of your online presence: logo, style, clear value propositions, benefits and features, awards and accolades, and social proof.
Logo
The first thing any client should be able to identify is your logo. Not to be confused with "large," your logo should be clear, uncluttered, and simple to understand.
Consistent style guide
Your brand identity (style) dictates how you want to be perceived to the people who search and find you. Finances are something that are not taken lightly, and having multiple fonts and photos that come off as whimsical and unprofessional can deter many potential clients from taking you and your practice seriously, as well.
Clear value propositions
Clients want you to help them provide answers, or solutions, to their financial inquiries. Identify the unique value your business can provide your clients, simplify it, and make it both clear and front and center on your website.
Benefits and features
Don't be shy about what you can bring to the table. People want to know what sets you apart from the rest of the field, and this is the time to brag about your achievements and the benefits your clients will receive when they choose you as their financial ally.
Awards and accolades
Recognition, certifications, and association memberships within your industry communicate trust, respect, credibility, expertise, and extreme value. Having these distinctions visible to your prospects tells them you deliver on your promises and are worthy of their business.
Social proof
According to Deloitte's

The State of Corporate Reputation in 2020: Everything Matters Now

, an average number of global executives attribute 63% of their company's market value to their reputation. That means online testimonials, engagement and interactions through social media, and everything under the social umbrella contributes to your perception, which in turn directly contributes to your business success.
Five Firms Who Have Nailed Down Their Branding
Now that we've dissected a few of the critical components of what actually makes branding "killer," let's put theory into practice by taking a look at five real financial firms, both small and large, who have nailed down their branding.
Evensky & Katz


Evensky & Katz

has been in the financial services field for 35 years and counting, and that is clearly the pillar they're choosing to stand upon with their branding. With two locations in both Lubbock, Texas, and Coral Gables, Florida, they've identified a niche within their industry that speaks to a "boutique size and culture – combined with the spirit, fellowship, and character of our fiduciary team."

Their logo is clear and immediately communicates their years of accumulated financial knowledge. Further accentuating their nearly four decades of experience, Evensky & Katz continues to use their website as means to communicate trust, especially through taglines such as "Live well. Rest easy." and "Your goals – they're our goals, too."

Furthermore, Evensky & Katz has intentionally utilized photos, such as the canyons of West Texas and the oceans of Florida to easily appeal to and address their niche market, while continuously using the soft, cool blue tones in their style guide (a color you'll often find in the financial and wealth management industry) to communicate calmness and serenity.
APU, Inc


Asset Protection Unit, Inc

is a no-nonsense, "born out of necessity" business, and their website communicates this well.

Upon entering their website you notice how simple and clean it is, which makes room for punchy copy ("...It's your money. Get it back.

") that goes straight to the heart of the value they bring to their clients.



As the reader continues to scroll, we see consistent use of style (note the cool, blue, trust-building color tones) which make the value propositions clear and apparent, and entice the potential customers to want to explore more. Also, by layering intelligently placed testimonials and statistics on top of intentional design choices, APU, Inc makes it obvious they are proven in their knowledge to recover overpayment losses.
Charles Schwab
Branching out into the landscape of a larger, more universal but nevertheless strong brand, is

Charles Schwab

.

As a brand who is well-known in the financial and wealth management industry, they see no need to place their years of active experience front and center on their website. Instead, they dive immediately into their value propositions and choose a more copy-intensive way to expose their knowledge in the industry by way of drop-down Q&As.
Chase


J.P. Morgan Chase

, while very knowledgeable in managing investments much like the firms visited prior, have narrowed their brand identity to magnify credit cards and banking with a personable and friendly demeanor, and their website communicates this well.

Their logo and name are front and center – very easily identifiable to a website visitor – and the options they have for both new and existing clients are easily accessible.

Chase has solidified themselves as a trusted brand amongst banking and wealth management giants by maintaining consistency in their brand messaging. They have positioned themselves as a business who desires to place the power in the hands of their clients, and choose to accentuate this by making their ungated content, which magnifies real-life questions and stories, at the front of their page.
Citigroup


Citigroup

is a global investment bank and financial services firm who takes on a more serious and direct tone. Much like Charles Schwab and J.P. Morgan Chase, they have been in existence for well over a century and have an already established and assumed reputation that does not need to be front and center of new web visitors.

Their professional and knowledgeable brand voice is apparent when looking at their online presence. They strategically choose to place quarterly results, metrics, and additional information regarding their internal diversity initiatives to communicate a continued mission of transparency and trust.
Having a business that communicates trust, value, and credibility takes strategy and intentionality.