The Primitive Podcast: Zach Holtzman
Posted by The Prim Pack | April 30, 2020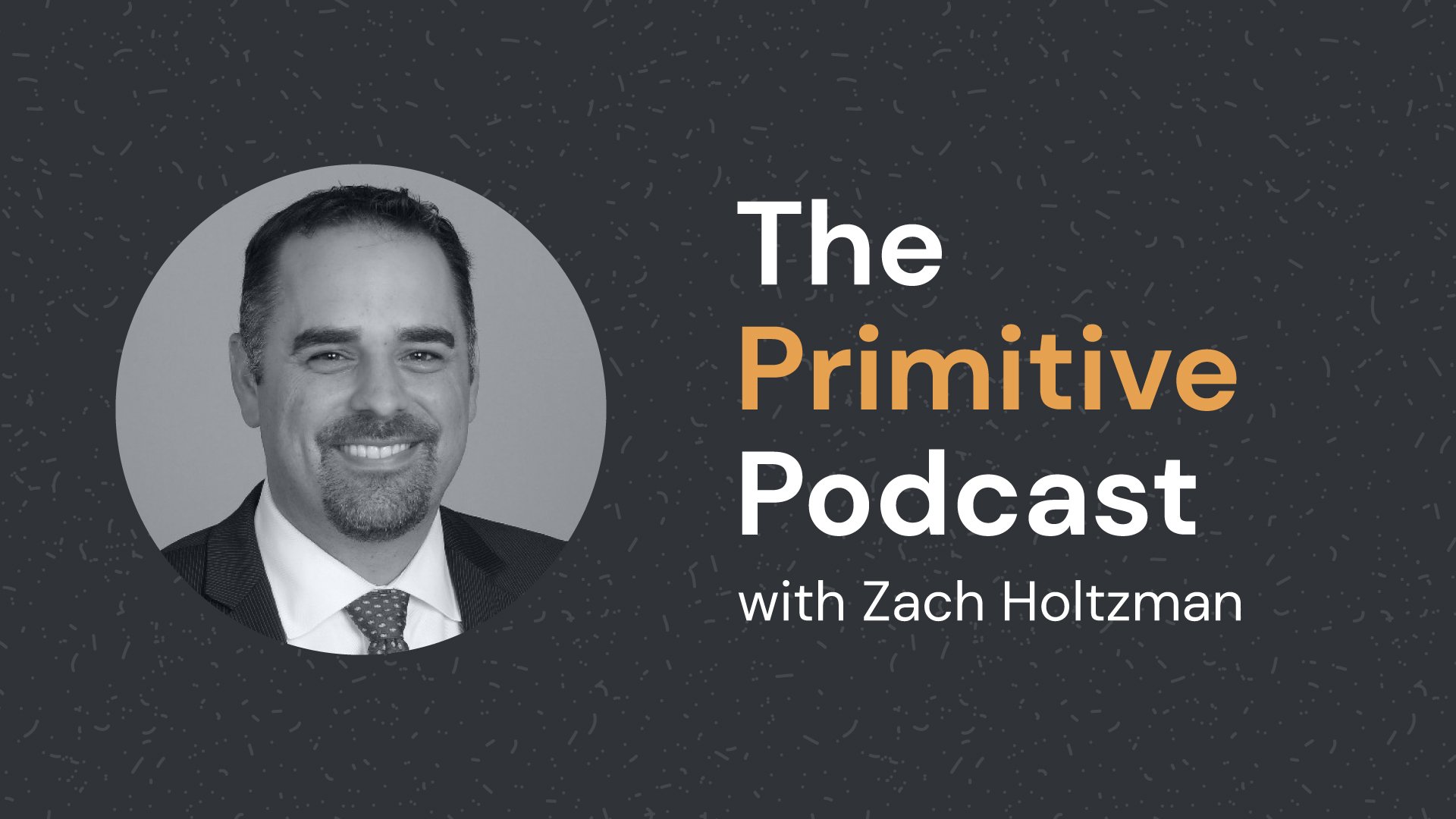 In this week's episode we talk with Zach Holtzman, a financial professional and owner of local Lubbock business, Holtzman Wealth Strategies. Zach shares practical tips for managing personal finances in the time of COVID-19, as well as perspectives and insights on the international and national economy.

Take a listen - we hope you enjoy.
Transcript


Kade Wilcox:
Hey guys, Kade here for this week's Primitive Podcast. What we've tried to do here recently is share more content that is relevant given the times and all that is going on with the coronavirus and what feels like an economic meltdown. So on this week's podcast we have Zach Holtzman. Zach is the owner of Holtzman Wealth Strategies and what the idea behind this week's podcast was really to brainstorm and talk out loud with a financial professional on how people may view their own personal finances as well as try to understand what's going on on a national and international level. So Zach shared several very practical tips on how one might view their personal finances as well as sharing some different insight and advice on the global economy. So I found it really fascinating and if you're like me you're thinking a lot about a lot of things right now in your life, but one of them is certainly your own personal finances as we all deal with and embrace the unknown. So I hope this week's episode is helpful to you. And as usual, if there's anything that I can do personally for you, please let me know. Thank you for listening. Really appreciate your attention and thanks for giving us a listen.
Kade Wilcox:
Well, Zach, thanks so much for joining us. Really appreciate you, in the midst of all this craziness, taking some time to be on the podcast. I'm really glad to have you. So let's start off by you introducing yourself and telling our audience a bit about you and your background and all that good stuff.
Zach Holtzman:
Well, thanks for having me on the program, Kade. I grew up in Austin, Texas and I currently own Holtzman Wealth Strategies, a small business here in Lubbock, Texas. My dad was a CPA in Austin, and mom was a preschool director and basically I grew up, just going to work with my dad and around numbers a lot, which sounds not too exciting to a lot of people, but I really enjoyed going up there to see all he did day to day. And that kind of pointed me to the direction in the career that I'm in now, which is a little bit different. Growing up in Austin, you know, we've contributed to the keeping Austin weird theme down there. So I brought that same mentality up here to Lubbock.
Zach Holtzman:
I went to Texas Tech University and graduated from there back in 2002 and that's where I met the love of my life, or I tricked her into marrying me, Jennifer. And so we've been married ever since August of 2002.
Kade Wilcox:
Okay.
Zach Holtzmam:
We've got three boys. Reston is 13, Garrett is 11, and Ethan is eight. We're just doing everything we can, especially nowadays, to keep them active, doing chores and starting this new age of school from home.
Kade Wilcox:
That's awesome man. Yeah, it's crazy. Crazy times, isn't it? So tell us a little bit about your practice. What do you do at Holtzman?
Zach Holtzman:
Yeah. Holtzman Wealth Strategies. One of the things I failed to mention too on a little bit of background here too is that I got into the investment industry at a very rough time. August of 2008.
Kade Wilcox:
Perfect timing.
Zach Holtzman:
Yeah. History buffs remember that it was the worst recession since the Great Depression. Basically I got in and joined a big company called Edward Jones. A lot of people are familiar with that. Built my business through there and had wonderful training. I still keep up with a lot of the folks at Edward Jones, all the other advisors there. And back in May of 2018, I actually decided to go out and hang my own shingle. It was nothing against Edward Jones is mainly just to go out and be a little more in control of my destiny here.
Kade Wilcox:
For sure.
Zach Holtzman:
So what we do at Holtzman Wealth Strategies, I work with a lady, her name's Rhonda Hodges. We've worked together very closely. We work with clients basically to help them and their families establish a financial goal and help chart a course to get there. Whether that's saving for retirement, planning for college education, or just even something like saving for another house or something else down the road. Help define what their goal is and then use the investments to get them there.
Kade Wilcox:
That's awesome. That's a really good background. So you have some experience helping individuals in the midst of a financial crisis, 2008 and 2009 being a good example. Of course there's a lot of unknown about our current situation, with everything that's going on with the coronavirus and all the interesting things happening with the economy right now. And so I guess there is a lot of unknown, but there's one thing we do know is it's highly volatile and super challenging. And so what best practices or tips would you give people on an individual level who are currently evaluating their personal financial situation and trying to figure out how to handle their personal finances, how to view their personal finances in the midst of so much volatility and craziness within the markets and everything going on right now in the world.
Zach Holtzman:
Absolutely. I feel like the word that keeps coming up over and over again is the word unprecedented.
Kade Wilcox:
Right? It is, isn't it?
Zach Holtzman:
It is. It really is. So many people including, I'd be lying if I didn't say this is very challenging for someone in my field. But I think one of the things you've got to take a step back. For someone who's trying to look at their current financial situation right now and is saying, am I okay right now?
Zach Holtzman:
It can be very much depending on what's going on in their own life. So I'll tackle it a couple of different ways. Regardless whether we're going through what we're going through now or when not if, but when we come out of this, it's important to review your spending. If you don't already have one, get on a personal budget and I like to recommend an app. It's called Mint. It's a free app. You can get on the app store and it'll track your spending in real time and can notify you when you've exceeded your spending threshold and it's very user friendly for folks and you can compile everything together. This is what I spent on eating out, or this is what I've spent on groceries or whatever. So that helping to organize your finances especially now can be very important with everything going on.
Kade Wilcox:
Yeah.
Zach Holtzman:
I also gotta assume there's been so many folks that their income has been impacted in the last three or four weeks. So trying to look for expenses in your budget that you can do without, for now. No one likes to eliminate some of these fun things. But if your income is now maybe 50% of what it was, unfortunately, maybe there's a layoff that happened. It's now. Now's the time. You've got to determine what your needs are. Is cable television a need? Is Netflix really that important to have? I don't want to sound insensitive. It's worth scaling back on some spending right now. Take a break from eating out so much.
Zach Holtzman:
Just find out what spending looks like to reflect your current reality. One thing I think a lot of people have been doing, I've noticed more, especially with interest rates at all time loans. Refinancing your home can make very much sense right now if you've got a home with an interest rate north of 4%. It's worth talking to someone about. That's another way, you can refinance your home, save a little bit of money here and there on a month to month basis, but even less ongoing payment if you can refinance. It can make a difference that way. I think right there are a couple of things.
Kade Wilcox:
A really good start. In your line of work and maybe in your line of work you're dealing with individuals that have a different level of income. I have no idea. I don't want to assume that. But in your line of work, how many, or maybe just in general as you've been in this industry for a long time, how often do you find people, like you mentioned having a budget, which sounds like an obvious thing, but is it pretty common for people not to have a budget at all? What does that look like when you're working with people?
Zach Holtzman:
Yeah, unfortunately the common aspect I do see is people don't have a budget established. We find time and time again the importance of having a budget, you're being proactive saying where you want your money to go, right? Instead of reacting and saying, Oh no, I don't have any more money.
Kade Wilcox:
Yeah.
Zach Holtzman:
I spent it all over here, over there. Being proactive and setting a budget will dictate where your money is supposed to go. And it's much more. I think a healthier way of addressing your finances instead of, Hey, let's see what happens here.
Kade Wilcox:
Yeah, absolutely. I mean, I think planning and intentionality makes a lot of sense to people in most realms. And it is interesting why financially it tends to be so commonplace for there not to be a plan, not to have goals and objectives, not to have parameters, not to have a budget. If someone were signing up for a marathon, I don't think they wouldn't even dream of trying to run a marathon and not having a weekly running plan. And yet when we look at our finances, oftentimes we just don't have a plan. And I would think a plan now when things are so urgent and unknown is even more critical than under normal circumstances.
Zach Holtzman:
Absolutely. I like that. I'm going to use that running a marathon cause I don't run marathons, but I think that resonates.
Kade Wilcox:
It is a good analogy. Like you don't just wake up one day and ready to run a marathon. It's a journey and unfortunately your finances the same way. And that leads me to my next question, again, I hate to assume, but if you ever listened to Dave Ramsey or other folks like him, large portions of Americans don't have a plan or a budget and live paycheck to paycheck. And so if you're one of those people right now, you're obviously reeling, and you're trying to figure out what's up and what's down. And so what advice would you give someone regarding planning for future challenges that are similar to this?
Kade Wilcox:
Would it be really similar to the advice you just gave in terms of evaluating your current situation? Because hopefully we don't face anything like this in terms of this kind of scale. I mean 3.2 million people applied for unemployment last week. Which like you said is unprecedented. So hopefully we don't ever experience something like this in the future to this extent. But what if we do, what kind of advice would you give someone in terms of proactively preparing and creating a plan?
Zach Holtzman:
Yeah. Planning for the future you can do that right now even in the midst of the crisis we're going through cause this isn't going to be the last crisis we're going to experience unfortunately. Getting financially healthy, one of the very first steps we recommend to everybody who doesn't have it is, and this is a Dave Ramsey thing. It's going off the same thing. Get three to six months of your expenses and just set it aside. Don't invest it. Don't buy a big screen TV with that money. This is what's called an emergency fund. And the emergency fund is designed to basically, you may go through a period of like what we're going through now, where there's a layoff. You may have a water heater that just busted in your home. A car needs some significant repairs. You can use that emergency fund to pull from it. So you're not completely just relying on credit card debt to start racking up. Credit card debt that will start charging you 13, 14, up to 18% interest to borrow from a credit card.
Kade Wilcox:
Absolutely. No, that's all good advice. It's strikingly similar to a lot of what I've thought about in terms of even preparing a business for future crises, right? A lot of things you're advising even on personal finances are super applicable to a business in terms of really preparing for a challenge like this. So all really good advice. So many people I feel like don't live in the world of economics. Certainly not on a national level and certainly not on an international level. So what kind of advice would you give a lay person who's getting all these things thrown at them now, both on a national and an international economic level? How would you encourage someone to absorb that information? How would you encourage them to process it? Is it even necessary to process it? How would you interact with a lay person? Again, you live in this world on a daily basis. And for many of us, myself included, I'm not paying attention to what's going on in the economy on a daily basis. So how would you encourage someone to try to understand and absorb that information?
Zach Holtzman:
Yeah, that's a good question. Sometimes I try to explain finances or thoughts on the economy can be like the teacher on Ferris Bueller's day off, just like, Oh man, did I just lose somebody? So I try to simplify it as best I can. I'm not want to stand here and say I'm Mr. Economist here by any means.
Kade Wilcox:
Sure.
Zach Holtzman:
Today we live in a global economy. And that's very evident with this coronavirus going on. It's affecting the globe. So one thing I just would want to stress about this, don't get too much in the weeds, but if you can separate the economy with what the stock market is doing, you've got two different things going on here.
Zach Holtzman:
50% of the global economy comes outside of our country. So if we're talking about investing in general, it may make sense to consider investing outside of some of your money outside of the United States. Right? I'm not going to give specific recommendations on anything, but sure. We're just confined from an investment strategy. If we're just confining all our investments to one country the United States of America. It's like if you went to the grocery store and all you'd have to shop on the inside of the aisles. You missed completely the outside of the aisles. With the global economy, you want to take advantage of 100% of the global economy, right? And so that's one thing you can do to simplify what's going on right now. What's going on in America or what's going on over in China, does that resonate with what's going on with you here in America.
Kade Wilcox:
So it makes sense to me that we're a global economy. And when you say 50% of the global economy is made up of countries outside of the U.S. That makes sense. So this may sound super ignorant, but does that mean that the American economy is 50% roughly of the global economy?
Zach Holtzman:
Yeah. So 70% of our revenue here in the U.S. is you and I just spending money. So yeah, 50% of our global economy mainly comes from the United States of America.
Kade Wilcox:
Wow.
Zach Holtzman:
And so that's big. That's where we tell people, Hey, that's important. You want to take advantage of that from an investment standpoint, the number one country economically in the world, which is the U.S. Hopefully. So yes, that is true.
Kade Wilcox:
That's interesting. I think the reason it's so interesting is because most of us live our daily lives, right? We can barely see beyond what's right in front of us on a day to day basis. But in a situation like this, it becomes increasingly obvious that the whole world is connected on many levels, but especially financial and economic levels. So when something like this happens, there's so many factors outside of an individual's daily life. And I think that's what causes so much uncertainty and unknown even in your personal finances. There's so many variables impacting it that most of us don't spend any time thinking about, which is why it's so intriguing during times like this to try to decipher and understand the news and the story it's telling as it relates to the global impact of this, not just an impact where you're at. So it's all so fascinating.
Zach Holtzman:
Well I don't want to say all news is the same, but a lot of the news that comes out, if we take a step back and realize that the news is their main job, they want to draw viewership. How do you draw viewership? The more fear you can have, I think there could be more viewership, more eyeballs on the screen. So don't let the news or the media dictate your investment strategy. I'll tell you too, a lot of times you see on different news outlets, the Dow Jones industrial average, the stock market's down X percent today or the S&P 500 dropped X percent today. And it's in big red letters. It can look scary when you look at that as well. Remember that if you have a diversified portfolio of U.S. stocks, international stocks, bonds, and any other investments, this is not your current experience. So you're spreading your risk out. Yes, your money is impacted but not to the same degree unless you're a higher risk taker and you have 100% in the stock market. So just remember that that's not your current reality if your risk is spread out.
Kade Wilcox:
Yeah. Makes total sense. Alright, last question for you. What, what are some practical resources someone could check out to help them process all that's going on? Both a personal financial level and then those who are listening are interested in more of the kind of investment strategy and more of the national level. What kind of resources would you steer someone to check out?
Zach Holtzman:
Sure. Yeah, I'd recommend again, trying to simplify what we're seeing right now. It is so important for people, and I can fail miserably at doing that sometimes. So I think someone like Dave Ramsey you mentioned him. I follow him a lot and he has very practical words of wisdom to help people get through this, you know? He's a good one. If you want to, you can go to our company's website, Holtzmanwealth.com. We have a resources tab. Where we try to help investors and people go through trying times, like we're going through right now to help you get more financially healthy. So you can go on our website there and find some more.
Zach Holtzman:
I'm also a big podcast guy, not just cause I'm on here, but there's a couple of podcasts I'd recommend. One is called Capital Ideas.
Kade Wilcox:
Okay.
Zach Holtzman:
And the other one is called The Bid. So those two podcasts are geared more towards themes for moving forward and the investment landscape we're in. So they can help provide a little bit more clarity amidst all this noise we're hearing.
Kade Wilcox:
What was that first one?
Zach Holtzman:
Capital Ideas.
Kade Wilcox:
That's good. Awesome.
Zach Holtzman:
And then The Bid.
Kade Wilcox:
Yeah, I'll check those out. I love podcasts. The only one I would add is The Morning Brew. So it's actually a daily newsletter that comes straight to your email inbox and it's really good in terms of summarizing what's going on in the business world. So it's not just related to personal finances or certain investment strategies or whatever. But just in terms of getting an update, especially right now, it's pretty interesting given the volatility of everything. And they do a really good job of distilling it down into extremely understandable. So they take complex ideas and make it easier for lay people like me to understand. So I look forward to checking out those podcasts. I've been an avid follower of Dave Ramsey for a long time. I'd be embarrassed to acknowledge the number of hours I've listened to his show. So yeah, that's a good one.
Zach Holtzman:
Did you call it The Morning Brew?
Kade Wilcox:
Yeah, The Morning Brew. Yep. It's a newsletter and I think they may also have a podcast. I haven't checked that out yet. But the newsletter itself is really good and I've found it extremely interesting, especially now with how everything's changing and in all that.
Zach Holtzman:
I'll check it out.
Kade Wilcox:
That's good. Well, Zack, thanks so much. Really appreciate your time. Thanks for joining us, especially during these interesting times. So thanks. Thanks for taking the time to be with us.
Zach Holtzman:
You bet. I appreciate it. Thanks for having me on.
Kade Wilcox:
Thanks Zach.
Zach Holtzman:
Thanks.