The Primitive Podcast: Dan Adams
Posted by The Prim Pack | January 6, 2021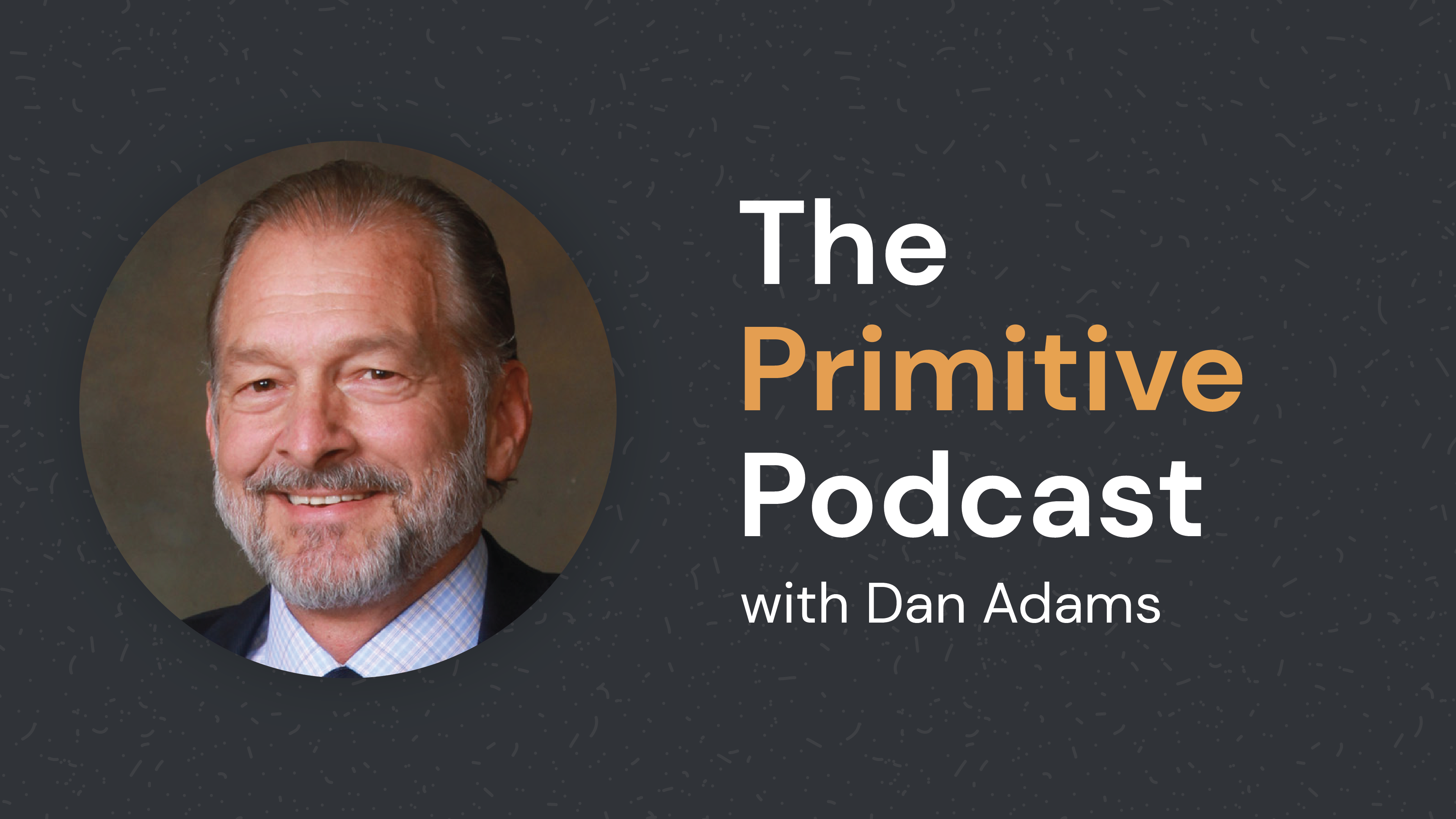 Keeping the fire burning with Dan Adams
Born and raised in Congo and Zambia with missionary parents might have given

Dan Adams

,

President and CEO of Boys Ranch, a head start on his own personal mission in life. But it has always been his deep propensity to help boys of all ages work through rough patches in their life while also raising their individual bars of excellence that has carried him to grow the non-profit foundation into what it is today.
Hear Dan's personal stories of leadership and growth, only on The Primitive Podcast.
Connect with Dan Adams
Getting to Know Dan Adams
Kade Wilcox (00:03):
Hey guys! Kade Wilcox here, Host of The Primitive Podcast, where we take a deep dive into all things leadership. On today's episode, we have Dan Adam. He is the President and CEO of Cal Farley's Boys Ranch. This incredible nonprofit that serves youth who are really going through a tough patch in their life. I hope you enjoy this episode and as always, thank you for joining us.
Dan Adams (00:25):
My job, especially now, is to be a calm in the storm. This year the whole world is panicked. It's created changes in the national environment, social media, politics, and all of the anxiety of the adult world trickles down to the children that we have in our care. And what we have to do is maintain the sanity and we don't have time to take off. We're here 365 days a year, 24-7. I have to be the calm in the storm and say, folks we're going to get through this.
Kade Wilcox (01:01):
Hey Dan, thank you so much for joining the podcast. So you're the CEO at Boys Ranch and have been there a long time. For those who aren't familiar with Boys Ranch and aren't familiar with your leadership, tell us a little bit about how you came into this role and what your work looks like.
Dan Adams (01:14):
I guess I came into this role naturally. My parents were missionaries. So I was raised on different mission stations and in the Congo and Zambia and ended up at the Navajo mission on the right off the Navajo reservation in New Mexico. I got to Texas when my father was appointed to First Methodist Church of San Angelo, and then to the chaplaincy at the Methodist Children's home in Waco. That's how I actually got into this business. By that time I was 17 and started working as a house father during my summer breaks from college. I was a house father at a boys ranch down there in Waco, probably a fifth the size of Cal Farleys. I was right at the grassroots level of that business and in the trenches to those boys. I was a pretty cocky, young, healthy, college aged guy. I thought, heck I can go out there and handle those boys. And they played me like a fiddle. They were a lot better at being juvenile delinquents and being oppositional and defiant than I was knowing what to do about it. And I was an easy score. They could manipulate me. So it was humbling. But also something that really touched my heart and the rest is history. I have grown up in this business. That was actually in 1980. So I've been in this field ever since.
Backstory of the Boys Ranch
Kade Wilcox (03:15):
That's incredible. So maybe give a backstory of Boys Ranch. I grew up in West Texas my whole life and played football against Boys Ranch maybe once or twice. I grew up in Nazareth. But short of that and hearing about it in the region, I'm not really familiar with the backstory. And so maybe share a little bit about that with us.
Dan Adams (03:39):
Cal Farley came to Amarillo in 1925 to play baseball for the Gassers and he didn't make it into the major leagues, but he was an athlete and he became a world welterweight wrestling champion on the West coast and met a lot of people. But he really liked Amarillo and came back and started a tire shop in the early thirties. And then in 1934 started a place called the Maverick Club because he saw a bunch of boys running around on the streets with not enough to do. So the Maverick club, which is still out there on I-40 East of town. And he saw boys were coming in a little early and leaving a little late and he realized that they didn't have a home. So he identified nine boys and talked to Julian Bevins who owned the footprint of old Tascosa and the old courthouse was there.
Dan Adams (04:41):
And that became the dormitory for the Maverick boys ranch. Later he cut ties with Maverick because they were local and he wanted to go national and it became America's first boys ranch. Then it became Cal Farley's boys ranch in the fifties. So it actually started in 1939. Today it's a 12,000 acre working ranch with 28 homes for kids. Kids come from all parts of the country. Their parents call because they're at wits end to know what to do. And so what we're trying to do is cut a kid off from going into juvenile delinquency.
Dan Adams (05:31):
We have beds for up to 290 kids. Of course right now with all the shutdowns and everything 2020 has been a stagnant year that way. Because we're trying to protect the health and safety of the kids that are out there now. But in normal times, we'd have in the two hundreds of kids that go to boys ranch school district, the Roughriders that you played. We have K through 12 and it's kids who can't live at home for one reason or the other, they come to the boys ranch. We can take a five-year-old child and raise them and send them to college. So I actually have between 70 and 100 kids in college at any one time. And so it's pretty phenomenal because we do that at no fee for service. And it's pretty remarkable.
Kade Wilcox (06:37):
Wow, so you raise your annual budget?
Dan Adams (06:39):
We do. Back in the earlier years, Cal Farley and the board started the Cal Farley's boys ranch foundation. That was started back in 1961 with just a little nest egg of money. And they always lived within their means. So they were actually raising more than they were spending, but they were investing money. And today we have two primary funding streams. One is an annual draw for the foundation 4.8% of a trailing five-year average of the value of that. And that brings in around 17 million a year. And then we raise the rest. And over the years people have donated oil and gas royalties, so we get about a couple of million a year off of that. And then we raise around 24 to 25 million. So our annual budget is around the $42 million range.
Kade Wilcox (07:45):
Wow. That's amazing. So is it fair to say that when Cal Farley first started with this vision, it was really small? It was just for a handful of kids and trying to create some level of activity for them. You mentioned he started with nine. Over what course of time did it go from this small vision to a 12,000 acre working ranch with a 40 plus million dollar budget. What was that journey like for him?
Dan Adams (08:22):
At first it was just to meet a need that he saw and if you ever read Malcolm Gladwell's Tipping Point, he describes different types of people. And one of those types of people is a connector. There's a small degree of separation between that person and anyone else in the country. Cal was a connector, he rubbed elbows with some pretty substantial figures in the time when he started boys ranch. Julian Bivins was a big player around here, the Bivins family there.
Dan Adams (09:04):
And then he had a vision. Of course it was nine boys. The first of those nine boys just died last year. And that was really a powerful thing to know Alvis at 95 years old. But Cal had a vision and he started boys ranch in 1939 with those nine boys and decided that he needed a school for them. So back in 1941, he went to the state legislature in Austin and asked for a school for boys ranch. And they created Boys Ranch Independent School District, which is still today a special purpose district in the TEA code and the education code. He knew he needed to market and he needed support and donations. So he had a radio program, but he also wanted to be able to get people out to boys ranch.
Dan Adams (10:02):
So in 1944, he started the rodeo. We still do the boys ranch annual rodeo today. Back then it was just right out in front of the courthouse. And today we have a stadium that seats about 5,000 people where we have the Labor Day rodeo. In 1946, one of his peers was Father Flanagan of Boystown and Father Flanagan made a movie called Boystown with Spencer Tracy and Mickey Rooney. So Cal Farley decided, I need a movie too. And they had a movie called boys ranch, and it's an old wagon watch. You can see it today. And so he was that type of entrepreneurial figure.
Dan Adams (10:52):
In 1949, he started doing a newsletter and a direct mail program, he'd go to a Kiwanis or a Rotary meeting in Oklahoma City and bring the phone book back. And he and his wife would go through the phone book and they'd mail people. Jim Collins wrote a book called Good to Great. And he wrote a little monograph called Good to Great for the social sector. And he was describing what was called the "Hedgehog Principle". He came up with three questions. What are you best in the world at? How do you know it? What are you inspired by? What inspires your passion and how do you translate that to other people? What are your resource engines and how do you keep them perpetuated? So he stuck to that formula. He used newsletters in the mail and the movie to inspire passion in others. He created the foundation to keep the resource engines. And he always felt like he was the best in the world taking care of boys. So that's the formula that our board continues to use.
Kade Wilcox (12:13):
That's powerful. This is the last question related to boys ranch. It's really fascinating. Then we're going to jump into leadership. At what point did it go from a boys focused school to all students?
Dan Adams (12:28):
It was just boys up until the early nineties and a woman named Mrs. Romersi, Margaret Romersi, wanted to build a home at boys ranch. We had all these homes and they're named after the different donors. She said, I want to build a home, but I want girls in it. It was a board splitting decision, they wanted to accept the home, and some board members left, but they decided to go ahead and invite girls to live in that home. And there was another campus south of here called girls town that boys ranch had taken over back in the eighties and they moved nine girls up from boys ranch and put them in that Romersi home. And then Romersi built four more homes. So there's Romersi one, two, three, four, and five, and then we remodeled three other homes. And so there's eight homes for girls today.
Kade Wilcox (13:34):
We don't have time to go into all the details, but I bet that was an interesting time going from an all boys school and then introducing nine girls to it. I bet that had some interesting dynamics, even back in the nineties, I can't imagine making that transition in the 21st century.
Dan Adams (13:55):
I came in as the administrator of girls town and when boys ranch took over, they didn't have policies for girls, so the procedure manual that I had as the administrator of girls town, they just scratched out the word boys and put girls, but they're very different.
Role As a Leader
Kade Wilcox (14:17):
That's fascinating. Thanks for sharing all that. So tell me your view and like how you view leadership and what you see your role as the President and CEO at boys ranch? What does leadership mean to you and what does it mean to y'all's organization?
Dan Adams (14:35):
Well it's modified or morphed over time. Back in 2004, when I became the CEO, I'd been working for Cal for several years and I came into it as a green horn not knowing what to expect and over time you just acclimate. There is such a thing called the Peter principle or where people migrate way beyond what their capacity is. Fortunately, that didn't happen to me, but I did grow in time. The hardest thing as a leader was to be able to let go of what I knew best. And that was the administration of children's programs. Because as the CEO, I had to look at the whole picture, the fundraising, the foundation, the HR, the finance. And I think you're naturally drawn to being more involved in the programs.
Dan Adams (15:43):
Just over time, I realized I had to focus on different things and it has depended on the era. We had to restructure our foundation and instead of running that in house, we outsourced it. And then I've spent more time in fundraising as of late. When we were in the initial stages, we were in a transformation and I was more designing programs. So I think as a leader, my job is to keep the fire burning and keep the organization focused on the mission and to try to maintain a vision for the future, which I think is part of our history. And then also, especially now be a calm in the storm. With COVID, the whole world is sort of panicked and it's created changes in the national environment, social media, politics, and all of the anxiety of the adult world trickles down to the children that we have in our care. And we have to maintain the sanity. And we don't really have time to take off. We're here 365 days a year 24-7. And I really have to be the calm in the storm and say folks we're going to get through this. We need to focus on why we're here.
Kade Wilcox (17:23):
That's good. There's a couple of things you said I would like to unpack. You made the statement that your role is to keep the fire burning. And I assume what you mean by that is passion for what your organization is doing. And you mentioned division, what does that look like for you on a personal level? What do you do for your organization and the employees that you're leading and the teams that you're leading to keep that fire burning and to stay focused on the mission?
Dan Adams (17:55):
Number one, I have to believe it. And what's interesting about organizations, at least in my experience, is that everybody gets real excited about a vision and they can even get excited about the prospect of change, but when it boils down to it, if they don't have a good understanding of where they're going, they're going to hold on for dear life to what they've got. And so the best thing I can do is the communication I do with all of the stakeholders. And that starts with my relationship with the board of directors. Because strategic vision actually comes out of that boardroom. And most of these people in childcare administration, these men and women, are in businesses of their own.
Dan Adams (18:56):
And so they're kind of counting on me to say, this is what's right. This is what is mission centric. And then be able to communicate that to a leadership team in a way that they can translate that to the people that work for them. And I think it has to fit with things that they understand and make sense. I also then have to communicate that to our donor base because we're so dependent on all the donors that they have to believe in what we're doing. So it's the communication and the relationships that I have to maintain and manage. It also includes alumni, because alumni and old guard staff, they take a snapshot in time in their mind, and that's the way it always should be at boys ranch. And if the whole world changes, this ranch is supposed to stay the same. And that's not really the way it is. And I have to be able to make sense of that.
Kade Wilcox (20:11):
How do you do this all really great stuff? What does your communication cadence look like practically? How often do you meet with the board? How often do you meet with your leadership team, that funnels out that vision to the people that they're leading and it has that trickle effect amongst all your other stakeholders. What does that look like?
Dan Adams (20:33):
I'm not going to take this year off the table because we can't, but there's a big difference between meeting virtually and meeting in person. We have about eight board meetings a year and on my board, there's 30 slots. And I probably keep around 16 to 18 board members and we have board committees. So the full board meets eight times a year, and it's usually a noon meeting. And we just give an overview of all the different things going on in programs, ops, finance, fundraising. And then we have an executive committee, which is made up of members of the various committees. We have a budget audit committee that meets quarterly. We have a program committee that meets quarterly. And we have a governance committee that meets about twice a year and they oversee policies and bylaws and things like that. Then we also have the foundation board and it meets on a quarterly basis. So the foundation board is made up of members of the full board that go over. And it has two at-large members. So that's board meetings.
Dan Adams (22:03):
I meet on a weekly basis right here at this table with my senior leadership team. And that involves my chief program officer, chief operating officer, chief financial officer, my fundraising team, and my HR director. We do a round robin and those things have to tie somehow to what the organizational goals are.
Kade Wilcox (22:38):
That's interesting. For some people listening might sound like a boring detail, but you talked about how critical communication is and there's a method to communication. It doesn't just happen accidentally. So I'm always really curious, what people's meeting cadences are. Meetings can be really productive and they can also be really non-productive and there's a lot of valuable time there. So that's interesting.
Dan Adams (23:05):
You're right. To me, the board meetings can go on forever. So I limit them. They're an hour and a half now with COVID and all. With virtual, you can time out and say the clocks run out, and we're going to wrap up. In my leadership meetings, I learned those things could go on forever. So I limit them to about an hour and a half. So only essential things, I think it's more efficient and you get more out of meetings if they're timed.
Approach to Failure
Kade Wilcox (23:40):
That's good. Talk to me a little bit about failure. It seems like really great leaders have a philosophy or a way that they approach failure. And I'm curious what your thoughts are. If there's a practical way that you try to learn from failure or document failure. So what has failure looked like for you as a leader and how have you tried to approach it?
Dan Adams (24:06):
I think failure is essential. If you don't fail, you're not really taking risks and in this business, risk is inherent. When you take children from all over the country that have difficulties with their behaviors and emotions and put them together on one campus, you're asking for some failure. I look at it in terms of what you can learn from it and what was my role in that and what would we do differently next time? And I also think that you have to be able to evaluate it at a personal level. And when it comes to failures that directly impact the care of the kids, I look at it a little differently. Is there a poor judgment on someone's part? Is it lack of knowledge on someone's part or is it just poor maintenance? And that's at the grassroots level.
Dan Adams (25:18):
So one of the things that we struggled with when I first came was there was, we were in a transformational time and kids were acting out a lot. There was a lot of physical force used to manage kids. We worked away from that. And it got even to the point where we held such a high bar for someone intervening physically with an out of control kid, that they were really afraid to do it. If a staff member ended up getting into a physical confrontation with a kid just to manage their out of control behavior, that's when that question would come into play. Was it lack of knowledge about what else they could do to deescalate the situation, or is that staff member just flat out mean and does he like to fight?
Dan Adams (26:24):
I just had a meeting in the back with my fundraising team and we're talking about our direct mail program and certain packages that we're going to send. And there's a lot of money in direct mail. And failure is a package that you choose to send out to donors for Christmas doesn't work as well as you thought it would. And it's a budget driver, but I'm not going to sell my soul to get the money. So am I going to send out a bunch of Christmas cards and stamps and stickers, or am I going to send out a story about a child.
Personal Growth
Kade Wilcox (27:14):
That's good. What's your approach to your own personal growth? You have a lot of people you're dealing with. A very large board, committees, your senior leaders, families, students, community and regional stakeholders, donors and alumni. You have a lot of different things pulling and vying for your time. So what's your approach to your own personal growth and staying accountable and staying inspired in the work that you're doing?
Dan Adams (27:50):
Again, that's changed with time and when I was younger in my leadership role, I was busy immersing myself in the other boards and associations and going down and speaking at hearings on childcare legislation and all. And what I realized over time is that if I had a good team of people that worked for me, I started delegating some of that to them. And over time, your own arrogance or need for your ego to be stroked sort of fades to wisdom and a confidence of a different kind where you start shifting from it being about your own personal growth, where the person across the table from you starts mattering. And I feel like I've benefited at this point in my life through watching people who work for me be successful. And I think that comes with time.
Dan Adams (29:03):
You mentioned our mutual friend, Alex, I do a lot of consultation and consulting with other business leaders, and I try to do it with business leaders outside of my field. I think that nonprofit leadership has been notoriously negligent in terms of learning from our for profit partners in terms of business efficiency and the way they make decisions about what's important. So I often just ask to get a cup of coffee with them and talk through a challenge that I have. And it ends up being very valuable to me. And I learned more from those kinds of encounters than I ever did sitting in a seminar.
Kade Wilcox (29:59):
That's really good. What have been some of the biggest personal influences in your leadership journey and what are some of the things you've learned from them? You mentioned your desire to learn from other leaders, who are some of those influences throughout your leadership journey and what are some of the more critical things you've learned from them?
Dan Adams (30:21):
When I was young and before I was in a leadership capacity, or probably even thought about being in it, I was in direct direct care or even mid-level management roles. I studied the administrators or the leaders that I was responsible to. And I learned as much from the ones that I didn't care for, than I did from the ones that I wanted to emulate. And what I mean by that is that I feel like I went into this business with a pretty good intuition about the right way and the wrong way. And I think I've watched other leaders make enough mistakes that I even said as a young guy, if I'm ever in a position of authority, I won't do that. Especially, when I was a house father with a bunch of kids and I found myself in a place where I didn't have enough training. I didn't have enough supervision and support. And I remember thinking then when I was 23 years old, I would never put someone in this position. And so as a leader, I learned from that and I overemphasized supervision and training and teamwork and support. And then I did have leaders, especially male social workers who were really my mentors in making the decision to get my master's degree in social work from University of Texas, and then get into management. Social work, nursing, things like that have always been typically female dominated. And I felt like I had that calling. And so it was good to have some men that were in front of me.
I've always been inspired by people who were innovators, who had a mantra that it's not about why I can't do something, it's how I can. And that fits with boys ranch. It fits with me. There's always going to be barriers, whether it's regulatory or financial. And you're just going to figure out if you believe in where you're going, you are going to figure out how to get there. And I've always been inspired by people who modeled that. I look at the CEO who hired me, I think a lot of him, because he believed in me and he saw something that I didn't even see in myself. And he was pure business and I was pure program. And together we were a great team and he learned from me and I learned from him. And he took me to lunch over at Chili's one day. He said, Dan, by the way, we just elected you President. And I said, I don't remember applying for that job, Chris. And he goes, you've been applying for 10 years, young man. So I really appreciated that.
Dan Adams (33:51):
And then the other is I'm influenced by young people who we serve. And I've always felt, especially kids that go into institutional care, society holds a low bar for them. And kids will belly crawl under a low bar, but if you hold the bar higher, they will exceed your highest expectations. And that's what inspires me. So when I spend too much time around this office I'll go out to boys ranch, go over to the cafeteria and I'll watch kids coming in there and interacting, and I'll sit down with a table of kids and that influences me to be a better CEO for them.
Speaking to Your Younger Self
Kade Wilcox (34:48):
That's really good. Great insight. Thank you for that. My last question for you, if you could speak to your younger self, 15, 20, 25 years ago, what advice would you give yourself based on what you know now?
Dan Adams (35:02):
Leave your ego at the door. There's a book I read the other day. It's called Ego is the Enemy by Ryan Holiday. And I think that all too often, people in leadership positions, especially if they have CEO title, spend a lot of time thinking that it's about them when it really isn't. And I think that's the biggest block in leadership is not being able to understand or appreciate the gravity of the responsibility that you have for other people. And if you're able to do that, then what happens is that your satisfaction and your inspiration in life comes from the success of other people, the people that you have mentored.
Dan Adams (36:05):
One of the old guard guys at boys ranch, I was up in the board meeting, Cal Farley's daughter sitting here to my left, and Cal the patriarch sitting to my right and I'm talking about changes at boy's ranch, changes to the things that they started, or Cal started. And it was hard for me. And one day the old patriarch came up to me and said, Dan, I support everything you're doing. He said, I was a product of my time and there's no way I could do what you're doing now, but I think you wouldn't have been able to do what I did. And I just hope that history treats you kindly when you're an older guy and people are in the trenches, in a program that you set the stage for and hope that they're kind to you. And I said that's good advice.
Kade Wilcox (37:13):
That's good. Dan, thank you so much for your time. You're doing incredible work and the leaders of your organization are doing incredible work and it's been fun for me to to learn from you and to listen. And it's really humbling thinking about the work you're doing and why you're doing it. Not that I'm an expert at all, but the insurmountable obstacles that you probably face on a daily, weekly, monthly, and annual basis from fundraising to regulatory issues, to families and relationship dynamics. You're in the trenches every day and it's something I really admire. So thanks for joining the podcast and thanks for all your time and your insight.
Dan Adams (38:01):
Thank you. And good luck to you. Happy Thanksgiving and stay safe.
Kade Wilcox (38:07):
Thank you.