The Primitive Podcast: Steve Massengale
Posted by The Prim Pack | May 4, 2020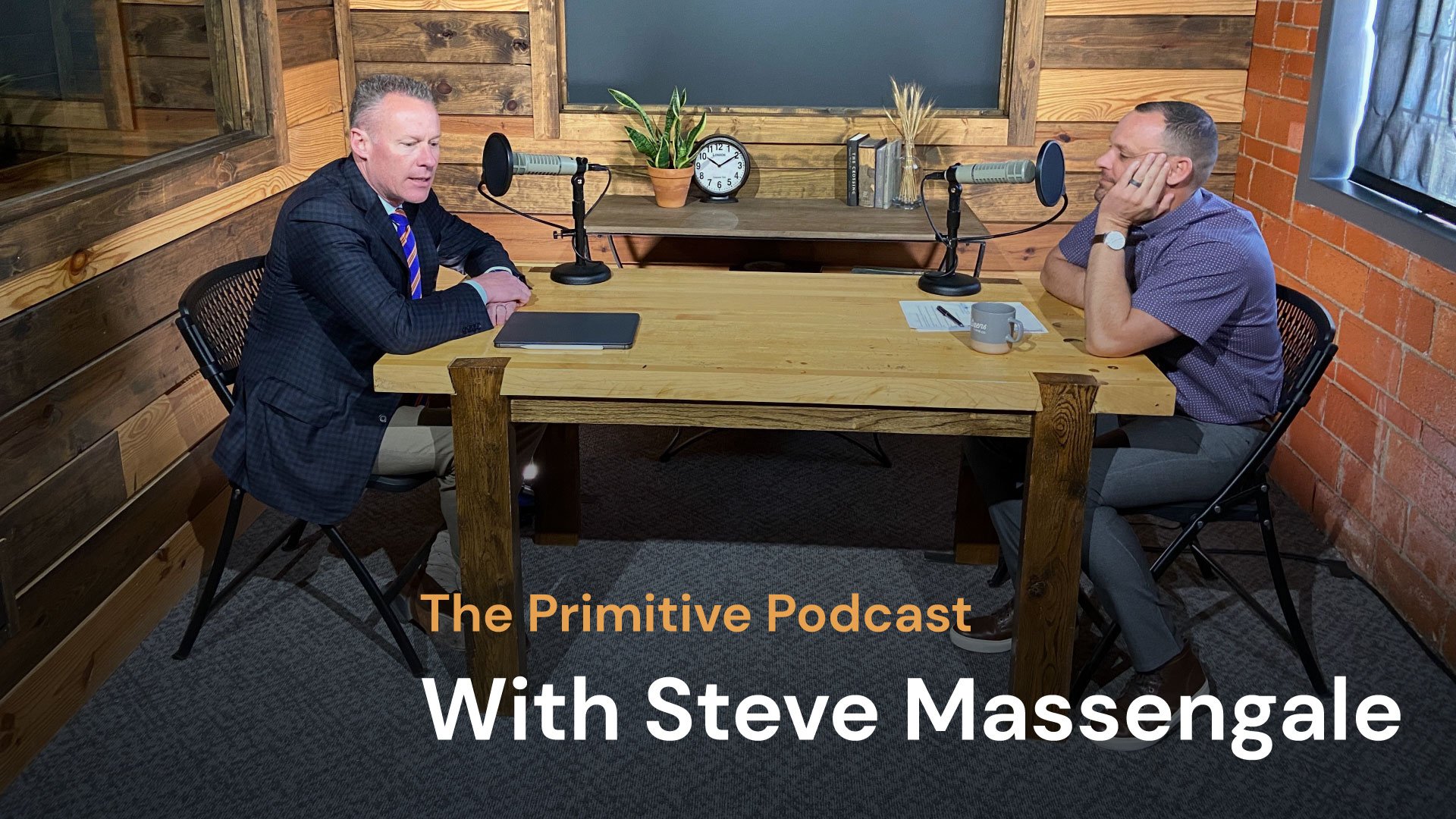 As a lifelong Lubbock resident, owner of several local businesses, and current city councilman, Steve Massengale has seen plenty of the ups and downs that accompany both entrepreneurship and public service. In this episode, we talk about the importance of hard work, physical fitness, gadgets, and more.
Transcript
Kade Wilcox:
Hey guys. Kade here, host of The Primitive Podcast. On today's episode we had Steve Massengale. Steve Massengale is a local business owner of multiple businesses in Lubbock as well as a current city Councilman. Really enjoyed my time with him and getting to know him a bit and I think you'll enjoy it as well.
Kade Wilcox:
Thanks so much for listening and for being a committed follower of The Primitive Podcast. If you haven't already, please subscribe, it would mean a great deal to us. And tell a couple of friends if you've enjoyed the podcast. We really appreciate you following along on this journey with us.
Kade Wilcox:
Steve, thanks so much for joining us. It's really great to have you on. I know you're super busy, you've got multiple businesses and City Council and all kinds of stuff, so thanks for fitting us in. So for those who are listening to the podcast, why don't you tell them about your background, where you're from, and where you went to school and how you got into your businesses and all that good stuff.
Steve Massengale:
So I grew up in Lubbock. My dad was a city employee. And he had a job in Midland at the time and we moved here in 1980. My dad was, back then it was called the director of finance, but he was basically the CFO for the city of Lubbock, which is interesting. I grew up here, went to Monterey High School, spent a couple of years in College Station and came back to Texas Tech and graduated with a business degree. Growing up in Lubbock was great. Monterey was great. I love school and I had my first business before I was 16. And we cut grass. We were cutting grass and we had enough customers at the time that I bought my first truck.
Steve Massengale:
I paid $450 for it. It was a 1973 Chevrolet pickup without a tailgate. But I remember we were doing so much work, we'd get home from school and our parents would have to take us to job, to job, to job. He finally just said, just start driving, I'll take the heat for the ticket. And so I've been self employed since that point.
Kade Wilcox:
Okay.
Steve Massengale:
I have a business background. The guys that I was in the landscape business with, David and Michael Poster, we got into the t-shirt business and we peddled some t-shirts in and out of, there weren't many rules back then, but we would set up in the student union and sell. So we played with it and were successful, and in 1993, the Lady Raiders won the national championship.
Kade Wilcox:
That's awesome.
Steve Massengale:
And so we seemed to be uniquely positioned to take advantage of that. Licensing wasn't what it is today. And so that was good for us. And then from there we started Advanced Graphics and you know the rest of the story.
Kade Wilcox:
Yeah. That's cool. So how long were you in a business partner relationship with those guys? Like at what point did you take over Advanced Graphics and it became your thing?
Steve Massengale:
So I was always partnered with David. Never officially partnered with Michael. And then David decided that he wanted to do some other things and asked me to buy him out. And that was like in 1996 or 1997.
Kade Wilcox:
Cool. That's awesome. So is there a point that you can remember growing up where you wanted to be self employed? You mentioned you've been self employed since before you were 16. Is there something that triggered that?
Steve Massengale:
It was implanted in my brain mostly by my dad. He just said, being self employed is where you'll get paid what you're worth. And so I kinda never deviated from that path.
Kade Wilcox:
Okay, that's interesting. So I'm generally interested in entrepreneurship particularly, I have a nine and seven year old and I'm self employed so they're getting to observe that and watch that. Are there other things that happened between let's say 16 and 20, when you're still trying to figure things out that really influenced your entrepreneurial journey? Or did you just jump in with the landscaping company and took it as it came at that point.
Steve Massengale:
It was all about work and hard work. And I guess I was just wired that way from the beginning. I always tell everybody I've never had a job.
Kade Wilcox:
But you've worked a lot of hours.
Steve Massengale:
Yeah.
Kade Wilcox:
That's great. So how do you see your role from a leadership perspective? You currently serve on the City Council and Advantage Graphics, you've got all kinds of things that you're doing. So when you think about your specific role in each of your responsibilities, how do you see leadership and how do you think about leadership?
Steve Massengale:
Being a leader in all those different entities you get the leadership question a lot, but it always seems simple to me. You've been placed in a position to make all those around you successful. So in that regard, in my mind, I always turn the table and I think I work for all those people. It's my job to position them as a leader to make sure they can be successful. And that's the shortest way I know how to answer that.
Kade Wilcox:
That's really good. And that's really applicable regardless of what role you find yourself in
Steve Massengale:
It applies all the way across.
Kade Wilcox:
It's really good. In the years you've owned your own business, in the years you've been a public servant, what are some of the most critical things you've learned, whether it be through failure, whether it be through success? When you think about your kind of entrepreneurial journey, your self-employment journey, your public service journey, what are some of the most critical things you've learned along the way?
Steve Massengale:
I've learned that a business good enough to sell is a business good enough to keep. As I was building my business, I got interested in the cellular phone business. And so we had a business for a while where we were the largest retailer for Alamosa PCS, which was at the time the Sprint PCS affiliate. And it was the evolution of analog cell phones to digital cell phones. And that was a business that I had that exploded.
Kade Wilcox:
Wait, I've had some things explode both in the positive sense and negative sense. So when you say the word explode, which one is it?
Steve Massengale:
It exploded positively.
Kade Wilcox:
Okay. Thanks for the clarification.
Steve Massengale:
I think at our peak we had 16 locations from Midland to Wisconsin, mostly in malls because that was my expertise as we started Campus Design in the mall and we understood mall retailing. And someone came to me at that time that was part of that organization and asked if I'd be interested in it. And in the middle of that explosion, 911 happened. And so the business changed. And as we were maneuvering through that change someone approached us to buy the business. And the lesson I learned from that was the sale of that business was a failure. We didn't handle it the way we should have and I paid the price for it. And so I've always said a business good enough to sell is a business good enough to keep.
Kade Wilcox:
Yeah. That's good. What are some other things that you can think of in your journey, whether the leadership principles are leading and managing people, what are some other things you've learned?
Steve Massengale:
You know, I've learned that nothing replaces hard work. Nothing replaces getting in and figuring it out.
Kade Wilcox:
Definitely. That's great. What's your approach to failure? People have different viewpoints on what they learn from failure and how they approach failure and how they absorb failure. When you talk about selling your stores, you talk about a business that's good enough to sell is good enough to keep, when you think about a failure that you've experienced, what's your approach to failure and how do you try to learn from it? Or how do you manage it?
Steve Massengale:
I try hard to learn from it, but my approach to failure is I'm going to keep on trying and if that's not working, we're not going to sit down and be complacent, and we're not going to grieve it. We're going to turn right back around the next day and we're going to get right back after.
Kade Wilcox:
Yeah, that's really good. What's your approach to personal growth? You've got a lot of employees. You've got your responsibilities at the city, how does Steve Massengale approach your own growth as an individual and as a leader?
Steve Massengale:
For me it's about physical fitness. That's the core. It's my base that I build from. I'm not balanced and I don't feel like I'm mentally healthy until I know I'm able to do my physical fitness routine. For me, a lot of that is running. I really enjoy starting my day with a run. I'm over 50. I can't run every day, but a run for me is a great way to process and clear and I feel good about myself. And for me it starts right there.
Kade Wilcox:
That's good. Are you a reader or a podcast listener or are there some other things that you lean into?
Steve Massengale:
I'm a better listener than I am a reader.
Kade Wilcox:
Okay, cool.
Steve Massengale:
There are times when I enjoy podcasts. I enjoy audio books. Podcasts for me are going to be things like cars. I'm a car guy. I like to listen to these guys about working on cars and I'm kind of an American muscle car guy, but I like all cars. So if I find myself with a podcast, a lot of times it's just kind of mind clearing to go off and listen to that. Although I don't get time to work on cars but that's typically what I listen to.
Kade Wilcox:
That's awesome. So when you think of audio books, are you more of like history or like what types of audio books do you like to listen to?
Steve Massengale:
I find myself drawn to fiction, but I have on occasion listened to things whether it's about the state of Texas or I have an affinity for New Mexico. I've listened to things that are associated with them.
Kade Wilcox:
Yeah. Sometimes it's good to do things that are mindless. I think I enjoy running and it's not mindless actually. I probably get my best thinking done when I'm running, but it can be about whatever I want. You don't feel the urgency or the need to move something forward to someone else, because it's your space and your time. So I can really relate to what you said about running specifically. I have to admit that I've never listened to any podcast about muscle cars, so I'm going to have to give that a shot.
Steve Massengale:
You know, sometimes I listen to photography. One day maybe I'll have the time to be a good photographer. I'm a gadget geek, real bad gadget geek. So I like listening and reading about that stuff all the time.
Kade Wilcox:
Okay. Now you got me going down a rabbit hole here. So what kind of gadgets? What are some of the ones you've tinkered with the most recently?
Steve Massengale:
Well, I drank the Apple Kool-Aid for sure. And so I mean in 2007, when I saw what they were developing, I was in line in Austin, Texas the first week when the first iPhone was for sale.
Kade Wilcox:
That is awesome.
Steve Massengale:
I think last year I skipped a year, it was the first year I didn't replace. So I'm the guy that always has the brand new one first time. And I've bought into the watch and I try to focus all my work through the iPad. As far as other gadgets, I like things that go into cars. I've got a thing that watches all the health of the car, the engine. And I'll look at that.
Kade Wilcox:
All right, I got a new gadget for you. It's called the whoop stop. Have you heard about it?
Steve Massengale:
No.
Kade Wilcox:
So it's called the whoop strap and it does three things. It measures strain, recovery, and sleep.
Steve Massengale:
Strain?
Kade Wilcox:
Yeah, it's a strap that goes on your wrist and it measures your physical exertion throughout a day. So it does it by itself, or when you start a run or if you're doing weights or you're skiing or any kind of physical exertion, you can actually tell the whoop strap, Hey, this is what I'm doing. But it measures like heart rate variability and your heart rate and all these other kinds of things. And it takes those three things, strain, rest or recovery, and sleep and it shows you basically your recovery for your body. It is completely fascinating. And so it's a gadget you should check out.
Steve Massengale:
Never heard of it so you schooled me.
Kade Wilcox:
It's super great. But what I love about it is like sleep and everyone knows this, but sleep is so critical. And so based on your strain and based on your recovery, it actually recommends for you how much sleep you need per night, and it measures it. So you can see your disturbances in the night, your latency. I mean all of these really great things. And then it helps you improve your sleep, which helps you improve your overall fitness.
Steve Massengale:
If it can make me sleep longer that would be great.
Kade Wilcox:
There you go. Yeah. Well, I don't know that it can actually make you sleep, but it can give you the information to help you make good decisions.
Steve Massengale:
I already know how long I need to sleep. I don't get there.
Kade Wilcox:
How do you balance your time? Again, you've got multiple businesses, City Council, you've got a family. How do you approach managing your time? That's the first question. And the related question is, when you find yourself out of balance with those things, how do you reign yourself in and try to recover that balance?
Steve Massengale:
I don't know that time is well balanced sometimes for me. Counsel pulls on me all the time. And I just came from a staff meeting at Advanced Graphics and I called this a City Council meeting, but I said I have got a meeting. They didn't know where I was headed, but I cut that meeting short. And I oversee facilities for the Council and that requires a lot of time. But it'd be really hard for me to advertise that my time is balanced. You just do the best you can because you know, my daughter is in Pom at Friendship. Sometimes you gotta be there and you gotta figure out how to make all that work. Again, if I didn't have a device that someone could help me manage my time with, I don't know that it would be very well managed.
Kade Wilcox:
What happens when you start feeling depleted? When you've kind of overstepped that balance, and maybe it's not a balance, but when you feel your tank running dry, what are some of the things you lean into to restore your energy and focus?
Steve Massengale:
Looking forward to that time that there's nothing., When we started today you asked about my week and I said I had a weekend with no events and that's very rare around the Massengale house. And so we're going to take some time at spring break and get away. And I think that's what we look forward to.
Kade Wilcox:
That's cool. That's great. Who've been some of the biggest personal influences in your life?
Steve Massengale:
I mentioned my dad. I would say my Scoutmaster Jim Arnold, I'm an Eagle scout. He had an influence on my life. I was particularly close to one of my teachers. I was a good student, but I was mostly fascinated with industrial arts in high school. And so I'm a trained welder. I'm a cabinet maker. I've probably forgotten my architectural skills, but my teacher was Steve Ireland. Steve taught me woodworking like nobody had ever taught, but at the same time we became good friends. He was a runner and he's probably also what motivated my interest in running. I ran cross country in high school, but I didn't have any talent. I was probably average at best, but he was a master track athlete and he was a sprinter that actually still holds records in Kansas. But I stayed close to Coach Ireland up until when he passed a couple years ago.
Kade Wilcox:
That's awesome. So you bring up the trades, this kind of a random question, but now I'm curious, what kind of influence do you think they have now in the current society we live in where everything is driven by technology and everyone's pushed to go to college and it's this unspoken expectation. When you think of your teenage daughter, when you think of the education system, you think of your own experience with the trades, what importance do they have and what kind of influence did they have on you now as a very successful business owner?
Steve Massengale:
So the trades are vitally important. I think society continues to recognize that. To me, those classes in high school taught me better critical thinking than any other class. And I know math is part of the cognitive process, but say you're going to build this table and you've got to figure it out from scratch and you have to understand how to look at a measuring tape and tell me any one of those 16 marks in a split second that are on that measuring tape. Not many people can do that. And that may be simple, but to me that's what I think those classes teach is critical thinking. Start to finish, how do you solve a project and how do you solve a problem in between? And we probably don't have as much of that as we used to in this world. And in my own business we try to make sure that we can hire people that are critical thinkers, but sometimes we need someone to count and sometimes that's difficult.
Kade Wilcox:
Yeah, that's really fascinating. You talk about critical thinking and problem solving and as we've adjusted from an agriculturally based society, I think the small town I grew up in and people farmed and they worked on the farm. Even if they weren't the primary one, they were working on a farm. And the kinds of things outside of work ethic and things like that is problem solving.
Steve Massengale:
Right.
Kade Wilcox:
And so it's an interesting correlation that you draw between the trades. And I know enough about building things just to be really dangerous and I have more problems than successes and so I can relate to the critical thinking aspect. That's an interesting point.
Steve Massengale:
There's some independence built into that and some resiliency I guess I would say. But I enjoy those things. Those are the things that I don't get to do very often. But if we needed to weld a steel base or build a steel base this afternoon for something, I could help.
Kade Wilcox:
I can tell you the small time I spent trying to weld did not go well. I was terrible.
Steve Massengale:
It's just like anything else. I mean, I'm a great welder, but I can't play golf.
Kade Wilcox:
Yeah, there you go.
Steve Massengale:
There used to be something at some point in time when I was growing up and somebody said everything I learned for life, I learned in kindergarten. I used to joke and say everything I learned for life I learned in woodworking.
Kade Wilcox:
That's good. All right, my last question for you. If you could speak to your younger self, your 20 or 30 year old self, what advice would you give yourself based on what you know now?
Steve Massengale:
I would say why didn't you sit down with that Marine recruiter when he came to the house? Why didn't you serve? That's a big one for me. Why didn't you apply yourself a little more in school? In the world I live in today, I don't see that there's any other way that that would have helped me. I'd probably encourage Steve, although he's so hardworking and understands how to make a buck, maybe save more of that buck than you did at the time. Those types of things. I would probably pat him on the back for graduating from college and getting immediately involved at the Chamber of Commerce, which led to many other volunteer roles since then that have grown me as a person. But it helped me find that part of me that is a servant leader and it's certainly an evolution. People that want to run for office sometimes say I want to run for office, where do I get started? I was like, well, I got started in 1994. And you just have to build that rapport and trust and you learn all along the way.
Kade Wilcox:
That's good. Well, thanks. Thanks for taking time out of your busy schedule to join us. Really appreciate everything you do.
Steve Massengale:
Yeah it was really fun.
Kade Wilcox:
Thanks, man.