The Primitive Podcast: Steve Gomez
Posted by Buffy the Bison | April 19, 2021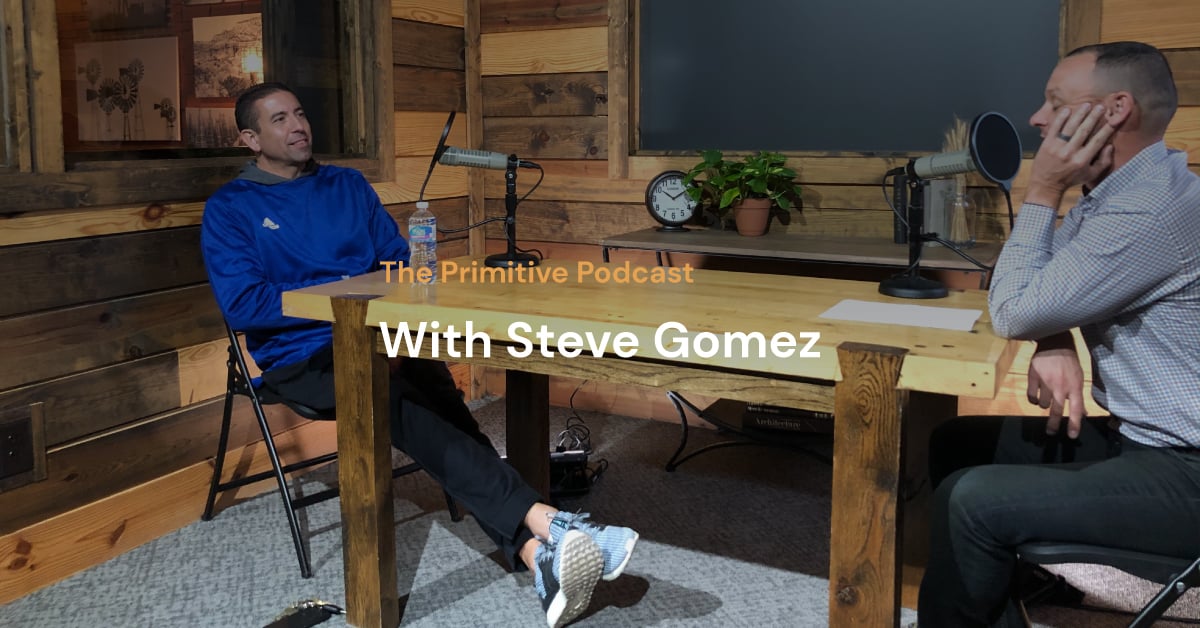 Have you found yourself with a degree that you aren't using? You're not alone. With a Bachelor's of Science degree in Mathematics, Coach Steve Gomez didn't necessarily envision a life where he would lead his Alma mater's Lady Chaps to 10 consecutive NAIA Division 1 tournaments, but life has a funny way of working itself out that way.
Transcript
Kade Wilcox:
Hey guys, welcome back to the Primitive Podcast. I'm Kade Wilcox, your host. This week we're joined by coach Steve Gomez. Coach Gomez is the women's basketball coach at Lubbock Christian University and has been unbelievably successful in that role. This was a uniquely fun interview for me, growing up in Nazareth playing basketball from the time I was born. We would actually travel to the Monterey Basketball Camp every summer with a big group of kids from Nazareth and Coach Gomez at the time was an Assistant Men's Basketball Coach under Coach Self at Monterrey. So I've known Coach Gomez a long time and have always had a profound sense of respect for him. Another thing that made this fun is that my little sister played four years of college basketball for Coach Gomez and to this day is tremendously impacted by Coach Gomez on a personal level and so I hope you enjoy this episode as much as I do learning from one of the best in the business.
Kade Wilcox:
I really appreciate you joining us, Coach Gomez. Of course I've known you for a really long time, since the '90s. All my friends and I went to your basketball camps growing up and always really admired you. So to watch your career the last 10 or 15 years and then even my little sister getting to play for you is really special. So thanks for taking the time to join us today. And I think most of the people listening to the podcast will certainly know who you are. But why don't you tell us about your background, where you grew up, what got you into basketball and a little bit about your family.
About Coach Steve Gomez
Steve Gomez:
Yeah, such a providential journey. Everything we do in life, I guess the twists and turns. Growing up, my dad was in the Air Force, so I was all over the world. Born in Indiana, lived in New Mexico, grew up some of my elementary years in Germany. So spent three years in Germany and then came back to the States, settled in the Arlington, Texas area. My dad retired and so we went to Arlington High, had a great youth growing up. I was figuring to go to college, come back to the metroplex, but had a chance to go to LCU, Lubbock Christian University, and play basketball. A lot of great relationships. Ended up meeting my eventual wife there. So I graduated from college with a math degree, not expecting, even wanting to coach, but not really having a coaching job coming out of college.
Steve Gomez:
Fortunately the connections, so much in life is, who do you know, what are the paths that cross? And so Vic Self was a coach at Monterey and it was late in the summer right before I was going to start a job teaching math in Levelland, and I was just going to be a math teacher in Levelland. So they had hired me. Monterey had a coaching transition late in the summer. And so Vic Self, being an LCU grad himself, was looking for an assistant coach late in the year. So really, it was an emergency. It wasn't like he was hunting me out. It was one of those again, providential moments where I didn't even expect to have that job. So I arrived three or four weeks before school was to start, had a chance to get a job coaching basketball at Monterrey, assistant coach. So took that, and that started a great relationship and opportunity to learn from him over those first eight years of coaching high school boys.
Steve Gomez:
And then moving on to having a chance to coach at Cooper High School for seven years, seven more years of high school boys and then strangely enough, had a chance to go to LCU and that's another story. But yeah, my background is there. My dad was a huge influence. He came from Puerto Rico in his teen years, just looking for a better life, had some relatives. So he ended up joining the military. That's how that started. My mom, her parents were from Germany, so I'm from all kinds of cultural backgrounds and I have an older brother and an older sister. My older brother is a counselor. He does anger management counseling, substance abuse counseling and my sister's a piano teacher, also the wife of a pastor here in town at the church we attend.
Kade Wilcox:
That's awesome.
Steve Gomez:
And yeah, it's just such great influences. My older brother, my older sister, my dad and my mom.
Kade Wilcox:
That's cool. I didn't know you spent any time in Indiana, so there's some basketball roots there. And then I had no idea that you were going to become a math teacher when Coach Self recruited you to come coach. Now Coach Self coaches with you now? So you guys have been together a long time.
Steve Gomez:
Yeah, really a full circle of eight years of high school coaching together and him as the head coach. And then he retired from basketball and from teaching at Monterey High School and he came to me one summer, just ate lunch together and he just brought up, well would it be all right if I came around and volunteered to help you coach? And I thought what a stupid question. The guy who really gave me my start and taught me so much, asking almost apologetically asking for an opportunity. I said that would be awesome. And at the same time realizing we didn't have a position, but he was just wanting to volunteer.
Steve Gomez:
So I'm getting some of the best help I could ever have for free. Now you're not even paying, the school is not employing him, but that obviously then worked into a full-time position. But yeah, what a great opportunity to the last nine years now at LCU for us to have spent that time together. So over half of my coaching career we've been able to work together.
Kade Wilcox:
That's really cool. So let's talk a little bit about leadership. So when you think of your team, your players, your coaches, you're really leading that organization. And so when you think of leadership, what do you view your role as a leader for your team as? When you think of yourself, what do you think of?
"You're not that important."
Steve Gomez:
Well, I think the first thing is, and it's a paradox, one of my most important leadership principles that I have, that I even tell our players is that you're not that important. And that may sound terrible. It's not a very good motivational speech. But every recruit we have, I'll tell that player, hey, just know that you're not that big a deal. We don't have to have you. And even as a leader myself, I need to realize I'm not that important. I'm not that big of a deal. I need to find a way, how can I help the people that are really getting it done?
Steve Gomez:
I want to get out of the way, find great people, find a Vic Self, find a Casey Wilson who are my assistants, to find players like your sister, like Allie Schulte now, like Maddi Chitsey, these players that know how to play and empower them to play. So I think a lot of my role is getting out of the way and empowering, building up, encouraging. We try to live on not finding mistakes but trying to find them, do it right and encourage that. So I think a lot of it's encouragement and just creating an environment where positivity can take root as opposed to trying to hard-hand everything or trying to be the final say in every decision. Find great people and let them flourish.
Kade Wilcox:
That's really good. You just said about telling players, you're not that important and even really viewing your own role in the same way. How does that play in the 21st century? Where a lot of kids these days are the center of their world. They're the center of their parents' world. They're the center of their high school basketball team's world. So how does that look during this kind of cultural moment?
Steve Gomez:
That's so perceptive because you understand that everybody is trying to promote themselves. The selfie, the tweets, all that stuff. And we wanted to understand really, you're not that big a deal. We're not going to promote you. I'm not going to be posting on Facebook, Twitter, Instagram, whatever, all your awards and accolades. It's about a team. And if you can lose yourself in something bigger, you're going to find some joy. But sooner or later you're not going to be important anymore. If all you're putting your stock on is my current stats and my current status on a team. And so if a kid comes from a high school that plays all the time, scores all the time, and they come here and they have to know, you're going to probably sit on the bench for awhile.
Steve Gomez:
There's going to be a time where you need to learn to cheer for your teammates. I think there's a strange term I'd heard a while back, it's called mudita. It's about vicariously living joyfully through other people's success and not having to experience it yourself, but finding a way to enjoy someone else's good. But these days that's really rare. And so what we're trying to do at LCU, at least in our program, may be very counter-cultural, but I think people have a hunger for that. I think deep down we want to be sacrificial. We want to have someone discipline us. We want to find something bigger than ourselves. Everybody has that want, they just don't know how to find it. And these days it's not promoted at all. But we're not going to give into that.
Kade Wilcox:
I'm curious if you figure that out about a student athlete, about a kid early in the process of recruiting. Is that something that you literally are looking for throughout the recruiting process?
Steve Gomez:
Certainly. A lot of times a team might want to see a player when they're playing great. I want to see a player when they're not playing good. Now how does that player respond when they've fouled two times and shot an airball and then have to come out of the game. What are they going to look like on the bench? Are they going to pout and put a towel over their head, look up in the stands and complain to their parents? I want to see a kid struggle because we need to learn to handle struggles because life is a struggle. And if all they think is when it's going good, sure everybody's going to be happy. But some of that comes down to finding families such as your own, who know how to live well and not just be an athlete well and not just be a sports-minded person.
Culture Over Position
Steve Gomez:
We recruit to a culture, not to a position. We recruit to an environment, a spiritual environment, not just an athletic environment. So for us that's vital. It really is to find kids early on and get to know them soon enough so we're not late in the process and just trying to pick a good player.
Kade Wilcox:
That's really good. You mentioned culture and culture is a buzzword. Every organization talks about culture and leadership gurus and podcasts about culture. But what does culture mean to Coach Gomez and how do you cultivate or nurture that culture within your program?
Steve Gomez:
Yeah, I think I've sort of over the last year and a half, two years almost come to a point, even in some talks I've given, of reaching this realization that community conquers culture. So I think even more so than what we want our culture to be as a community, because the community's going to far outweigh even a culture. You look at the early church, how early Christians, they conquered a culture that was anti-God, anti-attracted to their beliefs, but by the way they lived together.
Steve Gomez:
Even the early people said, we'll see how they love each other and that love for each other just transformed the world. And so even for us, and we want to have a culture of competitiveness, of excellence in the classroom, of doing our best, serving the community. But we want a culture that cultivates relationships because a community where people learn to buy into, again, like we talked about earlier into someone else and to where you can just lose yourself in something. And so that community part of it I think is really what we're missing. And I think all of us hunger for it and these days with the value that social media can give us, it also at times can disconnect us. But everything can be used for good and evil and obviously y'all are using it for great. And so that's a wonderful thing. But, we want our team to be really communal.
Kade Wilcox:
Yeah, that's a really powerful thing. You can read these statistics all over the place, but we're the most connected society, but we're also the loneliest society, which sounds just crazy. Because all of us feel connected. And so what you share about community in the sense of being a part of something, it makes sense and it's a powerful thing. You've had some really bad years as a coach and you've had some really good years as in perfect years, where you go undefeated and you win national titles and you've won two of the last three. Is that right?
Steve Gomez:
The last four.
Can You Lose With Your Current Team?
Kade Wilcox:
Two of the last four. So you've won multiple national championships. What do you see as real differentiators between winning and losing? Is it the number of athletes you have, is it a team coming around some of your values in the sense of community, more so than others? What kinds of things would you notice in both success and failure?
Steve Gomez:
I think one thing, I want to make sure that every team we have, I want to have a team, not only that I can win with, I think it's vital that you have a team that you can lose with. If you have a group of players that if you lose it's going to be a struggle, then that's not the right group of people. And so even the end result of when we can talk later or probably about success and what that really looks like, but for us, I want to have a team that I can lose with and be at peace. And so some of the things that'll determine those fortunate breaks that happen through a season. There's just a lot of little decisions that are made. It's just so many small decisions day to day that we make that determine what's the result.
Steve Gomez:
And so obviously in a basketball game, it's those teams that take a high price of the small things. Passing to an outside hand against pressure defense, squaring up to the basket, ball faking. And not just getting out of control. So much in life when we get out of control, bad things happen. And on the court, I've never seen a coach after a game say our players were just too in control of that game, we need to be more out of control. And so the mental part of it being in control, the physical part of being in control, the emotional, we talk a lot about, we want to play with emotion, not on emotion. And we want you to be emotional playing, but that's not what fuels your decision making. That's so we don't get foggy. And so I think the teams that have succeeded at the highest level for us are those that are mentally stable. And they're not necessarily robots, but they keep a clear head because that's when the bad decisions in life and in sports happen.
Kade Wilcox:
Yeah, it's really good. How do you approach your own personal growth? I'm curious on multiple levels. One, how do you hold yourself accountable to growing, when you're the one leading the ship as the head coach and the leader of the program, how do you develop your own personal growth and hold yourself accountable to continual growth? And then two, I'm just curious what motivates you? I mean you've been coaching for 30 plus years, you've won multiple national championships, even had tremendous success even beyond the national championship games. And so what continues to motivate you to engage in coaching and the drive that moves you forward in your career?
Steve Gomez:
Just for our team, for years, we've tried to take the mantra and me personally, one year we went 35-0. Many times, I said, we didn't go 35-0, we went 1-0, 35 times. So we went 1-0, and so to take things a little bit at a time and just say today, let's win the present. Let's win the day in practice. Let's just win today and let's not worry about the game Friday, the game Saturday, whatever's coming. And for me personally too, obviously you want to look to the future, what you want to become. But we can't live down the road. I just think about living today. I just want to enjoy the day. Life is fun. I want to laugh, enjoy it, work hard.
Steve Gomez:
I think sometimes we can not work hard enough and that sometimes we need to, just don't do it. We need to, we need to know when to rest hard, when to work hard, finding those balances. And again, not putting too much emphasis on what's my accomplishment? I just want to find a way to serve today. If I'm not doing the little things at work being the leader. If I'm not willing to pick up the water bottles or be the first there to get the balls out and set the clock or sweep the floor or whatever, then I'm not getting much done because there's something about delegation at times. But when you come to a point where that's beyond me, that's a dangerous place to be. And I don't ever want to get to where I think, that's someone else's responsibility to do. I want to be willing to do whatever it takes. And so every day there's some challenge and life's an adventure, it's fun. And working with college athletes, there's always some new adventure because especially females, they're nuts. No, I'm joking. No, they're awesome.
Kade Wilcox:
You do remember this is being recorded, right?
Steve Gomez:
Oh I love it. But I've said for years and years that I figured out that females, in order to play good, they need to feel good. Males, they need to play good to feel good. I think our girls need to feel good about what they're doing and then they'll play good. There's a difference there. Just that male, female psyche. And so anyway, there's something about that.
Kade Wilcox:
That's good insight. You've mentioned balance. I'm curious, it's hyper competitive, programs are becoming more competitive by the day, recruiting is competitive, winning takes a lot of effort. There's someone out there putting in the effort, putting in the time. And so I would assume that that creates a sense of urgency.
How to Calibrate When You're Off Balance
Kade Wilcox:
So how do you personally on a personal level, balance it all with family and faith and your kids and their growing families? How do you balance it and when you're not in balance, what do you practically do to bring yourself back to the middle?
Steve Gomez:
Yeah, I think, and even as a believer, a Christian in a Christian school environment, sometimes we could take that as a way to say, well, winning, success isn't that important. We almost make our faith an excuse for mediocrity at times. I think Christians can say we shouldn't be working so hard at this. I think God's called us to excellence. Whatever it is we're doing. And so I think we need to fully invest to succeed at the level that we can. I guess I read this in a book, success is doing the best you can with what you have, where you are.
Steve Gomez:
And so for me, if I'm not doing that, then I need to figure out what more I need to do? How can I work harder and not necessarily at the sacrifice of what's most important to me, but in order to honor God with what He's given us. And so for us, a national championship doesn't necessarily mean that was a successful year. Some teams to win 10 or 12 games was an awesome year. Some years, sometimes a team might not succeed at a level of another, but they get the most out of themselves. And so for me, there's too many underachievers around. I just think there's too many people that underachieve and I don't want to do that. But at the same time to find balance to where the score of the game isn't determining my health and my wellbeing and my family relationships.
Steve Gomez:
And so my wife Shauna obviously, she's very good at helping to keep me in check. Hey, you're spending a little bit too much time with that. And so family is so vital to keep a clear mind, just physically staying active, exercising, nothing like what you're doing. Obviously with your 200-mile run or whatever you did. But doing those things that find an outlet to where you can have a clear mind, a healthy body, healthy soul. And so balance is always in life. That is a key. And even athletically as we talk about balance, some of the most dangerous things I think for us are thinking we're better than we are or the other end thinking we're worse than we are. And I think to find that balance of even that mindset can determine and when we're very self aware and I think it's what you're talking about is how can you stay self aware. And I've just got to continually do that. How am I really actually seeing myself as how I am?
Pursuing "Eliteness"
Kade Wilcox:
That's really good. I didn't give you this question ahead of time so you'll have to forgive me, but I think there's just being a sports fan myself growing up with a coach, I guess I just really admire coaches and I especially like watching ones that win. You are Nick Sabans and you are Bill Bellichecks, there's just something very fascinating about their psyche and the way they approach their work and the intensity level.
Kade Wilcox:
And I think that's interesting in the Lubbock sports landscape is you have Chris Beard on the Men's Basketball Coach at Tech. And I don't know him personally, but you can be around him for about two minutes, and sense his urgency to win. He wants to win almost as bad as he wants to breathe. And it's pretty obvious just even being around him momentarily or watching his interviews or whatever. And that's great. And something I've noticed about you in the 20 plus years I've watched you, I would argue that you have a very similar urgency and desire to win, but you carry it very differently. And this isn't a comparing and contrasting. I think my point is, I think it's fascinating to learn from people who have the same desire.
Kade Wilcox:
You've had the same desire to win national championships as he does and he does it a certain way and you do it a certain way. And I think that in Lubbock, it's a unique place to build world-class programs. There's some challenges that don't exist in other Metro areas or other parts of the country. So when you think about the last 10 to 15 years, at Lubbock Christian and building a program, give us some insight into how you've tried pursuing eliteness. Beard's always talking about being elite. Well you're going to push back on this because you're humble, but you're an elite coach. You're an elite coach and you've experienced success at a very high level. And I think it'd be fun to give people insight into how you've pursued that level of excellence and what that journey and process has been like even in your own mind.
Steve Gomez:
Yeah, I think from the start when I got the job, never looking to be a college women's basketball coach. Growing up coaching high school boys, you see the Mike Krzyzewski's, you see the men's college coaches and think, man, maybe someday I would do that. And then to have the chance to do it with the college women, a job opportunity. So when I took that job, I thought, this is the big time. The job I'm in is where I want to be and I'm going to make this the big time. It doesn't have to be a D1 job, so from that approach of whatever it is we're doing. We got to give it all of our effort, all of our heart, and to have a vision for, this is going to be an excellent place. And the way we wanted to do that was find the best players from the best programs that had the best high school coaches. So basically what I've done, I've just tried to find the best high school coaches around and get their players and let them play.
Steve Gomez:
It's not that complicated from what I've had to do. Just find the Joe Lumbars, find the Eric Shillings, find the Jill Schneiders. The coaches from this region where team basketball in girls is so strong. And just try to find those players that know what it takes to succeed in competitive situations and put them together and let them play. And so it's honestly not, I haven't done that much. I've just tried to identify the right people to get. And it's strange the landscape of basketball across the state, across the country and then the AAUs and all that stuff. We're not real big AAU recruiting ground people. We want to find high school players. And even from this part of the state, there's a difference in the way West Texas teams play than the metropolitan teams play.
Steve Gomez:
And we've seen over the years that some of those kids have a hard time coming from big cities into our setting because our team is not going to function in the way those teams are used to functioning. Not that that's wrong, but there's so many ways to win the game and one's not right. One's not wrong. But there is a way that we do it in a way other teams do it. And so some of the individual skill development and all that stuff is not that big a deal. We want a kid to learn to play with a team. And so that's been some of it. And try to then be consistent and make sure people know, here's our standards, here's what we're going to do. And if you want to be a part of it, we would love for you to.
Steve Gomez:
But we want people that want to be here. If there's a kid that's a D1 athlete that we know would fit our system, we're not going to like all, they wouldn't want to come here, but we're not going to try to talk a kid into coming to our school or please you'll love it. If you want to be here, we want you to come. But if we're not going to have to talk you into it, we're not interested in that. And so it's just, it's an environment of the players. Probably the best people to ask that would be our players. They create all the environment, the locker room, the relationships, those kids are what make the magic.
Kade Wilcox:
At what point did you realize that about the players , that you had a conviction that this was the ethos of your program and did you know that early on or did you evolve into that?
Steve Gomez:
Growing up coaching high school boys, it's a totally different world than coaching college women. Just the approach now strategically, I didn't have to change much at all. The way I coached really didn't have to change. But just the mindset of how do we approach the team, how do we approach getting ready to play the preparation, the relation, the team dynamic is so different. And so that did have to change some and I had to think of, who fits with what. I'm not going to have a player come that the team hasn't already given an approval of. This took me years to figure out. And again the team figured it out for me over the years. I learned to listen better. I've learned my ideas aren't always very good. And so what can they teach me?
Steve Gomez:
What can these girls show me? And the fact that they wanted teammates that they enjoyed and liked off the court, is going to make as big a difference as anything as opposed to what offense we run. And so when they learn to live together well, they'll play together well.
The Importance of Being Challenged
Kade Wilcox:
That's really good. What do you go to to learn? Do you like to read? Do you listen to a lot of podcasts? I mean, what's your go-to for personal development?
Steve Gomez:
Recently, I guess over the last couple of years, podcasts have become a little more common for me. I'd like a book in hand, I like to have a book in my hand to read. A lot of times I can underline and remember things better. So reading is an important part of it.
Steve Gomez:
But listening to things maybe even while I exercise is always helpful. I just know there's a fine balance between always learning something and trying to put something new into play when really there's no need to change what you're doing. And so I want to be careful of always adopting the next strategy or the next fad of the game. But spiritually, mentally you always want to be challenged. Find opposing viewpoints or something that you don't necessarily fully agree with. But it's good to think, to have to take into account a lot of different opinions and to keep an open mind about things.
Kade Wilcox:
That's good. Who is someone or what is something that's had a major influence on you and what are some of the things you've learned from them?
Steve Gomez:
Obviously books. My brother-in-law, Dave Langford, he's a minister at our congregation and he has two or three doctorates. He's one of those guys that is very down to earth but also just brilliant. And the lessons he gives are always very challenging. Looking at scripture and some of the things of Jesus. Sometimes we think we know what Jesus meant and sometimes we think we know from scripture because we've always heard. But when we step back sometimes and really look and think in the big picture of God's nature, what did this really mean? Is it consistent with God's nature? Some of the things that I think, beliefs we've held in faith or whatever, even in life of stepping back and taking a different view of things. I think his challenging messages have been really good for me. And just reading, we mentioned a Tim Keller book. No, there's always something. Max Lucado has some good challenging things.
Steve Gomez:
Simon Sinek, I mean that's not even necessarily a Christian author, but someone who challenged leadership and teams and just so many different genres of thought and writing.
Kade Wilcox:
Who are your favorite coaches to learn from?
Steve Gomez:
That's a good one. A lot of them have been just friends. Joe Lombard, a guy like that who is always learning. Always wanting to find something new from a coach that has been coaching half as long as him, those type things. It's fun to watch the D1 games you watch and have learned just by watching strategic things, and Tony Bennett, Virginia, the way they play. It's fun to watch, like you say, Chris Beard. It's been neat to watch them. The intensity with which they play and just the whole structure that goes into just a practice for them.
Steve Gomez:
It's some things that we wouldn't or couldn't do. Growing up, Mike Krzyzewski was always someone I appreciated. What he's done through the years of changing with the times.
Kade Wilcox:
I'd love to meet Tony Bennett. That's one of my mom's favorite coaches and just man, his level of intensity on the defensive end, which isn't exactly popular, when everyone wants to just put up buckets. But then again, I don't know him from Adam, but just the way he seems to live off the court, and just the character and the conviction that he leads with is pretty cool.
Steve Gomez:
To get a chance to meet and talk with Geno Auriemma who some people may have a bad image of because he's bold and brash, but what a tremendously gracious, goodhearted guy and just down to earth, easy to talk with.
Steve Gomez:
So the coach at that level, with USA basketball, I got a chance to be around a lot of coaches, foreign coaches as well as the top coaches here in the United States of D1 schools. And they're just so many great people out there and you just learn, there's lots of ways to do it.
Kade Wilcox:
Yeah, that's good. I'm curious with the amount of success, and I've always been intrigued by Coach Lombard as well. He could've gone anywhere. He could've gone anywhere, coached at any level, done whatever he wanted. And I feel in similar ways about you. So how have you personally, if you don't mind sharing, how have you personally managed that? I would imagine every year you get some invitation somewhere, whether it's better or not than LCU is indifferent.
Balancing Ambition and Complacency
Kade Wilcox:
But how do you process that? Because, and again, in the 21st century, we're all used to moving onto the next thing. And you've not done that. You've put really deep roots at LCU and it's clearly made an impact. And I'm curious, has that been an intentional thing or where that came from.
Steve Gomez:
Yeah. I'll usually say, Shauna, what do you think about this? I've never been a real transient thinking person. And I don't want to be where I'm so content that I'm not, you hate to use the word ambitious, but you don't want to be complacent and just say, well, this is just easy. Let's just keep doing it. I just want to figure out a way to keep doing it better where I am, because why would I change an environment that there's every positive about it.
Steve Gomez:
I just don't know if there's any negatives. In addition to family being here, now my son is in college and my older boy has graduated from LCU, my parents living five houses down the street from us. My sister lives a couple of blocks away, my wife's family is all here. Coaching can be a very wandering, vagabond life if you want it to be. And again, there's some people that that's the adventure, and the next opportunity and that's their personality. So God gifted them that way. I don't say there's anything bad with that. For me, I guess I'm just boring and just want to stay in the same place, but I love what I'm doing. And those things, you don't just say, Oh, I don't want to listen to anything or even consider any opportunities.
Steve Gomez:
But at the same time, if there's not a great reason, a calling that is an eternal tug at your soul to go do it. There's a lot of work to do here.
Kade Wilcox:
That's great. Thanks for sharing that. I think a lot of people wonder that, honestly. And so I appreciate you talking about that. My last question for you is if you could speak to the younger Coach Gomez, 20 years ago, knowing what you know now, what would have been a few pieces of advice that you'd given yourself 20 years ago?
"Chill out. Just relax…"
Steve Gomez:
Chill out. Just relax a little bit and quit thinking you're getting all this stuff done. It's up to you. You're so wound up when you start off and you think you can control everything and you've got to learn just to roll with the changes, trust, trust the kids.
Steve Gomez:
I've got to learn to get the type of players on a team now. In high school it was a little more difficult. I had to discipline, inform, and challenge and change some kids. But in the college situation where I am now, I continue to have to learn I've got to trust them. If I can't trust my team, then it's going to be miserable because we can't control anybody. I cannot control my family. I'm trying to learn to control my own thoughts. I've got to learn to control what's controllable. And so some of that is step back, enjoy the journey, enjoy the moments. And again, it comes back to you're not that big a deal. Even starting out, you've got to realize when you're young, you think I can do it all. I'm going to change the world. Well, work on changing yourself and let that hopefully permeate to others and maybe you can have some good influence.
Kade Wilcox:
That's awesome. I've admired you for a long time, so having you on the podcast is a real privilege of mine and appreciate you taking time to be here.
Steve Gomez:
Certainly. Yeah, your family is great. You've done great things. I appreciate you.