The Primitive Podcast: Robert Taylor
Posted by The Prim Pack | May 1, 2020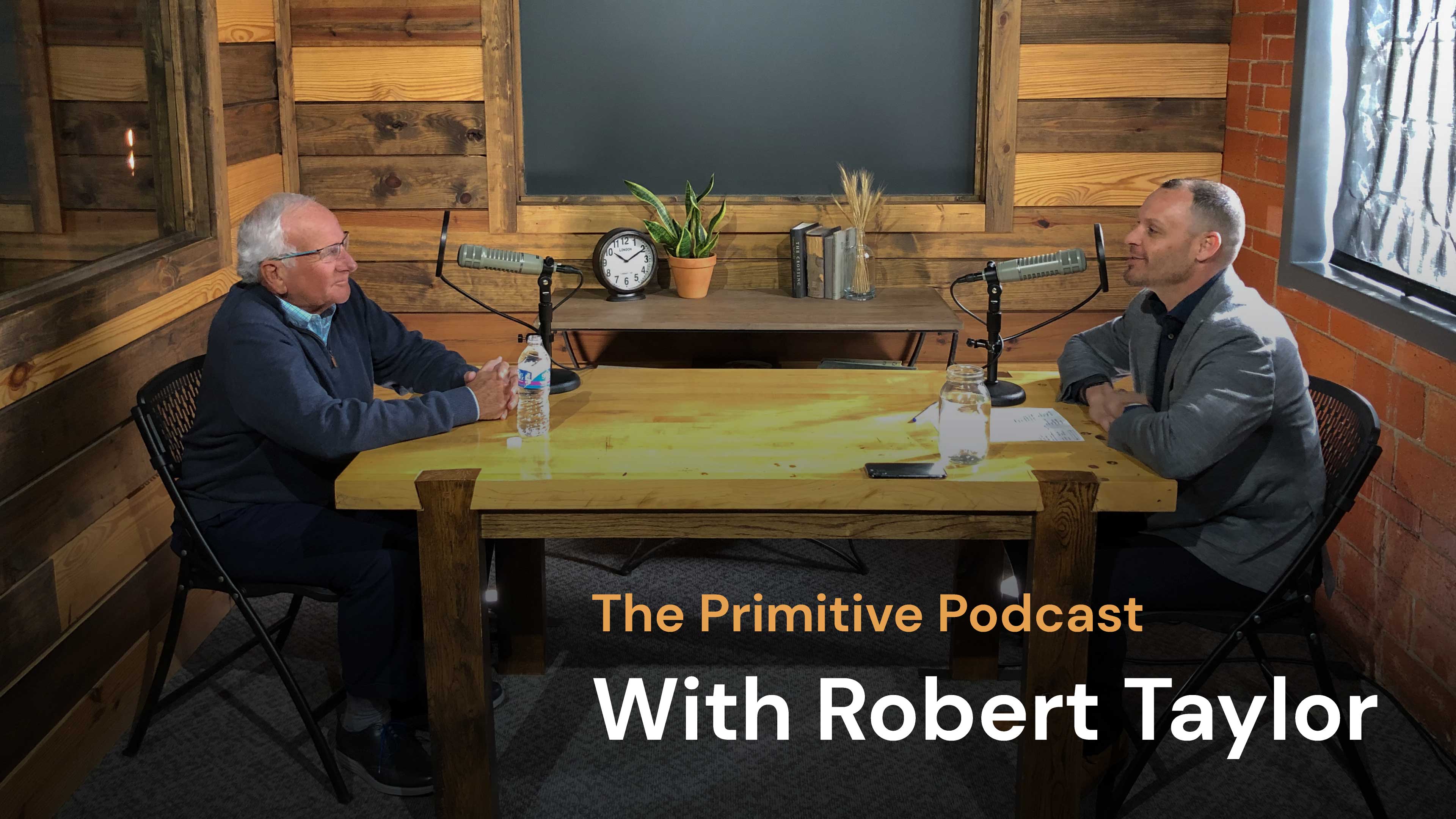 When life hits hard, you either roll with the punches or hit back. As a Texas native and CEO of United Supermarkets' 100+ locations and convenience stores, Robert Taylor, has uncovered a unique approach to life, and has allowed it to take him exactly where he needed to be. With 10 years and growing at the helm of United, Robert's insights on leadership, failure, achievement, culture, and technology are sure to make you want to listen to this episode on repeat.
Transcript
Kade Wilcox:
Hey guys, Kade Wilcox here, host of The Primitive Podcast and CEO of Primitive. On today's episode we have Robert Taylor, the CEO of United Supermarkets. With right at 95 locations plus another 30 or 40 convenient stores and couple of manufacturing and distribution, it's just a really great company, a large company. Robert's been the CEO there for 10 years. Just had a great conversation with him about leadership and some of the things he's learned over the years. I think you're going to really enjoy this episode, so thanks for joining us. Really appreciate you listening in on these podcasts and hope you enjoy this one just like I did.
Kade Wilcox:
Robert, it's so good to be with you this morning. Really appreciate you being on. I think most people in Lubbock know you, you've been here a long time. But why don't you just give us a little bit about your background and where you went to college, how long have you been in Lubbock, about the family business and all that good stuff.
Robert Taylor:
Thanks for having me on Kade, I appreciate it. It doesn't make you famous just cause you've been in any place a long time. That's not a prerequisite for anything. But I have been in Lubbock a long time. My parents were in Childress, Texas running a 24-hour, seven day a week, grocery store with another couple. One would sleep while the other would run the store and then they'd go back and forth. And so he saw an opportunity in Lubbock. And so I moved to Lubbock when I was two years old, so obviously I don't remember anything about that. But he bought a small, back in that day, it was called up candy and tobacco jopper. And there's all independent businesses back then. And so he called an independent businesses for supplies, mainly restaurants and a lot of independent druggist and convenience stores, grocery stores. So he did that, it was a small business, family owned. My mother had worked in it to some when she used to teach school. So that little business grew, and when I was a senior, I went to Monterey high school. I'm a product of the Lubbock public school system, so you I don't know whether that is good or bad. It was good for me anyway.
Kade Wilcox:
That's a good thing. You're one of their distinguished alumni at this point.
Robert Taylor:
Hope I did them proud, so we'll see. At that time, I did not even think about going anywhere else to school. I walked across the street to Texas Tech and probably one of the best things I ever did. Whatever I've accomplished I owe a lot of that to that background and the people I met and interacted with, and to this day exchange with at Texas Tech.
Kade Wilcox:
That's awesome. I don't think I've ever asked you what you actually studied.
Robert Taylor:
I was in Management with a minor in Accounting.
Kade Wilcox:
Okay. Well at that point, what did you foresee of your future? Do you remember what you wanted to do long term or did you have your eye on the family business?
Robert Taylor:
No, I really didn't. I worked in the family business all summers and everything. It wasn't really something that I could see me doing. I think maybe looking for a larger challenge and that's kind of an age thing. I think you don't really understand and know everything at that age. So that was my focus. Not knowing what I want to do, I wanted to go out and interview. And back in that day, the big thing was you get a job where you could make your age. So if you were 21 or 22 getting a job that you could make $21,000 or $22,000.
Kade Wilcox:
That is the best advice I've heard on any of my podcasts. I hope some of my team hear this and I'm going to start making their salaries their age. I don't think that would work nowadays.
Robert Taylor:
Times have changed. That absolutely does not work anymore. But back then it was a pretty good idea.
Kade Wilcox:
That's great.
Robert Taylor:
But my dad had a heart attack at an early age, while I was a Senior at Tech, I still lacked a few months finishing. So it was a small business, but we did have a manager. He had left the business prior to that. So I tried to go down there in the afternoon and run it and go to class in the morning.
Kade Wilcox:
Wow.
Robert Taylor:
And thank goodness he built a pretty good business. It withstood a lot of my mistakes. But I learned that business was more challenging and more complicated than I ever dreamed it was. So after I immersed myself in it, that's what I wanted to do.
Kade Wilcox:
That's awesome. So was it both out of necessity and desire at that point? At that point with your dad's health, were you it in terms of coming alongside some of the people that were already there?
Robert Taylor:
Oh yeah. It was me. I had to.
Kade Wilcox:
Did y'all ever have that conversation as a family or did you just jump in because you knew that's what you needed to do?
Robert Taylor:
Well, my dad was sick and he back at that day he was number two in Lubbock to have open heart surgery. So it was new and back then they said, we don't want you talking anything about the business. He had to stay on bed rest, and they wouldn't do this now, but bed rest for four to five months of bed rest before they do the surgery to build his heart, that would strengthen his heart. And so I didn't bring up anything about the business.
Kade Wilcox:
I bet he never talked to you about the business then?
Robert Taylor:
You know, he was scared. He was scared. So he really didn't force it. He would ask questions, I'd divert to another topic.
Kade Wilcox:
Yeah, the weather. It's still windy outside.
Robert Taylor:
That's right. But we made it through that time period and I survived that and the business survived. Excuse me. I apologize I'm getting over a cold.
Kade Wilcox:
No problem.
Robert Taylor:
But I'll tell ya, I married a sweet lady, Jan. And she really took care of a lot of responsibilities that freed me up to focus and just do that. And it was a good time in our life. We enjoyed it. I worked hard. I worked long hours and I could see it grow to see it start paying off. I got enthused about business, bought a manufacturing company, owned it for 10 years, Goodart Manufacturing, that makes peanut patties. And we grew that business from just a little garage business into one that made the number nine ranked candy bar in Southwest United States.
Kade Wilcox:
That's awesome. I didn't know that.
Robert Taylor:
And then sold that to Bobby Borden and then just focused on the wholesale business.
Kade Wilcox:
That's awesome. So how many years had you been running RC Taylor before the relationship with United started to evolve?
Robert Taylor:
Well, of course it was a long term little relationship with United. I was supplier of there's for many, many years. I got to know Robert Snell and several of the family, and several of the good folks that worked at United. There's a lot of long term team members at United, so many, many, many of them are still there. So I got to know them. It is hard to say when I really started. We have four children and I just love my kids and love the grandkids and they've all been very successful, but none of them wanted to venture out into that business. I'd pass some of my kids coming in late at night and I'd be going to work.
Robert Taylor:
They didn't want that schedule. So I visited with some people at United. I remember starting about the late 2006 to 2007. And actually I saw an opportunity to sell my business to United and about that time we had 50 something employees and we'd keep the business intact and all of them would have a future. So it was really the best deal for all of us.
Kade Wilcox:
Good partnership.
Robert Taylor:
Good partnership. So I signed an agreement and I ran their distribution business for two years, and then I was asked, when they parted ways with their CEO, I was asked to temporarily take over the CEO job.
Kade Wilcox:
And you are still in it.
Robert Taylor:
So I did. It was just another challenge. A challenge is what motivates me.
Kade Wilcox:
Yeah, sure. And so that's been since around 2008 or 2009?
Robert Taylor:
I took over in 2009.
Kade Wilcox:
Okay so you're a little over 10 years into being the CEO of United. Man time flies, doesn't it? Feels like yesterday.
Robert Taylor:
Oh it does. It seems like just yesterday.
Kade Wilcox:
So you're currently the CEO of United and you helped United transition the sale to Albertsons, is that true?
Robert Taylor:
Yeah. That's true.
Kade Wilcox:
That's great. So you went from running the family business. Was it really hard selling the family business? I mean, I know it was good for you. None of your kids wanted to run it. It was good for your employees. But was it difficult selling?
Robert Taylor:
Oh yeah. Anytime that your family, not only yourself, but your family invested so much in a business and it bore your name and even my niece did the graphics that we still use today on trucks. And to me it was a true family effort. Anytime you do that you have to stop and say, okay, am I doing this the right reasons? We have a little getaway, little A-frame cabin in Ruidoso and I remember I get up one morning, I asked Jan if she would leave me alone outside for a while and sun was coming up and I got a legal pad out and do the old fashioned way, the advantages and disadvantages. So I came up with that was really best thing for everybody concerned.
Kade Wilcox:
That's awesome.
Robert Taylor:
But it was hard.
Kade Wilcox:
You know, most people when they sell their family business, they go fish more and you work more. How'd you, how'd you manage that?
Robert Taylor:
Well I enjoy working. I enjoy the challenges of work and what it enables you to express yourself. And I felt like I could express myself more through work than any other way. And it's good to see something you influence do well, so that's my total self satisfaction. And two you want to take good care of your family.
Kade Wilcox:
Sure.
Robert Taylor:
And that always enters in.
Kade Wilcox:
So United's been a great business for a long time. You take over the CEO position, which you are still in. Albertson's buys United, so now you have that relationship. So when you look at your organization and the almost hundred or is it over a hundred stores yet?
Robert Taylor:
Ninety-five not counting our thirty-four convenience stores.
Kade Wilcox:
Right. Wow. So you have over a hundred locations.
Robert Taylor:
Two manufacturing plants.
Kade Wilcox:
Good grief. It'll probably keep adding up if we keep talking, but how do you see your role as a leader? You're the CEO of United, you have a hundred plus locations, you've got thousands of employees, you have a relationship with Albertson's obviously. How do you view your role as a CEO and as a leader within your organization?
Robert Taylor:
United is unique within any grocery operation and totally unique within the Albertson's operation. We are a limited partnership here in the State of Texas. So we're a wholly owned subsidiary. And the past CEO, he's still the chairman of the board, Bob Miller, he made it clear that's one reason why we chose Albertson's. We had options. It was because he said, I'm just going to leave you alone. Do your thing, keep doing what you do. And that's what's happened. So it's been nice. We do get a lot of advantages of being part of a larger group.
Kade Wilcox:
For sure.
Robert Taylor:
So the transition was pretty easy. I'm glad it started out like it did, cause I was put in that position at CEO. Because I had people that worked around me and worked with me that had 25 and 30 years of retail grocery experience. I'd been exposed to retail grocery but from a different light. So but it's kinda my style anyway. I let my people run the business. I just made sure it was all going in the same direction. I make sure we all pull the same way. We thought the same way. We almost ran a democracy, but not totally. But we have an executive team that had their input. They were responsible for every decision and the success of every decision. And if it was a merchandising decision, the HR person had to give their 2 cents and put their 2 cents in. So we really moved along that way. So I had hundreds of years of experience behind me.
Kade Wilcox:
Yeah. It's a powerful thing.
Robert Taylor:
So really I just didn't want to mess that up. And so that was really my style then. And then we'd try to progress from there.
Kade Wilcox:
Thinking practically, what I hear you saying is that your primary role as CEO is basically leading your leaders, so leading your leadership team, and ensuring that everyone is going in the same direction, pursuing the same goals and objectives, et cetera, et cetera. What does that practically look like? For example, do you meet once a week for two hours? Do you meet every other day? What are some of the practical habits of your leadership team that ensures you are on the same page and you're communicating and that kind of thing?
Robert Taylor:
Well, first of all, one of most important things is the relationship you have with those people where you have those hall meetings or you call them on the phone. You have those things that keep you going.
Kade Wilcox:
Ongoing relationships.
Robert Taylor:
Besides that, we have one meeting all day long, a month, our executive meeting, and we'll invite other people in if we're working in certain areas. Then make sure we stay totally connected with the thing that's the most important at United. That's the stores. Sometimes you can get lost in the weeds and you think that some merchandising profile is more important than the stores. The store is the most important thing. So you got to support those stores. So Monday we have six regional RVPs, regional vice presidents, that poll ever store about needs, especially things that they have requested, and something hadn't happened especially that. But they poll them with their needs or something that's just changed. And then every Tuesday morning at 7:30, we have what we call flash call. Now a lot of people in our group would argue that it's not much of a flash.
Kade Wilcox:
Might last three hours?
Robert Taylor:
Not that long. Initially 30 to 45 minutes, but it usually lasts an hour, hour and a half. We go around the room and we have all our executives there plus some other people that maybe have influenced different parts of the business. Each regional vice president really quickly goes through and says, I need some help on this, I need some help on that. So if it's IT I'd say Chris St. Clair got that taken care of, so on and so forth. I think that's really one thing that kind of glues us together.
Kade Wilcox:
It helps you stay, like you said, connected to the needs on the ground in the stores where the customers are, which are ultimately obviously the most important thing. United has been renowned from what I've heard for its culture, for its staff, particularly the in-store staff. And I'm sure that also includes everyone in the office. But what do you think has cultivated the culture within United and why it has such a great reputation as it relates to the culture of the organization?
Robert Taylor:
That's a hard, hard question to answer because there's not any one thing you can point to that makes it work. I inherited that. But that was the culture, that's what happened. Often I get questions, we were in share groups before we were purchased by Albertson's with six or seven other regional grocery chains and I continually got questions. How do you get the culture? How do you get the the teenage young man to walk to the car and actually carry on a conversation? Or how do you do this, how do you do that? Can you send me your manual? Can you send me your training manual?
Kade Wilcox:
There's a three step process.
Robert Taylor:
I mean there is obviously a training manual because there's a lot of things we've got to comply with. But there's not really a set of rules, we do go through a training process, but that's not where it's at. Where it's at is a culture that we've developed over the years and I think when a person of any age, I started to say a young person, but of any age goes to work, they have some people that have been there a long time in that store and they want to emulate what they do. Now that's not saying everybody does the right thing all the time.
Robert Taylor:
Another thing is that we empower our people. The main rule is do the right thing. Now the right thing might be the same thing every time. If you're going to have that policy, you got to really train your people to support it. When somebody does something that maybe they thought was the right thing and it may not be, you have a coaching opportunity, it's not a scolding opportunity, it's not time to write somebody up, but it's just a coaching opportunity. So I think we get 99% right decisions when we do that. And there's some that go pretty far out on a limb to take care of the guests. We pretty much subscribe to the guest is always right and we try to take care of them. And so we won't bat 1000% but good culture's there.
Kade Wilcox:
That's good. One thing I've always admired about you specifically since I've known you over the last several years, is how often you travel to the stores. Now with over a hundred plus locations, including the convenience stores, obviously you can't be all places at all time, but one thing I've admired is you've made a very conscious decision and effort to visit as many stores as often as you can. Where'd you come up with that? Why do you do that and what do you think the greatest yield for you personally is being able to connect with every store like that?
Robert Taylor:
Well, for me personally, I get a real feel for how the people are. I always take some experts with me that can tell you if the displays are done right. Is our pricing in line? They work on that. But I can connect with the people and I always listen if they've got complaints and you do from time to time. That's part of it. It's how you handle the complaints. You're going to have them. And we've got to make sure our people feel like somebody is always listening to them because that empowers them to do the right thing if they really think that we care about them. So that's my favorite thing to do by the way. It gets you behind in the office. But you know, some stores in some areas need more attention than others. But I'll say generally my goal is to make every store twice in a year, which used to be easy. But they're pretty well spread out from Taos, New Mexico to Dallas.
Kade Wilcox:
That's a lot of criss crossing. That's great. I've always admired that about you and really appreciate that. Because that takes a lot of effort and in an organization of your size you could easily say that someone else's job and, and you've never done that. And I admire that about you. How do you, on a personal level, approach failure, mistakes. You talk about opportunities for coaching with employees, but like how do you, on an individual level, approach failure? And over the years of being such a great leader, what have you tried to learn from failure?
Robert Taylor:
Of course it's trite. Everybody says you gotta learn from your mistakes, but it's true. I think you've got to go one level deeper, why didn't I see it coming? Where did I or one of my key people, where was it that we did not see this coming? Usually after the fact it's really clear. You know? So you try to build up things. Okay. We gotta learn. So not only does this not happen again, but we've gotta be analytical enough, we've got to stay in touch with the people. Usually somebody sees something happening. It's how quick can you respond, learn about it, and respond to it. So if you don't really dig down deep and the tendency sometimes is to say, this won't happen again. I'll make sure that doesn't happen again. I'll fix it. Then you sweep the rest of it under the rug. But it's the rest of it that'll keep you from having other things happen that are similar to that. So you gotta learn from your failure. Failure makes you better. And there's a tendency to say that the failure was somebody else's fault or somebody didn't respond or something, but that's not it, it's this system that you set up and I think that you've got to take it on yourself to say that the failure was my fault because I didn't do this. It's not Joe's fault or Sally's fault.
Kade Wilcox:
Owning it.
Robert Taylor:
Right. So you need to own that failure.
Kade Wilcox:
That's good. Thanks for sharing that. How do you approach your own personal growth? You've got dozens of meetings. I know you personally, so I know that you're in meeting after meeting after meeting. You work very long hours. You have a lot of employees. You have a hundred stores. You have stakeholders like Albertson's and their executive team that you have to answer to and work with. How does Robert prioritize Robert's growth as a leader? And what does that look like for you?
Robert Taylor:
Well really some of those meetings you talk about are in my growth plan. I've always felt like that if you did not branch out and get outside of the community of the business that you're in and make new relationships and continue to make new relationships. I've made a lot of new relationships in the last two or three years. But it's valuable. You can only be so effective as one person. I get kidded at the office that someone will say, do we know so and so? Oh go ask Robert. But if you don't have a relationship with people that, you gain their trust, so when you really need to talk to them, it might not be asking for any favors or anything, it could be just simply I need your advice on this. Because there's a lot of smart people around and they're smart in their area. And that's where I pick up most of my growth is through that.
Robert Taylor:
Of course, I've got to go back in time and I would be remiss if I didn't thank my dad for giving me basic rights and wrongs. My dad may not have been a smart, he graduated from Sam Norwood High School. I think he graduated there. It was class of nine. At least I saw his picture on a wall. He never had a chance to go any further in education. But boy, he could connect with people and he knew right from wrong. It was really easy for him to determine that. And how you treat people that was a number one thing. Of course my mother was a great, passionate lady that promoted a lot of things here in Lubbock. She's one of the early YWCAs. She taught me to look past skin color and look past age, and look past all that because it was the real person you deal with.
Robert Taylor:
And then I draw strength from my wife every day. Cause she's always been one of my biggest cheerleaders. Several arguments have been over, I just didn't do a very good job. Oh yeah, you did fine. No no, I was terrible.
Kade Wilcox:
She is your biggest fan, that's good. I bet she doesn't mind being honest with you either.
Robert Taylor:
No, she doesn't. No, no, no.
Kade Wilcox:
I love running into her. She is a great person.
Robert Taylor:
She doesn't mind telling me where I could do better, also. Which you need that.
Kade Wilcox:
Absolutely.
Robert Taylor:
You need that. As I've gone through my business life I'd say relationships with people, I made a special effort to get to know Kent Hance, people like that. And people at Tech, the administrators. All through my walk of life, I've just tried to make relationships with folks.
Kade Wilcox:
That's awesome. Well last question for you. It's great to hear your dad's influence. I wish I could've met him. Anyone growing up in Sam Norwood, Texas, that's a tiny place.
Robert Taylor:
That's a tiny place.
Kade Wilcox:
So no doubt he learned a lot of grit and character growing up somewhere like that. Last question for you. If you could speak to your younger self what would the Robert now tell the 20-year-old Robert, if you could look back and give him some advice?
Robert Taylor:
I got into business in an interesting way, so I don't know that I would go tell myself to change anything. I think I would scold myself sometimes for not taking, as a younger person, taking advantage of all the opportunities that I had. Did I put out maximum effort in every class at school? No, I didn't. Did I read every book I was supposed to read? No, I read a few Cliff notes. And it gets you by. Then there's an accounting class that I loved and I did everything. For some reason I like numbers. So I could've made some things a lot easier on myself if I would've taken advantage of everything that was thrown at me. But for the most part, I think I made wise, not brilliant choices, but wise choices every time. I probably could make some better choices from time to time, but I think my parents are to thank for that, and my church I went to, and the people I got to know growing up. I always had a good support group for making the right choice. Sometimes the right choice wasn't hard. So I don't know that I would tell myself anything that would drastically change. A lot of that is good fortune.
Kade Wilcox:
Sure. Good people around you too.
Robert Taylor:
Yeah. You know, you can break your arm patting yourself on the back. So I probably had very little to do with being able to have fun, and vivacious, and a challenging business career.
Kade Wilcox:
Yeah, that's awesome. I really appreciate your time. Thanks for joining us on the podcast today. It' really great to have you. I appreciate your leadership. Again, just getting to watch you and observe you from a distance over the last several years. United is very generous and very gracious to every community that it's in. And I feel like that really starts with you and I watch you interact with other people and I watch how much of your time you give to all kinds of other efforts beyond United. And it's really cool to see such a large organization's culture be shaped by, there's a lot of people that are shaping it, but you really lead the way. And I admire that. And I think Lubbock is really fortunate that you're the CEO of United and all the incredible impact that you make. So it's been fun watching you and getting to learn from you, and I just really appreciate you.
Robert Taylor:
Well, I appreciate that. But I'd be remiss if I didn't say that the culture at United, I believe that giving back long before I became part of United, but United culture is one that encourages people to give back, and really be part of. And I get more from my involvement and our United folks get more from their involvement in the communities, we're in 38 or 40 communities now I believe. And we have leadership roles, we encourage that and especially the smaller communities, they need that help. So you always get more out of it than you put into it.
Kade Wilcox:
That's cool.
Robert Taylor:
Thanks for your time.
Kade Wilcox:
Yeah, I appreciate you. I have a bonus question for you.
Robert Taylor:
A bonus question. Do I get points?
Kade Wilcox:
You might, it depends on your answer. I've always heard you talk about how the grocery business has razor thin margins and it's just getting hyper competitive. Not just what Walmart's doing and your big boxes like Sam's and Costco. But then you have HEBs coming in, then you have the whole digital transformation of retail. So what value is there with the competition? How does it make you better? You're a large organization, so how does a large organization view and approach competition? Not a specific competitor, but just competition in general?
Robert Taylor:
Well, competition is part of business, so you know you're going to have it. So if you don't embrace the challenge, you're going to be defeated right then.
Kade Wilcox:
Left in the dust.
Robert Taylor:
So you say, okay, this challenge is coming. The pie is only so big. So first of all, you've got to have a reality check. When you have competition come into the market that hadn't been there before, they're going to take a slice of that pie. You just manage your business and be successful with that slice gone. You just manage your business to where that slice is pretty small. And so that's the way we look at it. In certain areas you learn to coexist. Because we have certain competitors in this market and all our other markets we're in, Dallas and Albuquerque. We have a lot of competitors. You know that they have their place in the business and they're going to carve out a niche. You just got to be good at what you're good at. And you've got to get better every day.
Kade Wilcox:
That's incredibly encouraging to hear. Really what you're saying is focused on who you are and what you do. Do it really, really well and take care of the business you have.
Robert Taylor:
That's right.
Kade Wilcox:
That's good. It doesn't sound like you spend a lot of time thinking about others. You think a lot about your culture, your people, your services, what you're offering, make it the very best it can be. And that's what you got.
Robert Taylor:
But you got, to know your competitor.
Kade Wilcox:
Sure, you gotta be really balanced.
Robert Taylor:
You know, it's all about learning and respecting people. You've got to respect your competitors because they're not there because they do things wrong.
Kade Wilcox:
Right. They are clearly doing something good. What about technology? I promise you, this is my last question. You've had this a really cool career where you got to take over as a really young man from your father and his family owned business and you've been in it. Just the technology age, you've seen that transformative impact from the very beginning. So what have you learned from that and how do you have to constantly be evaluating technology as society continues to be shaped by new technology? What's that look like in your business?
Robert Taylor:
If anyone watches this that knows me very well, or especially anybody that works with me, they're sitting there just giggling right now. Saying I can't wait to hear what he says. I am not an expert in technology. You know when I got in business, we had zero technology, a telephone, I guess we had a telephone. I remember when the fax machine first came out, just couldn't believe you could stick a piece of paper in and somebody in Dallas will get print on that piece of paper.
Kade Wilcox:
That's awesome.
Robert Taylor:
It's phenomenal. So I'm easily impressed by technology. But I know how to do business. I knew how to do business at that time without it. I see how technology's advanced everything so fast. I make sure I surround myself with somebody that really understands and that can go out and access, not wait for it to come to you or you're going to be left behind. And we just had meetings about today before I got here. Trying to advance in certain areas of technology that is really not done in the industry right now. We were working on some things that are just really unique. Do I work on them? No. I do encourage them, I try to make sure we got the support of the people and the funds and support to develop it.
Kade Wilcox:
That's awesome.
Robert Taylor:
And so that's my role.
Kade Wilcox:
That's great. Well, I promised no more questions, so I'm going to wrap it up here. Again, I really appreciate your time.
Robert Taylor:
Great thank you.
Kade Wilcox:
Thanks, Robert.
Robert Taylor:
Thanks, Kade.