The Primitive Podcast: Keith Bryant
Posted by The Prim Pack | May 1, 2020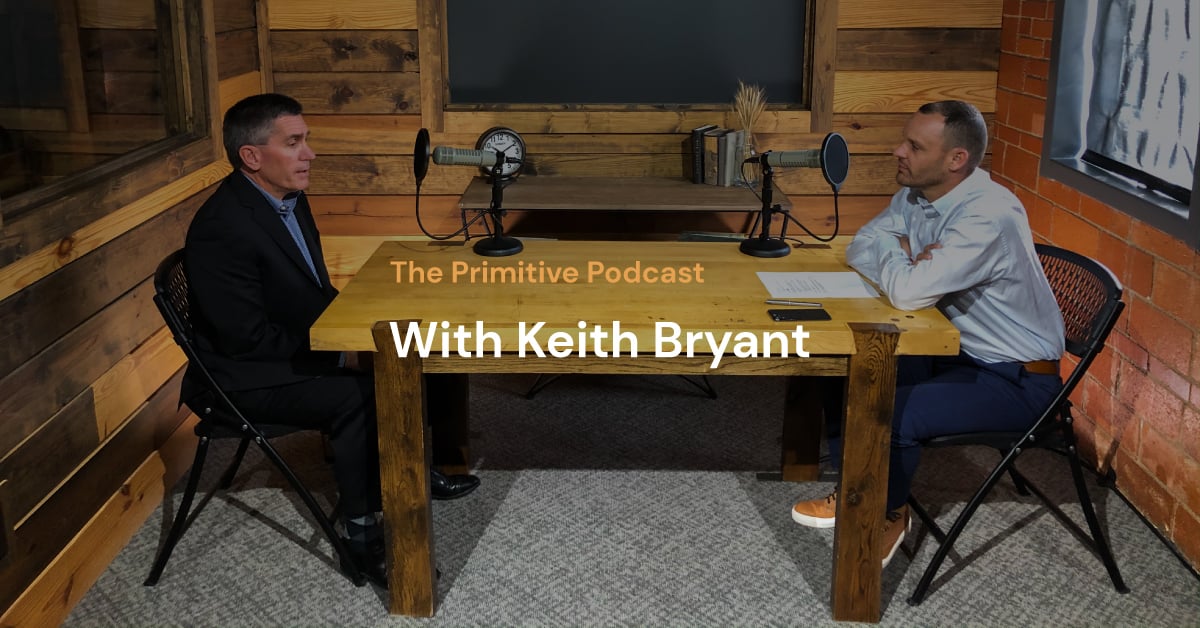 What happens when you take all the right steps from college into the corporate world and hate every minute of it? Keith Bryant, a West Texas native and 2019's Superintendent of the Year understands the pain points associated with major life transitions but makes every step look like a natural progression. He leads as a vision caster believing education always needs to be evolving to serve the upcoming workforce.
Transcript
Kade Wilcox:
Hi guys. Kade Wilcox here, host of The Primitive Podcast. On today's episode we visit with Keith Bryant, Superintendent of Lubbock Cooper ISD. Keith's an amazing leader. Lubbock Cooper has experienced unprecedented growth, through his leadership and just a fascinating conversation today about his background in leadership. I feel like you'll hear this in the podcast, but he just had some incredible insight into leading and, all things related to leadership. So I hope you enjoy this one as much as I did.
Kade Wilcox:
Appreciate you coming and I know you're busy and so thanks for spending some time with us. So I think most people have probably heard of you especially since you just got Superintendent of the Year, which is pretty cool. So maybe talk a little bit about that. You've been in Lubbock a long time and so I think people know you, but for those who don't, tell us a little bit about your background, where you're from, how you got into education, and some of those fun things.
Keith Bryant:
Well, I grew up in Lamesa, so I'm West Texan by birth. And was very active in high school and a lot of activities. Had the opportunity to come to Texas Tech and run track. Got a scholarship.
Kade Wilcox:
Cool. What did you run?
Keith Bryant:
I was a hurdler. I was a high hurdler, probably the shortest high hurdler Tech had at the time and ran all four years, got a finance degree from Tech and really wanted to go into the business world. I thought I'd go in the corporate world and do great things. My dad had been a banker. My dad was a school board president and so he had been involved in schools. My mom had been an aid at schools when I was growing up, but I really never thought I would be a teacher. I had a desire to coach when I was younger, but I thought when I was in college, I really wanted to go into the business world.
Keith Bryant:
So I took a job with Arthur Anderson and Company. I worked for Anderson consulting as a financial consultant for two and a half years and hated every minute of it. I really missed being with people and impacting young people, particularly. My faith, my Christian faith is the most important thing in my life. And my family second, my job always comes after that. And so my wife and I spent a year, at the time we were newly married, and 11 months into our marriage we had our first son, Kirk. And it really helped put things in perspective for me. What do I want to do with my life? Do I want to spend time in a corporate setting where I'm away from my family? Or do I want to be in a situation where I can affect the lives of others?
Keith Bryant:
So after a lot of prayer, about a year worth of prayer I took a job teaching and coaching in Lamesa, in my hometown. Which is interesting.
Kade Wilcox:
Yeah, it can be fascinating, can't it?
Keith Bryant:
Yeah. And I said when I graduated from high school, I said, I'll never come back here. Then I worked on teacher certification. Had the intention of coaching my entire career at that point really I was coaching track but wanted to coach football, basketball, everything. And, and when that happened one of the gentlemen that was an Assistant Superintendent came to me and said, Hey, we think you would have a great career as an administrator. Have you ever thought about that? I said no I really want to coach. He said, well, that's fine. But anytime a head football coach leaves, you have to go with them because your contract's tied to them. If you want some stability.
Keith Bryant:
So we went home, talked about it, prayed about it, decided to go the administrative route. Long story short that was in 1993 and in 2004 I replaced that gentleman as the Superintendent of the Lamesa. So I spent 16 years in my hometown. The last four as Superintendent had the opportunity to move to East Texas to a community called Bullard to a bedroom community of Tyler, a great growing district. And became superintendent there for six years. Our three boys graduated from high school there and then had the opportunity to come to Lubbock Cooper six years ago. So that's my story of my career.
Kade Wilcox:
That's cool. So a little bit about your finance background. Do you feel like that has impacted your ability to lead, I don't know much about the education system, but it seems like it's always in flux and all the challenges economically speaking with state funding and all that jazz. So do you feel like kind of your consulting background and your finance background really has influenced your leadership in education?
Keith Bryant:
Definitely. I feel like on the finance side, I have some tools that some superintendents don't have because the background, the interesting thing about what I did as a financial consultant, it's a pretty cool title, but the reality of the day to day work was they taught me how to code in COBOL. And we built revenue accounting systems for major clients Arco Oil and Gas, MCI. These are companies that really don't exist anymore. So what it did is it spurred in me the desire to have technology as an important emphasis in what we do in education. So the finance background coupled with the impact technology can have on students, I think has set me apart as a superintendent to give me a vision for what the future needs to be for our students.
Kade Wilcox:
That's awesome. Since you've been at Lubbock Cooper, it's been through some unprecedented growth, hasn't it?
Keith Bryant:
It has. Lubbock Cooper when I arrived in August of 2014 enrollment that may was 4,800. And this year, about a month ago we hit our 7,000th kid. That's crazy. And so the last five, six years I've been here, we've been in the top two to three to five districts in the state in terms of percentage growth. We've averaged 350 new students a year, sometimes we're over 500 new students a year. Lubbock's booming. It's a great community. And that portion of Lubbock is really growing.
Kade Wilcox:
That's really exciting and probably comes with its fair share of headaches.
Keith Bryant:
There are headaches, our taxpayers definitely think there's headaches because most of that's rooftops and we need the commercial come into to relieve that. Yeah, absolutely. And it's coming. It's coming.
Kade Wilcox:
That's great. How do you see your role as a leader? Like when you think of your organization and you think of the folks that you really interact with on a day to day basis, like what do you feel like your primary responsibility is to lead your organization and your team? And how do you view your own leadership and your role?
Keith Bryant:
I think my role is that of a vision caster. That's the way I describe it. We take input from a lot of people, but in the end it's my role to help determine which direction the district's going to go. What do we need to do? And Kade, my passion is that education cannot look in the future like it's looked in the past. The time of sitting in rows in hard desks with a lecture style teacher giving out all the information is not going to work for future workforce. And so what do we need to do to evolve, to meet the needs of the future leaders of tomorrow. And so my role, first and foremost, is as a vision caster. Secondly, I feel like I have to set the tone. Are we going to be a district that serves our students and our staff and our community? Are we going to be a district that feels like we have the answer to everything? And we don't have the answer to everything. Our role is to serve and love and educate and protect. Nowadays definitely protect kids. And so as the leader, I feel like as a vision caster, but my role is also to set the culture. And the culture has to be one that's, that's of love, concern, protection and educational.
Kade Wilcox:
That's really good. When you have 7,000 students, how many teachers and administrators would you have roughly?
Keith Bryant:
So we have about 535 teachers. Direct administrative staff, about 30, but supportive administrative staff about 60. We have almost a thousand employees. And a $58 million budget. And that budget number in itself has grown by almost $20 million since I've been here. And so when you have that responsibility, it's very important to make sure that kids come first and staff come second. And we have to take care of those needs.
Kade Wilcox:
So you have 7,000 students, you have a thousand employees, almost a $60 million budget to manage. When you think about casting vision and when you think about something, you mentioned, how education is changing and the importance of approaching it differently, how on earth do you do that at such a large organization? So what does casting vision, what is leading out in terms of vision? Let's start there. What does that look like in an organization of that size?
Keith Bryant:
Well, I think the first thing is that you have to listen. You have to listen to the community around you. You have to listen to the businesses. You have to listen to postsecondary institutions. You have to listen to the stakeholders. What do they want their kids to know, learn, and be able to accomplish and be prepared for? The environment that you work in with your company is exciting. It's growing. 10 years ago it didn't exist. It existed in a completely different form. And so if we're going to cast vision, if I'm going to be the guy that cast that vision, but I'm not paying attention to what the stakeholders in our community are saying, then I'm shortchanging our students. And I think a lot of times leaders feel like we have to have all the answers. And so we are slow to listen and we're quick to speak. I think I have to change that dynamic for me. I have to be very quick to listen and slow to speak and slow to react because change takes time. And people don't necessarily fear change, they fear loss that's associated with that change. So if we're going to mitigate that, we've got to make sure that that loss is understandable in order to accomplish the vision.
Kade Wilcox:
That's really good insight. Good feedback. What about innovation? Like, you know, I grew up in mighty Nazareth, 340 people, had 20 kids in my class. The school was tiny. And so if someone wanted to change something there, that'd be pretty easy I think. Right? Small scale. What does innovation look like with 7,000 students, 550 teachers. What does that innovation look like? Particularly in a segment of industry that's not notorious for innovation. Not notorious for thinking entrepreneurially. Not notorious for changing quickly. How do you do that? What does that look like practically?
Keith Bryant:
Well, I think I'll answer that question in a couple of ways. First of all, if you think back to the classrooms that, I mean, I'm in my fifties the classrooms, I sat in. And you're younger than I am. And the classrooms you sat in, in West Texas communities. There's probably a lot of similarities between the seventies, eighties, nineties, and early two thousands to be honest, sadly, a lot of similarities. So we're 20 years into the 21st century. And there's this dialogue in education about, we have to create 21st century learners. We're 20 years into the 21st century. We can't start. We can't wait to start. So for us, innovation looks like a couple of things. Number one, how the teaching occurs. There was a time that teacher was the Sage on the Stage. Had all the information, and whatever the teacher chose to share with students is the knowledge kids learned.
Keith Bryant:
Nowadays kids can find everything the teacher knows at the touch of a button on their phone. And so what we've tried to do is change our culture to be that of learning facilitator rather than Sage on the Stage. And so it involves a teacher training component. It secondly involves putting the tools in the hands of students. We chose as a district five years ago, a path to put iPads in the hand of every kid. Not to replace the teacher, not to supplant the teacher, but to supplement what they were doing. Let's put the latest and greatest technology that has the most robust opportunity to help kids enhance their learning and to be able to create content to engage at a higher level, and then display their learning. And then in doing so, what is the physical environment look like? We've had to shift that. The four walls of the classroom are now the four walls of the school. We have flexible walls that open, we have soft seating, we have environments where teachers are team teaching because, it's not about the teacher's knowledge, it's about what the kids can create and come up with in terms of content.
Kade Wilcox:
That's really good. If I'm not careful here, it will just stay the whole time on education. Cause I had a unique educational experience, I think, or at least in my own head. I have a twin brother and he was a textbook learner. He thrived in that environment you're talking about. Sitting at a desk, absorbing whatever the teacher was sharing, regurgitating it on tests and excelling. That was the antithesis to the way I learned. It wasn't until I was, much, much older that I realized, I'm more entrepreneurial. And I don't learn in an environment that is typical to a school system. And I'm wondering, this is my last question on education. I'm going to state it for the record. I'm wondering how you focus on innovation and evolving the classroom, like you just shared, that sounds amazing to me, while maintaining some of the requirements that are given to you like standardized testing. And these metrics that, I hate to use the word arbitrary but maybe are arbitrary because they're just given to you. How do you mesh those requirements from a state level, with trying to adapt and outpace how quickly the state is moving?
Keith Bryant:
That is the biggest challenge I've faced, to be honest with you. Because the state has put up a large emphasis on how kids perform one day of the year, on one test, a multiple choice test. The STAR test used to be the TAKS, the TAAS, it's been different iterations. And so for us, when I talk to business owners such as you or I've talked to the home builder association, they're not looking students or young people that can come out in the work world, and answer rote questions via memorization. You're looking for critical thinkers. And so what we do is we have a set of standards that we adhere to and they're state standards. They're called the Texas Essential Knowledge and Skills. But there is great variety and flexibility in the way you can implement those. And so what we've tried to do is create critical thinkers and not worry about teaching to some test that has very little meaning to most stakeholders in our community. But teach kids to be able to think on their own, to be able to complete projects, to be able to work collaboratively, and to be able to communicate. And if we can do those things, I think we've accomplished both goals. We've met the state standards by following them, but we've also used our methodology to create what tomorrow's workforce needs.
Kade Wilcox:
That's awesome. I admire that. That's really great. And from an outsider's perspective, I think the students are really fortunate to be in an environment where that's the expectation and that's the effort. So it's really awesome. Moving on from education, I could keep going here. How do you, as a leader, on a personal level, approach failure? How does Keith Bryant look at failure and, how do you approach that?
Keith Bryant:
I look at failure as an opportunity to get better. I'm not scared of failure. So I think there's a couple of aspects to it. One is, I think we have to admit when we fail and many leaders, and especially school people, are hesitant to do that because we're in such a glass box with community and stakeholders. And so failure is not seen as a good thing. But we talk about and it all comes from a Denzel Washington speech you may have heard or seen, here he's talking about when you fail, you fail forward. So you fail, learn from your mistakes, pick yourself up, and move forward. And that's the application I try to use. We're going to make mistakes. I've made a bunch of them. I made a bunch of them today already. I made a mistake this last week in a decision I made that affected a lot of our students. And after some discussion figured out was the wrong decision, said, you know, I failed in this decision. I apologize. We're going to change it and it's going to be better for kids. And so I think the realization that you're going to fail is there, but don't let it define you. Let it define the decisions you make in the future and inform those decisions.
Kade Wilcox:
Yeah, it's really good. And I think most people would agree with that. And I think where it's most mostly challenging is when you're experiencing the failure. I think when you're not failing, it's easy to say, Oh yeah, I'm going to learn from that. And it's going to be an opportunity to grow and move forward. I think when the rubber meets the road in the midst of the failure is when it's the most difficult to be transparent and honest about it, and to apply what you're learning there to your future state. And so I admire that. I think that's great. And it's super difficult, particularly as a leader when you feel like you have to hedge all your risk all the time. Right? And you've got to position yourself as the guy that's leading effectively.
Kade Wilcox:
And so that's good. Thanks for sharing that. How do you approach your own personal growth? You're responsible for 7,000 students, 500 plus teachers, a thousand total staff. You have stakeholders in your school board and the community. And so a lot of times you're being pulled by those stakeholders and that's appropriate. You're the leader. But how do you step aside from that and view and look at your own growth? How do you stay inspired? How do you empower your own leadership as it relates to growth?
Keith Bryant:
Well, I'm going to answer this in a very personal way, which is why I'm here. For me, there's three parts of personal growth: spiritual, emotional, and physical. And for me, for Keith Bryant, it's the spiritual side that's the most important. For me, my relationship with Christ is my identity. And so I have to make sure I'm spending time cultivating that, growing in my faith, learning more of how to treat others, how to be a better husband, a better superintendent, a better everything as a Christian. That's the first part. Then there's the emotional side and I put the emotional side, not from an emotional wellbeing, but just the fact that we professionally have to make sure that we're feeding ourselves. I read, I listen to podcasts, I'll watch some YouTube videos, but I do a ton of listening.
Keith Bryant:
And some people have said, well, if you're not reading all the time, you're not growing. And I would agree with that. And I never thought getting into education to be a superintendent that I would read as much as I read, but it defines half of what I do. Almost half of my time is spent reading something. And yet am I reading for professional or personal growth? You have to do both. I think you have to keep yourself sharp on both ends. And then there's the physical side. You're a runner and I was a runner for a long time. I've outgrown that is what I like to jokingly say. I'm a biker. I ride a mountain bike everywhere. And so it's something that just to try to keep my physical health good, my emotional health good, keep my spiritual health good. And some of my reading on the emotional side deals with spiritual things, some of it deals with professional things. And so there's that combination, those three together. If I'm not taking care of myself, I'm going to be an ineffective leader. And those are three areas I choose to focus on.
Kade Wilcox:
That's really good. How do you balance aspiration with those things? Aspiration is a good thing. Wanting to be bigger and better and faster and more innovative or fill in the blank, whatever aspiration looks like for your context. But when you talk about your identity is in Christ and your faith and your family and you start thinking about work life balance and balancing all those things, how do you personally, or what insight would you share as it relates to having aspirations, wanting to be leading edge, wanting to be the very best at the thing that you're doing with your faith, with your family. How do you balance those things?
Keith Bryant:
Well, I think it centers back on your heart. I really do. There's nothing in scripture that tells us not to aspire to greatness. There's nothing. I think it's the, the motivation behind that. Do we want it so we can pat ourselves on the back and say, in my case, look at this large growing school district that I have done X, Y, and Z to. And it's all about me. If that's the aspiration, I think that's misguided. If my motivation, and mine is, is to lead and aspire to be the best district, the most innovative district, we can be so that kids have the most successful future they can have.
Keith Bryant:
And so that our parents feel like their kids have gotten the best education that they're paying high taxes for. And so that our teachers feel like they've had a tremendous impact. I think that's completely fine. Not being a business owner I know that's a different vein. But even as a business owner, I would say, what's the motivation? At the end of this life, whatever we've done here, our body of work is going to be left here on earth. And so whatever we're doing for personal gain is not going to be as meaningful, as when we leave a legacy once we're gone. There's nothing wrong with having aspirations. I'm driven every day. And part of what drives me is fear of failure. We talked about failure earlier. I'm not by nature a real confident guy.
Keith Bryant:
I'm more of a guy who fears failure, who fears and worries about falling short. And so that drives me to reach different heights.
Kade Wilcox:
That's really good. Thanks for sharing that. What are some of the biggest personal influences in your leadership? Whether it's academic or nonacademic education. When you think of some of the people or things that have really shaped you, who are they and what are some of the things you've learned from them?
Keith Bryant:
Again, I hope it's okay, but first and foremost is the strength I get spiritually from Jesus Christ and the apostle Paul. I think there were tremendous leaders. From the standpoint of my work, there was a gentleman I mentioned earlier and I'll mention his name, Ken McCraw. Ken was an educator for 33 years in Lamesa.
Keith Bryant:
He was my middle school principal. He was my high school principal. He was my senior year Sunday school teacher at my church. And then he was the guy I followed as superintendent. And I don't think I ever was around a leader that understood servant leadership and decisiveness as much as he did. He really listened and he made very, very wise decisions. So he had a tremendous impact on me. Another gentleman who has since passed was a coach I had named Steve Colwell. Coach Colwell was well known in the West Texas area, was a head football coach at Slaton for a while and then River Road and then retired as an athletic director in Amarillo. But the way he took people, young people, adults, whatever, and led them to achieve the greatest success they could achieve was impactful on me. And what he did was he valued each person for what they were. And those two guys professionally have had the greatest impact on my leadership skills.
Kade Wilcox:
Yeah, it's good. It's really good stuff. Last question for you. If you could if you could speak to the 25 year old Keith Bryant, what would you tell him? If you could, knowing what you know now, go back 20 or 30 years and speak to the young Keith leader, what would you tell him?
Keith Bryant:
Well, I would tell him several things. And it's funny, I spoke last night to the Chamber of Commerce's 20 under 40 award recipients. I had the opportunity to speak to them and I gave them 10 different leadership qualities. But the one I didn't touch on, that I think I would tell myself if I were their age as a 25 year old is this, it's okay to not know all the answers. I really felt my entire adult career, I've been driven to succeed. We talked about aspiration while ago, but I really felt like it was my responsibility to always have all of the answers. And it's okay to not have all the answers, but you need to know where to go to find those answers. You need to know who to engage with, who to talk to, the books to read, the things to do that allow you to be the leader at age 51 that I am that I wish I'd have known because I think I put way too much pressure on myself. That work life balance wasn't as good because I thought I had to know everything. And that's been very encouraging to me and I've learned a lot about that since I've been in Lubbock in the last five years. So that probably the number one thing.
Kade Wilcox:
That's great. Well, Mr. Bryant, West Texas is lucky to have you. Lubbock is really lucky to have you, and I really appreciate you taking time out of your day to join us on this podcast. And I think everyone listening will really enjoy the feedback you gave on leadership. So thanks for everything that you do and for joining us.
Keith Bryant:
Thank you. Kade it has been my pleasure.