The Primitive Podcast: Kade Wilcox
Posted by Kade Wilcox | May 1, 2020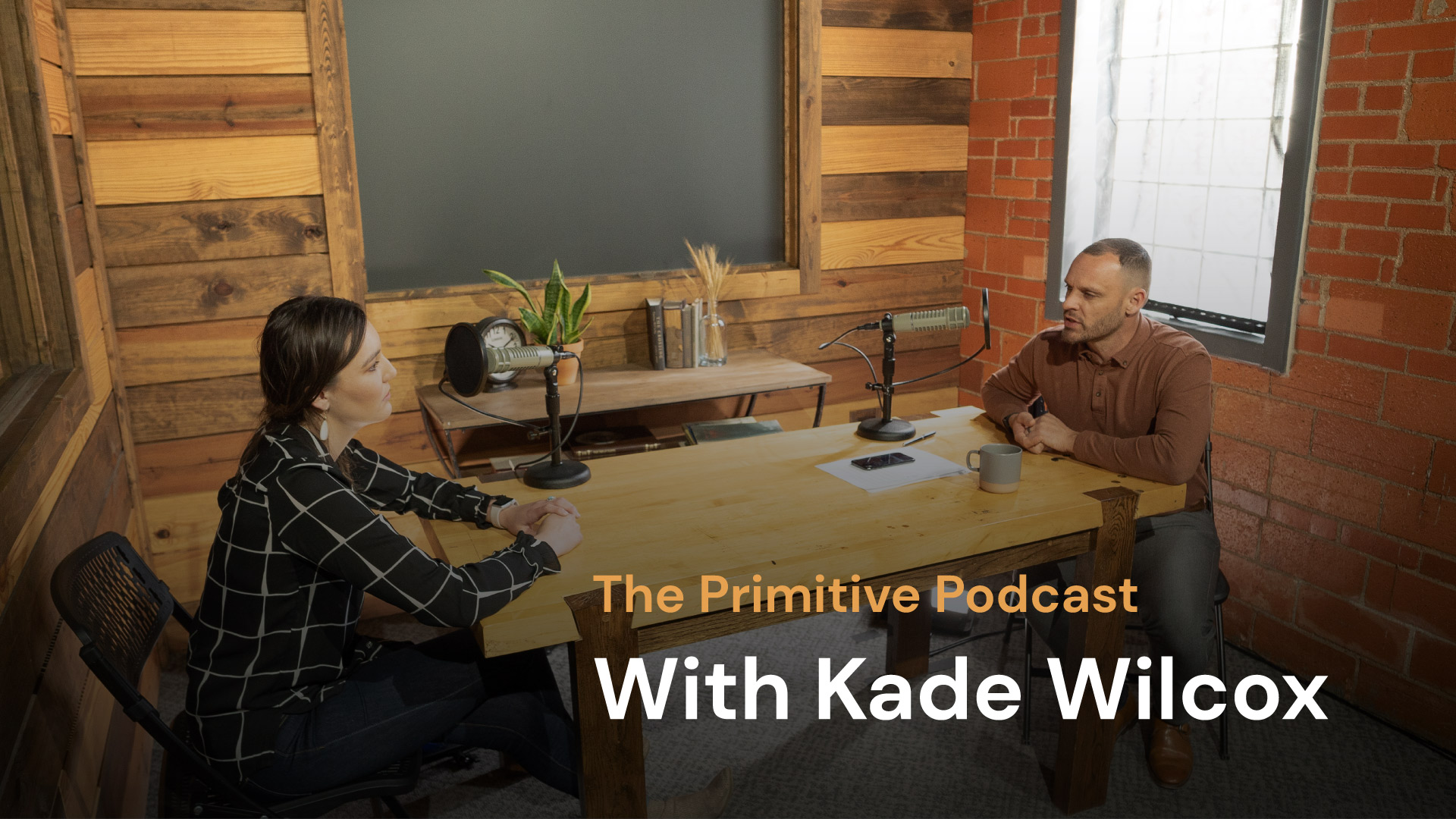 Kade Wilcox is a name that should sound familiar. As the host of the Primitive Podcast, his friendly voice and need-to-know questions have found their way into our ears for the past 9 episodes as he's explored the minds of some of West Texas' most respected leaders. This week, the tables are turned. Primitive's Marketing Manager, Morgan, asks Kade the questions we all want to know. You won't want to miss this special edition episode, with Primitive's founder, co-owner and CEO, Kade Wilcox.
Transcript
Kade Wilcox:
Hey everyone, Kade here, host of The Primitive Podcast. We're gonna do something a little different today. I'm actually going to be the one answering the questions, just like all of our past guests have related to their background and their business and some fun things like that. So you may not be interested in hearing my story and Primitive's story, but our team is looking forward to doing it. On today's episode, we have our Director of Marketing at Primitive, Morgan. She's with me and she's actually going to be hosting the podcast. And so it's fun to have her on the show today and I'm looking forward to talking through some of these questions.
Morgan Reneau:
It's good for me to get to know this part of you too, Kade, as I'm still newer to the company and learning about everything. And I think for me, one of the most interesting parts of every podcast that we've done so far is hearing the background of everyone and getting to know them a little bit better and see where they come from. Being new to Lubbock, that's been really interesting. So can you start off with kind of your background and how you got into Primitive.
Kade Wilcox:
I'd be happy to and thanks for letting us hijack your day and walking over to your desk and saying, Hey, surprise Morgan, you're going to be hosting a podcast today. So this is Morgan's very first podcast and I'm certain she's going to absolutely crush it. So briefly I grew up in a really small town called Nazareth population 340. My mom's one of nine children. And so I had the great fortune and luxury of growing up with tons and tons of first cousins. So I loved my time growing up. And in so many ways, especially in hindsight now that I can kind of look back on that time in so many ways, I am exactly who that community and that time my life, shaped me in who I am as a leader and the way that I lead and the way that I work specifically was really formed and shaped by my upbringing in Nazareth.
Kade Wilcox:
My granddad, we called him Papa, is just the best person in my entire life. And he's just an amazing, amazing man. Worked his absolute brains out his whole life. He didn't even make it through junior high because he was working on the farm. Served in World War II. He lived through the Dust Bowl, raised nine children, provided for his family, happily married to my grandmother for 60 plus years. Just an amazing, amazing man. And so my early years were spent in Nazareth playing tons of sports, had an amazing family, super thankful for my parents. Got to grow up with my cousins. Like I said, I had amazing friends. Just a remarkable time and I could spend a whole podcast talking about that. In fact.
Kade Wilcox:
So grew up in Nazareth. Graduated from there, went to college basically because I had to. I've always hated school. Took me five years, I think my GPA in college was under a 3.0 and it was a terrible experience. But I suffered through it for five years, ended up with a history degree, ultimately ended up going to seminary at Southern seminary in Louisville, Kentucky. At the time, I really wanted to be a church planter and work in ministry in that way. I'm really thankful for that time. I basically worked in churches and at a church camp. I was the executive director of it for about 10 years and again, in that phase of my life, just learned a ton about leadership and organization and leading things and leading people. It was a remarkable phase in my life and one that I'm really appreciative of.
Kade Wilcox:
The thing I'm most appreciative about that phase in my life is that's really when I realized and understood I was an entrepreneur. One of the things I regret about my growing up in college years is I wasn't really a part of anything that helped me identify that I had an entrepreneurial spirit. And even more than an entrepreneurial spirit is that a lot of my skill sets align with being an entrepreneur. So during that phase of my life, I got to become the executive director at a very young age. I was 25, not married, and I got to become the executive director of a church camp thats a 70 year old church camp out in the middle of nowhere. Really small budget, 400 acre property, and it was like a blank canvas and I got to raise money and create programs and remodel buildings and lead an organization and it was a real risk free environment with a lot of summer staff.
Kade Wilcox:
But that was pretty much it. So I got to learn about hiring and firing and all the things that go into managing people. And I didn't know it at the time, but that season would be really instructive and really formative of the season that we are with all of our businesses and the teams that we have. And so it was during that time when I was working in the church that, to be candid, I didn't want to live on $40,000 a year. And so my wife and I started thinking through some things that we could do for some supplemental income. And it was at that point that we started Primitive. So one of my best friends, Matty McClain said, had y'all ever considered managing businesses Facebook pages?
Kade Wilcox:
And of course we hadn't. But it was really good timing because my wife and I, Lacey had started researching how to make money through blogging. And so right as we were in that phase of our life, researching that and figuring out how to utilize Lacey's really good writing skills to make some supplemental income. He suggested we do that. Long story short, we started managing businesses Facebook pages and did that for about three and a half years. And about the three and a half, four year mark, my same friend Matty, who helped us start the business, referred to it as a hobby. And it really pissed me off cause I'm competitive and when you're referred to as a hobby, you know, it made me mad. I'm like, it's not a hobby, this is a real business.
Kade Wilcox:
And in reality, he was spot on. It wasn't a real business. It was a hobby. We had no systems and processes. We had no staff, no sales strategy. We had real no organizational structure. And so that's when our life really changed dramatically. So at the end of 2013, I started establishing some goals and objectives for what would become a real business in Primitive. And the rest is history. So from 2014 to now we've gone from basically no employees and under $100,000 a year in revenue to almost a $4 million business and 60 employees at Primitive plus several other businesses. So it's been an absolute blast and an absolute journey. Lacey has been really fun to build our business with and we have two amazing kids, Selah, nine and Kase, seven. Absolute best parts of me for sure are my family.
Kade Wilcox:
We love to travel, have fun, and are in love with our dog, Prince. So that's probably more background than you wanted, but there it is.
Morgan Reneau:
That's all really interesting. Like didn't know that you went to seminary or any of that.
Kade Wilcox:
Most people don't. Most people don't correlate Kade and seminary.
Morgan Reneau:
And we're all lucky that Maddy challenged your hobby.
Kade Wilcox:
Me too. I'm glad he did.
Morgan Reneau:
The competitive spirit, being competitive as well, I could understand that and wanting to build that out. With all the different organizations and things that you're involved in, how do you see your role as a leader? Not just with Primitive, but in all of the organizations you're part of.
Kade Wilcox:
Yeah, it's a fun question to ponder. There's a couple of things that come to my mind. First and foremost would be vision. Who do we aspire to be and where are we going and how are we going to get there? So whether it's for Primitive or whether it's for Fastpay or whether it's for Elevated Accounting or whatever the organization would be, I feel like my number one responsibility is being able to see the future. Not that it's going to be perfect or accurate every single time, but I think every organization has to have someone who's always thinking ahead and always thinking about the future so that they can then craft an actual roadmap or a plan to get from where we are to where we're wanting to go. And so not only do I think that's my responsibility in our organizations, but it's probably the thing I love the most. And the thing that I'm probably the best at and that is trying to imagine the future and then creating a pathway or a roadmap to accomplish it. And so that's the first responsibility I feel in our organization.
Kade Wilcox:
The second thing is establishing and setting the tone for our culture. By no means do I think I'm the only person responsible for creating our culture, or speaking into our culture at Primitive, especially in our organization, other organizations as well, but especially Primitive because it's much larger and we have a Chief of Staff. It's my job to, I believe, speak into the culture, prioritize our culture. What's really fun is that it's really a group effort in terms of determining what that culture is like, who do we aspire to be and what does that actually mean? Like what do we mean by our culture at Primitive or Fastpay or other organizations. And so I see that as really my second responsibility is to make sure that we're cultivating and nurturing our culture.
Kade Wilcox:
And that our leadership team specifically is really owning that. And then by an extension of our leadership team, the rest of our team. So those are the two major things that I feel responsible for. And then lastly, and this might fall under culture, I'm not sure, but it seems really important to me and I feel a great responsibility for it. And that is setting the tone for our organization. I think a lot of organizations are impacted by the personality of their leaders. And that can be both a positive thing and a negative thing. And so I feel a great responsibility to make sure that I'm individually really healthy and positive and optimistic and working hard and disciplined and organized and all these things that I want for our company.
Morgan Reneau:
Leading by example.
Kade Wilcox:
That's right. Yeah. And that sounds so cliche, doesn't it? Because everyone says it, but I feel like that's my unique responsibility in that, as I lead, so we go. And that means something different based on the size of your organization and how many leaders you have. But I still feel like that's something really critical for my leadership. So those are the three things that come to my mind as it relates to how I contribute, and what my leadership means to the organization and what I think of when I think of my leadership.
Morgan Reneau:
Do you see your leadership role any different with when you're leading your leadership team versus when you're leading people under the leadership team?
Kade Wilcox:
Yeah, 100%. That's a great question. This is something that really has become more visible and more obvious the larger we get. So much of what we've experienced over the last seven or eight years of building companies is we're learning as we go. I think of some major horror stories, that I'm the author of, like whether it was poor decisions or whatever the case would be over the last five plus years. And so it's so fun to learn as you go and to apply that learning to your future. And relative to your question, this is one of the things that I think of is that, it's been a major adjustment for me figuring out what our organizations need from me based on the life phase they're in. So as of a couple of years ago, we had no leadership team.
Kade Wilcox:
It was Jared and I with 20 or 30 other people and like there was no what we might call middle management or middle leadership. And so what was needed of me in our organization at that time compared to what is needed of me now is radically different. And that has been really difficult honestly, to learn as we go and reposition my leadership and learn more about myself and how I should lead based on exactly what you just said, which is now my primary responsibility is leading our leadership team, who is leading the entire company, including our clients. It's been a major adjustment for me even letting go of being the primary person who's holding onto the client and the client always needing me.
Kade Wilcox:
Right? So that's probably been the most interesting thing for me from a leadership perspective is understanding when something is no longer my role. But also there are other people who are so much better at it than me and that's been a major adjustment. Going, oh, wow, Jessica is better at leading clients and developing relationships with clients than I am.
Morgan Reneau:
Right.
Kade Wilcox:
And that's a good thing. You want that in your leaders, but it's been a major adjustment for sure.
Morgan Reneau:
You mentioned that there's been times where things haven't gone necessarily the way that you wanted them to go. How do you approach those learnings and the opportunities that come from failure?
Kade Wilcox:
I love this one. We have a lot of weaknesses. I have a lot of weaknesses. So when I talk about one of our strengths, I want to make it really clear that I'm every bit as aware of if not more aware of my weaknesses and our organization's weaknesses than I am of my strengths and our strengths. Having said that, I think one of my strengths, and I think one of our organization's strengths is learning from mistakes and learning from failure. And I would unequivocally say that the thing that has influenced our success the most in any endeavor, whether it's Primitive or Fastpay or Elevate Accounting or the consulting projects I work on, whatever the case is, the single thing that has influenced them the most has been what we've learned as we're failing. I think about the season we had over late 2017 through 2018, maybe early 2019. It was a really rough stretch at Primitive for a lot of reasons. But what we learned through that and even in hindsight reflecting on that season has made more of an impact positively on our organization, not just right now, but also how we view the future and how we make actual organizational decisions, whether it's with the types of clients we work with or the way we handle our finances or particularly our hiring practices and the way we approach our culture.
Kade Wilcox:
And so I genuinely do not believe that I would be where I'm at and our organizations would be where they are at if it wasn't for continual failure and it's been wildly helpful to fail. It's not fun and it's very painful and for a lot of reasons, on the human side it's painful because there are relationships that are broken, either with clients or whether it's past employees. And yet those things are the things that are really refining and the things that have really positioned us where we are today. And I think we are more healthy today than we ever have been. We have a long way to go. We have a lot of things to improve in and improve upon.
Kade Wilcox:
But what we've learned from failure has been remarkable.
Morgan Reneau:
I think a lot of people can shy away from failure because it's scary. It's like you said, it's hard, it's not fun. But there's a lot to be said about having the opportunity to fail and learning from it. And I think always facing it as a way to grow and see what you can develop from it and learn from. I think without failure, you're not growing.
Kade Wilcox:
You're 100% right. Failure is really inconvenient. But it's really instructive. I think even practically about Primitive specifically in what we've learned from failure over the last five plus years. And there are two or three things that immediately come to my mind that have been dramatically impacted in the positive sense from past failure related to our culture and staffing. We made a lot of hiring decisions that were wrong and just the process was broken.
Kade Wilcox:
Our culture wasn't clearly defined and so a lot of times we weren't good for an individual. So it's not that the people who are no longer on our team or that we've let go or have gone different directions, it's not that they were always the one that wasn't a good fit for Primitive, a lot of times Primitive was not a good fit for them. So it wasn't good for them, not just they weren't good for Primitive. So when I think practically about failure, the way that we hire and the way we approach our culture has absolutely and fundamentally been impacted by failure. The way that we manage our finances has dramatically been impacted by failure. The way we view growth. Everyone wants to grow their organization. If you own a business or you're in charge of an organization, of course you want to grow.
Kade Wilcox:
But the way that we grow and at the velocity in which we grow has been dramatically impacted by failure. And I'm really thankful for that. And I think our organization is better today and will be better in the future because what we've learned from those very tangible, very real, mistakes and seasons of failure.
Morgan Reneau:
Is there anything that you specifically do, like when you have a moment of failure, that you go through? Learning from that, what's your process to learn from failure?
Kade Wilcox:
Yeah, it should probably be more formal. It's a good question, and when you ask it makes me think that I should have a more formal process. But there's a couple of things that we do and I do that I think really help us extract out of that failure everything that we can in order to instruct our future.
Kade Wilcox:
And the first thing we do is we talk about it as a leadership team. One thing I really value about failure is seeing how other people absorb that failure, what they see of that failure, what they learn from that failure. So it's not, what did Kade learn from that failure? What did Jared learn from that failure? It's, what did a whole group of people learn from that failure? And that can be really illuminating because, Jessica or Heather or anyone may see something very different from that failure. They may see a different angle of it. And that's really instructive. So we do that. And the other thing is I think about it a lot. So we talk about it as a leadership team, but I think about it for months. I really enjoy running and one of the things I enjoy about running is, especially when you're running really long distances, you got a lot of time to think because you're out there in a 20 hours a week and you're just thinking.
Kade Wilcox:
And so I spend probably over half of my time running thinking about organizations and things that worked and things that didn't. I am not a dweller at all but I try to sit on failure for awhile or things that contributed to that failure to really make sure that I'm honest with myself about what caused the failure. I think a lot of times people, when they think of failure, they immediately think of other people. What did other people do? What were things outside of my control? I don't really think about those things, honestly. Or I try not to. If I do, I try to move on from it very quickly. I want to know why I did. I want to know what our organization did. I want to know what our team contributed. Did the client contribute to the failure or did a former employee contribute to failure? Identify that, acknowledge it, but then move on from it and then really look at yourself in the mirror and say, what did I contribute to this failure? Because that's the gold. That's the thing that is going to instruct your future the most. And it's a really powerful thing. So that's how I try to approach it.
Morgan Reneau:
That's good. Now from failure, we've kind of talked about how you grow that way. What are some other ways that you grow as a leader? Any books that you read, any tactical advice that you can give on how you're growing as a leader?
Kade Wilcox:
Yeah, these are pretty practical. First of all, I have some really great friends. I don't know that I'd call them mentors cause I don't spend a ton of time with them. But they're leaders in our community and leaders of other businesses that I really enjoy learning from and observing. So it's more like learning by watching and I have access to them. So certainly there are times where I could ask a lot of questions over a meal or whatever. So that's been wildly beneficial. I'm a huge podcast listener. So a lot of times when I'm not thinking of my own thoughts while I'm running or traveling, I'll listen to a lot of podcasts. I love podcasts, just learning from other people's perspectives.
Kade Wilcox:
Most of the time when I'm listening to podcasts, certainly what I'm learning is substitutive. But it's really the ideas that it sparks in my own mind and how it's applicable to our organizations. That's really valuable. I certainly don't read as much as my wife who reads about 130 books a year. But I do like reading and I learned a lot from reading. I love reading Ink and Fast Company again, because it sparks ideas and interest in our own organizations from seeing what other people are doing. So those are the primary ways. I like to learn, this sounds really weird, but I learn a lot by doing ultra races. I love signing up for trail marathons or ultra marathons. What I learn about myself and what I gain from the process and the discipline of running those races brings a huge benefit to my leadership and to our organizations.
Kade Wilcox:
And again, I could have a whole podcast on that, and maybe we should do that sometime. But I learn a lot about myself, and my strengths and weaknesses about my leadership by signing up for those races and training for them. So those are the things I do.
Morgan Reneau:
I think there's a lot to be said about doing something and pushing yourself to something that's harder than what you would think you would be able to do because then that sets your next mental standard of what you think you're capable of.
Kade Wilcox:
100%. You're spot on. I'm glad you mentioned that. So this morning I did my run really early and I was not feeling it. I was not feeling the alarm, I was not feeling the particular run. Yesterday I decided to get on a bike for the first time and did like a 35 minute ride with a friend. I have a triathlon bike, I've never ridden it on asphalt. So I've ridden it on a trainer, but that's just stationary. So he talked me into going out on this like 40 minute bike ride. So I was tired this morning. My legs were heavy from that bike ride. It was more or less a speed workout, which requires a lot more effort than just mindlessly jogging around. And I literally thought to myself, the whole run, there's no part of me that wants to be doing this. So I have a decision. I can wimp out and stop 30 minutes in and say it wasn't my day. Or I could just not start at all and maybe do it this afternoon when I'm feeling a little bit better.
Kade Wilcox:
But I literally had this thought. It's like, no, if you do that now, you're going to do that with the rest of your work. Because there are things every day that I have to do at work that I don't want to do. And there are things that you and the people listening to this podcast, there are things on all of our lists that we don't want to do. And that ability to tell yourself, pardon my French, to shut up and do what you're supposed to do.
Morgan Reneau:
Yeah.
Kade Wilcox:
It's like wildly beneficial and the more discipline wins and the less excuses win, the better you become as a person. I was just thinking, well anyway, we're about to launch off into a whole new podcast, but running and training, training for races, it makes me a better husband. It makes me a better Christian. It makes me a better father. It makes me a better leader because it's an opportunity every day to allow discipline to win, to make discipline win and not excuses. And if you think about any area of your life, we all have excuses galore. Like all of us have excuses regardless of what the thing is. We have a lot of excuses and training for races is a really great way to cultivate and nurture discipline that then bleeds into every area of your life. And it's wildly beneficial. So sorry for that little rabbit trail. But it's been really impactful in my life and it's a really valuable part of my leadership.
Morgan Reneau:
Yeah, it's a very interesting thing when you look at the mental correlation between what you're doing physically in different things that you're doing and how that can interpret the rest of the things that you do, whether it's daily habits or things like that. And so you've mentioned how important your family is to you. I get to work with your wife, Lacey, and she's awesome. How do you manage balancing family time, work time, the travel that you like to do with them? How do you work that out?
Kade Wilcox:
One of my favorite things about the businesses that we own is that you can work from anywhere all the time. Now it's obviously something you have to be careful, right? Because everybody can be burned out and you can overdo anything in life. But one of the things I'm immensely grateful for is the way that we've built our organizations. We've built them in such a way that if you have a laptop and a cell phone and good service, you can work, and not just kind of work, but do really good work. And so one of the benefits of creating our organizations in that way is that we can travel a lot. And so for my family we love to travel. We own a cabin that we go to regularly.
Kade Wilcox:
And we own a motorhome and we use it a lot. And so for me, the most energizing thing that I can do is two things. I love to train for races, and I love to travel with my family. And so when I start getting anxious or antsy or over the work grind any of those things benefit me greatly. And I'm immensely grateful that I can travel and not compromise my leadership of our organizations or leave my teammates out to dry or leave our clients out to dry. And so in terms of work life balance, I don't really view it as a balance. I see all my life, right? You wake up in the morning and you go to bed at night and you have all these things in your life you're responsible for, your relationship with Jesus, your wife, your children, your organizations, your family, your friends.
Kade Wilcox:
All those things are my responsibility and they're all things that I immensely love. And I don't see it as something to balance as much as I see it as something to enjoy. And so when I wake up, I'm working. When I go to bed, I'm working. But it's working on those different things, right? It's working on yourself, it's working on your family, it's working on your children, it's working on your businesses. And so I don't really see this dichotomy between work and life. To me, it's all life and it's all to be immensely enjoyed. And yet when I feel myself getting worn down or a bit imbalanced, training for races and traveling with my family, we go to national parks and state parks and national monuments and we'd go on these epic trips with the nine and seven year old. And Lacey and I really believe those are the things that they're going to remember forever. And it's a real privilege and a real honor to get to be able to do those things with them. And even talking about it gives me energy.
Morgan Reneau:
Yeah. You're ready to go. Already on the next trip. I think there's definitely a lot to be said about being able to, with the companies that we have at work wherever. I mean, you interviewed me on Zoom when you were on the road.
Kade Wilcox:
That's right. Yeah. We actually interviewed you on Zoom and I think that's something really unique about where we're at related to technology. Like my dad's worked at the same bank for almost 40 years, which is awesome. But that's not really how it works anymore. And the companies that we're building, we very intentionally have built distributed teams. And work that we can and value we can provide our clients without having to always be face to face. Now there's a lot of value in being face to face and we have that. But that's the real beauty about the businesses we're building and the way we've tried to build those organizations is we're not going to compromise on that because we like our team to be able to travel and experience things. We like being able to work remotely and be distributed. And so for us, we've just chosen to build our organizations in a way that really accommodates that. And there are a lot of challenges with that that we can talk about some other time, but there's tremendous benefits.
Morgan Reneau:
Yeah. I think probably that entrepreneurship spirit that you defined at the church camp probably has enforced that of building companies that allow you to still do what you want to do the rest of the time.
Kade Wilcox:
Yeah, absolutely.
Morgan Reneau:
We've kind of talked about some books and the group of friends that you find as mentors. Who have been some of the biggest personal influences on your own leadership?
Kade Wilcox:
I'm really fortunate in this regards and I'll certainly leave some people out because that's something I've always been really passionate about and committed to is having good, meaningful relationships. And I've had a lot of different, unique experiences. And the best thing about those unique experiences is the people that I've been able to connect with. So I have a long list. Inevitably I'll leave some folks off, but my parents have influenced me as much as anybody. Growing up in Nazareth and getting to be around my family and especially my grandparents.
Kade Wilcox:
I don't know why, but my pawpaw had a massive impact on me. From very early on, I can remember admiring him and loving him and observing. I got to spend a ton of one on one time with my granddad my whole life. And just what I learned by observing and watching him work specifically is a huge impact. I could go on and on and on. There's a guy named Bruce Howard who for 10 plus years made a huge impact on my life. He has 11 children. He's a science teacher. He's a pastor of a really small church in a rural community. And the way that he loves his family, the way he leads his family, the way he leads himself made a massive impact on me at a time in my life where I really needed that. And so he made a huge impact on me. Dusty Thompson, the lead pastor of our church called Redeemer, made a huge impact on me on the nearly four years that I got to work under his leadership.
Kade Wilcox:
Dan Pope, our mayor here in Lubbock has become a really good friend and has really helped me grow as a leader. He's really patient and really wise and I'm really impatient and a lot of times unwise. And so it's been fun to learn from him. So again, I'm really fortunate in this regard. I have a whole list of people I could keep going through that made a huge impact on me. My father-in-law is one of my three best friends. Been really good friends with him for over 13 years now. And he's made a huge impact on me. So I can keep going. I'm really thankful for the number of people I have in my life and the people who have influenced me so greatly. It's something I'm just immensely thankful for.
Morgan Reneau:
If you were to influence your 20 year old self, what would be the advice you'd give to them?
Kade Wilcox:
How much more time do we have? Oh man, I made so many poor decisions and boneheaded moves. But a couple of things come to my mind. One is to learn patience. Whether it's relationally, whether it's financially, whether it has to do with growing our organization, whether it has to do with hiring, basically my entire life could benefit from growing and learning patience. So that would be by far the first thing. The second thing would be is, I feel like I'm fairly disciplined, but I wish I was more disciplined. I wish my 20 year old self would have taken things more seriously and more earnestly in my twenties, really trying to figure out what the heck I was and where I should go and what I should do.
Kade Wilcox:
And I wish I had someone in my life at that time to slap me across the head and say what you need to do is work and learn some grit and learn some discipline. And so those are the two things that, if I were talking to a 20 year old Kade or a 20 year old in general I would say you got to learn patience and you gotta learn how to be disciplined. And you can learn how to be disciplined in a variety of ways. But it's something I'm constantly talking to my nine and seven year old about. You're going to learn how to love Jesus, you're gonna learn how to love your family, you're going to learn how to work, you're going to learn how to be disciplined because theres so much fruit to that. And so those are the things that I would want to tell a 20 year old kid. It's a little frightening actually to think about a 20 year old kid. So I'm going to stop talking about him now.
Morgan Reneau:
Great advice. And it's been good to learn more about you and learn more about how you got to Primitive and how all of this started and all the history of it all.
Kade Wilcox:
Yeah. Well you've done a great job. I'm starting to think that you should be the new host of The Primitive Podcast and I'll be behind the scenes or something. So thanks for doing this. And I want to just take this moment to thank our listeners. Whether we have 20 of them or 20,000 of them, it's really a privilege to me that people would listen and engage our content. So I just want to take this time to thank you for listening and sharing with your friends and really excited about a lot of the episodes that we have coming up and hope that it's instructive and helpful for your own life, your own leadership, and your own business. So thanks for listening.