The Primitive Podcast: Holly Duncan
Posted by The Prim Pack | May 1, 2020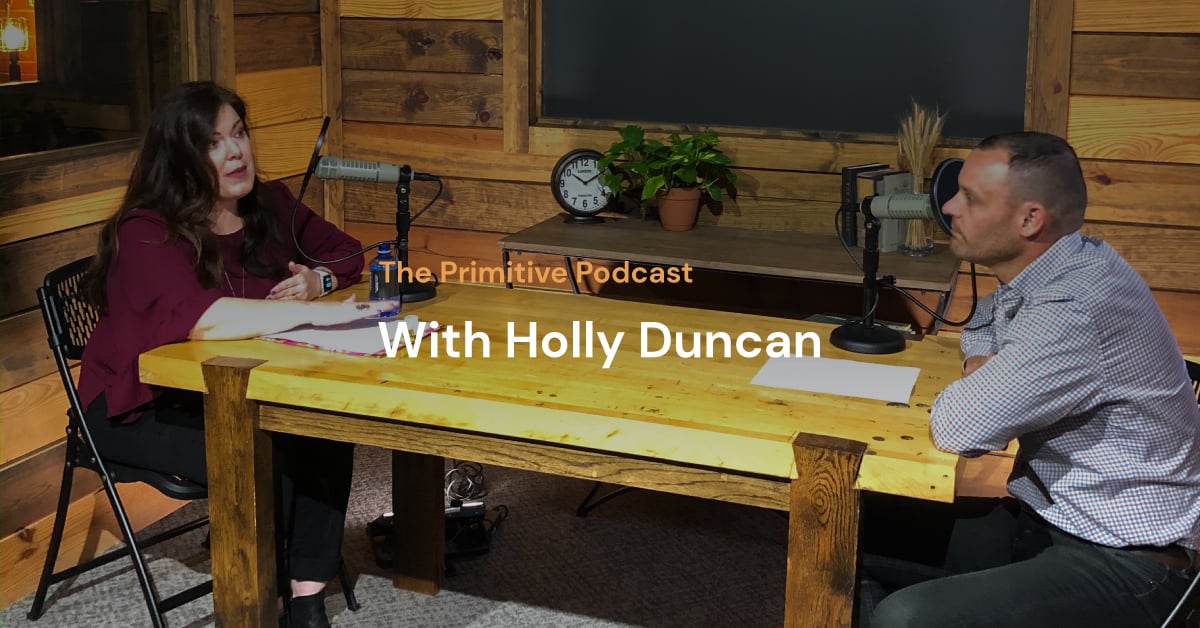 When was the last time you spent 26 years in one place? How many mistakes, failures, and lessons would you learn? How many would you admit? Wife, mom, CEO, consultant and speaker, Holly Duncan, has been the powerhouse behind Lubbock's nonprofit pregnancy medical center, Parkridge Pregnancy Center, for nearly three decades. And she has a lot of lessons to share.
Transcript
Kade Wilcox, Host:
Welcome back to the Primitive Podcast. I'm your host Kade Wilcox. On this week's episode we are joined by Holly Duncan. She's a CEO and Executive Director of Parkridge Pregnancy Medical Clinic here in Lubbock, Texas and has been in that role for over 20 years now. Her clinic, through her leadership, has reached an unprecedented number of people who need unique support and unique help. And I thought it'd be really fun to learn from a CEO of a non-profit who's been doing this work for a long time. And hear from her on the dynamics of nonprofit leadership and just learn from her on some of the things she's learned about leadership throughout her years of leading an organization.
Well I've known you for a long time, not as well as I've known Todd. So just tell us a little bit about your background. Like I don't even know where you're from. So tell us a little bit about Parkridge, about your background, how you got in that role. Just all the good stuff.
Holly Duncan, Guest:
Yeah, well I actually grew up here in Lubbock. I graduated from Coronado and all my friends went to Tech and I was the one that went off to Baylor. I started off with everyone saying, "Why are you doing that?"
Kade Wilcox, Host:
Did you get a hard time for that?
Holly Duncan, Guest:
I did. But not quite as hard of a time from when I went to graduate school, because I went from Baylor undergrad, I got my degree in Secondary Educational English and Sociology. And then I went on to grad school at UT so that's where I lose all the rest of the respect from everyone else, that I lost saying I went to Baylor. But you know it was definitely something that I thought through, and prayed about, and exercised due diligence. And so for me it was very clear. And my mom had actually gotten on a train from Virginia and went to Baylor. Went from just across the country.
Kade Wilcox, Host:
That's cool.
Holly Duncan, Guest:
My dad was in the Air Force, which is kind of cool since its Veteran's Day. And they met there and so I had always kind of known about Baylor. So undergrad there and then graduate school and so I got my masters in Educational Psychology with a specialization in Counseling. Then I did my first internship at a school, and I enjoyed it, but I really was thinking oh I want to do more. I know things have changed, that was a long time ago, but even then I thought I wanted to hear more about what was going on with them and what was making them sad and all these things. Versus here let me help you sign up for the SAT. Then I did my advanced internship at a place way back when called Minerth-Meier. And I was able to do individual counseling, group counseling, inpatient, outpatient, all the things. And that's when I thought oh this is what I want to do. And I was going to go on, and I knew I wanted to go on to become a licensed professional counselor in the State of Texas. So since I had grown up in Lubbock, I was working on my thesis at grad school, and I came home for a break. And I was asked to interview for this job, because they were launching this organization and I actually said, well I don't think I'm gonna be living here, because I already had interviews set up in both Dallas and Houston for these other opportunities. And they said, well no we really want to talk to you about starting this ministry. And I said, okay, well and I jokingly say that I did what sometimes we do and I said, okay let me pray about it. And I drove back to Austin and thought I'm not gonna do that. But then the more I thought about it, I thought this could be an opportunity for me to just implement some of what I've learned, both in undergraduate school, and graduate. And I never thought that I'd be here as long as I was here. But I was straight out of grad school, I just finished my thesis just walked across the stage to get my diploma, and I was hired 15 days later. This is back in nineteen and ninety three. I feel I told somebody that if it's before 2009, you had to throw the "and" in there it's like a circa 19 and 93. But that was then and they said, okay there here's this space, this is what we want to do. They had interviewed me, and so I came back for a second interview, and they hired me. And they said we want to open on September 1st. So I had that summer to get ready.
Kade Wilcox, Host:
So for those in our audience that are not familiar with Parkridge like I am, why don't you give a quick overview.
Holly Duncan, Guest:
It's a nonprofit organization. We have licensed professional counselors and nurses on staff. It is a pregnancy medical clinic. So we are actually at the crossroads of folks making big decisions when they find themselves in the midst of an unintended pregnancy. We also have counseling and we have parenting classes. We also have opportunities to speak in the schools. And then we have support groups too.
Kade Wilcox, Host:
That's awesome. One of Lubbock's best assets. So you started Parkridge?
Holly Duncan, Guest:
I did.
Kade Wilcox, Host:
I did not know that. So since 93?
Holly Duncan, Guest:
Mm-hmm. 26 years ago.
Kade Wilcox, Host:
Wow. What was the original group who came to you and wanted to start Parkridge? What was the impetus behind that? What was the original vision? And how has it kind of evolved over 20-plus years?
Holly Duncan, Guest:
Sure, so there was a 16 year old girl who discovered that she was pregnant. Went and talked to her folks, who were active in the church at that time. And she said this is not what I planned, but I need help. And her mom said well we'll do whatever we can. And her dad said yeah this is not good, we're gonna fix this problem. And so they went to their youth minister, and so their youth minister was actually my youth minister, who eventually married Todd and me. But they knew that that was not an isolated incident. That she was not the only teen, in fact at the time in the early 90s, Lubbock had some very high rates of unplanned pregnancy. We still have some not great rates. And also STDs and some things of that nature just some very high, off-the-chart rates per capita, some of the highest in the nation. So they knew that there was a need, so they formed a steering committee, which eventually became the board of directors. And that's who had interviewed me. So that was the catalyst. It was born out of a need for the community. So they had exercised due diligence and done some research and there was nothing exactly like this at the time. And people have said, why is it called Parkridge? Well that was the name of the suite of condominiums right there, it was on the ridge of a park. And our board actually liked that name. It was a little kind of nondescript. And we knew that we needed to start with something that was somewhat hopeful. We knew that people would be coming to us in the midst of a crisis, but we never wanted to call ourselves a crisis clinic. Because folks are looking for help to get out of the midst of a crisis. So that's really how the name Parkridge came about.
Kade Wilcox, Host:
That's really cool, we'll come back to that. That sparks a lot of questions like: 26 years ago do you see yourself still being here, and what it's become today. So we'll get back into that. You're a basketball family, so those who don't know you personally well, tell them about all the basketball going on in your family.
Holly Duncan, Guest:
I definitely married into a basketball family, and my husband's a coach. As I was saying I'm glad that I knew that I enjoyed it, and then I know I was getting into or I'd be really challenging. So I was a soccer player in high school and ended up playing a little bit in college as well. Todd still holds some records at Texas Tech. He's very humble but, there's a story actually, if I can take 30 seconds. Please do. I was that grad school and he and I were friends, and someone had said he was in Sports Illustrated. He was the one of the top recruits, JUCO recruits in the nation at the time. And they said he was in Sports Illustrated, then I saw a picture. And I kind of joked with him and said, is that picture really from Sports Illustrated or is that one of those you know Six Flags things. So I went to the UT library, back in the day, they actually had all the microfiche but they also still had the original copies of Sports Illustrated. And there he was. In this day and age I would've whipped out my cell phone. And I really thought I would love to just steal this copy, but you know, integrity was hopefully why I didn't. So there he was and he was very highly recruited and then opted to play at Tech. He went to junior college and they went to the national championship.
Kade Wilcox, Host:
Where's he from originally?
Holly Duncan, Guest:
He's from Lubbock. He actually graduated from Coronado as well. So then he played pro ball overseas in Taiwan. He played for the CBA and so we were dating and all that. So he played for Spirit Express and that was based out of Nashville. So he just loves the game. And he's always, in fact when we were dating, early on, I helped to make one of his first brochures for his Todd Duncan Basketball Camp. So now he's been doing that since he played at Tech. Which was a long long time ago. Then both of our kids, they play basketball as well, and so it's just kind of in our blood.
Kade Wilcox, Host:
That's cool. Does he want to coach your youngest?
Holly Duncan, Guest:
I think that's an option for sure.
Kade Wilcox, Host:
How would they coexist? Let's just predict it for the audience.
Holly Duncan, Guest:
You know I think they would do well, but Ethan loves LCU but he is still seeing what his options would be.
Kade Wilcox, Host:
So which one's more stubborn Ethan or Todd?
Holly Duncan, Guest:
Oh, I don't know. We're gonna call them tenacious, all these things.
Kade Wilcox, Host:
That's great. So you guys get married, you've been in Lubbock this whole time, and so 26 years ago you started Parkridge. Did you ever imagine 26 years later, you'd still be hustling along here?
Holly Duncan, Guest:
No. I committed to that, I knew it was going to take some time to just build it. I never set out to be a trailblazer or a founder or anything like that. I truly saw it as an opportunity to implement the skills I had taught. And I knew way back then, I was 24, I just turned 50 this year, so that's a big one. I surrounded myself with people who were experts in the area. So I had my degrees, but as a nonprofit CEO, you're expected to know about HR, accounting, marketing, all the things. And I was training the new volunteers then. We had about 40 volunteers. I was the only staff member. So I knew that it would take some commitment on the front side, but I never, if you were to ask me in 1993, would you be talking to Kade 26 years later that you're still there. I would have to say no.
Kade Wilcox, Host:
That's really cool. It's an amazing story. How do you view your role as a leader of your organization? It's different for every leader of an organization. How do you personally view your leadership, leading your team and developing the organization, as you continue your mission forward?
Holly Duncan, Guest:
Well one of my core values, which I've tried to instill in our organization as well, is a teachable spirit. And that partly came about 26 years ago, when I had to have a teachable spirit. I did have one, but even then I knew the value of that. Because we've all been around folks who continue to learn, and we've been around folks who are finished. They feel like they've learned it all. And that's a very scary place to be. So even then I knew that I wanted to surround myself with folks who, not because I wanted them to help accomplish my mission, but because I knew that they had gifts and talents that I could learn. So I think that that's very important to maintain that teachable spirit. So that's part of what I've tried to do, is to infuse that. Also I think strong leaders are always pouring in to other leaders, because it's about multiplication. It's about how can I help them succeed? Now 26 years into this our organization is pretty solid. A good friend and mentor of mine is Bob Beall. I don't know if you've read any of his, he's awesome. But he says it takes 15 years to become an overnight success.
Kade Wilcox, Host:
That's good.
Holly Duncan, Guest:
I know though that we have to hold loosely these things, that we should always kind of be looking at a succession plan. One of the things that I say about myself is, I'm content but not complacent. I don't want to be someone who's restless and never thankful for the place that I'm in. But at the same time I don't ever want to be so complacent that I miss an opportunity for what's next. So as leaders we need to think about a succession plan. I have a joke at the office if the Spurs call Todd and they need a coach, then I want to have some strong systems in place. You don't ever want an organization, especially a non-profit ministry organization, to be centered around one person. So I believe leaders pour into future leaders.
Kade Wilcox, Host:
That's really good. Let's think about that for a moment practically. Like what does that look like for you to pour into other leaders on a practical level?
Holly Duncan, Guest:
So I can nerd out on org charts and infrastructure but our organization grew. And there's really kind of a funny story to that, because I had been serving there for six years, and we were pregnant with Ashton. We knew we were gonna have our daughter Ashton who, by the way, holds the National Championship at LCU. It's amazing, she's still playing this year. So we knew we were gonna have Ashton so I remember where I was praying. That's an important component in my life, is the spiritual component. And so I was praying about that, and I thought, okay no one else can be Todd's wife, no one else can be Ashton's mom, someone else can do this Parkridge thing. God can use whoever he wants, but he allows me to be a part of this. So I had held it loosely but I remember at that moment saying, Lord I just want you to take this and do with it, it was never mine anyway I don't want to take credit for this. And it was as if God said, ah now I have you right where I want you. And then I'm gonna do that above and beyond all you can ask or imagine thing. And so little did I know, that same night, the board had a special called meeting. They don't do that anymore, that's against our bylaws now. But back in 1999 they had this special called meeting, and basically they said, we want to work with her. We want to offer her some flex time. And we need to hire somebody, because she's about to be on maternity leave. And so even then I knew that, this is not about me, I need to continue to pour into other people. And that kind of helps with maybe another question that we can get to. How do you do it all? There's got to be some kind of prioritization of all that. And so for me, I think, can someone else do this? You know when you think of delegation. John Maxwell says, "If somebody else can do it eighty percent as well as you then let them do it." But when you think of what are your roles and what are your callings, that nobody else can be Todd's wife, and nobody else can be Ashton and Ethan's mom. So that still means I have to go to work in the mornings, but that filters down. So when I look at discretionary time or when I'm committing to do other things, I want to go through that filter. So I'm wife, then mom, then CEO, and then consultant or speaker, whatever those other things are. So if you keep that in the right order, then that really helps. But I still think it's important to mentor and model that to other folks who are coming behind you. Because you can get on this frenzy of trying to do all these things, and add all these things. Your question was, how do you do that? And how do you mentor the other leaders who come behind you? I'm very intentional about that, I try to model it. Also what I do is, if I have an opportunity to share with them something that I take away from a board meeting that they weren't in. If it's something I can pass on to them that they could learn, that they wouldn't have heard otherwise except for me, and it's not something that's a confidential matter, then I can share that with them. I can say, here's a situation, this is how I handled it. Knowing you, and your strengths, and your personality, and your wiring, I would recommend that you maybe could handle it this way, this way, or that way. Sometimes say okay here's a situation, what would you do? Other times I say, okay if I were you this is what I would do. So I think that always looking for how you can pour into your people. Because you want to be indispensable, but the fact is we're really not.
Kade Wilcox, Host:
How many direct reports do you have?
Holly Duncan, Guest:
I have three direct reports. Now that sounds a little interesting because I have a COO. But the reason I have two others is because we're building out another division, another department, and so until we get that, that's where we are. You know how it is, you have these phases and you probably have your dream org chart, as well. So that's what I have right.
Kade Wilcox, Host:
What is your time with them look like? Do you meet weekly? Do you meet every other week? What does that time look like?
Holly Duncan, Guest:
My COO, we meet about an hour to an hour and a half each week. And certainly I'm available as things come up. You just want to have an open-door policy, however it can't be so open that you don't get your things done. My other direct reports, like my managers or directors in this build-out position that we're growing that out. I meet with them for 30 minutes to an hour a week. And then we have departmental meetings once a month. And then we have all team meetings quarterly.
Kade Wilcox, Host:
That's good. How do you handle your meetings? Are they a blank slate and you know you start at the same time? Or do you have agendas? How do you have meetings with purpose? Which I think a lot of leaders really struggle with, number one, the volume of meetings, but then in addition to the volume of meetings, is just the purpose of meetings. And how to manage the substance of the meeting. How do you approach that?
Holly Duncan, Guest:
Well I have a template, because I'm a type, I like to have a plan. If I just go with a blank slate, then we might not even accomplish what you want to accomplish. And we might go over time. So we actually have an agenda. And all of my direct reports I have a template. It's like things that they're currently working on, the balls in their court, the balls in my court. Because I don't ever want to, if there's something that they're waiting on that I can give them information, sometimes as leader you have to say, trust me I'm working on it. But other times it's like, thanks for the friendly reminder, let me make that phone call. Sometimes I'll just pick up the phone right then in that meeting, and say let me go ahead, and if this will help move this on down the road, let me just go ahead and take my direct connection with this person now to get this done. So that's something that we do. So there is a process to that weekly check-in and we do use an agenda. But it's not so tight that it sucks the life out of it.
Kade Wilcox, Host:
That makes sense. What do you do to prioritize your own personal growth? I mean there's a tendency of a lot of leaders to neglect their own growth, because they're busy with other people's growth. Or doing the normal work of the organization. So how do you stay inspired? How do you empower your own leadership? How do you grow and continue to grow as a leader?
Holly Duncan, Guest:
Well when we had the opportunity several years ago to hear Cloud and Townsend. I love them. They've got great books on leadership and boundaries for leaders. I don't know if you've read that by Dr. Henry Cloud. They're psychologists in the industry, and they are phenomenal. They're the authors of Boundaries and so many books. But he said that we have the secret sauce to leadership because we're licensed professional counselors. Now that could be a blessing and a curse. Our kids were like, sorry you've got a coach and a counselor. Which is not quite as bad as a cop and a teacher. We kind of have to practice what we preach, but one of the things that he talked about is kind of knowing what those things are. If we're trying to counsel somebody on healthy boundaries, we need to be trying to have those ourselves. But one of the things that I have done and even Todd and I have done too, is try to find those folks who challenge you and bring out the best in you. Surround yourself with, I mean there are many times that you're the one that's pouring out, but if you're not if you're not around people who are pouring into you too, that's how burnout comes. I've seen leaders who are so great but they implode. They're like this building that all of a sudden they just implode. And you don't even know what's happening. There's not any kind of warning. So that's what I do. I have folks in my life who we meet together twice a year. There twelve of us in a group we fly into, Atlanta, we just met in Dallas. So we gather and we have a chance to. These are high-octane folks. These are authors, these are national level folks that I'm honored, I'm not sure how I got on that list, but I'm on that list. We get to do that and just kind of sharing the behind-the-scenes things that you can certainly share with your spouse, but sometimes it's great to have those folks who are leaders. And that's very important, that's pouring into you. Then I think too, sometimes Todd and I just have to do an assessment. Who are those folks that we just are so energized after we leave from talking with them? We need to spend more time with them. You know those friends that you see them once a year, and you're like, we need to go eat Mexican again. Why has it been so long since we've seen you? Being intentional to get it on the calendar. And there are other folks where you're the ones pouring into them and you might meet with them you know twice a year. It's like how are things going? What about all that stuff we talked about last time? No I haven't done any of it, I'm still stuck here. You think okay well how can I best utilize my time? So even the keeping yourself grounded and challenged and all that, you have to be very intentional about that. Because in leadership, especially if you're the CEO or the founder of an organization, you're usually the one pouring into them. So you have to be very strategic and intentional about who's pouring into you.
Kade Wilcox, Host:
That's good on putting a group of people together, super-smart, different industries that you can collaborate and step outside of doing the work, and actually just think about the work. So you married a coach, you got two basketball players, your schedules are probably all over the place, you have a demanding job. When you think about work-life balance, people love to talk about that. It's an easy thing to say that you're for. But what does that look like for you, number one. And number two, when you find yourself out of balance, what are some practical things that you do to kind of recenter yourself or kind of reclaim balance?
Holly Duncan, Guest:
Well I would think in this day and age, with resources online, folks really kind of know about their temperament styles and their disc personality, you know all these things. But it's like where's your source of what drains you and what energizes you? And so that's that's important to know. If you don't know you can go online and take that test. A lot of companies do that too just for their own culture, to see how they're how they're reacting. But you need to be aware of those things. And have those warning lights. But as far as me, like right now, if your kids are playing in college basketball and sports in high school, those years go by in a flash. So I don't think it means that, I'm not gonna say that if I miss a scrimmage, because I have a CEO meeting, that means this is more important. But what I do is I get the schedules out, and put them on my calendar early. My schedule, I can tell you what I'm doing in the spring, and even a year from now. Because these are the things I want to carve out and get on the calendar first. And so we do that with the family vacation. We might not know exactly what the dates are because a lot of things, we don't have all the information, but just knowing these are the things I'm gonna get on my calendar. And for right now, this stage of life that's gonna go by oh so quickly. Like I'm leaving tomorrow, I have a leadership meeting, and then I'm hitting the road and going to drive into our son's ball game. I marked off, this is interesting because our Lady Chaps played UT, my alma mater, and Baylor. So whenever that schedule came out last February, I marked it on my outlook, that I'm gonna be out. So you know a phone and just the fact that that it's right here and it's so we're so easily accessible, it's a blessing and a curse wouldn't you say. And so it's that balance of intentionality, but also making sure that you're all there. One of my favorite quotes is, "Wherever you are, be all there, live to the hilt every situation you believe to be the will of God." That's Jim Elliot, the missionary. That's still so important. I don't want to be in one place with my family, thinking about the office. Or at the office thinking about my family. So it's like okay this time that I'm here I want to be all here.
Kade Wilcox, Host:
I think that's good. I like how you prioritize things that are really important. I get made fun of by my friends occasionally because I already printed out the 2020 calendar. Literally block every single month off. And I think the fact of the matter is if you don't tell your time what to do, your time will tell you what to do. We're reactive instead of intentional.
Holly Duncan, Guest:
That's exactly right.
Kade Wilcox, Host:
So I appreciate the way that you do that. Tell us a little bit about how you approach failure. I think it's always really fascinating to hear how people approach failure, and how they view it, and if they learn from, and the ways that they learn from it. So how have you historically approached that?
Holly Duncan, Guest:
Well certainly it should be an opportunity for growth. Right now we tell our kids that wisdom is learning from someone else's mistake, because we're gonna make our own. But if we can learn from someone else's, that's gonna add to that but there will come that. So it's how we handle it but I think also prevention is a huge piece of it. If you're talking about innovation, they're certainly going to be a higher rate of failure. But we want we hopefully want to have those core things in place, that we don't go off the grid on some of those on those core values and those pieces that are really important to us, the big boulders in our life. But even when that happens, that's what we specialize at the office. People think okay there's this situation, or I'm in the middle of this, this is a failure, I can't go on. So I think stepping back and helping someone see the big picture. But also figuring out where you go from here. A lot of times we're doing triage work, or we're doing crisis intervention. Also, as a licensed professional counselor, part of my bent is going to be the, solution-focused, short-term therapy. Because we want to help folks figure out okay, what's the solution here and how can I implement tools that are going to help me because it will come again? How can I either prevent that? Or how can I learn from it? So I think analyzing the cycles too. Failure - is it because of innovation? Is it because of a lack of discipline? What is the origination of that failure? Sometimes it's just because we're human and we make mistakes.
Kade Wilcox, Host:
That's really good. If you think about your line of work is really unique, it's usually extremely urgent, it stems from an unwanted decision. So what have you learned from doing this work for 26 years, in terms of helping people process their decisions? What have you learned that would be applicable to someone even in the business world, where maybe the consequences of the decision is different, or the sense of urgency, or whatever is different. But where do you find there to be overlap and balance?
Holly Duncan, Guest:
Well one of the things we say that I think is applicable in the counseling room and also in the boardroom, is sometimes just push pause. I think sometimes, especially if you're wired, for moving forward getting or you want to just mark this off your list, you want to go ahead and learn from it move on, sometimes the best thing you can do is push pause. And take a step back, seek godly counsel, seek wisdom from folks. I think just the the timeline sometimes our time frame orientation, if I say hey Kade we'll get back and we'll fix that soon. What does soon look like? Soon for you might be tomorrow, soon for somebody else is within 2019. So all of those things I think, so pushing pause, gathering all the facts, and then the old-school pros and cons list. It is still so valuable. Just actually putting it on paper helps you think about it. I mean it's something you do in elementary school, but it still has value today. We use it in the counseling room and I still use it at times too when I'm talking to our kids. Okay what is the worst thing that could happen if you do this? Or what's the best thing that could happen? Then the prevention element is so key because you want to learn from those mistakes. But then if you can kind of fend that off a bit, and you're already in this mindset of kind of analyzing it. Now not paralysis of analysis, but if you're analyzing it, then you do have some of those indicator lights or some of those predictors. Or I'm feeling really tired. Or I'm fairly feeling really disconnected. And if I know myself that if I do these things, then it might be bad. So it's again it's initiative and being proactive about some of those things.
Kade Wilcox, Host:
That's really good. You said something early on in that about really learning from others people's mistake, as a way of gaining wisdom and therefore hopefully preventing some of that. And you don't typically think or view learning from failure as learning from other people's failures, so that's really good. And the whole, push pause and think for a second, that's probably not my greatest strength. So I'll have to bookmark that. And do that better moving forward. What are some or who have been some of the biggest personal influences on your own leadership? You sound well-read, you sound like you read a lot, you're clearly around a lot of great leaders, but when you think of one or two people who have had or continue to have a significant impact on your own leadership who are they? What have you learned from them?
Holly Duncan, Guest:
So there was a season in my life where I had the opportunity to be a national consultant for Focus on the Family. So they would fly us in and they would train us to go and work with these other clinics across the nation. So you know they say an expert as someone who has a briefcase and lives further than 30 miles away. So I already had it, you know, I had the briefcase and that was further than 30 miles away. But they were pouring into us as leaders. Part of what made me so valuable is I was still in the field. So at the time I was still the CEO, I had kids, I had Todd's support, and my family support to help, and even the support of the board. Because they said if you're learning for that, then you're gonna be a better leader. So while we were there, that's where I first had heard of Bob Beall. He was one of the founders of the organization, Focus on the Family. Then he went on to become like an executive coach. But he did our training. He's amazing. He's been doing this for years. Chick-fil-a, Boeing, all these huge people have called him in over the years. So I got to just sit at his feet. He poured into us and trained us and I've maintained that relationship with him. So he's amazing. So Bob Beall, he's really great. And I think that folks in my life, the ones that have the teachable but humble spirits, are the ones that I love learning from, and that I just want to spend time with. And some of them are just local friends and local leaders. Then also this group of, I call them my high-octane friends. I know that's kind of a West Texas thing but I think that's huge too, getting to spend time with them. So I could list a long list of people that I've read and all that, but just having those folks who you can tell kind of the good, the bad, and the ugly, as we say. We're gonna have a meeting. We're doing the good, the bad, and ugly. We can say whatever we want here and let's kind of get to the bottom of it.
Kade Wilcox, Host:
That's good. That's really good. I'll have to check out Bob, you've mentioned him multiple times. Okay last question for you. If you could speak to younger self, if you go back to 19 and 93, as you said earlier, what would you tell the the 1993 version of Holly after 26 years of leadership? What are some of the things you would tell your younger self?
Holly Duncan, Guest:
Well what's interesting is that I probably wouldn't change much. Because even the stuff that I learned from, or the stuff that maybe I was in way over my head, I was actually in way over my head when they hired me and gave me the key. But because even then I had the teachable spirit, because I had to learn all these things. I remember then saying okay I need to maintain this. So I would say, okay that's a good one that you're onto something. Little did I know it'd be 26 years and all these things. But I think to me, teachable spirit is just almost there's a humility that can come from that. You know I love the CS Lewis quote, "Humility is not thinking less of yourself, it's thinking of yourself less." And I think that's part of what it is, you don't see yourself as the expert in all these fields. Yet when someone calls and says, hey can you speak on this? I think wait a minute. I'm not sure if I'm an expert, and I think, well I have learned this, I have learned that. But then even so if I'm supposed to be speaking in an expert field, I still want to beprepared. Because it's an opportunity for growth, and for learning, and all those things. And so I think I would just say, stay the course. It's gonna be hard, but thankfully we don't know all that's ahead because I might not have been here for 26 years. If I knew that I was gonna have to do this, this, and this, and be responsible for that, that, and that, and build out ABC, and raise funds for XYZ. I probably would have said I don't know if I'm your person. Because I'm going to be in private practice as a licensed professional counselor, that's what I thought I was gonna do. So I think that, I'm not trying to just have an easy way out to this answer, but I am grateful for the highs the lows and everything in between. Because it's really shaped me into the leader that I am today.
Kade Wilcox, Host:
That's really cool.
Holly Duncan, Guest:
I probably would say wear even more sunscreen.
Kade Wilcox, Host:
Wear more sunscreen. That is a perfect way to end this interview of all the things. Well we appreciate your time. It's been good getting to know you, and supporting your organization, and following your kids basketball career. You know I got to play against Todd a couple of times, got beat pretty handedly at least one of those times.
Holly Duncan, Guest:
What an honor to be here. It's just so cool to see, when I first met you, I knew that you were a go-getter too. I don't know exactly when that was because I know you and Todd have known each other for much longer. But I could see that in you for sure. Like okay, this is something that you you want to do, you're a big dreamer but you also kind of put feet to it. So I think it's awesome. Everything from your building, to your people, to your team. One of the things, can I just add this too, that we talked about our standard because I think sometimes we can make excellence an idol. Our standard has to be high, but if we look at perfection and that becomes the standard. I'm not saying you do this, it was just a segue, a little little last-minute thing. I think that's so important. We want to make sure that excellence is what we're called to, and that we're trying to do all things well, but if that slips and turns into perfectionism, then we're heading for that road of burnout and implosion and all that stuff. But I just love how you have done such a great job. And I know that you're not finished. But just to be on your list of community leaders it's truly an honor.
Kade Wilcox, Host:
It's our privilege to have you, and really appreciate you taking the time to do it.