The Primitive Podcast: Howard Thrash
Posted by Buffy the Bison | January 5, 2021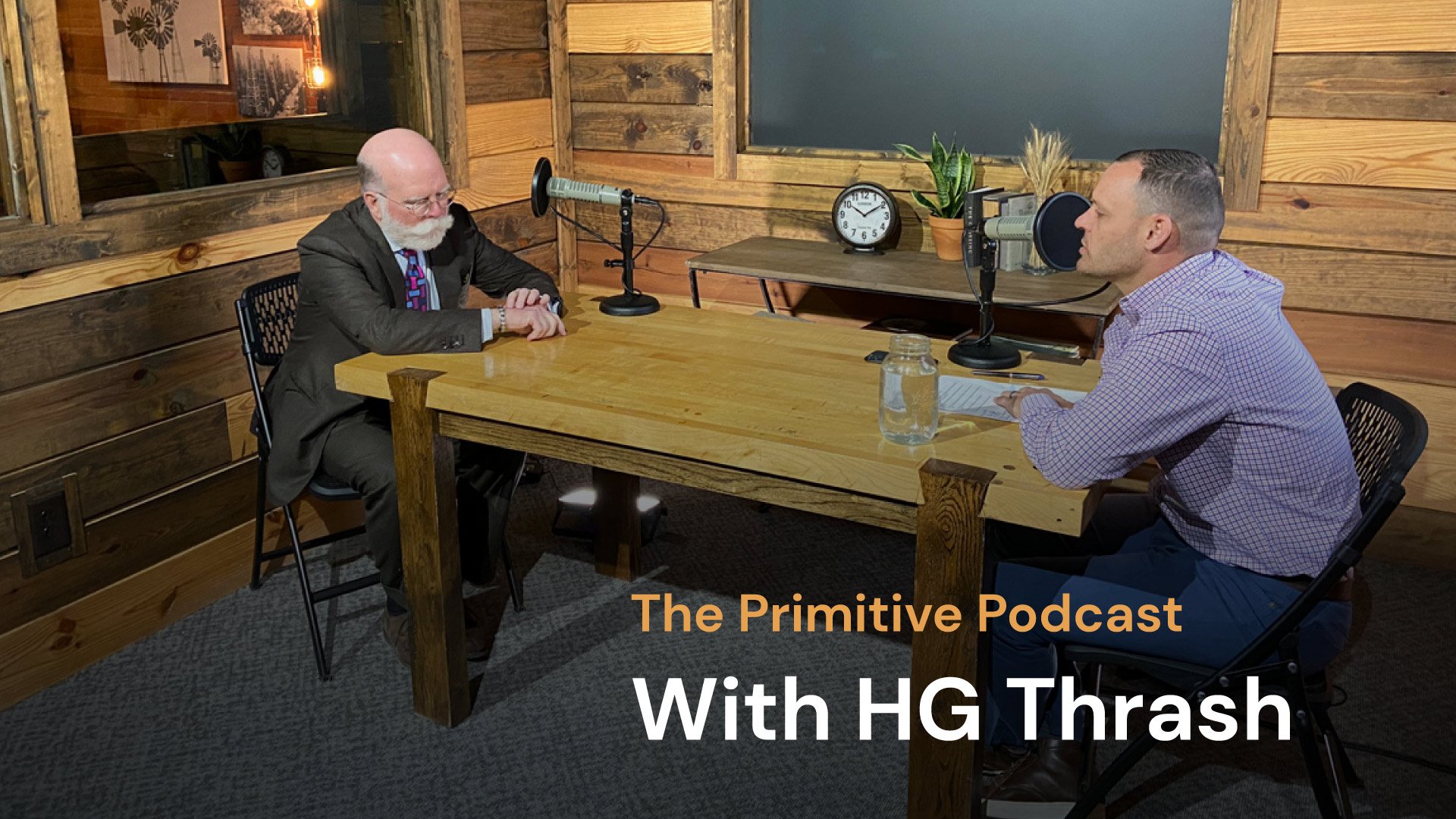 With nearly a lifetime in the industry, Howard Thrash, owner of H.G. Thrash Clothier in Lubbock, TX, knows style and business. Even with a wealth of knowledge and resources, Howard was not immune to the ebbs and flows of business. However, with lessons come wisdom, and Howard is sharing his lot with us.
Transcript
Kade Wilcox:
Hey guys, Kade here. For this week's episode we have Howard Thrash. Howard's been in the clothing industry for over 30 years and is the owner of Howard Thrash. I really enjoyed my time with him talking about why sense of style matters and learning a bit more about his background and talking about some things that he learned throughout his 30 year journey of being in a service-oriented industry and his unique perspective on leadership and in some of the things he's learned. So I hope you enjoy this episode. Also, if you wouldn't mind, would you go and subscribe to our podcast? It really helps us on iTunes when you subscribe and if you've enjoyed the podcast and you're a regular listener, if you have a couple of friends that you could refer the podcast to, we'd really appreciate it. We put a lot of time into this and want to keep getting better and adding good content, adding value for you as you listen and participate. Thanks for coming along the journey and I hope you enjoy this episode.
Kade Wilcox:
I appreciate you being on the podcast and for those who are watching on YouTube, they can see that you're going to be by far the best dressed guests I have and for those of you just listening, this is Howard Thrash of the famous Howard Thrash. So of all the guests we're going to have on this podcast, including the Mayor of Lubbock, he is going to be the best dressed guest that we have, which I just love. Like you can't probably see what I'm wearing, but I'm decked out in Howard Thrash. So I'm a huge fan. I'm a huge fan of your store, but even more of a fan of you and Jeremy personally. So thanks for being a good friend and thanks for being on the show. What I want to do is just start out by hearing your background. I've known you for several years now and I can't even tell you where you're from or what your background is. So why don't you start there.
Howard Thrash:
I'm born and raised in Dallas, from family that had been in Dallas for years. Came to Tech to study architecture and worked myself through school selling clothes, I had done it in high school. I got through architecture school and the guy that I worked for when I went to him and said, look, next semester you're not going to see me much. I've got to do thesis and programming and it's just a horrendous semester and I'll be here as much as I can. But he said, why don't you come to my house on Friday night and we'll have dinner and we'll talk about it. And so he made me the offer I couldn't refuse and I stayed with him and became a part of his company and a partner in his company and had been working for him for a number of years. And then within three or five years after that I tried to buy him out and that didn't work out. That's another chapter in a book.
Kade Wilcox:
What was the name of the store you worked at?
Howard Thrash:
It was called Steven Craig. The guy's name was Steven Craig Jansen. Great guy. We had lots of great memories there. As a matter of fact, I'm still conversing with him and we still talk a couple, three or four times a year.
Kade Wilcox:
How long was this store open? I've never heard of it.
Howard Thrash:
His store was there from 1975 to 1989. I opened in 1989 and he went out of business in 1989 or really, he sold it in 1988 to another guy, that guy went out of business in 1989ish. Maybe 1989 and a half.
Kade Wilcox:
On this podcast where loose with numbers. We don't pay attention to the numbers.
Howard Thrash:
Too much trouble.
Kade Wilcox:
That's great.
Howard Thrash:
So I did that and then realized that the writing was on the wall that I wasn't gonna be able to take ownership of that particular business. And so I left that company and for about a year or so, year and a half, I did what I could. And my major main job was I drove a mail truck. I worked for a contractor and would pick up mail with the biggest truck that's less than an 18 Wheeler. So it's a big box truck and I would haul mail back and forth between the airport. I got to pick up dead bodies at the airport, put it in there and all kinds of fun stuff. And I drove and I did other things, but that was my main thing. I did that at night overnight and in the daytime I would try to put my store together.
Kade Wilcox:
What was that like early on, it sounds like while you were working delivering mail and delivery and all that stuff, you were working on starting your own store. So do you remember, I guess I have several questions for you. So first of all, is there a time that you can remember where it became really clear to you that you really desired to own your own thing? So that's one question for you. And then two, do you remember what it was like when you were kind of doing double time, because a lot of people would love to kind of own their own business and they don't really know how to work through the reality of the moment versus the reality of what they're trying to create. And so it's really hard to find that balance, getting something started and being able to be all in. So when is the first time you remember wanting to really own your own thing?
Howard Thrash:
I don't really recall that part of it. I think the answer to your question is, what someone has to get their arms around is we talk about these things, but people don't execute on these things. So your goal is to do this. You're gonna do this, most of us say it would be nice to be an area, I would love to be a pilot. I really would love to be a pilot, but they don't set the goal to be a pilot. They just think it would be neat to be a pilot. They don't realize the magnitude of what it's going to take to get from point A to point B and they don't have a map to do it. So I guess the answer to your question is not so much when did I make my mind up that this is what I was gonna do. One of the things that's very fresh in my mind still today is one of my best friends at the time, we went to college together and he was middle and being an oil and gas guy. And he said when are you going to quit trying to do this? This is a crazy thing to try to do. The economy was terrible. I literally told him, they're going to have to shoot me in the head and drag me out by my feet. I'm going to get this done. I may be wrong, probably am wrong, but we're going to see to its end. There is a finish line out there and we're going to see it to its end. So I guess that may or may not answer your question.
Kade Wilcox:
No, no, that's good. At what point do you think you had a real strong sense of style? Because slobs don't create men's clothing stores.
Howard Thrash:
It had to come from my parents. Partly my father for sure. My father was the kind of guy that came home from work, and this when I was very young, he came home from work and would take off his work tie and put on his be at home tie.
Kade Wilcox:
He wore ties.
New Speaker:
He would leave the suit trousers on, take the suit coat off and put on a jacket or a sweater or something. I remember that and it wasn't just my father. It was just every man at that time was that way. Every gentleman that was educated and had a real job. So I liked clothes. I guess from the start what really got me in the clothing thing was I asked my mother to buy me some shirts like my wealthy cousins had, and she said, we can't afford it. And I was working at the Safeway at the time, sacking groceries, and she said, why don't you just get a job in a clothing store and that way you can get a discount. My mother's Scotch-Irish, so she always was enthusiastic about a discount. So that said that's how I started. I started off 15 doing that. And it was just kinda, I don't remember not being a part of this. What I do. It is what I do.
Kade Wilcox:
That's fascinating. Why do you think style matters or does it matter? If you're having a conversation with someone about whether having a sense of style and wearing quality clothes and having a vision for one's style, does that matter? And if it does matter, what kind of story would you tell around that?
Howard Thrash:
Well, it does matter. It matters whether people want to admit it or not. I guess there's lots of ways of robbing this train we're talking about here. But it matters. If you don't think it matters, then you wouldn't see advertisements. Why does it matter? What is it? I don't really know the question.
Kade Wilcox:
Why does style matter? I can tell a major difference when I walk in a room and you know, what I'm wearing is intentional and what I'm wearing is nice versus if I were to walk in a room as a slob. And so for someone who spent 30 plus years in men's fashion, I'm just curious as to why you personally think having a sense of style and the way that you dress and things of that nature seriously. What would be your biggest selling point in terms of why those things matter?
Howard Thrash:
I'll go through a few of the conversations that are always said. Everybody's heard them. You only get one chance to make a first impression. It's rudimentary. It's crude, but it is so true. It'll take you years to wash off the first impression that you give someone. It may be the way you acted or what you said, but first impressions are very important. A couple of true stories. My wife and I, a few years ago, when my children were smaller, it was a tradition in our home to go to the Lions Club pancake festival. And my routine was I would get up and I would go to work and work until about eight o'clock in the morning. And then I would go home and pick them up and I would take the two boys in their pajamas and Julie in her Saturday morning comfort clothes and me in my sports coat. On Saturdays, I always wore a sports coat and tie.
Howard Thrash:
And we go to the thing, and sure enough, it's a line of a hundred people long. I'm exaggerating, which I tend to do too much, but this woman kind of waves me up to the front of the line and I'm like, you talking to me? And I say, what can I do for you? She goes, don't you want pancakes? And I went, well, yeah, but we're in line for pancakes. She said, Oh, no, what do you need? And I said, well, I got my family. Oh, well bring them up here. And so we all ushered the front of the line and they give the boys an extra piece of this and that. And we go sit down. And I looked at my wife, I said, what just happened? And she said, well look at you.
Howard Thrash:
And this has happened so many times in my life. This is well before your day, but there was a group of guys down there on the waitlist to get bumped to first-class cause it was basically free back in the day. And if you were dressed, well guess what? You got to go to the front of the airplane. But I don't know that I've answered your question.
Kade Wilcox:
Yeah you have. I think first impressions are a big deal and you kind of laid out the context that, whether we like that reality or not. It's true that everybody, as humans, make judgements.
Howard Thrash:
You can't help but make judgements.
Kade Wilcox:
100%. Yeah.
Howard Thrash:
So a customer came in one day, this wasn't terribly long ago, and he was an older gentleman, and if I'm saying older, he's older. He was obviously a man who had had some success in his life and was somebody we'd never seen before and the conversation went to what we do. And he had commented that he'd been to a bank to borrow money, he was building a house on the Colonial Country Club in Fort Worth. He was borrowing multi million dollars to build with an interim construction loan. And so he had gone in to borrow this money from this banker and the banker shows up and he says, hi, I'm the banker, the president of the bank, and he said, I can't do it. And he went, what do you mean? He said, I'm not going to borrow $7 million from a guy in a golf shirt.
Kade Wilcox:
Yeah.
Howard Thrash:
And he left so you could argue both sides of that, but I still think presenting yourself with your best effort is important.
Kade Wilcox:
Yeah. I think a lot of time it boils down to understanding your context, right. A basketball coach probably doesn't need to show up in a three piece suit to a game that might be a little overkill. Although Jay Wright at Villanova wears some pretty expensive suits when he's coaching. But for the most part, if you're a high school basketball coach in Nazareth where I'm from, you probably don't need a coach in a suit. But generally speaking, people are going to take you as seriously as you take yourself and one way to be earnest and to be serious and to take your work seriously, is the way that you present yourself.
Howard Thrash:
And that doesn't go with clothes. We're just talking about clothes.
Kade Wilcox:
Sure.
Howard Thrash:
If you're informed when you show up, you know something about who you're talking to and where they're from and what they're doing and what their objectives are and what their goals are before you get there. That's the same thing. It's the same story. You don't even have to go in there and let them know that you know. It's probably better if you don't.
Kade Wilcox:
Sure. That's a great point. How many years are you into Howard Thrash?
Howard Thrash:
30.
Kade Wilcox:
30 years. So shifting away from style and clothing and things like that, now let's think about good business principles. What are some of the most fundamental things that as you look back on 30 years of owning and running your own business, what are some of the key principles you've learned or some of your key observations about what it's like running a business and setting yourself up for success?
Howard Thrash:
Well, that's a big can of worms. The obvious thing is that doing the right thing never goes out of style. It's never wrong to do the right thing, sometimes painful, but it's never wrong. The other side of that coin is, there is no way to manage a reckless or unmanageable human. You know, some people make it really hard for us to be great and those things we can't control. We can mitigate them. We live in our little box over there on Broadway and it's a black and white world. It's right or wrong. If we've gotten it wrong, we're sorry. We will look you in the eyeball and tell you we're sorry and we'll try to do better next time.
Howard Thrash:
I think that's really all you can do. We joke about dry cleaners and we have customers, that's a conversation in what we do. Pick one. You're going to get a load of dry cleaning that there's going to be a problem with eventually. And the question isn't if they got it wrong or got it right, because it's what they do after the fact. So if that cleaner looks up and goes, gosh, Mr. Smith, I cannot believe we did that. What can we do right this moment to make it right? What can I do to alleviate the pain right this second and we'll figure out the rest of it in a day or so. Well, that's the kind of guy you want to do business with. We're going to make mistakes in our business. Just like any company will, we try to be great and have as few of them as we can. But I think the way you respond to a problem is more important than whether or not you're gonna have a problem.
Kade Wilcox:
Yeah, I really like that advice. I try to be really honest with clients who are considering working with us and telling them up front, we're not going to get this perfect. There are going to be moments where we dropped the ball or we have too much going on, or we missed something you said or whatever, but when that happens we're going to own it and we're going to make it.
Howard Thrash:
Right.
Kade Wilcox:
So I appreciate what you're saying. What I'm always trying to share with our team is not perfection but progress. We're never going to be perfect. I don't expect perfection, but we have to expect progress. And I think when your clients sense that and feel that and experience it, I think it makes a huge impact. And you're in a customer service business, so all you have is the service that you're able to offer your customers. So you've probably experienced that more times than you can count in terms of making a huge impact on the success of your business.
Howard Thrash:
Yes. Lots of thoughts are blowing into my head. I'm highly ADD and it's like a box full of squirrels. We just kind of dwelled on how to manage a train wreck. Let me tell you about what we get to experience. Most everything that is a part of what we do is a fun and positive thing. Yesterday the tailor stayed till 6:30 to get some clothes finished. A woman was coming to pick up her husband's clothes. They've headed to Cancun for a week and they needed some stuff and needed it altered. And we have our own tailor shop and our own store. We were able to manage that for them. So that's just one example. But my point is, it's a wedding, it's a trip to Europe, it's a bar mitzvah. There's some exceptions to that, but most always we get to be part of the highlights of people's lives, and therefore we get to be part of these people's lives. And we know their daughter and their dog's name, and we know.
Kade Wilcox:
Yeah. As an avid customer myself, I can attest to that.
Howard Thrash:
It's fun. It's a great thing.
Kade Wilcox:
And over 30 years you've probably developed some really great relationships getting to be a part of their stories.
Howard Thrash:
We have a wealth of friends because of that store. And that's not a commercial thing. We're getting the joy of being able to deal with great people.
Kade Wilcox:
What are some of the greatest influences on your own leadership? When you think of your leadership at your store who are some of the people that have impacted your own leadership or the way you view your business.
Howard Thrash:
Whatever business you're in, you look at other people that do what you do well. There's all kinds of, again, here my brain goes off. One of the inspiration points that I have always leaned on that I think is a bit unique is we get to go to New York twice a year for business. There are some vendors from Europe that if we don't see them there, we don't get to see them. And also even some of the American vendors, if we don't see them there, we don't get to see the really good presentation that they give us. And so we're in New York a week at a time, at least twice a year. And sometimes more. We don't see shows, but we do avail ourselves of wonderful restaurants.
Howard Thrash:
And in that environment, that compressed part of one of the greatest cities in the world, the restaurants tend to be really good at what they do. Whether it's your taste or not. So one of my inspiration points for me and one of the things I've turned Jeremy onto is to watch how well each of the actors in that restaurant, whether it's the coat check girl or it's your waiter or it's the chef or the bartender, just watch with the grace and dignity and professionalism that they conduct themselves. And that's an inspiration point for me.
Kade Wilcox:
That's cool.
Howard Thrash:
Jeremy's recollection if he were here is that I took him to a really great restaurant there on his first trip and he was astonished at the passion of the bread guy, the bread guy was 55 years old and he was proud to be the bread guy and was great with it and he pulled his different loaves and he made his presentation and told you about each one of these different types of bread.
Howard Thrash:
And that's my point. So that's a great thing. Another great thing that I've been kind of latched onto lately and I'm going to explore it even further is I've started reading a book called Rebel Yell, which is about Stonewall Jackson and all the other actors in the civil war. And I think I get inspiration from military tactics. I remember another book years ago that talked about the Battle of Midway, I think it was. I don't remember the name of the book, but the question was, we know that there's one battleship right there, but there are three more out here. We don't know where they are. And the guy goes, what should we do? Captain goes, well, we don't know where those three are, but we do know where this one is. Everybody, we're going to pounce on this one. And there's a lesson there. I mean, and but I'm right in the middle of this book, Rebel Yell. And it's really good.
Kade Wilcox:
It's really good.
Howard Thrash:
I'm only about halfway through it.
Kade Wilcox:
It's long. We listened to it last summer on audio book while traveling and it was phenomenally good. That's all really good. So you're in a retail environment, you're always open, there's not a lot of time where you have downtime. So how have you over the last 30 years balanced running your business, presenting a good service to your customers, but having a balanced approach to life. What does that look like for you and what does that even mean to you?
Howard Thrash:
Say that again.
Kade Wilcox:
How do you balance work and life? You work in a retail environment where you can't just be open two days a week. So how do you go about that?
Howard Thrash:
Well it is my life and I love it and I told you why I love it. I have great customers and I am in an industry with great people and it's an honorable profession and all those things. The perspective that I have is if I sell somebody another pair of socks, it is not going to benefit them or me. We're in the customer service business and we want to help you as best as we can. So there is no chalkboard. There is no number that we sell enough. If we sell this much more, we're going to be that much better off. That is not it. Therefore I have a life outside of what I do and I have friends that have these stores that that's all they do. If they go to church on Sunday, they go drop their wife off at the house after and don't even go to lunch.
Howard Thrash:
They go back down to their store so they can pour over their QuickBooks or something.
Kade Wilcox:
Yeah.
Howard Thrash:
That's not who we are. And that's just a decision. Maybe it's my personality, maybe it's my faith. Faith is a big part of my life. And it tends to pull you away from letting you get too overly committed to a business. My children, although they think I don't love them, I love them and I would do anything for them and they are a huge part of my life and they would come before that store if it came to it. My wife, same thing.
Kade Wilcox:
Yeah. So those things have really grounded you.
Howard Thrash:
Yeah, it's more about perspective than it is about some sort of method I have.
Kade Wilcox:
Those things really ground you and give you much greater purpose than just the net result of your actual work.
Howard Thrash:
Well, yeah. Work is work. I'm blessed to have a job that I love and I'm blessed to have other people that are involved with me that love what I do. What a blessing. I've got friends that have professional careers that hate what they do. Pick a professional career. I'm not gonna pick on any particular one. They hate what they do. They make great money, but they just don't love the work.
Kade Wilcox:
They don't love the work.
Howard Thrash:
They love parts of it.
Kade Wilcox:
I think that's really profound what you said about your family, your faith, things outside of work. I feel like a lot of people who listen to this are younger leaders and I think something that is really critical to pick up on what you shared is if you don't have these other things that are really grounding you and that you can stay connected to, it's really easy for your work to become your identity. Whether you enjoy it or not. If you don't have these other things that ground you or that you can connect to that help you maintain a balance, you can get really out of whack really quick, because you only have one identity and if it's your work, then your whole identity ebbs and flows with the value of the work, the nature of the work, the ups and downs of the work. How much you love the work in any given day, whereas when you have these other things to really be grounded they can make a huge impact on creating this nebulous thing people talk about in terms of work life balance, which could be a whole podcast. Cause I hate the word, I hate the phrase anyway, but that's good. That's really good insight.
Howard Thrash:
If you're speaking to a younger person the thing that I would tell my sons that are 24 and 26 years old and one of the things that I hope they've learned is that there is no shortcut. If you show up two hours ahead of the rest of the crew and stay two hours late or maybe only be 20 minutes you're going to probably have a better chance to succeed. And if you're not working 60 hours a week, you don't have a job. This idea that you're going to work 40 hours a week and somehow get ahead. It's just silly, but you've got to have balance. You've got to have reality. You can't let the dollar be your god.
Kade Wilcox:
That's good stuff. Last question for you. If you could talk to your 30 year old self. So if you could go back 20, 25 years, you're five years into starting and running your business roughly, what would you tell your 35 year old self? When you look back, when you think of all the things you've learned, what advice would you give your 30 year old self?
Howard Thrash:
Expose yourself to only quality people as much as you can. The thing that would probably be the biggest thing is to spend as much time with quality people that you may even think are bigger and better and stronger and smarter. That would be the number one thing, tons of little things. Read voraciously, sleep eight hours a night, alcohol slows you down. And trust me, I drink alcohol on a regular basis, but when you're 30 years old and you think that there's not enough, that's a stupid thing to talk about. But my point is, exercise, take care of yourself, sleep eight hours, but expose yourself to the greatest people you can. And you are smarter than you think you are, but keep it to yourself. You really are smarter than you think you are. But don't let anybody know it. Keep it to yourself.
Kade Wilcox:
Yeah. That's really good. Well, Howard, thanks for joining us and thanks for starting Howard Thrash over 30 years ago. It's brought a lot of value to my life.
Howard Thrash:
Oh whatever.
Kade Wilcox:
No, I'm serious. I've loved getting to know you and Jeremy and learning more about clothes and style and I'm a faithful customer now and as long as my wife doesn't get in the way, I plan on being a faithful customer for a long time. Thanks for being with us today.
Howard Thrash:
Thanks for having me.