The Primitive Podcast: Dave Marcinkowski
Posted by The Prim Pack | May 1, 2020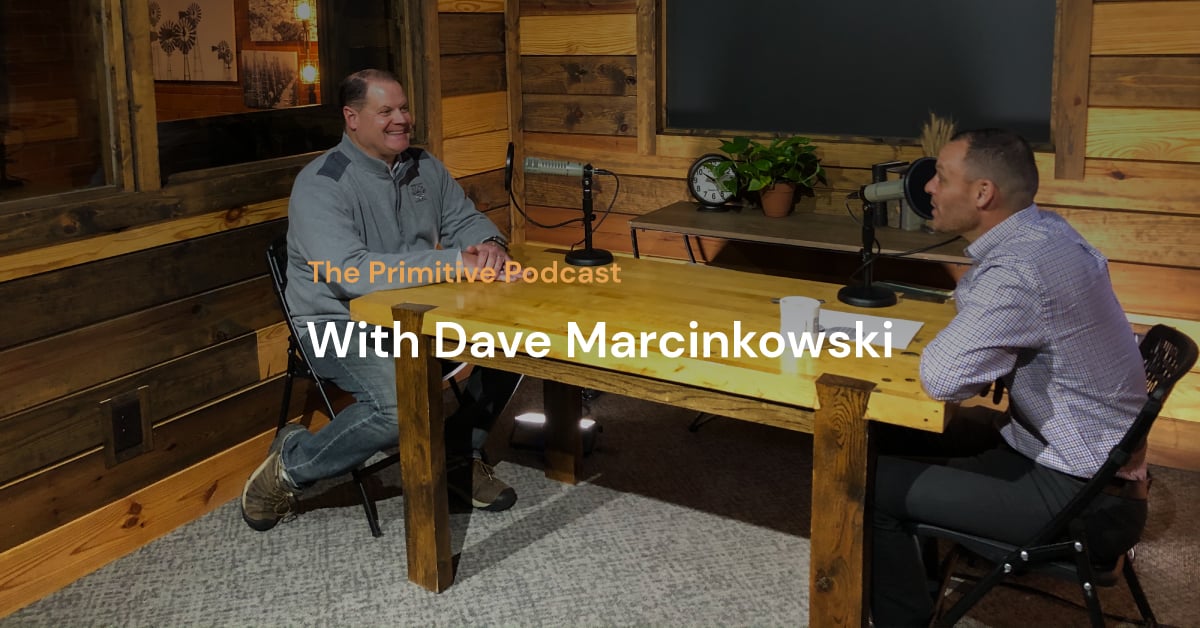 Can you recall the number of times you've heard of business partnerships failing? One? Two? Too many to count? Dave Marcinkowski, CEO and partner of Madera Residential, has uncovered the secrets to a business partnership that yields unparalleled business growth and success, and you won't want to miss a thing.
Transcript
Kade Wilcox:
Hey guys, Kade here, host of The Primitive Podcast. On today's episode we have Dave Marcinkowski. Dave is the CEO and one of the partners of Madera residential. They're apartment developers, they buy and flip apartments, have been doing it a long time and are highly, highly successful. They have built a great company, almost 400 employees and one of the cool things about Dave and his partners is they've done it together. You hear a lot of horror stories about business partnerships, but I think you'll hear in this podcast and this episode that Dave and them have done it really well and it's really benefited their company. And so I think you'll learn a lot from them in that and really enjoy this episode.
Kade Wilcox:
I really appreciate you being here, Dave. It's been fun over the last several years getting to know you. I think we've worked together since December of 2017 so we've had the privilege of getting to know you that long. My nephew Rylan and your son Ben are good friends and so we've known each other through that for a long time. And so it's really great for me to have you on our podcast and can't wait to learn from you this morning. So for those who don't know who Dave Marcinkowski is, try saying Marcinkowski fast 10 times, I dare you. Tell us where you're from. Tell us a little bit about your family and I'd love for you to share with people who Madera is and how you guys started and what you do and all that good stuff.
Dave Marcinkowski:
Yeah, well there's not a lot of Marcinkowskis in Lubbock, so that kind of gives away where I came from. I was born just North of Detroit, Michigan. I lived there for 26 years. So I went to college in Michigan. Small division three school in Michigan I got to play basketball at. I got into the industry kind of by happenstance. My master plan out of college was to be a professional caddy.
Kade Wilcox:
Hold on. You wanted to be a professional caddy? You would have unequivocally been the largest caddy in the game.
Dave Marcinkowski:
No, there's big caddies out there. I started caddying when I was 11 years old at a country club called Oakland Hills Country Club. They've hosted the US Open PGA championships, Ryder Cup about 15 years ago. So I got to caddy for some pretty cool things. It's like the place in the Detroit area, Oakland Hills. So I've caddied in some championships.
Kade Wilcox:
That's really cool. This is fun. I didn't know this about you.
Dave Marcinkowski:
That's probably why I kind of screwed around in college a lot, my plan was to be a professional caddy. I actually had a bag in the Florida tour and a buddy of mine and I were going to go get an apartment and we were going to go caddy for it. I think the Florida tour, which turned into the Nike tour, which turned into whatever it is called now. My buddy like a week before called me and said, man, my parents gave me such a hard time about this caddy thing. And I got this college education, so I'm going to bail on you. So I chickened out and needed a job really quick. And so I went to work for a temp agency and got put at an apartment management company, family owned deal, called Ed Rose and Sons in Detroit as a bookkeeper.
Dave Marcinkowski:
And that's where I got in the industry that I am in right now. I never left it. And so I did that for three or four years. It was a family run company and I was not in the family, so I had a ceiling that I hit there. And I actually got, again, too long for a podcast of this length, but I ended up basically taking a job in Chicago for a guy that became my mentor. A company called Marquette Management. And I moved to Chicago in like four days. So I interviewed with him and he offered me the job on a Thursday and I moved there that weekend and started that Monday as their director of training. So I spent the first, probably five or six years with them, really training everybody from leasing agents to maintenance. I'm not a handyman, but I would train people on systems and things like that.
Dave Marcinkowski:
And then I progressed to running their leadership team my last three years. Same kind of deal though. The reason I came down to Lubbock is my wife is from Lubbock. So Laura and I met at a wedding in Fort Worth. Her coworker, she was teaching at the time, married my suite mate in college. And so we dated long distance for a while and then we got married and she came up to Chicago to go to pharmacy school. And when she got done with pharmacy school, she wanted to move back to Texas. And we were blessed to make our way back to Lubbock. It was the last place we thought we'd end up.
Kade Wilcox:
So what was that like? She shows up and says you're coming with me to Lubbock, Texas.
Dave Marcinkowski:
The day after I had met her, I did the kiss of death. I told her I would never move to Texas. And so it was inevitable for me, and God was laughing, you're going to Texas. I was totally cool. I didn't have any, my brother lived in Chicago and I didn't have any ties to Chicago. So I was totally cool moving to Texas and we would come down for the holidays. Laura's family is close friends with the Stells, Paul Stell. And so Paul and I met at Christmas, we had met before, but we started talking to the Christmas deal. And his company, Stell and Young, which his partner was Charlie Young at the time, was growing and they needed some operational help.
Dave Marcinkowski:
And so I came down here as a third partner with them and the three of us were together for a couple of years. Paul was really into building Vintage Township on the south side of town, which is an amazing development. But Charlie and I are apartment guys, we're not homebuilders. So Paul was feeling a pull that way and we were wanting to stay in the apartment side and Paul was very kind to let the two of us to buy him out. And Charlie and I, and then there was somebody else's working for Paul named Gary Hall at the time, the three of us got together and formed Madera Residential.
Kade Wilcox:
That's awesome. And so when was this?
Dave Marcinkowski:
This was 2007ish.
Kade Wilcox:
Alright. That's awesome. So tell people what Madera is. What you do?
Dave Marcinkowski:
We're in apartments. We currently own about 13,000 apartment units, probably about 50 or so properties. We manage for other people probably another thousand units, so we're about 14,000 units. We bought our first deal together in 2008.
Kade Wilcox:
Perfect timing.
Dave Marcinkowski:
Yeah, it was wonderful. It was in Baytown, Texas. That was in July of 2008. We had hurricane Ike hit in September of 2008. And then we had the financial crisis in October of 2008.
Kade Wilcox:
Wow. Tell me about that. That's a lot to endure. You're starting this new business and you certainly know the industry, but the business itself is new. You have new partners, you guys are all getting into this. You purchased your first property and you get hit by a hurricane and the financial crisis of 2008. What's going through your mind? You're like, what did we do?
Dave Marcinkowski:
It was in Baytown, Texas, which quite frankly was like the Twilight zone. We weren't cocky, but we really thought we knew how to manage apartments. We thought we could do anything and we were thrown things we had never considered before. And it was one of those deals where we had to pull ourselves up from the bootstraps and focus on that deal. We've been told that property was one of two deals that didn't go back to the bank that was bought in the summer of 2008 in the Houston area.
Kade Wilcox:
Wow.
Dave Marcinkowski:
But we endured. We had some amazing limited partners that were very patient with us who understood the times and understood the situation to allow us to fight through it.
Dave Marcinkowski:
It was Murphy's law. I mean it was absolutely Murphy's law. Anything that could go wrong went wrong for a couple of years and we had to fight through that and we learned a lot about each other as partners. We learned a lot about our organization and how to properly run things. We thought we had it figured out, but at the end of the day those challenges allowed us to hone our skills and not that we're perfect by any stretch of the imagination.
Kade Wilcox:
Sure.
Dave Marcinkowski:
It required something different of us that we didn't realize until we got into it. The great news is, we came out of that deal and bought our second deal with those same investors in April of 2010 and we've been off to the races ever since.
Kade Wilcox:
That's awesome.
Dave Marcinkowski:
So everyone asks where does Madera come from? That deal was called Baker Downs. It had two small ponds on it and a bunch of trees. And so we named it Lakes at Madera. Which Madera is Spanish for wood. And that's where Madera came from. It was the first deal we ever bought together.
Kade Wilcox:
That's awesome. That's really cool. I'm going to jump ahead on my questions here. When you think about failure, as you built this company over the years, and we think of that experience specifically, where it wasn't so much a failure as much as it was a significant challenge, but how have you guys approached failure? How do you approach failure as a leader? Whether it's in 2008, in terms of what you learned from that and how you apply that to your leadership now, or maybe it's some other level of failure or experience of failure. How do you approach it?
Dave Marcinkowski:
That deal in particular, we were still managing for other people. And we had challenges managing for other people. That's always a challenge because they have different expectations you have to adapt your systems to. But that particular deal, for those two years it was totally reactionary. Looking back it was awful. Enduring it was awful. Now I look back and say it was the absolute best thing that could've happened to us at the perfect time. It really galvanized us as partners, it galvanized us as an organization. It's easy to sit there and look at challenges now that we've fought through that battle, and failure is now an opportunity. Where I think if you go by the buzzwords of failures and opportunity and you don't actually experience it, you don't really understand what that means. We understand what that means.
Kade Wilcox:
That's amazing. So there are four main partners at Madera.
Dave Marcinkowski:
Yes.
Kade Wilcox:
Okay. So what does the leadership structure look like and how do you view your leadership? What do you feel like your responsibility at Madera is for your almost 400 employees?
Dave Marcinkowski:
The four of us have completely different disciplines. My partner Gary Hall has a construction background and so we do evaluate apartments. We do a lot of renovation work and Gary oversees that side of things. Charlie has a lot of operational skills. He's very gifted in that area. He's very good at assessing markets and apartments as well as relationships. And so he helps raise equity, limited partners, but he really helps identify deals and cast vision for how we're going to create value on those deals to make them successful. Alton has a financial background Alton Smith. He really is the guy behind the curtain who makes all these deals happen. It's interesting, there's so many moving parts in those things and Alton has a team that has that figured out and he helps as well in fundraising. I mean we do cross each other on a lot of levels, but we also understand and respect each other's disciplines. So I'm the day to day operations guy. So I handle everything from that standpoint. Charlie helps a lot with that, especially as far as performance goes and things like that. But I work with the leadership team that really helps run the properties.
Kade Wilcox:
So how do you view your responsibility? When you think of your leadership team, when you think of your almost 400 employees, when you show up to work, what responsibility do you feel in terms of the value you need to bring them and how you need to lead them? How do you approach your role as the leader?
Dave Marcinkowski:
Yeah, I think when we were just the one property, even the first 15 or 20 properties I was on property every week. Especially at Lakes at Madera. Charlie was down there during the hurricane. I was down there like four days after the hurricane, camped out. We had an apartment and we were there every single day. And so we made the decisions, we had managers and staff that work for us, but we were totally engulfed into it. The challenge as we've scaled up, has been letting go of that and hiring and developing the team to allow you to do that scaling. So that's the area that I've probably focused on the most, casting vision and hiring other leaders that can then hire teams.
Dave Marcinkowski:
Anything that you take on, you need to have a champion for and that champion can't just be you. If you're a leader, you need to be the one casting the vision for that. And you need to have somebody who can live and eat and breathe that vision and make it a reality. And so I spend the majority of my time now with the leadership team, which has been challenging because our onsite staff became used to seeing me and they don't anymore. They'll see me at Christmas parties and they'll see me at some different things. I try to do emails and various ways to be able to connect with a group, but the individual handshakes and knowing everything that was going on in people's lives just doesn't exist anymore.
Dave Marcinkowski:
It was hard for me. I think it's been hard for us as an organization, but the reality of it is if you're not growing, you're dying. And we love what we do. We have a very clear vision of 10 times who we are. And when you can, when you can look at that, and it's not just to grow to grow, we really feel like we're doing something that's impactful. We feel like we're helping people out. It's easy to get passionate about that. I read something recently, I talked about, casting vision. Leadership is at the partner levels, casting vision. It's hiring other leaders and developing those leaders. And it's making sure there's money to do the projects you're wanting to do.
Kade Wilcox:
That's really good.
Dave Marcinkowski:
I think that's probably where I spend 80% to 90% of my time.
Kade Wilcox:
That's great. So practically speaking, when you talk about vision and leading and empowering the leaders that you're leading, what does that look like? How much time do you spend casting vision? In what ways do you cast vision? How much time do you share with your leaders and what does leading the leaders look like, practically speaking, for you?
Dave Marcinkowski:
It really is getting away from your desk. It is easy for me or anybody to sit down and get stuck returning emails and sitting on phone calls and getting demos or having a vendor call me up. I go to extraordinary lengths, right, wrong, or indifferent, to avoid all of that. I try to be email zero every day. I don't usually get there, but I get pretty darn close. I'll do that first thing in the morning and then I don't look at it again. If I go to lunch and I'm having something to eat, I might look at it, but I don't let that control me. And when you get away from your desk and you start to walk around and interact with your leaders, if you don't do anything else, that is the most important thing, to have that kind of relationship with them where you can listen to the challenges that they're facing.
Dave Marcinkowski:
You can step away and then come back to them and said, hey, have you thought about this? Have you considered this? What if we do this? At the same time, you're helping to inspire them and reinforce that vision of where we're trying to go. I can't tell you how many meetings I go into in which, I feel going into it that everybody's on the same page. Everybody gets where we're going. And I couldn't be more wrong. And I've had to get better at, one, listening, but then two, being able to bring people back to center and say, let's remember why we're doing this, let's remember where we're going. And usually if you do that and you do that consistently, people start to buy into it. I think that's where culture comes from.
Kade Wilcox:
That's really good. Thanks for sharing that insight. How do you approach your own personal growth? You have all these responsibilities, you're leading leaders, you have employees, you have stakeholders and investors, you have partners that you're answering to, and working with, you have properties. Practically speaking, how does Dave focus on Dave and what does that look like?
Dave Marcinkowski:
I think there's a few different ways that I do that. In the most simplistic form I like to read. I'll listen to Blinkist books and if I like a book, I may try to listen to it, especially if I've got a long drive. If you know what Blinkist, it's basically a 30 minute cliff note version of a book being read to you. So you can go through a lot of books, really fast. And then I like Flipboard, so I have my Flipboard set up to where it knows all the things that I like. And so I get inundated every day with articles I can just flip through. If I find one I like I read it. You have to invest in that.
Dave Marcinkowski:
And so there's some communities that I'm a part of that I go to extraordinary lengths to make sure that I stay connected with. One's Abundance 360, a Peter Diamandis group that Charlie got me connected with that is a very technology forward driven group that has really inspired me to ask a lot of cool questions and really challenged the status quo. And the third thing for me is volunteer work. So I learned very early on that I love volunteer work and my passion is probably more on associations. So I've been President of Texas Apartment Association, I'm the President of Lubbock. I'm actively involved at the national level. I'm dialing that back now. I'm getting more involved in our local chamber. But I find that it, one, helps me stay informed with what's going on in our industry or what's going on in the business world, but more importantly, it allows me to network with other leaders.
Dave Marcinkowski:
And that's the one thing that was missing in a lot of spaces. You just can't sit down and read and think you're going to be able to really learn what challenges are out there. You need to hear from other people who are going through similar experiences or experiences maybe you haven't experienced yet, but very well could. And to know that I can pick up a phone and I have a Rolodex of fellow volunteers of hundreds that I can call upon. And it's interesting in that environment with the volunteer side, especially in the apartment industry, we are competitors and sometimes fierce competitors. But the folks that I'm friends with, and I haven't really met very many people who don't fall into this box.
Dave Marcinkowski:
We all believe one thing. If I've got a property, I would rather have a person next to me who is actively involved and has the same views and values as I do and we can all succeed, when that happens. Versus this it's me against you kind of thing.
Kade Wilcox:
Yeah, dog eat dog.
Dave Marcinkowski:
I go on trips with competitors. I've got really good friends that we're fighting for the same deal. I'll get some pretty random fun hate texts throughout the time when we get something that they didn't get or we're doing something. At the same time, if we do something operationally or I see something operationally, I know I can call them or they can call me and it's like, hey, I'll open up the vault for you. The secret sauce isn't what people really think it is.
Kade Wilcox:
That's awesome. How do you balance work and growing this company, and all the aspirations you have with your family? What does that look like and when you find yourself out of balance, I'm really curious, what you do specifically to help yourself come back to the middle?
Dave Marcinkowski:
I used to travel a lot because I think I thought I had to travel. I thought I had to be on site. And I had to go through, I had to go through kind of a hard time accepting the fact and learn a lot about myself, that that wasn't me. Our most valuable asset is our time. And I take that very seriously. And I say no a lot. I used to not say no at all. I used to be very codependent upon vendors. The vendor community and our industry must think that I'm the biggest goofball ever. Cause I used to be like, yes, yes, yes. And now I'm like, absolutely not. And I delete emails from them as fast as they come in.
Dave Marcinkowski:
I never return voicemails. And it's interesting, even our folks that work for us, I get a lot of emails from our folks and I tell our people, don't send me a thank you email. I have to open that email up. I have to look at it. I have to consider for a second, do I need to reply to it? I may even feel guilty because I got it, and I know I'm not going to reply to it, so just don't bother sending me a thank you email. So I use a product called unroll.me that allows me to basically push emails that are probably more junk mail or somewhere between junk mail and relevant into a single email a day if I ever want to go back.
Dave Marcinkowski:
But it's basically an archive tool. I told you I tried to stay email zero. This is terrible to say, especially on a podcast, but good luck trying to find me in our phone system. You're just not going to find me. And that's not an arrogant thing. That's a reality. If you want to have a balance in your home life, you have to learn how to say yes and how to say no. I've been blessed with enough opportunities on both sides to learn the lesson and take that very serious.
Kade Wilcox:
That's really good. Thanks for sharing that. Good insight. Getting all kinds of great tools. We'll have to make sure to add a lot of those in the show notes so people can easily find them. I'm going to check out Blinklist that's new to me. A couple more questions for you. What have been the biggest personal influences in your own leadership journey? Whether it's an author, or whether it's an individual, whether it's a mentor, maybe it's a combo of those things. Just curious, who that has been or what that's been and what are some of the big takeaways that you've learned?
Dave Marcinkowski:
Well, I've got great partners who I respect deeply and they definitely inspire me every day with what we're doing. I have a tendency to be the one who thinks way out there and it's easy to have partners who are like, what is wrong with you? We don't have time for that. We don't have the money for that. We don't have this or that. And my partners have allowed me the freedom to be me, which is critical. I've also been extremely blessed with great mentors. Even from the time that I was in high school, I can remember people who are a part of my life that helped guide me into who I am today. I've got an amazing family, amazing wife. Same kind of deal. I had to figure out who I was, but I also needed to have the environment to be able to be me and I think those relationships are what drives that.
Kade Wilcox:
That's great. You've mentioned, partners a lot because you have three of them and so you run this big company with three partners. What does partnership look like for you guys? You hear a lot of horror stories of business partnerships and it doesn't seem like that's been the case for you. And I'm certain there have been challenges, but what have you learned about partnership and how have you guys made it thrive and work when you hear a lot of horror stories?
Dave Marcinkowski:
I think the most important thing is, each of us has to understand what it is we want to do, what we're willing to do and what we're not willing to do. And as long as that fits together and as long as we each understand that the relationship can thrive, then it becomes collaborative and then it becomes fun. I bring up my three partners because they're easy ones, or my wife is an amazing partner. But we really value relationships in Madera and so we have a lot of collaborative partnerships. A lot of people probably take stock in, and I know a lot of friends of mine who kind of like treat their organizations like a little black box that they have to protect at all costs.
Dave Marcinkowski:
We've been open books since day one. And we'll tell vendors, if we believe there's a reason for us to consider having a collaborative partnership, we will be an open book with folks. And I think that's critical. I mean, as it relates to a relationship at a partnership level. And that's what I see with my partners. It's when you sit there and you have silos and you draw lines in sand or you aren't willing to say, this is what I'm willing to do and this is what I like to do. You sort of sell that out for what maybe somebody else wants to. I can tell you there's always space to be able to find common ground, but you have to have a relationship with somebody where you can sit down and be like, dude, I don't want to do that, and here's why.
Dave Marcinkowski:
And at the end of the day what could happen, if that's your deal and I can see the vision for where you're trying to go, you don't need me. I mean, each of us needs each other because we're great together, but at the same time they don't need to call me up and go, Hey Dave, I'm thinking about doing this. What do you think? There is such a level of trust between us and it wasn't always that way. It's earned mostly.
Kade Wilcox:
Something you grow into.
Dave Marcinkowski:
But at the point now, it's one of those deals where I can make a decision and I will 99.9% of the time then go back to my partners and say, Hey, this is what I decided. This is why. And they may or may not agree with me every time, but it's a respectful conversation when they don't.
Dave Marcinkowski:
At the same time, I don't have to sit there and stop and go, man, I gotta get everybody together. I have to call a timeout. Business world today with technology is going so incredibly fast. If you are not nimble, if you do not have those kinds of relationships, you will get destroyed. That's why I think the garage groups that are out there that are coming up with ideas that nobody knows about, could honestly take out a monster because I see it as we grow. The more you grow, the more you scale, the more that becomes a challenge. It can be managed, it can be dealt with, and we are getting really good at that. We get exposed to some bigger companies, especially in our industry. It's almost like they're dinosaurs and you can see it.
Kade Wilcox:
They've lost all the ability to move nimble like you're talking about.
Dave Marcinkowski:
Yeah. Well they don't even see that as a value. We've got it right and we're going to keep doing it.
Kade Wilcox:
Ripe for major disruption. That's good. All right. Last question for you. If you could go back to when you're 25, 30 years old, what would the Dave now, with all the things you've learned, all the insight you've gained, all the successes and the failures, what would you tell your 30 year old self? What advice would you give the 30 year old Dave Marcinkowski?
Dave Marcinkowski:
I'm going to answer that in two parts. The first part I'm going to say is, I think about that every once in a while. I try to focus as much time as I can on where we're going, not where I've been, but it's critical to remember where you've been. You know it would be easy for me to go back and look at all these different points in my life and say, man, I wish I didn't do that. I wish I could tell myself that was a bad choice. But then I say, you know what, then I wouldn't be who I am today. So in a general sense I don't have any regrets. And I'm not perfect by any stretch of imagination. I've had some horror stories along the way, but I look at my past as who I am.
Dave Marcinkowski:
There isn't this mindset of I need to go back and tell myself not to do this or whatnot. I think the thing for me that I would encourage myself because I've hit stumbling blocks, like everybody, is self doubt. There've been plenty of times in my life where I knew the right answer, but I was able to talk myself out of it because of something. Usually something related to another personal relationship where I was afraid I was going to hurt somebody, or I was going to say the wrong thing, or I was going to do those kinds of things. I would encourage myself to go with my gut every single time. And cause I know deep down I mean well, and I care about the person, whoever that is, or the the event. And if it's wrong, we'll fix it. I tell people that I train all the time. There's nothing you can do that I can't fix or we can't fix together. And you've got to believe that. If you do that, I think it gives you a lot of courage to be able to step out and take risks, which again, I think more so than ever, we have to be able to do.
Kade Wilcox:
That's really great. Thanks for sharing all that. We really appreciate you being with us today. I think everyone's going to really enjoy this episode and I really appreciate your time.
Dave Marcinkowski:
Thanks, buddy.