The Primitive Podcast: Dan Williams
Posted by The Prim Pack | April 30, 2020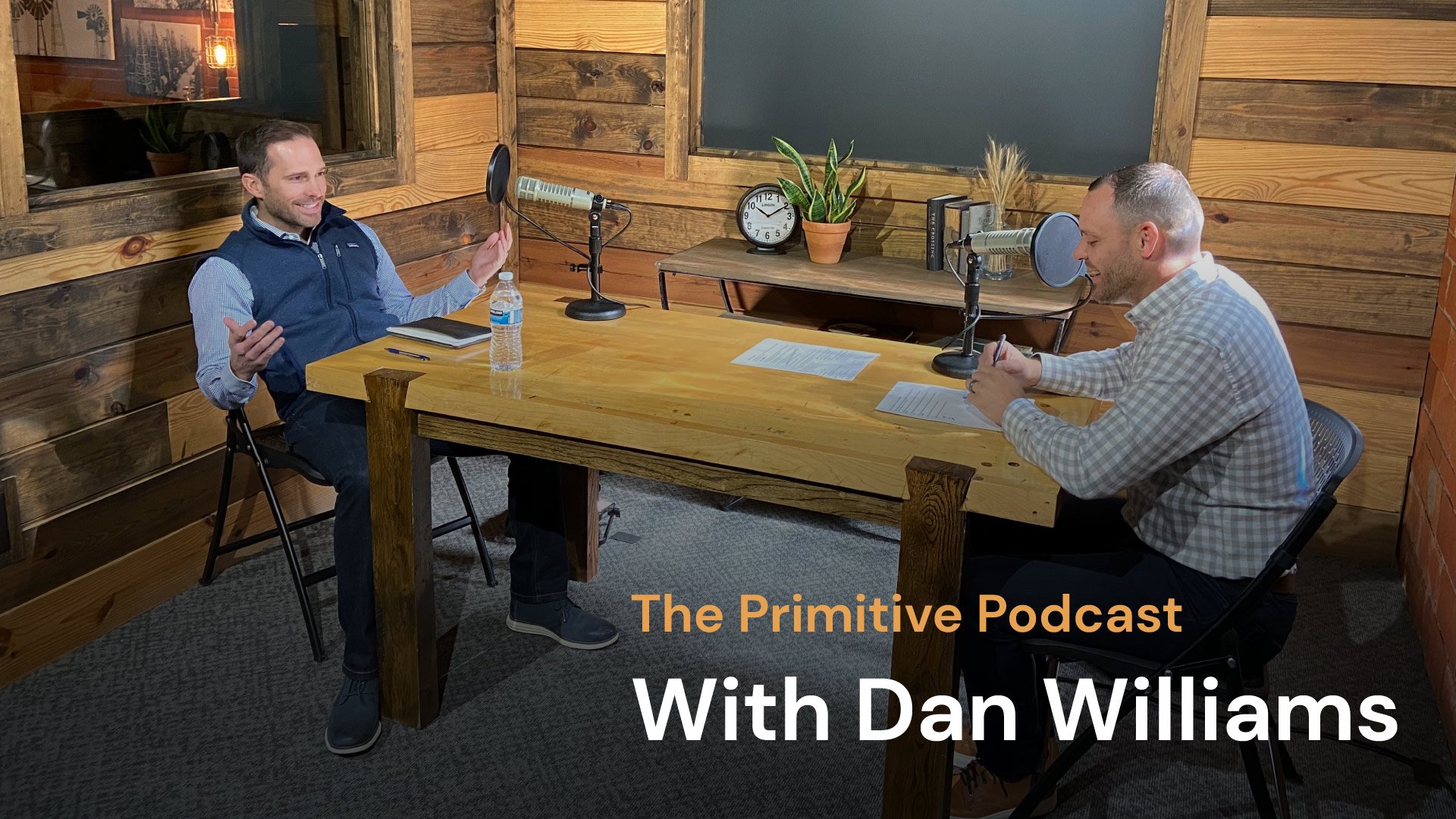 As the founder and owner of Williams and Company, an innovative boutique real-estate firm based out of Lubbock, Texas, Dan Williams is a high-volume realtor who knows sales. But, some of his greatest attributes are not sales-related. Dan is incredibly helpful, driven and has a wealth of knowledge to share on business, entrepreneurship and Muleshoe basketball.
Transcript
Kade Wilcox:
Hey guys, Kade Wilcox here, host of The Primitive Podcast. On today's episode we have Dan Williams, the owner of Williams and Company. A really creative, innovative, great real estate company based out of Lubbock, Texas. I've known Dan a long time. He's been our go-to realtor. I've always been really impressed, especially with his level of customer service. He's always been a very high-volume realtor and one of the greatest things I've noticed about him is he's not salesy. I've always really admired that about him. He just seeks to be helpful. And so in today's podcast, we're going to talk a lot about leadership, work life balance, when he thought about starting his own business, and just hear a little bit about his story. Hope you enjoy.
Kade Wilcox:
I really appreciate you being here. I know you're super busy, so thanks for joining us. I obviously know you really well, but I'm excited for others to get to know you also. So start by sharing a little bit about your background, where you're from, and a little bit about your story.
Dan Williams:
I grew up in a small town, much like probably a lot of the people that you talk to here. I grew up in Muleshoe about an hour away from Lubbock. Family was in the retail business and so we started an office supply store in like 1963. And that branched into some retail clothing, shoes, general store in 1996. I was there through all that and helped with the family business growing up and worked a lot. And then graduated from Muleshoe, came up to play a little bit of basketball at LCU with a buddy of mine and then stuck around. I enjoyed it, got a business degree from LCU and then a few months later got into real estate. Kind of a weird story. How just stumbled over it. I knew nothing about real estate. My parents knew nothing about real estate.
Kade Wilcox:
So you had never thought about being in real estate in the past?
Dan Williams:
No, not at all. Monster.com ad.
Kade Wilcox:
Really?
Dan Williams:
Yeah. Dead serious. And it said $50,000 a year salary. And I was like, I didn't know they did salaries in real estate. Well, it turns out they don't. So I interviewed for like three interviews at Coldwell Banker and then ended up saying, better now than never, and I gave it a shot. I knew sales was my thing. I knew I always wanted to be in sales. And so got into real estate right after that and then have now been doing that since, 2005 or 2006. So about 15 years.
Kade Wilcox:
That's awesome. What sparked your desire for sales? Obviously it sounds like you grew up in a retail environment, so your parents probably worked nights and weekends and holidays. So you probably grew up in the back room and then, and then on the showroom floor.
Dan Williams:
Yeah, pretty much. I grew up at our office supply store playing in the back. Every day after school I would walk from school to the office supply store. And then I started helping with deliveries, that's when you delivered paper to people. And we sold a jillion typewriters and that kind of stuff back then. And then that just morphed. And in the retail business as we grew into in 1996, we realized our competition were these places like Office Max and Walmart. And so they're selling it for what we're able to buy it for because they're buying in such bigger quantities.
Dan Williams:
So it changed our business pretty dramatically, and we said, we need to get into something different. So we reached out and got a contract with Nike and Caterpillar boots and a couple of others. It was a long process. So we had a huge building on main street Muleshoe, and we divided that up and had two businesses there, office supply and the clothing and shoe store. And I started helping a lot with that. So I would help from market, go do shopping. I started when I was 12 or so.
Kade Wilcox:
That's super cool. All kinds of skills you probably learned doing that.
Dan Williams:
Yeah it was a lot of fun.
Kade Wilcox:
So this is interesting. You brought up Walmart. You probably have a unique perspective on Amazon and Walmart and now Target, all of them are online now, but particularly Amazon. Do you vividly remember when your small town, locally-owned retail store was dramatically impacted by the Amazons of the world?
Dan Williams:
Oh yeah. Big time. It started happening and it started going quick.
Kade Wilcox:
Is it literally as simple as people buy the same products, but now they're buying them online versus in person. Is it that simple?
Dan Williams:
Yeah. And it's cheaper cause they're buying lots of it. What's hard for me and what I still like about Lubbock is, we're very supportive of the local businesses. But it's really hard for me to see people go buy online. I know it's convenient but the person that has a great shop on 50th street and gives back to his local community and hires those people and pays taxes here and does all that stuff, those are the people that you have to support. And you understood that in Muleshoe, it was different. And we were behind five years on everything, so it took longer to hit there and so you could see what's happening in other markets and try to adjust a little bit. So we did, eventually we had to move from main street. Your old main streets where everybody shopped, Bealls was across the street from us. We got a grant with the city that we applied for and moved out onto the highway where we'd get more traffic that came by. So it changed the dynamics. It was tough to watch.
Kade Wilcox:
None of these questions have anything to do with what I told you about, but now I'm stuck on it, so I'm just going to keep asking. What do you think, given your unique experience with it, if you're a small shop owner, it doesn't matter what you're selling, but if you're a small shop owner and you're still trying to be viable and competitive given everything you just said about convenience and price online. We buy almost virtually everything online now, but if you're that small shop owner, how do you think in the 21st century, with the way everything has changed, that you can still be viable, or can you be viable? How do you carve out for yourself an opportunity being a local retail store of anything given the nature of the Amazons of the world?
Dan Williams:
I think this goes back to some of the stuff that was on your questions. I think it goes to some of what you guys talk about in marketing and that's having a story and something that people attach to you. That's where, one of the best examples, are a couple of coffee shops in town that I would say have that story, that background that people attach to and want to support. And then there's the Mountain Hideaways of the world that people love. And they've suffered dramatically during things like this. But our family business sold out in like 2015 and those people I think have since maybe even closed the store. It's just changed.
Dan Williams:
But I think you've got to have a story that people attach to. And you can't be a commodity. Right?
Kade Wilcox:
You gotta differentiate.
Dan Williams:
Yeah. And that's what I tell our sales agents at our office is you can't be a key to the door. You gotta provide a lot more value than that. If you're a key to the door, there's 1,300 of those in town that can do that service for somebody. So you gotta be a lot greater than what that is. So I think that's where it boils down to. And you've got to offer people something that when they come in, it's an experience that is off the charts. Nobody's ever going to go tell somebody else about their expectations being met, so you've got to be greater. You've got to exceed their expectations for somebody to go retell that story.
Kade Wilcox:
To be compelled enough to be an advocate.
Dan Williams:
Yeah.
Kade Wilcox:
That's good. I always admire people, particularly people who are entrepreneurs, they start these small businesses in retail because if you don't have a unique story, like you're saying, if you don't differentiate in terms of service or whatever it is you're doing, you've got a very short shelf life compared to a lot of the larger competitors. Thanks for sharing that.
Dan Williams:
Yeah.
Kade Wilcox:
At what point or can you remember a point where you knew that you wanted to own your own business and go down this path you are now at Williams and Company? Like at what point did it become real to you that you wanted to build your own thing?
Dan Williams:
Yeah, I think I probably always knew that. When I went through college and growing up, working for your own family and you had that control. If you see something that needs to be changed, you can change it. And when I was in college I worked at United Supermarkets, I was a day stocker, which was a great experience. You learn so much about all these systems that you put in place, but you're seeing efficiencies that you want to put in place. And you're just a cog in the wheel, you're not much there. And so I think I always knew that that's what I wanted to do. And that's what's so great about sales is you can control the outcome of situations and you can help people so much through a sales role job. When I was at Coldwell Banker and Westmark, which were great companies, it was always, how can I help? How can I help change the future of this? It was always seeing those things, and then you realize the only way you change that is you gotta take the risk and your name's going to be on the building. But at the same time a lot comes with that. You know what I am talking about.
Kade Wilcox:
Right. Lots of responsibility. It sounds like you've worked since you were really young. Again, it's really the benefit of being a part of a family-owned businesses. Your mom and dad were always working, so you were with them and you observed them working, you then started working earlier than most. Sounds like you even worked at United. And so it sounds like you've always worked. Now that you're approaching the 40 year old mark, when you look back over the last 20 or 30 years of your work, and I know it was different when you were 10 than it is now, but that's not common place now. Now, and I don't mean to be too generalist here, but not a lot of kids work, right? They don't work until they're either in college or out of college. And it's a kind of a shock to the system. When you reflect on even the way that your parents raised you because of being in a retail store, what are some of the most obvious things in hindsight for you that you learned in that experience? I'm just curious.
Dan Williams:
Yeah, I think I definitely learned my work ethic from my parents. Seeing them work six days a week was an easy week and most of the time it was seven days. So learned ton from them, how to do that and how to run a business with love and care. You love on all those people that walk in the door, no matter what they need. Sometimes you may make money, sometimes you may not make money. So I think that was probably some of the catalyst that helped me get to the point where I am. And I learned so many business concepts before I ever went into business school. Business school helped clean all of that up maybe.
Dan Williams:
Cause my parents didn't have college degrees, they were just hard workers. And so I think that's probably the critical thing I learned and to set a vision. So that way everybody that walks through your door knows what your vision is and everybody that's working there has that same mindset of, we're taking care of the customer no matter what that equates to money-wise. And so that's probably helped and led into where I'm at now with Williams and Company.
Kade Wilcox:
Yeah, that's awesome. I would imagine there's so much that you got to see and watch in very formative years from the time you were born to the time you were in high school. Where you got to learn by observing and it became ingrained in you. And it's a good reminder for those of us with young kids, demonstrating that very early on even if it doesn't make sense to them, has a huge impact long term. I look at the success you've had and how effective you are as a leader, and certainly some of that comes from the fact that you got to observe it for so long. So that's really cool. So you started Williams and company, is it three years old now?
Dan Williams:
About three years.
Kade Wilcox:
Okay. So when you think over the last three years, what are two or three things that you've learned in that time? Things you literally have learned because three years ago you decided to throw up your own shingle, start your own business, start taking on a bunch of risks that happens when you start your own thing. What are some things that jump out to you that you've really learned in these last couple of years?
Dan Williams:
Yeah, really being intentional is probably like top. Whether it's like intentional in your hiring process, intentional with your customers, intentional with your staff, intentional with the agents that work there. Really setting expectations. I think that's been really key for me to learn and I've learned a lot of that the hard way cause I'm a conflict avoider big time. So I'm like, okay, how can I solve this problem without ever having to talk to somebody? I'll just stay up all night until I get this solved. So having conversations with people, I've learned a lot of that, the hard way. Setting that vision you know, it has been crucial for me to set the vision for the team and keeping that simple of, Hey everybody, all we do is we add value to people's lives through real estate.
Dan Williams:
And so that's every single day. And to engrain in everybody that you may not get paid today, and you may not get paid tomorrow, but eventually you're going to get taken care of for doing the right thing. And so our people are really sold out on that. And then that goes to the people, hiring the right people. I can teach anybody the real estate aspect of things and how to do the contracts. But it's hard to take somebody from being solely focused on sales. A lot of people are solely focused on getting the sale and making the money. So having those conversations in the hiring process of, what's really important to you? Is it the deal? Is it the money? Or is it taking care of those people? So we've got a great team of people over there now that everybody's sold out on that vision.
Kade Wilcox:
What have you learned from failure or some of your biggest challenges? What's slapped you in the face and forced you to learn from it?
Dan Williams:
Yeah, I was a I can do everything myself kind of guy, so it took me a long time to realize the benefit of hiring somebody that can take care of something. I think somewhere you hear the saying, if someone can do it, 80% or 85% as good as you could do it, then you need to be outsourcing that. So hiring those people to come in and fill in the gaps has made a big difference for me. And I learned that the hard way. I've always been like alright, I'm going to do everything. I can do it all myself and I can work more hours than anybody. And that goes back to what my parents did. I can out-work anybody if that's all it's about, I can outwork them. So I've learned that the hard way. It took me a long time to realize you need to hire somebody to do this and they can do it and they're going to end up doing it better than what you can. And that's hard when you're really proud of yourself.
Kade Wilcox:
Yeah, for sure. I totally get it. That's really good. Who influenced your personal growth and leadership the most? When you think back over the years, obviously your parents have made a huge impact on you, so maybe someone other than your parents. Who do you think has influenced you? Or maybe it's a book or a person or whatever the case may be.
Dan Williams:
Yeah, I'm a big learner. I'm a big reader, and podcasts, all that kind of stuff. I think you can learn so much from these people that have been ahead of you. And so I would say I took bits and pieces of how I've done my business from everybody that I've worked with. There's great people at Coldwell Banker, there were great people at Westmark that poured into me. And I was really fortunate to have them in those times that taught me how you do this aspect of the business. This is how you do this. I've taken bits and pieces of all of that, and that's what I was compiling all these years to start Williams and Company.
Dan Williams:
It goes back to LCU professors, how some of them loved on me there. They encouraged me and then those in the real estate game. There's so much information out there now from podcasts and books. And so I'm a big reader and I feel like I've taken so much from that to learn how my leadership style should be or how I should treat people and being really intentional about that is good.
Kade Wilcox:
Yeah, that's really good. Okay, so these last couple of questions are really practical. So feel free to be as practical as you can think. Do you have a specific approach to the way that you manage your time? One thing that I understand in a way that you do, because we both started small businesses, is that there are a lot of things vying for your time. Especially when you love your family, you want to spend as much time there. There are other things that you do beyond work and yet work has all these things that are required of you, especially early on, when you're building a team, like you mentioned. So are there certain practical things that you do that really help you manage your time or maybe you always feel like you're drowning?
Dan Williams:
Yeah, I think for a long time I always felt like I was drowning. Until I kind of learned some of those things by having my own office. Spend time on things today that'll save you time tomorrow.
Kade Wilcox:
That's good.
Dan Williams:
So that has stuck with me for a long time. So that's like creating the system, creating the efficiency, it's creating that checklist so that we're not missing things every time, cause we're doing transactions over and over. Granted each one is a little bit different. That's why we've been able to have the highest per person productivity in the city for our office, is by having efficiencies and each agent can do so much business by just creating some of those efficiencies.
Dan Williams:
And that's probably the biggest thing. To manage that time so that then you can go home at a certain time. And I had an agent at Coldwell Banker that poured into me about setting boundaries early upfront. Cause if you don't do it, granted there are seasons of life and I'm a big person that talks on seasons. I think you probably talk on that. We've got a mutual friend that talks on seasons and so, there's going to be seasons that are different than others and understanding that and talking about that with your spouse and your family. We know that this is the summer selling season and we don't travel a whole lot. We travel around that. And so there's certain things that we really focus on there, but you create efficiencies and systems that you can put into place. And those can really support you at any point in time when you're out of whack. And having people that are accountable, like my spouse, she'll be the first one to let me know.
Kade Wilcox:
Hold you accountable.
Dan Williams:
Yeah. So Lydia has been really good about that to keep me in tune with those kind of things.
Kade Wilcox:
That's great. Speaking of your family, how do you balance work and family, especially when you're trying to grow something? Now you're responsible for your team, for your staff, for your employees. So what's that like learning that balance? Cause in one sense when you were an agent by yourself, it's like you were Dan Williams and you were an agent at Westmark, but now you're responsible for a whole company. You have multiple employees. What does that look like for you? Balancing that responsibility in that sense with the rest of your life and young girls?
Dan Williams:
Yeah. I think it goes back to if it's important to you, you'd be doing it already. Lydia has been really good about keeping me in check on that kind of stuff which is really important. We've had a lot of conversations recently about that. Making sure that these girls know who their dad is and if they're not part of your story, they're going to be part of somebody's story. They're going to attach to something. So that's really been important to me, to be there, to be at their events and I haven't always been great about that for sure. You go through a season that it's difficult. That's why hiring the right people that can help support you and you can work together to get things done.
Dan Williams:
And scheduling it, being intentional, that goes down to me and Lydia calendar lunch once a week now. We have never done that until the past year. And having everything in that calendar to know that this is where I'm at so my assistant is going to know I'm with my wife at this time.
Kade Wilcox:
Very proactive. Very intentional.
Dan Williams:
Yeah. And that intentionality that I learned a long time ago, and Lydia taught a lot of that to me. That's been key in not only business but in family.
Kade Wilcox:
That's really good. I probably take this too far. Lacey gets onto me a lot, but coming into 2020 a couple months left in 2019 I printed out 12 months of calendar. The actual sheets of paper.
Dan Williams:
I love that.
New Speaker:
I circled every single trip, I planned it all before 2020 even happened. She says that's extremely obsessive, but like you've just been talking about intentional, something's going to get your time. And so if you don't budget your time, someone else is going to get it. And instead of being proactive, you're reactive. And so I appreciate when you use the words like proactive and intentionality because it really doesn't matter what you're doing, whether it's your own business or you're a teacher or whatever. If you're not intentional, you're going to be reactive.
New Speaker:
I did the same thing with my calendars. Like we looked at all of our travel for the year. So if this is a priority, that needs to be there first and then we can work around that. And that's where like most of your clients and a lot of real estate people are like, I can't do that or can't do this because I'd mis somebody. If you tell them about it far enough in advance and you're setting that expectation.
Kade Wilcox:
They're very understanding.
Dan Williams:
I talk about that with the agents. Like don't say, what works for you? Does you know, Monday, Tuesday you tell me what works for you. No, send them, Hey I have Tuesday at 3:30 or Wednesday at 4:00 or give them some options and they're going to respond most likely with, Hey, that one works. And now I'm calendared and it works within everything that I've got going.
Kade Wilcox:
That's awesome. That's super helpful. And for those who are listening who maybe aren't as intentional or proactive in that it really is transformative and would encourage you to consider what that would even look like in your own life. Alright. Last question for you. What keeps you inspired? What helps you think about the future? Again, one of the big challenges for anyone when you get in the work, you're constantly in the work, you're focused on the work. How does Dan Williams rise out of the day to day, out of the details, out of the very necessary things that are a part of running a business, and think about the future and stay encouraged and stay inspired as the leader and the pulse maker, if you will, of your company.
Dan Williams:
I think part of that is family, Lydia, Maddie and Abby. I think that keeps me inspired to go and do, and they encourage me in that. But being surrounded by great people, you're the sum total of the people that you hang out with the most. And you see those people and you connect with those business people and that's why we do things like some of these young leadership type of events where you're just connected to other people that are encouraging you to be more than what you are. And I think there's that balance though too, where you get too off the rails and you start focusing so much on work or being something so then you gotta sit back and say I should have defined success.
Dan Williams:
I was terrible at that at the start. In sales, it's really easy to get out of that. You've got to define success for yourself so that, you're good stopping right here and I'm good and I'm going to dig in and I'm just going to be better within this instead of saying I need more of something else.
Dan Williams:
My theme for this year I stole from a little bit of a cheesy book, A Love Letter Life. He was talking in a relationship mode, but I've kind of used this with my girls, "is this the story you want to tell?" So asking yourself in everything that you do, that's inspired me this year. I was on a trip and I've got a daughter that's super sweet and super smart and very timid and she's like, I'd love to go on this big slide but I'm too scared I don't want to do it. And it just came to me and I was like, is that the story you want to tell? And she's like, what do you mean? I was like, when you go back to school on Monday is that the story you want to tell everybody? You want to say I went to Cancun and I wouldn't go on this huge slide that was so awesome. And she's like, no, I'd rather tell them that I went on the slide. So I was like, well great, then let's do the slide.
Dan Williams:
And she did, which was shocking to me. And it's like that statement and kind of thinking that through in everything that you do, like, is that the story you want to tell? And that's been changing and inspiring for me this year. With every decision you make, if you can kind of ask yourself that. And it goes back to customer service with the agents in the office. Is that what you want to tell? Is that the story you want them telling other people? And so asking yourself that over and over. So I'm hoping that's a cool theme for the year.
Kade Wilcox:
Yeah, that's super cool. Well thanks for all your time. I've admired you for a long time. Even back when the Nazareth Swifts were pounding on the Muleshoe, was it the Broncos?
Dan Williams:
Muleshoe Mules. I think one of our very first games out of football season was against y'all one year and do you remember Darrell Lewis?
Kade Wilcox:
Yeah, he played football at WT right?
Dan Williams:
I think Darrell ran over one of you guys just like knocked him out. We just came out of football.
Dan Williams:
Not that anyone else would care about this, but the first time I remember playing you guys was in that summer league in Dimmitt and their old gym. You remember that?
Dan Williams:
Yeah.
Kade Wilcox:
In a summer league, that's crazy. All of our listeners are now saying, okay, time to end this podcast no one gives two rips.
Kade Wilcox:
Nobody cares about Muleshoe basketball.
Dan Williams:
Yeah, that's true.
New Speaker:
Thanks for being on. In the intro that I recorded prior to this about it, I shared why I admired you and first of all, your effort and how much you put into your work. But then just the way that you provide a service, you never come across salesy, you're extremely helpful. And so it's cool to hear you talk about even how you've tried to establish your company and the way you approach it. And for me as a client of yours, but then sending other people to you as well as actually observing that in practice, so it's cool to hear you talk about it, but then for me to be able to observe it and see it makes it even cooler. So thanks for sharing all that knowledge and for being on the podcast.
Dan Williams:
Yeah. Thanks for having me here. It's been great. Likewise, we enjoy seeing what you guys are doing over here across the alley from us.
Kade Wilcox:
Across the alley. Thanks man.
Dan Williams:
Yeah.