The Primitive Podcast: Todd Duncan
Posted by Buffy the Bison | May 18, 2021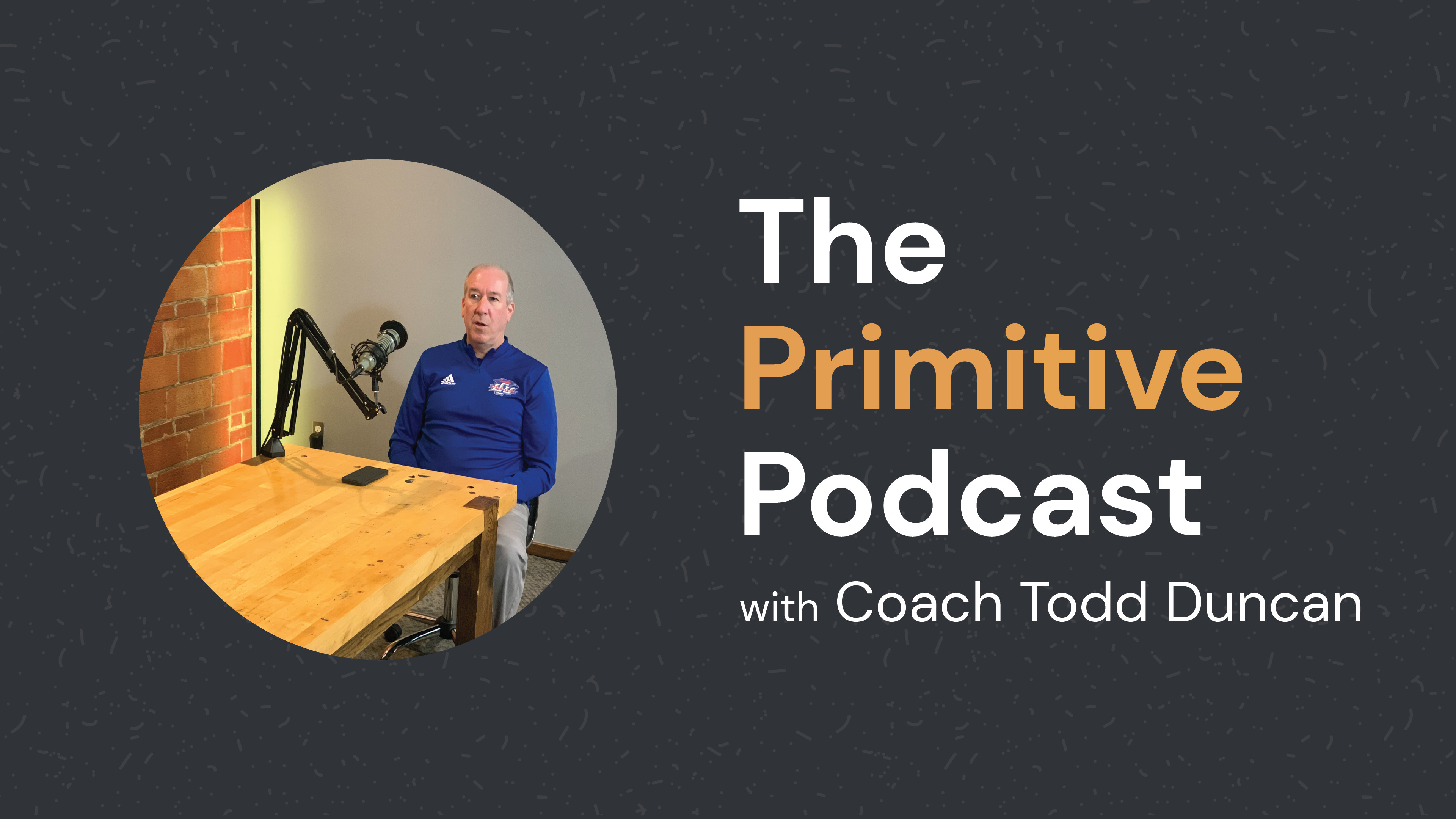 The score is tied.
Both teams are exhausted.
The clock counts down and the drama on the court advances to a tension-packed crescendo.
When there's no one to look to and nowhere to turn, there's no choice but to dig your heels in and lead.
Whether in the game of basketball or the game of business, fundamental rules of leadership such as: accountability, trust, leading by example, and celebrating the small victories, still apply.
Hear more about multi-dimensional leadership from highly-respected men's basketball coach at Lubbock Christian University, Coach Todd Duncan.
Connect with the folks behind the episode: Coach Todd Duncan and Kade Wilcox
Kade Wilcox: Hey guys, Kade Wilcox here, host of The Primitive Podcast. In today's episode, we have coach Todd Duncan of Lubbock Christian University. Todd's been there for a while now; I really enjoyed my conversation with him. He talked a lot about basketball. You can tell he's super passionate about being a coach, about the game of basketball. What I really enjoyed is that everything he shared is relatable to a non-profit organization, or leadership in your home, or leadership in your business. And so enjoy this episode with coach Todd Duncan.
Todd Duncan: I don't really care what other people think. I mean, a good name's better than great riches, not necessarily in terms of trying to impress anyone. At the end of the day, it's about the people involved and about the relationships. The trophies will collect dust, and at some point, someone will be deciding what to do with it.
A Trip Down Memory Lane
Kade Wilcox: Coach Duncan, welcome to The Primitive Podcast. This is surreal for me. I remember 15, coming up on 20 years ago now, always having a great admiration for you. You know, we always, our basketball team in Nazareth always played Trinity when you were the head coach there. And, and I always felt two emotions when we were gonna play y'all. Particularly when I was a freshman, sophomore, and you had those really good guys, like Brandon Gilbert, and a lot of others. We're either about to get our butts kicked, or even if we win, we're going to earn every single bit of it. And so to be sitting here now at a podcast, like all these years later, talking about your son and talking about LCU, it's a, it's kind of surreal for me. So thanks. Thanks for joining.
Todd Duncan: Yeah. It's awesome to be here. And those were good battles. And you know, on the other side of that coin was me always having to figure out to stop you guys. So y'all would play a football game on Friday night, have half a practice, and then we'd be in a dog fight on Tuesday. And of course, we were both playing for state championships later in the year. So it was a good tuneup for everybody.
Kade Wilcox: It was really fun.
Todd Duncan: A ton of respect for you guys. And you know, it was fun to coach against you, and I knew win or lose we're getting better doing it. And that was kind of our mentality back in the day. Just let's find the best teams we can play, whatever classification. Kind of, probably, what you guys were doing. So, yeah, good battles. And it's good to be quote-unquote, on the same team.
Kade Wilcox: I know, I know, I remember two games specifically. I remember my freshman year and playing in the Caprock tournament. And that's the year you had Brandon Gilbert. And I can't remember the other players' names, but man, they, like, to me 5' 8", you know, it felt like all of them were like 6' 5", and had super high-paced offense and you pressed man-to-man full court for the whole game. And I mean, y'all just drummed us in that, in that tournament. But then the second game, I remember we, we won and it's exactly what you just said. We had a playoff game (silly what you remember), but we had a playoff game Friday in Petersburg. I can't remember who we played. And then that Tuesday we came to Trinity, to Lubbock. And I remember Kai had, you know, 27 points and I had 27 points and we won, but I mean we were smoked. I mean, you ran us up and down that court, like the whole time. And we were at a playoff game at your old gym a couple of weeks ago with my son and I was telling him about that game and it was fun to remember.
So, so let's talk about leadership. So, first, for those who don't know who Coach Duncan is, why don't you tell us about your family, a little bit about your coaching journey, and kind of what you're doing now, and then we'll take a deep dive into leadership.
A Little Bit About Coach Duncan
Todd Duncan: Okay. I'm the head coach at Lubbock Christian. Coach the men's team. Just finished my 10th year. And before that, I was at Trinity Christian for 15 years as the boys' basketball coach and the athletic director. Prior to that, I played for seven years of exhibition basketball, traveled all over the country and even the world.
Kade Wilcox: I did not know that.
Todd Duncan: Yeah. And got to experience a lot of different things playing. And I guess going back, I played at Texas Tech two years prior to that. Midland College, two years. I went to high school at Coronado. I grew up in Lubbock. I feel like I was away enough that, you know, I got a taste of everything outside of maybe the 806 and enough to appreciate what it is. And you know, I'm grateful to have roots here. I'm married to my wife, Holly, who is a CEO at Parkridge, who you know and are familiar with.
Todd Duncan: And then my son Ethan's a senior at Trinity Christian about to graduate. My daughter Ashton is a senior at Lubbock Christian about to graduate. They just won a national championship playing for coach Steve Gomez. So we were in Columbus, Ohio, a few weeks ago, watching that — an undefeated season, just tremendous. My mom and dad still live here. My mother-in-law lives here and my brothers. So we're uh, got a lot of families here. Obviously in coaching usually you have a vagabond lifestyle. I've been blessed to coach, really what other than probably Texas Tech, what I feel are two of the best basketball programs in this area for the last 25 years, and go from high school to college and not have to move houses was a tremendous blessing and opportunity. So I've done that and yeah, just excited to talk to you.
Kade Wilcox: So what's it going to be like being an empty nester? You got two big transitions, graduating college and one going to college. So, you ready for all that?
Todd Duncan: Yeah. I don't know if you can ever prepare for it. You just try to soak in all these moments now and every stage of life has been fun. That's what I tell people as their kids are — just like people told me — is it's going to go by fast. But I just really learned to embrace each stage and just understand there's, there's joy in this. Yes, we're missing this stage, but there's also excitement in the one we're in. And I just think that's how it always is as a parent. So yeah, we'll definitely miss the activity of the house, but fortunately, our kids are still involved in things that we can pursue watching them and as a coach and with what my wife does, there's plenty to keep us busy as well, for sure.
Kade Wilcox: Fair enough. I did not realize you had been at LCU 10 years already. That is crazy.
Todd Duncan: I know. It's a blur.
Multi-Level Leadership
Kade Wilcox: It's going by fast. That's cool. I look forward to jumping into that, more on that. So what, how do you see your role as a leader? I mean, you're leading, you know, the men's basketball program, you're obviously leading a staff, I'm sure you're dealing with the administration on the athletic level, you obviously are coaching your players. Like, you've got a lot of moving parts and your own, you know, quasi-organization. So how do you see your role specifically as the leader there?
Todd Duncan: Well, for me, I'm fortunate to almost have been in every role that, you know, I'm either over or working beside someone in. So I feel like I have a pretty good range of experiences; I guess that helps me. Like, I've been in your shoes and this is maybe what I wished I would've done, or this is what I've done that's been successful. So I feel like I can bring some experience in those things. I just look at myself as needing to set the standard, be an example. I think what I say is going to be, you know, falling on deaf ears if it's not consistent with what I do. And so if they see me working hard, if they see me, you know, holding a standard of integrity, or this is the way we're going to act, this is how we're going to treat people. I just think it trickles down and, and it's a lot easier to hold others accountable for things when you're when they're consistent with what you do.
Obviously casting a vision. I say we try to demand without being demanding. We're going to have a, a standard, we're not going to compromise. And sometimes you just have to, to show up with an iron will. I just say we're fighting for our culture every day. Buzzword. Before that was used, was just "Do the right thing the right way in the right time and do it all the time as best you can." So as I've been coached, as I've played, and now as a coach being around other coaches. I mean, I just feel like I'm always in a competitive cauldron of some sort, either recruiting, obviously when we're on the floor. And so for me, it's about what brings out the best in me, but ultimately as a coach, what brings out the best in others?
Whenever you put others first, you get beyond yourself. And that's really, you know, the best example of leadership was Christ who, you know, gave it all for others. And I, if I'm blessed to coach, you know, another 25, 30 years, that's great. But most of these kids are playing careers for four or five years. If they're fortunate, they get to play beyond college. So I owe it to them to give them the best experience. And so I want them when they are mature enough or maybe when they look back and they're a coach or they have children, they're like, "You know, Coach Duncan did me right. He demanded from me. He was always fair. He got the best out of me." Tom Landry used to say, you know, "I'm trying to get you to do something you don't want to do so that I can help you get the results that you want to get." A pastor told me once, "If I take you where you want to go you'll despise me. If I don't take you where you want to go, you'll hate me. So pray for me." And I just think sometimes we all want to be pushed until we're pushed. We all want discipline until there's discipline. So for me, it's hoping that I'm winsome in how I approach it to where it's attractive.
Excellence is attractive.
"I'm in your corner."
Kade Wilcox: So how do you do that? It's really interesting. I mean, really you could say that almost of all society. I mean, really, it's almost a human tendency. Like you really want something, but very few people actually want to do the thing necessary to get the thing that they want. And so, you know, you're dealing with teenagers, and young men, which can sometimes also be difficult. I tease my brother-in-law all the time and I'm like, "Hey, when are you going to, you know, coach, you know, dudes? When are you going to go into men's coaching?" He's like, "I'm never going into men's coaching." He'd take those girls. But like, how do you do that? Like, what's your approach to — you mentioned being winsome — and so what is that like for you?
Todd Duncan: Well, I think you know, the journey they're on and what they want to get, so you're just, we have a common goal here. I'm in your corner. It may not feel like it all the time, but that's what we're working towards. And we all ask these kids, "What are your goals? You know, what is it you want out of this experience? And then how does that align with what our team needs?" And, you know, we're kind of running simultaneous races. They're trying to get the most out of their short career. And we're trying to get the most out of our team, which, you know, most of the time is going to be ever-changing from year to year. So how do we do that? And then if they see that these are the steps we need to take, this is the end goal.
Is it realistic? Is it going to stretch us? Is it, are we doing it the right way? Do we have the ability to reach this? I don't think it's fair to a kid to set some unrealistic goal before him. So we want something that's just almost out of reach. And, you know, for us, it's, you know, what's the best we can do this year? Well, it's to go undefeated and win a national championship. Is that realistic? And then we just start breaking it down from there. But I think you do that with anything, you know? There are little bite-sized steps. I just think it's brick by brick. We all look for these magnificent moments where it just all comes together. And I, I think there are those little times, but I think it's the day-to-day, the routine, the mundane.
You know, I heard like Derek Jeter was taking infield on his last, before his last game. How many times had he done that? He probably could have missed a day or two. Steph Curry before every game doing his ball handling. Just the pros, like be a pro, no matter what age you are. That's where you want to go? You know, excellence leaves trails. So what, or who is someone who's done it before us? We don't have to invent every wheel. We can learn from others. And so make the big time where you are. Let's, what's the best we can do? Whether we're at Texas Tech or Lubbock Christian, you know, it matters to these kids and you know, it matters cause we're doing it. So let's be excellent at it.
Balancing Expectations and Differences
Kade Wilcox: Yeah, that's really good. What, you know, you've always been fairly, you know, fairly demanding and expected a lot, which I really admire. What has your experience been like and what have you learned about, about balancing that with individual personalities within your team? Right? Every player is going to be a little different. Your coaches are different, parents are different. So how, what have you learned about your own expectation of success, your own expectation of effort and working hard, and then balancing that with the different personalities and different dispositions of the people you're engaged with.
Todd Duncan: Yeah. That's an outstanding question because I don't think I'm very good at it, to be honest. I think I've had to come to the realization that sometimes they're not going to care about it as much as I do. And is that okay? I don't know. They might sometimes wish I cared less. Sometimes I wish they cared more. That's why we have to find that common ground of, yeah, I realize not everyone loves basketball like I do. But, hey, you're playing college basketball. You're on a scholarship. Your career is short. I just try to get them to see the value, not just for basketball. I mean, we can all kind of see it's silly to put a little ball in a hoop. And I mean, you know, if we just explained it to someone who didn't even know what the game was, you would just kind of go, "Oh, I guess that's fun." But, you know, it just encapsulates our lives if we're not careful.
So there, there is balance, you know, we're always trying to say like, you know – or I'm always asking myself, "Where can I find it to where I'm not putting something on someone else's plate that doesn't need to be there, but without allowing them to settle or I'm compromising our standard." It's a difficult balance. I think we're always, you know, I just – what's our best? You know? Let's just do our best. And then if your best is better than my best, good for you. But if you're not doing your best then, you know, why are we in this deal? I'm not good at just half-hearted things. Yeah, I enjoy going to play a round of golf or doing an exercise and just, you know, whatever it is, it doesn't have to just be all out everything. But we're in a competitive environment. There's a scoreboard, you know? We're being measured by this and we can lose and I can go in that locker room and be proud of you. We can win, and I can be a little disappointed that we didn't do our best. We can't control our performance. We can control our effort. So let's, let's give a maximum effort.
Kade Wilcox: What have you learned about failure? You've been coaching a long time. You've been leading a long time. You've experienced good teams, bad teams, you know, good seasons, challenging seasons. I mean like what if over the years, like what have you learned about failure, specifically?
"You're not going to win by shrugging off losing"
Todd Duncan: Yeah, I'm competitive so you can probably guess how I feel about it. You know, a good quote the other day was just, you know, you're not going to win by shrugging off losing. You have to evaluate, like, why did we lose? Or even be proactive before you're in the situation. Say, what can we eliminate? How do we eliminate losing? You know, victory favors the team that makes the fewest mistakes. So how do we eliminate some of those mistakes? But then I just think you fail forward as John Maxwell used to say. How do we learn from it? We all know we're not going to go undefeated every year. You know, other than Steve Gomez, or maybe Geno Auriemma. You know, it's rare. You know, Nick Saban. I mean, but most failure is just reality. I've lost at the buzzer. I've had half-court shots banked in. I mean, unless you win it every year, your season is going to end in a loss. And maybe it's, which means some of these kids' careers are going to end in a loss. And the better you are, and the further you go, the more that loss tends to hurt.
And so it's still worth setting that bar high and going for it. Cause you know, in the end, this might be what's waiting for us. At the end of this long, hard journey might be a gut-wrenching loss. So we have to see the joy in the journey, the benefit of just the process, the things that will help us beyond the basketball court.
Can Obsession and Joy Go Hand-in-Hand?
Kade Wilcox: That's interesting that you say, you know, kind of joy in the journey. And I resonate with that a lot. Having said that, I think sometimes it's really hard when you're, like, so obsessed with that thing you're trying to accomplish, like actually enjoying the journey. And so have you found ways to try to do that? Where you're not softening your competitive edge and what the end goal is, but you're, you know, as you keep doing this longer and longer, do you find yourself enjoying the journey, or do you almost enjoy the journey after the fact? Like, you win or lose, the season's over, and then you experience, you know, joy from the journey? Or like how, what have you learned about yourself?
Todd Duncan: It's like you're a fly on the wall in our office. I mean, you just have a great insight into this because in the midst of this year we started out 16 - 0. We ended up, you know, having the best start in LSU history. Made it as far as any team in LSU history, all this. And so, "You need to smile more. Are you happiest?" Like I am! Like, I enjoy this! It's like when you're on your long runs, I don't know, you're just singing the happy song.
Kade Wilcox: You're definitely not.
Winning the Day
Todd Duncan: But when you're finished, there's just satisfaction in doing a job, being exhausted, investing wholeheartedly. So there's joy or fun, or all those sayings are hard words to define because every person has a different definition. So what we, I try to do, because I realize that it may mean more to me than it means to most, is I really try to enjoy the victories, celebrate those, celebrate the individual successes of the kids, because I want them to, to enjoy that journey.
And I feel like we've worked hard to this goal. Like we want to — do we want to go undefeated? Yes. We want to go 1-0 today. That's really how we look at it. Let's win today. Let's win this practice. And so you're, you're enjoying those successes, which I think for kids is good because we kind of have this microwave society or whatever we've, all of us old people have talked about, you know? It's, you know, if something, they don't like something, that's just easy to change. And part of growing is just sticking through that adversity and becoming stronger in it. So enjoy the successes. We always say we're going to get one good meal after every win. We're going to enjoy that. And as coaches, as families, whatever that looks like, before we turn our attention to the next challenge that's ahead of us. So we do try to celebrate. It's probably not as long-lived as it maybe should be at times. We always get milkshakes for the guys. I mean, you know, these little things that may seem small.
Kade Wilcox: Celebrate it. Acknowledge the job well done. The effort. Yeah, it's really good. I've tried really hard, you know, reflecting on the fact that literally, God creates all of us differently and uniquely, and that we all have a role in the, in the grander vision. Because I can sometimes get really frustrated if I perceive (because a lot of times it's not even reality. Like I'm just telling myself my own narrative), but if I perceive someone doesn't care as much as I do, it can turn on me real quick, you know? And I get bitter or frustrated. And so I've tried to really just press into this truth that, look, I have a role and they have a role. And, you know, I try to invite all of us to greatness, and then I need to be personally responsible for my contribution to that greatness.
You know, because we can't want something for someone more than they want it for themselves. And so, but it's really hard, you know? Particularly, I don't know if y'all are into CliftonStrengths, but my number one strength is competition. And so, you know, I probably share that with you. So that's really good. I'm sure we could talk about that a lot more.
Another question I have for you is, how do you pursue your own personal growth? Like, I know you personally, so I know you're driven. I know you've always been competitive. You've always wanted to be great. And so how do you approach, kind of, your personal development?
"No one cares how much you know, until they know how much you care."
Todd Duncan: Well, I would say from an early age, even before I maybe had any success as an athlete or coach, I always enjoyed reading. I always was just drawn to people who were successful in what they've done. And that may be pretty common. But whether it was a Dr. J or, you know, a fighter, a Muhammad Ali later on, is just people that just, they were good and then they were, they were good the next time out. They just had sustained excellence. I love listening, currently, listening to podcasts. I love to read. I've always loved reading. It's just you know, you can just be transferred to another time or place or just to another person's situation. I think there's a great learning in someone else going through that. Obviously now coaches, studying coaches and there's so much information that we have access to now.
Coaching videos, just from a professional standpoint, leadership, good conversations, you know? There are just people that I'll just pick and call and be in their ear for an hour. And so I've just been blessed to be around a lot of different avenues for that. And I've just tried to take advantage. Like, I'm almost always, if I'm in a meeting, I've got a notepad and a pen because there's something I can learn from it. And I never want to be the smartest person in the room, which is pretty easy for me. But if I can surround myself – I'm not insecure to the point I need to be the smartest. In fact, why would I not take advantage of these other people who can benefit me? And you made a great point about learning from others because I've just seen that, yeah, I want them to learn from me and maybe sometimes I think they need to be more like me, but there's gotta be enough humility that you go, "You know? Some of my growing may be that I'm more like them." And I think the best way to communicate that is through that relationship. Because you mentioned "I'm perceiving this," and then your narrative of the self-talk just takes it in a direction that's critical or cynical. So once I know that person, I know their story, it totally changes how you see them. And once they know yours. So I just think the old, "No one cares how much you know, until they know how much you care," is as simple as it sounds is very profound.
Coach Gomez: A Servant-Hearted Guy
Kade Wilcox: Yeah, it's really good. And so true. What have you learned from Coach Gomez? I know we both have mutual admiration for him. I've known him forever. I mean, when we were in junior high, we were going to, you know, Coach Self's, you know, Monterey basketball camp. What have you learned, you know, watching him as a coach, as a husband, and as a dad? I mean, I always tell people who, you know, we get to talking about it, and I'm like, he's a great coach, but he is a far better man. I mean —
Todd Duncan: Yeah, for sure.
Kade Wilcox: Super great guy. So like what have you learned? You've worked with him now for 10 years, or around each other. So what have you learned from him?
Todd Duncan: Well, I've known him a long time as well.
Kade Wilcox: Yeah, that's a good point.
Todd Duncan: So even when he was at Monterey or Cooper, we would get our teams together and play in the spring and summer. We would talk basketball. You know, we ran a play we call "Cooper." I saw him run it the other day with his women. I was like, that's that sideline play you taught me back then. The thing that strikes me most about him is just obviously his humility. He, he truly is, I've never seen him, you know, hurried or worried. He just, he just goes at a great pace. He's consistent. I told him the other day, one of the things I admire about him, that's a quote that I heard that is, "Just because someone carries it well, doesn't mean it's not heavy." Cause I know, you know, it's not just roll out the balls.
Kade Wilcox: Right.
Todd Duncan: And let's go win a championship. And I get to see that firsthand. But he, he makes it look easier than it is. He has a calmness to him. He just has a great perspective. Obviously has good players. He puts himself in great spots. He has simplicity, but yet he knows at the right time when to do something that's just going to help his team get on track. He lets them play through mistakes. He's just a great leader of young ladies, for sure. And as a coach of men, and like you mentioned, Kyle, and some of the people that we know, I mean, it's still basketball, but just a great way to communicate. I mean, my daughter plays for him. I've never heard him really yell at a player. I might hear him raise his voice to his team. But rarely, I've honestly never heard him raise his voice at an individual.
If you saw him in the office today and you said to pick out the coach that just won, you know, three of the last five national championships, you know, he might be over there picking up trash or helping somebody. He's just a servant-hearted guy. We always joke about it, but he's the real deal. And so when you get to see something first hand, you really admire that because there's so much that we've talked about earlier where you wonder is this sincere, is this authentic? No question with him. And he's competitive.
Kade Wilcox: Absolutely. Wants to win as much as the next person. I love, you know, my athletic background and all kinds of great memories with my friends and, you know, a little bit of success. But my little sister, you know, she got to play for Coach Lombard and then got to play for Coach Gomez. And I just, I don't know how you could ever have two better coaches back-to-back than that. And so just getting to learn from — they're, you know, they're obviously, like you just said, great basketball minds, but when they have, you know, high character and, you know, leadership principles, and the way they treat people it's really a profound experience. So I've kind of gotten to live vicariously through my little sister on those two things. But yeah, he's such a great guy and really understands how to win, you know, which is really, really cool.
Advice to Coach Duncan's Younger Self
My last question for you is, if you could speak to your younger self, what, you know, if you go back 15, 20, 25 years ago, you've just started coaching, you know? You're just taking on this role as leader of a team and young men. Like what would you go back and tell yourself with all the wisdom you have now?
Todd Duncan: Well, all the wisdom in there, haha. And I even think flipping the question of what would my younger self tell my older self, you know? It was good, too, because I would probably be more aggressive when you're talking about the full-court press. Like, I didn't know what I didn't know. So we're just going to play with great intensity, great energy. And we had success doing that. Now, you know, you get a little more educated and you think there are better ways. And sometimes there are, and sometimes simple is best as well. I would probably tell myself, "Just be more decisive." I think when I was young, I didn't understand that what I really had been blessed with was a great foundation. I mean, I knew I was fortunate with my parents, obviously marrying Holly, my family, the people who I was around.
But I didn't understand, maybe growing up in West Texas, or this or that, that maybe I was getting a high-level education just in life, with work ethic, just from church, the relationships I had. So many of those people have gone on to great success in whatever they've chosen. So I always maybe thought there was a better way. And I was — now that journey and search probably made me better as well — but really there's a lot of those things I still go back to that I knew then. So I would probably just have said be more true to myself. Sometimes I tried to be the next this person or that person, and just be the best version of me that I can be. And that's really what God wants from us anyway. So that, that's probably the thing that stands out.
Don't settle. Don't really care what other people think. I mean a good name's better than great riches. But not necessarily in terms of trying to impress anyone. At the end of the day, it's about the people involved and about the relationships, and the trophies will collect dust. And at some point, someone will be deciding what to do with it, you know? So let's, don't make that the end goal. And there were some times where that probably superseded those other things, just in the ambition or the zeal or the competitiveness. And I think people still benefited from that. But if I could go back, you know, you just, when you're young, you just, you just go, "Oh man, I'm old." I hope that some of those people, God, just maybe guarded their eyes against just seeing, you know, how silly I probably really was. But that would probably be a couple of things.
Kade Wilcox: That's cool. Well, it's been a great joy spending some time with you. Thanks for coming onto the podcast and for sharing all that insight.
Todd Duncan: Yeah. Thanks, Kade.