Primitive Employee Spotlight: Sydney Spiegel
Posted by Admin | March 19, 2021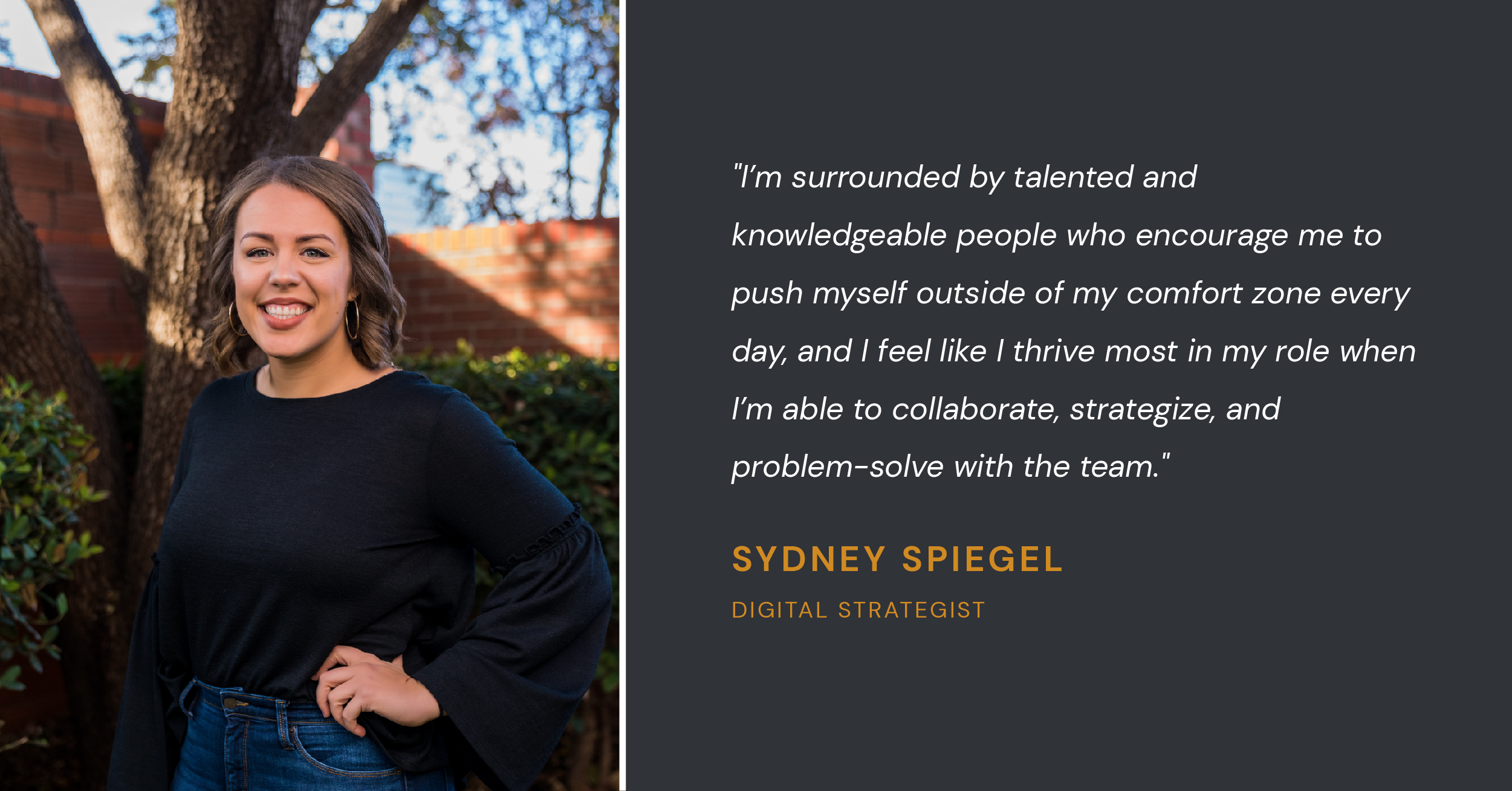 Name: Sydney Spiegel
Position: Digital Marketing Strategist - Digital Team
Location: Lubbock, Texas
Job Description:
As a Digital Marketing Strategist, I serve as the main point of contact for all of my clients when it comes to their digital marketing. When a client needs something, it's my job to see it through. I'm also in charge of all content strategy – taking the client's business goals and quarterly objectives and strategically deciding what's posted to their accounts, while also managing their holistic digital marketing efforts, from newsletters to blogs, ads, and a myriad of other things. It's a lot of work, but I love how every client and every day is different.
What is your personal background?
I was born and raised in Lubbock, Texas, and graduated with a bachelor's degree in advertising from Texas Tech University in May of 2017. I worked for three years as a Project Manager for the Communications Team at a church here in Lubbock, and then made the transition over to Primitive in May of 2019.
How did you get your start at Primitive?
I knew about Primitive from a lot of people at my church and I had a couple of friends who worked here, too, so those were nice connection points! I reached out to Annie and Kade back in January of 2019, just letting them know I was interested in a position should something open up, but at the time they didn't have any open positions for my skill set. That February, I started working as an independent contractor for the web team, just praying that something full-time would open up soon. I was taking any chance I was given to get my foot in the door. Then, one day toward the end of April, my friend Jeter, the Project Manager on the Web team, texted me and said, "Would you be interested in a full-time position at Primitive?" and the rest was history! I met with Annie two days later to discuss the job, had an official interview the day after that, and started my new job a week later. Once the ball got rolling, it all happened very fast, but I wouldn't change it for anything!
What do you most enjoy most about your role?
I really love the team I get to work with! I'm surrounded by talented and knowledgeable people who encourage me to push myself outside of my comfort zone every day, and I feel like I thrive most in my role when I'm able to collaborate, strategize, and problem-solve with the team.
What is the most challenging part of your work?
Digital Marketing is awesome but can be unpredictable. I love the challenge of adjusting and strategizing in order for a client's goals to be met, but at times the unpredictability can be stressful. It's frustrating when we have an intended goal or objective for an account that isn't being met. Having to be strategic and adjust game plans accordingly can be challenging, but it's also a lot of fun.
How would you describe Primitive in only three (3) words?
Grit, teamwork, fast-paced (Webster's Dictionary says that's one word.)
What is the best gift you've ever received?
Honestly? My Ninja Foodi. I cook basically every meal in it.
What does a typical day look like for you?
I typically wake up at 6:45 a.m., have coffee and read, sometimes go for a walk with my dog, and try to be online or in the office by 8:30. My days at work vary, but I can always expect to have a few meetings and then client work. After work, I go workout, cook dinner, and then usually hang with friends, read, or watch TV!
What do you like to do when not at the office?
I love to hang with friends, play games with my family, work out, watch New Girl, listen to true crime podcasts, and read!
What does your workspace look like?
Both my home office and my work desk have a similar feel. I like organized areas, with personality still thrown in. I love plants a lot, so both desks have a plant. I also always have my water-bottle, notepad, AirPods, and a pen.
What were your favorite snack and favorite TV show when you were 10 years old?
Anything cheese-related, but probably Cheeto Puffs. My favorite TV show was Lizzy McGuire!
If you could have one superpower, what would it be? (And of course, why?)
I would love to be able to read people's minds. It would probably get me into some trouble, but I like to know what people are thinking!
Do you have a hidden talent?
Not sure if it's hidden, but I have a weird knack for being able to memorize song lyrics very quickly.
If Hollywood made a movie about your life, who would you like to see cast as you?
Mindy Kaling
Favorite quote?
"There's a lot of beauty in ordinary things. Isn't that kind of the point?" - Pam Beesly, the final line of The Office
Favorite vacation spot?
Anywhere with a pretty beach, clear water, and the sun!
Fill in the blank: I once ________.
I gave myself a tattoo with a needle and ink.
In five words (or less) what advice would you give someone in your profession?
Never stop learning.
If you could live in any decade, what would it be? Why?
I think I would like to live through the 90s as an adult, instead of as a young child, which is my only 90s experience.
If you could only wear one color for the rest of your life, what would it be?
Black or white...I'm boring.
You're stranded on a deserted island and can only have three items with you. What would they be?
My Bible, Harry Potter and the Goblet of Fire (the book), and my favorite tennis shoes.