Primitive Employee Spotlight: Molly Fisher
Posted by Admin | November 6, 2020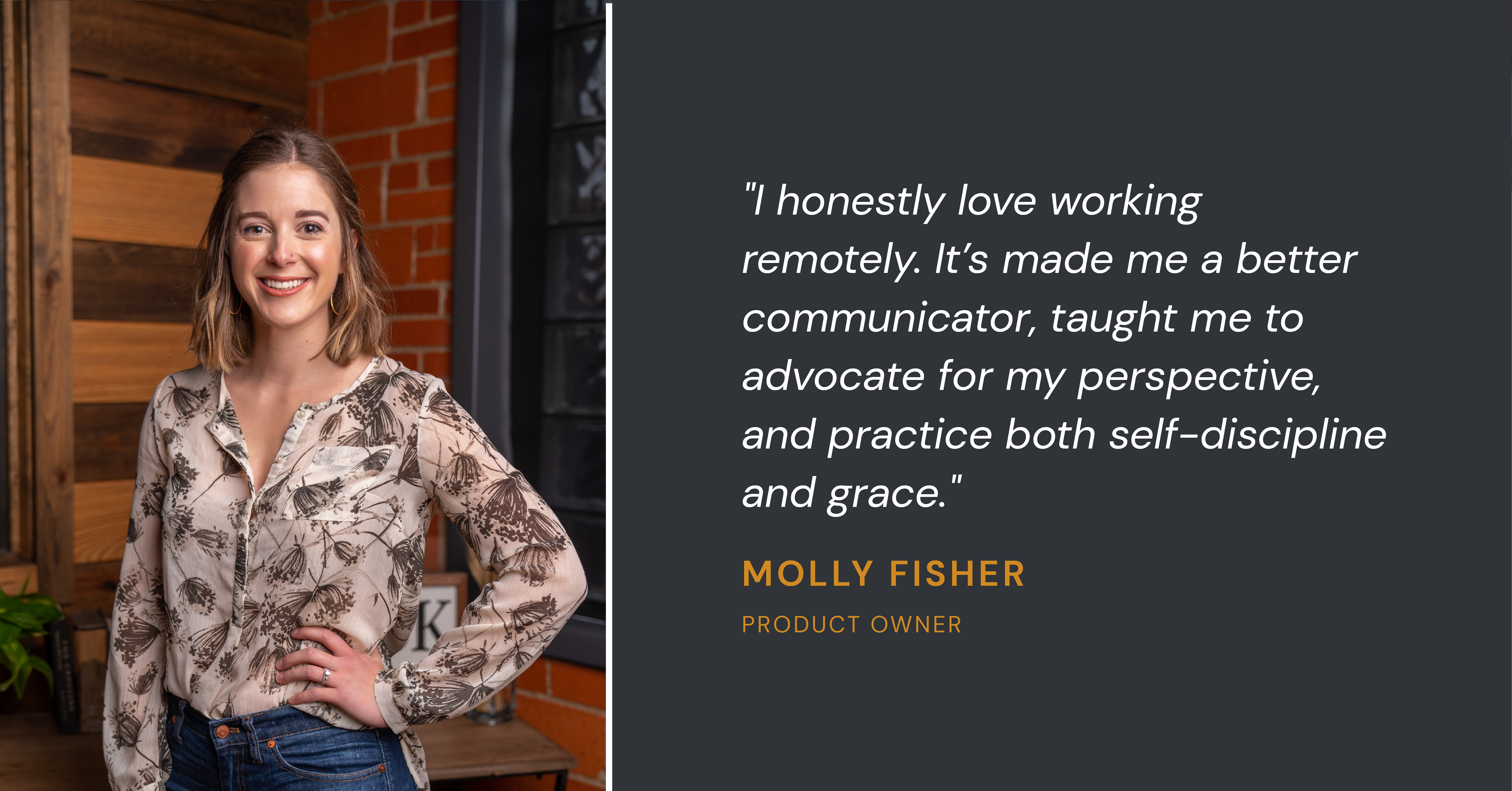 Name: Molly Fisher
Location: Champaign, Illinois
Position: Product Owner
Job Description: Responsible for organizing the end-to-end of clients' custom software products by using a process that first identifies requirements, and then leads into wireframing, design, development, testing, and launch.
Tell us a little bit about your background and how you found Primitive.
I took a bit of a winding path to get to my current role with Primitive. I went to a liberal arts university in Austin, Texas, and majored in Religious and Theological Studies, giving me a solid foundation in critical thinking skills, research, writing, and editing. Shortly after moving to Lubbock, I began working in the Texas Tech Whitacre College of Engineering. I worked on recruiting undergraduates and graduate students and promoting scholarships, camps, and university events, giving me a lot of on-the-fly experience with in-house marketing.
After a couple of years and a lot of creative projects on the side, I sought to work in marketing or graphic design full-time. I knew Kade from church and learned more about Primitive through my husband's one-off projects with the company in its earlier days.
When did you start with Primitive?
Unbeknownst to me, I turned Kade down for a client ally (digital strategist) position in 2014 – I claim instead that I wasn't ready to make the leap just yet… and also didn't realize I was being personally recommended to apply. I applied when another client ally position opened up in fall 2015, and I started in November of that year.
You've stated you have been with Primitive during its "beginnings." What would you say are some of the most dramatic changes you've experienced?
We've matured a lot as a company in the past five years. There has been a lot of growth and growing pains associated with change, missteps, finding the right clients, and growing our services. Our company identity is filled with more tenacity and creativity than ever before, and I know that's because of the empathy and intentional hard work on every person on the team.
I don't know if the Primitive of 2016 wouldn't have weathered the storm of 2020. But I am thankful that the hundreds and hundreds of big and small changes have made us a stronger and more compassionate company.
You were one of Primitive's first remote employees. At what point did you make the move and what obstacles/enjoyments have you encountered since going fully remote?
I moved to Santa Barbara, California, close to nine months after working at Primitive. My move from Lubbock for my husband's graduate school program was expected since my hiring, but it still involved a lot of preparation and adjustments – for me, my clients, and the culture of Primitive to that point.
I was glad to continue with Primitive remotely, though I wouldn't say we had a framework in place for remote work at the time. I learned to adjust my schedule to "Texas Time" as much as I could and relied on Slack and video calls significantly more. It definitely took a bit to navigate how to adapt my new work environment to the existing communication and company structure.
How would you say that you've overcome maybe some of those challenges of being a remote employee?
Adding additional remote employees has helped Primitive understand how to work and thrive as a distributed team, and it's required adjustments on both sides. We've invested in our remote-work ethos, and it's made for a collaborative and unique team make-up, which I wouldn't trade for anything.
I moved from California to Champaign, Illinois, this summer for my husband's work, and the stability of my job amidst so much change was a major comfort. I get to learn from a lot of people I wouldn't have met without Primitive, and I am thankful that I can do my job "from anywhere" despite whatever life throws at me.
I honestly love working remotely. It's made me a better communicator, taught me to advocate for my perspective, and practice both self-discipline and grace. I miss the office environment and camaraderie – especially making cookies in the 905 kitchen – but the change has made me seek to establish the same connections with my remote coworkers.
And wearing slippers and sweatpants to work is a major plus.
What would you say are some of your favorite projects that you've worked on at Primitive?
I have fond memories of several of the campaigns for Peoples Bank and LCU when I worked as their client ally. But since I transitioned to working as a product owner for our software projects in 2019, I've had the opportunity to work on much different deliverables. My main software client has a lot of work that requires creative problem-solving, detailed organization, and team effort. I really enjoy the challenge of software projects that keeps me on my toes and makes me a better communicator and collaborator.
How has Primitive allowed you to shape yourself into the leader you are today?
Primitive has been intentional about establishing structure within the company over the past few years, and those defined guidelines and roles help me gauge where I am in my role and how I can grow. I'm more confident in my strengths now because I've worked through difficult projects and meetings, each time learning how I can improve or pass my knowledge along. But I've learned most from how my coworkers and our leadership team demonstrate their strengths. I aim to take each meeting, email, or interaction to be a better worker, most often taking the chance to model what I've learned from them.
Now let's dive more into you! Do you have a daily routine or particular steps that you take every single day before you start work?
I'm still adjusting to my routine since moving back to CST, and will now have to learn how to establish a routine while working from home through my first Midwest winter. But on an average day, I start with a run around the neighborhood with my dog. I get ready, make tea, and start work shortly after breakfast. A lot of my work involves checking in on the status of work and projects, so I spend a fair amount of time communicating with others through Slack or a video call. I normally have 2-3 scheduled meetings a day, then the rest of my work day focuses on planning, organizing, or testing for the various feature requests we have in the works.
Important question - what kind of dog do you have?
Zula June is an adorable, expressive mut. We think she's some sort of weimaraner, pit bull mix, with maybe a pointer or lab in there. I found her on Texas Tech's campus as a puppy in 2014.
How do you like to stay motivated?
Most of my motivation stems from routine. Regular runs, coffee, and good food help give me a consistent standard for my day. From there, I can gauge what would best motivate me to either limit the scope of the engaging work I have going on, or focus on having the self-discipline to stop putting off a difficult task.
A snack – especially candy corn this season – is also a solid motivator, if I'm honest.
How do you find enjoyment outside of work?
I love running or going for a bike ride to explore our new town. We recently bought a house, and it's satisfying to tackle big projects and learn new handy skills. I also really enjoy baking, going out for food, watching food shows, or talking about food. I listen to a huge variety of podcasts as a break from work to diversify the stories I hear.
How do you juggle your work and family life? Do you feel as though you've achieved a good work-life balance?
After-hours life is pretty simple for me and my in-home "coworker," aka my husband. We're both working from home – me in my role, him as an Assistant Professor at the University of Illinois Urbana-Champaign. We stick to pretty consistent work routines, but we both encourage that balance for the other. If there's a big deadline or the day got away from us, the other will suggest a positive spin on it like "work for another hour, then we'll watch a show with a cocktail." We respect each other's work, and we do well to both work hard and rest well.
What is something that not everyone knows about you?
All three pets I've had were through clever convincing on my part. As a three-year old, I brought a neighborhood cat inside and cozied up to him, only showing him to my parents hours later (despite one sister screaming in terror). He was named Sebastian, and we had him for several years.
In elementary school, I convinced my dad we needed to adopt a cat from the Humane Society by writing an essay that used every one of that week's vocabulary words – newspaper clipping of the kitten attached for full emotional manipulation. We picked out Isabella the awkward kitten a few days later.
And I brought Zula home during my lunch break after finding her outside of my office at Texas Tech. Funny enough, I had just told my husband the weekend before that "we weren't ready for a dog," but there I was sending him a play-by-play of me taking the dog to the car, feeding her random snacks from the fridge, and letting her frolic in the backyard.
I have no regrets.
Are there any words of wisdom or anything else that you would like to pass along?
Be honest with yourself and note when you try to self-sabotage. Are you really going to wake up early to write that email draft? Do you work better when you block social media and news sites during the day? Are you working on the most important thing or reacting to the most recent thing? I say this, knowing I need this advice repeated back to me regularly.