Primitive Employee Spotlight: Meagan Martin
Posted by Leisa Redmon | April 16, 2021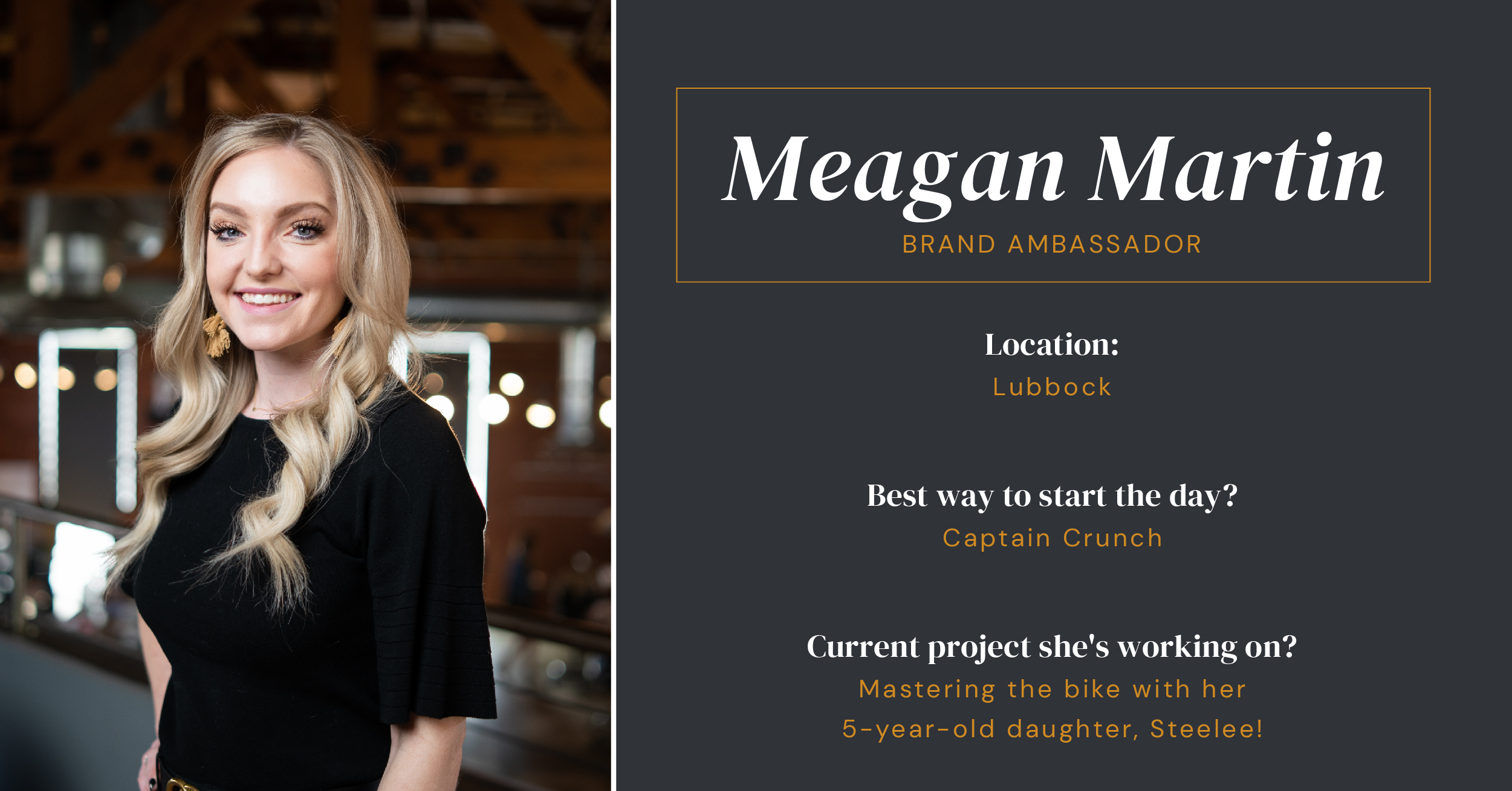 Name: Meagan Martin

Position: Brand Ambassador
Location: Lubbock, Texas

Job Description:
The main purpose of the role of Primitive Brand Ambassador is to be the face of Primitive to the local community and surrounding areas. This involves attending events, developing and nurturing strategic relationships, and identifying potential opportunities.
Tell me a little bit about your background.
I am a West Texas native who graduated from West Texas A&M with a Bachelor of Science in media and communications with a minor in animal science. My career has been hospitality with my most recent position being with Coury Hospitality on the executive opening team for The Barfield, Autograph Collection by Marriott in downtown Amarillo.
How did you find Primitive?
I found Primitive through a contact at Amarillo National Bank, and began researching them through their website and LinkedIn. I reached out through LinkedIn and it was everything I was told it would be and more!
As one of our newest hires, what are your favorite parts of your job so far?
My favorite part of my job so far is connecting with Lubbock locals, as well as experiencing the Primitive culture firsthand.
What are you most looking forward to at Primitive?
I am most looking forward to creating relationships with the team and supporting the team through the meaningful relationships I will create in Lubbock.
Okay, now let's talk more about you. What's your daily routine?
My daily routine: I wake up around 6:00 a.m. then grab my coffee and read my devotional to get my heart ready for the day! I wake up my daughter, Steelee, and we chat over Captain Crunch. (Yes, it's a sugary start but it's best in my book!)
Steelee and I then get ready together and head to the school drop off line. I come home and grab another cup of coffee and begin my work day, or I'll head into the office.
My job is really cool because I get to connect with people all week. That may look like coffee with thought leaders in marketing, or supporting Lubbock by promoting Primitive at chamber luncheons, business after hours, or discussion panels with Texas Women in Business.
To end my day, I pick up my daughter and we'll work on a project. Currently, we're mastering riding the bike!
What do you like to do outside of the office?
Outside of the office, I spend my time remodeling our new home and entertaining my five-year-old daughter, Steelee. When the weather is nice we love to hike and nature walk!
What is something not everyone knows about you?
Hmm… for as extroverted as I am in my job role, I really am more of an introvert.
Who do you admire?
I really admire my grandmother. She was always a successful, career-driven woman and really became my real life example that women can have it all while still giving it our all!
How do you stay motivated?
I stay motivated by focusing on my current goals and aligning those with my future goals.
What's your secret to success?
My secret to success is pretty simple: just keep moving. Whenever I would hit a rough patch or get off course, my dad would ask me if I was going to die on that mountain today. Well, absolutely not! As long as I am moving, even if it feels slow, I am reaching my goals.
What words of wisdom would you give to someone looking to acquire a role like yours?
I think the most important piece of advice is, "People come first." You can always find a way to connect with anyone. If you can't curate a relationship with someone, you can't build trust. Then after trust is established, the door really opens so you can find out what this person needs and how your product or brand can serve them.
And at the end of the day, you just have to do it! Join that group, make that call, set that meeting. You can be uncomfortable, but you can also still show up.