Primitive Employee Spotlight: Matt Trask
Posted by Leisa Redmon | March 5, 2021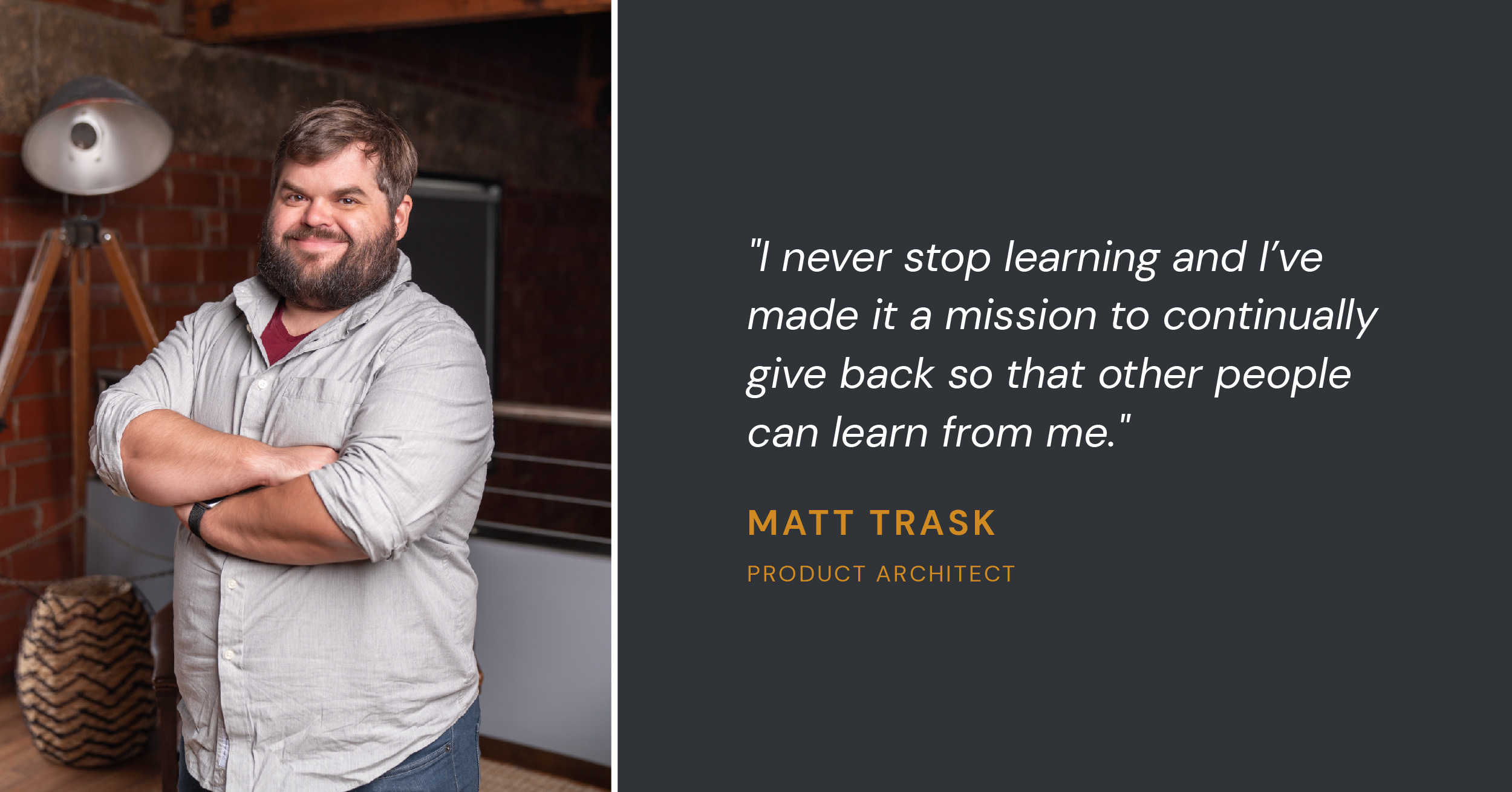 Name: Matt Trask
Position: Senior Product Architect
Location: Nashville, Tennessee

Job Description: I help lead our software team, but I jump around helping review code on other software projects, as well as mentoring the web developers.

Tell me a little bit about your background.
I taught myself how to program as I was looking for a way out of being a bartender. I saw a post on a forum about how to get started and I just dove right into anything I could find related to writing code. Since then, I've become a conference speaker, open source software maintainer, conference organizer, and all around cheerleader for the PHP community.
Like a lot of people here at Primitive, I am also a musician and went to music school for a few years learning music theory and guitar.
How did you find Primitive?
I didn't really find Primitive as much as Jerred, Primitive's CTO, found me. I got laid off in 2019, and in between the announcement and signing the paperwork, I sent out a tweet that I hoped would lead to at least one new opportunity. A lot of my friends in the community retweeted it, which caused Jerred to notice me. He slid into my DMs and we had a chat the next day. Within a few days of talking to more Primitive staff, along with Chief of Staff Annie, Jerred extended an offer.
Truth be told, though, what really sealed the deal was when our CEO, Kade, made a little, personalized video for me.
What are your favorite parts of your job?
The challenges are different from what I've taken on before, so my "favorite part" is always something new. The mentoring aspect, though, is what really brings me joy. Helping others overcome hard tasks and seeing the relief when they figure it out makes it all worth it.
What are some challenges you've faced since starting with Primitive?
Growing into more of a leadership role. I didn't sign up for it when I initially came on and I never was in a leadership role previous to Primitive so it's been a fun challenge to grow into.
Okay, now let's talk more about you. What's your daily routine?
I am usually up around 6:45 taking 15/10 best friend, Molly the dog, for her morning inspection of the apartment complex I live in. (Mostly so she can try and become friends with the stray cats. Yes, we are working on her socialization skills.)
Then, I down my first cup of coffee as soon as we get back from our morning walk. I usually open up Slack and check GitHub first thing. After that, it all depends on what is most pressing on the various projects I am involved with. Some days I spend a lot of time collaborating with Jerred while other days I spend time with other developers working through various issues.
Every so often, I find myself spending a full day deep in a codebase working on a new feature or fixing bugs that have slipped through.
What do you like to do outside of the office?
Most days you can find me on a bike. Whether it's training, or just casually riding around, the bike is my happy place. When it's too cold to ride, I will hit the gym to lift. I spend a good amount of time playing guitar, reading, rewatching Star Wars or the Marvel Cinematic Universe or finding new restaurants with my girlfriend Kieran. I'm currently embarked on a quest to find the best cookie in Nashville. (Update: I've found it.)
What is something not everyone knows about you?
I was born in West Germany, right on the border with East Germany in a city called Fulda. I have a certificate in my office that says I'm a "Border Baby" and can still probably get citizenship in Germany if I go through the process.
Who do you admire?
All the software engineers who took the time to help me learn something new. Without them, I wouldn't be where I am today.
Same with the group I usually do cycling rides with. They have helped me grow stronger and faster and I am forever grateful for them.
How do you stay motivated?
I set goals that range from easily attainable to pretty tough so I am always moving forward. Programming can change day to day so I have to stay up on new concepts and theories. I take it little by little so it's not like drinking from a firehose. When I get tired or near burnout I grab my bike and head out for a few hours to clear my mind and recenter myself.
Do you have a favorite quote or mantra?
"Do not go where the path may lead, go instead where there is no path and leave a trail." –Ralph Waldo Emerson
What's your secret to success?
I never stop learning and I've made it a mission to continually give back so that other people can learn from me like I learned from the developers who came before me.