Primitive Employee Spotlight: Liz Langford
Posted by Leisa Redmon | November 13, 2020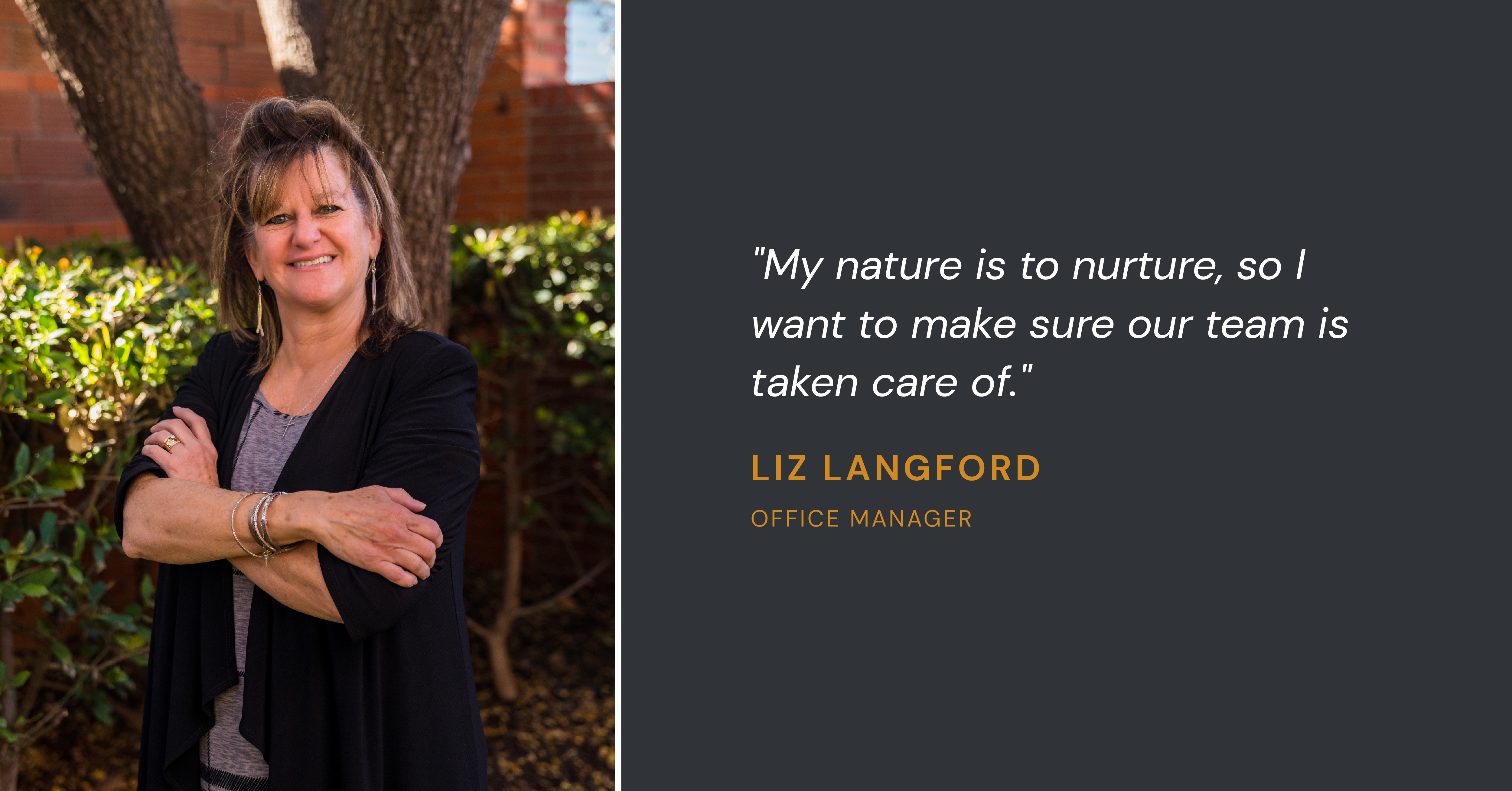 Name: Liz Langford
Position: Office Manager
Location: Lubbock, Texas
Job Description:
I am the office manager of Primitive in Lubbock. I keep the office running smoothly and stocked with plenty of coffee and snacks. I also do the bookkeeping and payroll.
Background:
I've done a variety of things in my life. In high school and college, I worked in the restaurant industry. This is where I developed my skills in hospitality. When my children were younger, I worked with one of my best friends, Callie, who had a shop called The Rabbit Hole, a children's boutique. There I learned my love of data entry and inventory. In the early 2000s, my husband Karl and I owned a restaurant called Drumgoole's. It was in that role I learned I did not want to be a business owner! I was also a realtor for about a minute and worked in banking for seven years.
Overall, I've tried my hand at many different things, but I feel like all my jobs lead me and molded me into who I am today.
What did you learn most from your previous jobs?
I love flexibility. I never really considered myself a career-type woman. The most important thing I wanted from my job was to be available for my kids to pick them up, go to a ballgame, go to a track meet, etc.
I've always enjoyed having a more flexible schedule, and when asked whether I prefer time or money, I would almost always choose time. I am very blessed to have had many great jobs and feel like I have had the best of both worlds.
What initially drew you to Primitive?
I met Kade at our church in the spring of 2015. At the time I was very happy working as an administrative assistant to the CFO at First Bank and Trust. Kade would occasionally ask me if I'd like to come and be his assistant, but I was always very content. In the late fall of 2015, he happened to ask me again and the timing felt right to make a change, so I decided to go for it.
I started with Primitive in January of 2016.
What do you focus on in order to create the unique office environment that you do? Have you had to pivot a lot given how crazy 2020 has been?
My nature is to nurture, so I want to make sure our team is taken care of. They need sustenance and so they need a good snack, and they need coffee, coffee, coffee! I like to make sure the fridge has waters and beverages, things like that, to keep them going.
2020 has been an adjustment for sure. I still come to the office to make sure everything is "still standing" and strive to be available if anyone needs anything.
How do you always know what snacks to get?
It's funny because when I first started buying the snacks, I just bought what I would get my kids for after school snacks. So that was Little Debbies, all the chips, nuts and fruit bars and Fruit Roll-ups. I had many flashbacks to when I would buy them for my kids. So I think that's just the mother in me.
I have a natural inclination to take care of everybody the best I can.
How has your role transformed over the years?
I started out as Kade's administrative assistant and that lasted a few months. Then Kade and Jerred felt there was another need for me.
At the time, we were outsourcing the bookkeeping to a company, and Kristin Foster, our now Content Manager, was helping do some of those things. They just really felt like they needed somebody doing it a little more full-time, and so I transitioned into that role. Initially, I was just processing payroll and making sure the bills were paid. As we've grown in sales and employees, that job has just grown and grown.
Do you/did you ever find it difficult to manage remote employees?
Slack is our communication tool, and I always tried to be really good about checking in with them and making sure they had everything that they needed on their end. I would get paperwork from them and that sort of thing. I feel like the more you talk to somebody, even virtually, the more you get to know them and their personalities.
What are your favorite parts of your job?
My number one has always been flexibility because my family is so important. Primitive was able to give me that ability to be able to go to Kentucky and see my grandkids, Eleanor (4) and Fielding (2), and so that's been the biggest blessing for me just because you can work remotely if you need to. You truly have the freedom to take off and go do what you need to do for your family.
My favorite thing is that as long as things get done, leaderships allows you the flexibility to go and take care of the things you think are important.
What are some of your favorite projects you've worked on?
I love Excel, I love spreadsheets, and I love numbers. I discovered Airtable and it just took it to a whole new level. I love seeing things organized, in order, and categorized.
It might sound silly, but I really like it.
Why are you committed to Primitive?
For me in my stage of life right now, I can't think of a better scenario for me. Being able to work in an environment that's creative and young makes me feel creative and young, even though I'm doing bookkeeping. It's the environment that's around you, the music we listen to and the conversations we have.
It's just good, positive and encouraging.
Anything you're excited for in Primitive's future?
Who knows what that is! It's hard to think about what it will be like when you couldn't even fathom that it would be like this two weeks ago. But I think Kade and Jerred are destined for success, so who knows. We could be in a bigger building with lots more people and more books to do.
Okay, now let's talk more about you. What's your daily routine?
I generally get up pretty early, around 5:30 or 6ish. I like my quiet time in the morning to sit, drink coffee and be still. I journal and read and stretch. I start the work day either at the office or home with my list of daily to-do's like checking the bank, credit cards, that sort of thing — I try to get that knocked out straight away.
Then, because there are so many things that come up spur-of-the-moment, if I can get all my daily to-do's done, I feel like I can kind of have the rest of the day to work on projects that I need to work on or reports that I need to do.
Afternoons and evenings are for finishing up lingering projects and then planning and cooking dinner and hanging with the hubs and kitties.
What is your favorite music?
Coldplay and Mumford and Sons are up there. I like electronic dance music, which is funny (I know), but I like the beats and the drums. I went to my first rave in January 2020 to see Armin Van Burren. I also like oldies, '60s and '70s music. I love a variety of music.
Do you have any favorite TV or Netflix shows?
We're a huge Seinfeld family. We watched it so much when the kids were growing up that it's part of our daily lingo. I love a lot of British TV shows, and my mindless favorites are Parks and Recreation, along with all things Hallmark Channel!
What do you like to do outside of the office?
My husband Karl and I like to do activities around the city. We've recently picked up the hobby of going to estate sales — a treasure trove of fun things you don't need but apparently must have! I am trying to learn how to recycle glass into art projects, but when not doing that I love to read and enjoy spending time with friends and family.
Tell us about your family.
I have been married to Karl for 35 years. We have two sons, Nicholas and Travis. Nicholas is married to Sheridan and they have given me my favorite thing in the world — being a grandmother! Eleanor just turned 4 in May and Fielding turned 2 in May. I am officially G-Momma and Karl is officially Kaptain. Recently we have had the opportunity to do story time with them via Zoom! So fun!
What is something not everyone knows about you?
When I was in my senior year of college, I was a bartender. I was the first female bartender at the Chili's which had just opened here. I loved the high-energy, fast pace of bartending. It was loud and you just worked really hard for a short period of time.
Who do you admire?
I would say my mother. She passed away many years ago, but she was a beautiful example of how to pour out unconditional love on her kids, her family and her grandkids. She just loved her family deeply and was a great example of steadfastness and faithfulness even when things weren't always great. She was what you could call "a constant" and I always felt unconditional love from her no matter what I did or how I screwed up. She was just always good and supportive and encouraging.
How do you stay motivated?
I have great morning/evening routines and I love to read and journal. I always have a good nonfiction book I am working through. Currently I am reading Atomic Habits, with some girls at work. I am loving the practical information and the accountability of going through the book with other people.
What is your secret to success?
I think it goes back to having that encouraging attitude all the time. I think when you get down and discouraged, you forget to be grateful and thankful for all the things that have happened in your life. I am always tweaking "my process" and don't let myself get stuck or complacent for very long.