Primitive Employee Spotlight : Leisa Redmon
Posted by Leisa Redmon | January 29, 2021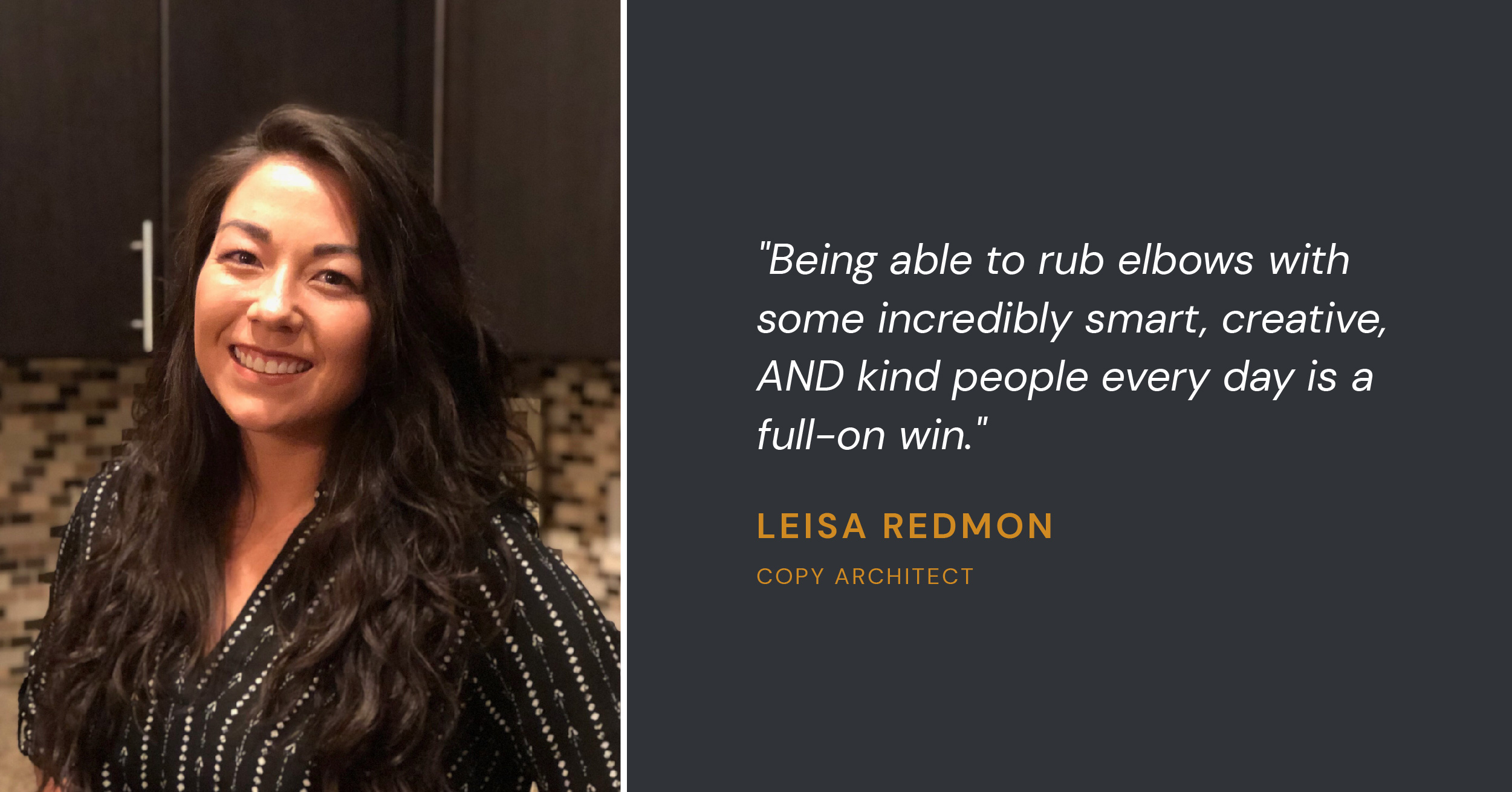 Name: Elizabeth "Leisa" Redmon
Position: Copy Architect
Location: Tulsa, Oklahoma
Job Description:
I write marketing content for a wide range of target audiences, clients and platforms. Whether it's long-form content offers or shorter blogs, social captions, taglines and call-to-actions, I do my best to infuse current knowledge with old-school wisdom, and create content that readers want to consume.
What is your personal background?
I was born in Arlington, Texas, and moved to Augusta, Georgia, right before heading to Columbia, Missouri, for college. While at the University of Missouri, I bopped around to a handful of different majors before settling on English and Anthropology. (I was hellbent on writing for National Geographic.)
After college, I maximized my degree to the fullest by working... as a personal trainer. Soon thereafter I purchased a failing gym, rebranded it, grew it to roughly 6x the size, and played the role of a business owner for three years. After selling my gym, I moved to Colorado where I took on the role of a copywriter at a climbing gym while training for a couple lofty, personal goals.
How did you find your way to Primitive?
A friend of mine went to a small business owner retreat back in 2012/2013 and met Primitive's co-owner and CEO, Kade Wilcox. Fast forward to 2019 when I found myself looking for a writing position after I made the decision to retire from the subtle art of "exercising for time," and Primitive was hiring.
What do you enjoy most about your role?
I'm shy, introverted, and an internal processor through and through. Being able to write short stories in my head and put "pen to paper" is very fulfilling. Also, being able to rub elbows with some incredibly smart, creative, AND kind people every day is a full-on win.
Now let's dive more into you! Do you have a daily routine that you follow every single day before you start work?
I typically wake up around 5 a.m., grab a cup of coffee, and dive into a chapter or two of the Bible. I set a goal for myself to read through the entire Bible and I'm currently on Nehemiah. It's been a joy and a challenge but I'm so glad I took it on.

After that, I'll read a few pages of a professional development book before heading to the gym for light cardio.

Then it's work time!
How do you like to stay motivated?
This might come off a bit snobby (and I definitely don't mean it to) but I believe motivation is easy to come by. It's the discipline that's the most difficult to hold onto. So, in order to stay on track with my goals, I do my best to set up as much structure in my life as possible. Structure and routine help me build habits, and when I have healthy habits already infused into my life, the little ebbs and flows of life don't jilt me as much.
What's your favorite thing to do outside of work?
Move. Truly anything that involves moving (walking, hiking, working out, going to the dog park, etc.) is a joy for me.
What is your secret to success?
I don't know if there are any secrets, but I do my best to take an honest self-inventory of my life every quarter.

Where have I succeeded? Have I honored God in my successes? Where have I faltered? What weaknesses were present to cause that failure? Was my pride or ego a factor?

Things like that. Because if I don't know better, I can't do better.
Who do you admire and how have they influenced you and your work?
My mom, for sure! She has the best work ethic of anyone I know. When times have been tough, I reflect on all she has accomplished and it truly helps me pull through.
What's something not everyone knows about you?
In a past life, I got "paid to play" in the CrossFit arena, which is a large reason as to how I found my way to Colorado. CrossFit and Olympic weightlifting have a lot of skill overlap and another one of my goals was to train for the 2020 Olympic weightlifting team. (Colorado Springs is home to the Olympic Training Center.)
But, life always has a way of throwing curve balls your way, and I've since retired. No regrets, though.
Favorite quote?
"Aut viam inveniam aut faciam." – I shall find a way, or make one.
Are there any words of wisdom or anything else that you would like to pass along?
Ego is the enemy.