Primitive Employee Spotlight: Larae Hurley
Posted by Leisa Redmon | November 24, 2020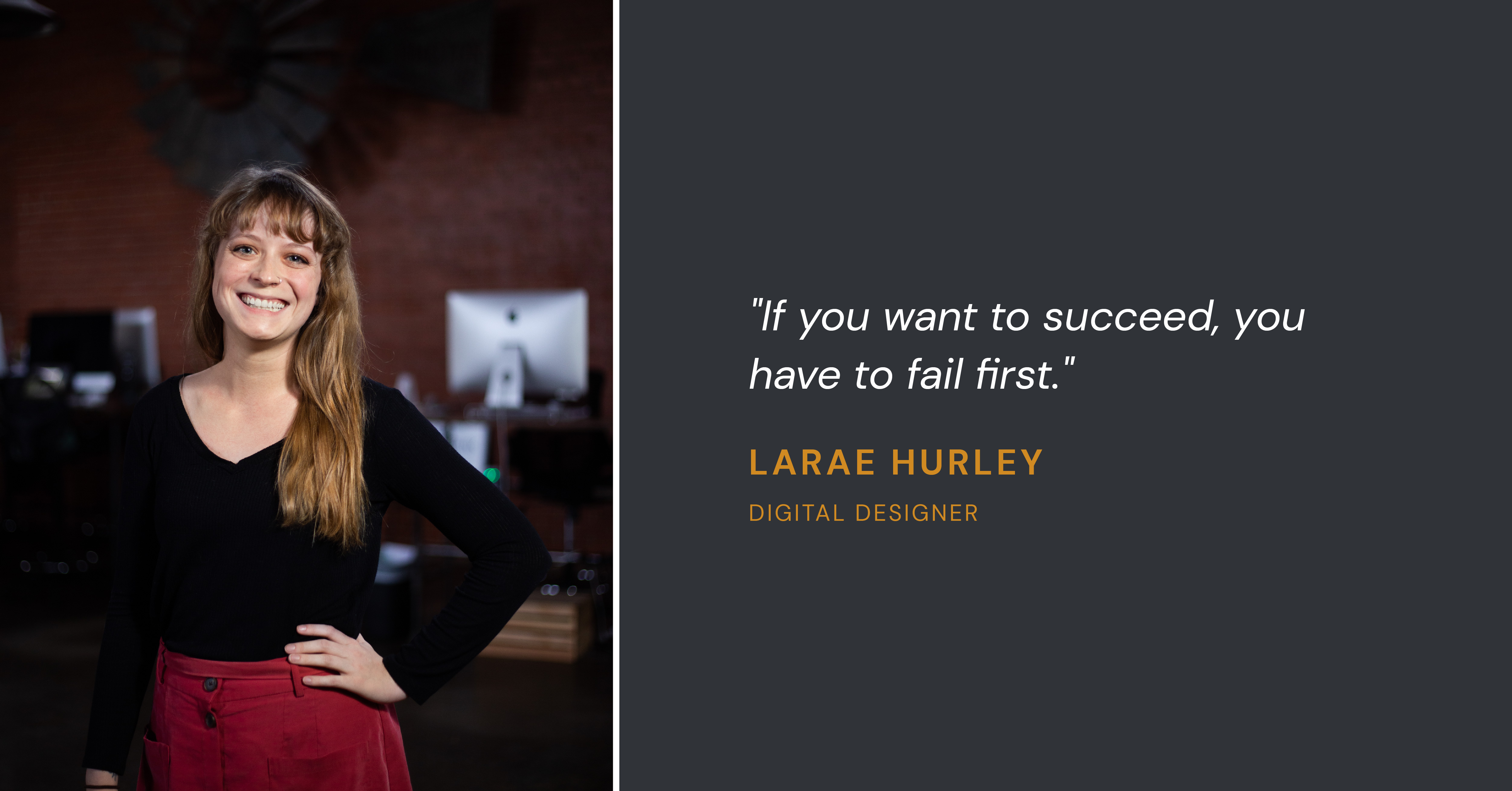 Name: Larae Hurley
Position: Digital Designer
Location: Lubbock, Texas
Job Description: As a digital designer I am responsible for making things look pretty. There's more to it than just that, but that's the jist. I'm handed the content and then find a way to arrange that content in an aesthetically pleasing and logical way. I mostly work on the digital team but sometimes jump around to help in other areas when needed.
Tell us a little bit about your background and how you found Primitive.
I started at Texas Tech in the fall of 2015 to earn my graphic design degree. One day, I was sitting in one of my design classes working on an assignment when my teacher passed out a flyer for an internship at a company located downtown, noting how cool their office was. I decided to apply and after interviewing was pleased to learn that I had gotten the internship.
When did you start with Primitive?
I started my internship in the spring semester of 2018. Once that was over, I became an independent contractor with Primitive until my graduation in May 2019, when I started working full time.
What would you say are some of the biggest changes you've experienced since working at Primitive?
There have been a lot of changes since I started working here but I guess I'd have to say team changes have had the most impact on me. Working at a company like Primitive that is always trying to grow and improve means we've tried out a lot of different team variations. Each one works better than the last!
Why do you think having knowledgeable graphic designers is so important in an agency like Primitive?
I think it's important to have knowledgeable designers because your content may be killer, but if it isn't eye-catching, not many people are going to give it more than just a glance.
What would you say are some of your favorite projects that you've worked on at Primitive?
I'd have to say that my favorite project I've worked on at Primitive would be the canned wine display we did for Llano Estacado Winery. I got to hand-letter a bunch of Texas-themed words; it was a lot of fun and I'm really proud of how it turned out.
That kind of work is actually what led me to graphic design. I used to sit in classes and doodle up and down the margins, so it was super cool to get to do something like that here at Primitive!
I also once helped with a photo shoot involving a kitten, so that was pretty fun!
How has Primitive shaped you into the designer you are today?
Primitive has really encouraged me to explore and grow as a designer. When I started I had a pretty decent design background from my time at Tech, but I've learned so much during my time here about things like time management, communication, and many other things, design included!
Whenever I have some extra capacity at work, I'm immediately looking up tutorial videos to see how I can improve my craft.
What excites you the most about Primitive's future?
Primitive is always changing and improving, I think I'd have to say that what I'm most excited for is to see how we improve even more.
We have a great team and fantastic leaders, so we're only going to go up from here!
Now let's dive more into you! Do you have a daily routine or particular steps that you take every single day before you start work?
When I first wake up in the morning, I pour myself a glass of orange juice, sit down on my couch, and groggily do my Duolingo (Spanish). I then either do the dishes or yoga, depending on the day, take my dog for a walk, and then get ready for the work day!
Everyone loves seeing your feline friend walking across your Zoom screen during meetings. So, tell us about your cat!
My cat's name is Adelaide, she's four years old, and is the sweetest and fluffiest cat you'll ever meet. She's always trying to cuddle with my 14 year old Chihuahua, Daisy, but Daisy isn't as into the idea as Adelaide would like.
I found Adelaide off of a post on Facebook. Someone had left her behind and the people who found her already had like five cats, so they couldn't keep another one. On my way to pick her up to bring her home, my roommate at the time looked up a list of old lady names and read them aloud to me. Adelaide was my favorite, so that's what I named her!
Pipe cleaners and ping pong balls are her all time favorite toys.
How do you like to stay motivated?
I want to be the best I can at everything I do, so I'd say that's my biggest motivator! I love learning new things so if I get stressed, I try to reframe the situation and see what I can learn from it to improve on in the future.
How do you find enjoyment outside of work?
I like to read, play video games, watch tv, and do yoga. I really enjoy drawing on my iPad as well. The game I play the most is a strategy computer game called Civilization VI where you get to play as historical leaders and develop a country from the ground up. I have more hours in this game than I care to admit but I've learned a lot of historical facts from it so hopefully that makes up for it. I also enjoy cuddling up with my cat and dog.
How do you juggle your work and family life? Do you feel as though you've achieved a good work-life balance?
I'd say I've achieved a good work-life balance. I try to stick pretty close to the work hours I've set for myself and once I've reached the end of the day, I try not to work any more. Exceptions do come up every now and then so I adjust as needed.
What is something that not everyone knows about you?
I'm a certified scuba diver! During my last semester at Tech, I took a class with my boyfriend where we learned how to dive and our final was earning a scuba diving license.
I also used to nanny and babysit a lot. I really enjoy working with children.

You just recently got accepted into the MBA program at West Texas A&M University. First off, congratulations! Second, what are you looking forward to the most?
Thanks! I'm really looking forward to broadening my knowledge beyond design-related things. I'll be taking marketing classes that will have a direct impact on my work here at Primitive, so I'm excited to see how I'll improve!
Who is someone you admire?
Hmm, there are a lot of people that I admire but two people I've looked up to my whole life would be my older brothers, Sam and Andy. They are both very smart and hardworking people who have set great examples for me.
My oldest brother, Sam, is seven years older than me and just had his third kid. I really admire how he's raising his children to be kind people and great problem solvers. My other brother, Andy, is four years older than me and has set the example for hard work. He started interning early on in his college career and landed an awesome job at Microsoft when he graduated. He's who inspired me to get an internship in the first place! They are both successful and passionate in what they do, which is something I really admire.
What is your secret to success?
I don't know that I have the answer to this yet, I'm still trying to figure it out for myself. Everyday I wake up and give whatever tasks I have to do that day my all while also approaching everything with an open mind and a willingness to learn and improve.
Are there any words of wisdom or anything else that you would like to pass along?
If you want to succeed, you have to fail first. The best way to learn something is just to try it, even if you're terrible at first. Van Gogh painted almost 900 paintings, and they aren't all masterpieces! So not everything you produce has to be perfect every time, I have to remind myself of this sometimes.
And finally, if you could have one superpower, what would it be?
I think I'd have to choose a photographic memory. I'm not sure if that really counts as a superpower, but it would be incredibly useful!! If not that, maybe flying.