Primitive Employee Spotlight: Kevin Kenger
Posted by Leisa Redmon | March 12, 2021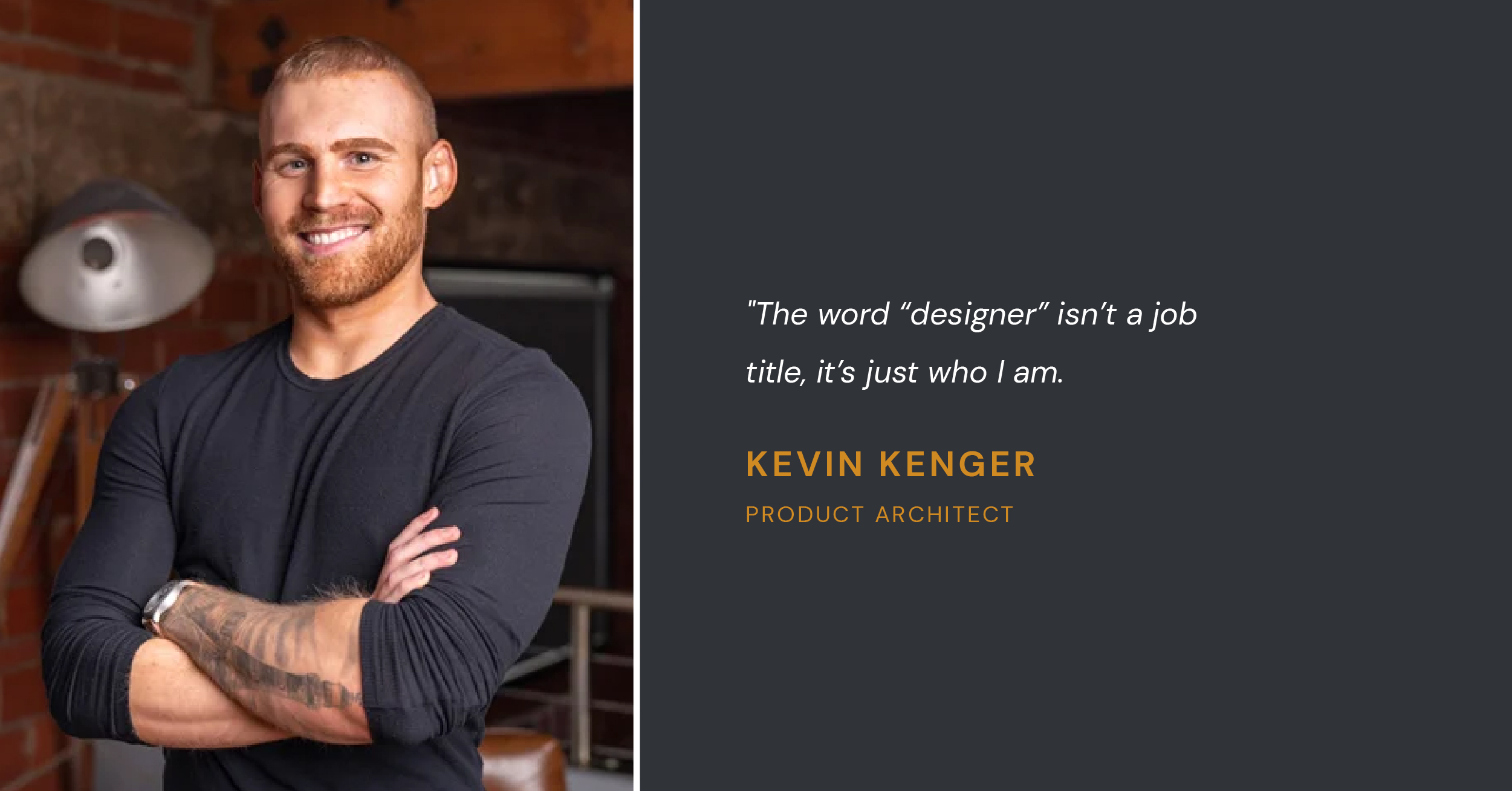 Name: Kevin Kenger
Position: Product Designer
Location: Gilbert, Arizona
Job Description: I consider myself someone who finishes puzzles. I'm given problematic pieces of information, and I use my skill set to define problems and fit the pieces together to create user-friendly experiences.

Tell us a little bit about your background and how you found Primitive.
I found Primitive by chance, through a job listing on some site somewhere. I had already decided I was done submitting resumes, but Primitive seemed like such a great group of people, I decided to submit one more. Minutes before my initial call with Annie, I received a big offer from another company, and after my call, I turned it down. Saying that was a good call is an understatement.
How/When did you realize you wanted to pursue a career as a designer?
I've always loved design, and have been designing things since early adolescence, but was never made aware that I could do it for money. I started as a web developer and slowly took on more and more design-oriented work, and by the time I called myself a designer, I was already in the thick of it.
What excites you the most about Primitive's future?
Our potential. The team here is extraordinary. Collectively we can take on any feat, and venture into unknown territory with curiosity and a willingness to become the best in that space. As much as Primitive has accomplished, there's still so much more to taste out there.
Now let's dive more into you! Do you have a daily routine or particular steps that you take every single day before you start work?
I'm a father of two boys, so "routine" is the punchline to a terrible joke at my expense. Before becoming a dad, I meditated, read all the time, practiced intermittent fasting, prepped all my meals a week in advance, and worked out twice a day. Now I'm lucky if I can microwave a burrito and get 5 hours of sleep.
How do you like to stay motivated?
Time away from work is the most important thing for me to stay motivated. I love learning and immersing myself in the design world, but that can easily take up most of my time, and I get burnt out. It's impossible for me to put design down and completely step away, but I'm trying to spend more time doing other things I enjoy outside of work.
What's your favorite thing to do outside of work?
I obviously enjoy spending time with my wife and kids, but I also like playing basketball, reading, and working out. Unfortunately, it's a rare occasion when I get to enjoy those extracurricular activities.
Do you feel as though you've achieved a good work-life balance? If so, indulge us in a few of your secrets!
Sort of. To me, the word "designer" isn't a job title, it's just who I am. Because of that, at times I feel like work is inescapable. Thankfully I'm passionate about what I do.
What is your secret to success?
Low expectations! As I'm sitting here thinking about that, it's becoming less of a joke. I think attainability is key. What's "attainable" is relative to one's belief in themselves, but if we think something is impossible, the likelihood of even trying is slim.
And finally, if you had to listen to only ONE song on repeat while you work, what would it be?
Clair de Lune