Primitive Employee Spotlight: Kevin Gallo
Posted by Leisa Redmon | March 11, 2021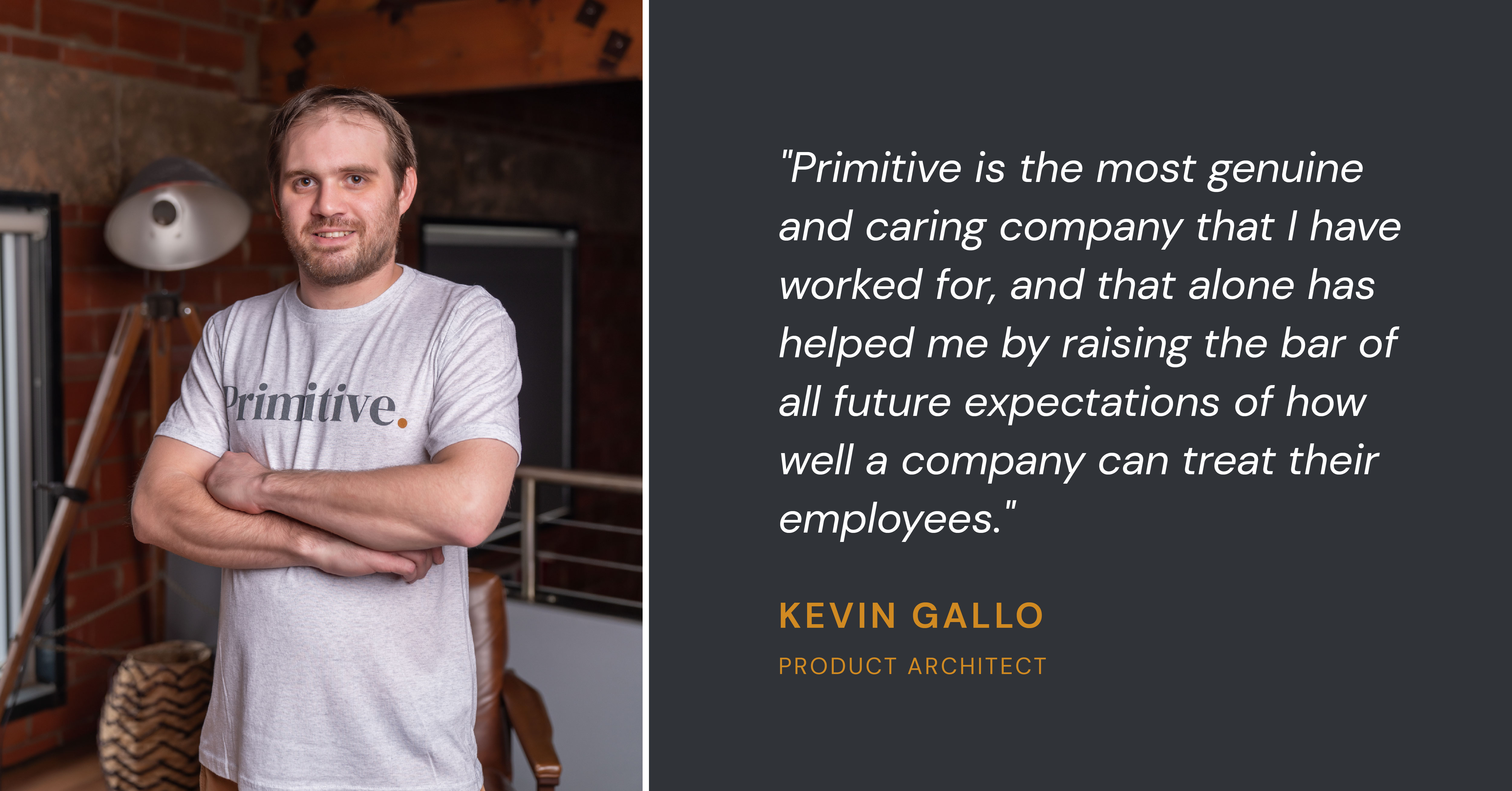 Name: Kevin Gallo
Position: Product Architect
Location: Oakland, New Jersey
Job Description:
As a Product Architect, I execute client projects through the development of modules, components, and queries. I also work alongside the Technical Lead and Project Owner to understand and implement resolutions to issues.
Tell us a little bit about your background.
I have nearly a decade of experience as a software developer with a focus on web applications, in particular, PHP based applications.
When did you start with Primitive?
October 2018
What would you say are some of the biggest changes you've experienced since working at Primitive?
One of the biggest changes I have experienced was the big shift to the now standard practice of using frontend javascript frameworks and components instead of having every page routed from the backend.
How has Primitive helped shape you into who you are today?
Primitive is the most genuine and caring company that I have worked for, and that alone has helped me by raising the bar of all future expectations of how well a company can treat their employees.
What excites you the most about Primitive's future?
I get excited when I'm able to work with new clients and projects that continue to help everyone grow in their skillset on pace with the constantly changing IT environment we work in.
Now let's dive more into you! Do you have a daily routine or particular steps that you take every single day before you start work?
My morning usually begins the night before where I make a rough checklist of any critical things I need to accomplish the next day, which I have found to be super helpful. My usual morning routine is waking up and immediately showering to get up and going. After I shower I head down to the bottom floors and start working — I try to stay out of my room to stay away from bed, TV/video games, and any of those types of distractions.
How do you find enjoyment outside of the "office"?
Most of my time goes into working on the house I recently purchased. I enjoy construction and home renovation as a hobby but having a project as large as this house can certainly make it feel like work at times. For recreation I enjoy the outdoors. I'm fortunate to live on the head of a lengthy hiking trail that allows me to be able to hike and bike often.
How do you juggle your work and family life? Do you feel as though you've achieved a good work-life balance?
Fortunately a lot of my family lives very close by, as do most of my friends. Working from home has given me a lot of flexibility to be able to see people and maintain a good social life.
What is something that not everyone knows about you?
Despite being born and then raised in Oakland, New Jersey, I lived in Virginia for 3 years when I was a toddler.
What is your secret to success?
My secret is that I have the drive to always want to figure things out for myself, and have the internet, always full of knowledge, to help achieve things.
Are there any words of wisdom or anything else that you would like to pass along?
I always thought this was funny but true enough, "Always code as if the guy who ends up maintaining your code will be a violent psychopath who knows where you live."
And finally, if you could only watch one tv show or movie for the rest of your life, what would it be and why?
It would definitely be a TV show with a lot of seasons and some variety. I would go with American Dad.