Primitive Employee Spotlight: Jake Heenehan
Posted by Leisa Redmon | May 10, 2021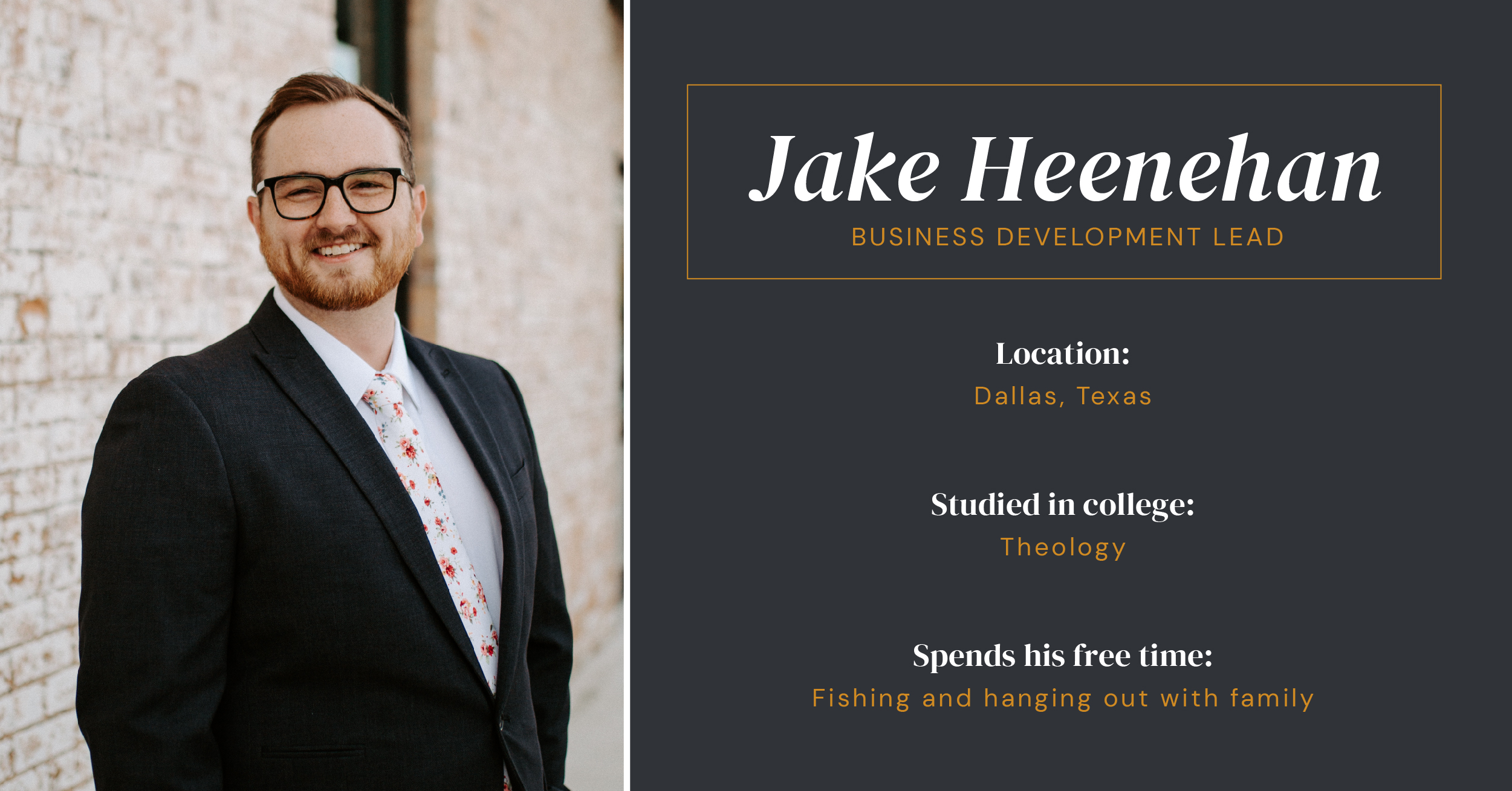 Name: Jake Heenehan
Position: Business Development
Location: Dallas, Texas
Job Description: My role exists at the cross section of brand development and sales and I get to create, grow, and nurture relationships with businesses as a liaison of Primitive. Basically, I get to promote Primitive as a company and brand!
Tell me a little bit about your background.
Admittedly, I have a weird background. I went to school for Theology, worked in the church ministry world for about four years, and then transitioned into the corporate world. In the corporate world, I have worked in a few different positions: sales, business development, and client relations. In every job I have had, I have worked in a very different industry, so it has been fun to learn a lot of different things.
How did you find Primitive?
I had some friends who were connected with Kade via LinkedIn, so I connected with Kade and noticed his company, Primitive. My wife works in the digital marketing industry, so I always love when I can find new companies in that world. The more I followed Primitive, the more I admired what they were doing -- especially in West Texas. As time went on I connected with more and more people from the company and then I started working with them!

As one of our newest hires, what are your favorite parts of your job so far?
Primitive has a really unique culture. I have worked with distributed teams at previous companies, but I haven't worked with a company that puts so much emphasis on community within distributed teams. I have really enjoyed working with teams that want to connect despite being separated by thousands of miles.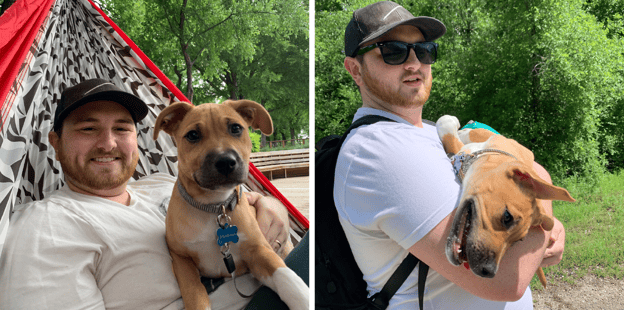 What are you most looking forward to at Primitive?
I really believe that Primitive is a hidden gem. With hidden gems, for a period of time, you want to keep them hidden and nurture them. But at some point, you have to start showing it off to people so they can experience it. I believe Primitive is at the point where it is time to show our work off to the world. That is what I am here to do.
Okay, now let's talk more about you. What's your daily routine?
I am a big routine guy. I wake up and contemplate going to the gym. After I have made the wrong decision, I go to a coffee shop down the street and do some reading before I start the work day. If I have no meetings, I will work at the coffee shop until around noon and then go back to my home office and work. After that, it is time to hang out with my wife and our dog, Millie, until we go to sleep!
What do you like to do outside of the office?
My wife and I spend the majority of our free time doing house projects. If we're not doing that, we are either volunteering at church, hanging out with our friends/family, or watching Survivor. If I have free-time, I am usually fishing or looking at fishing boats.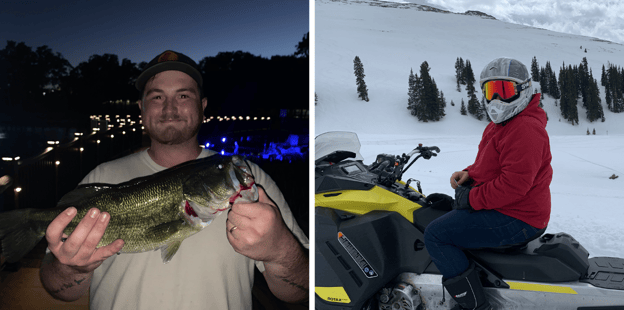 What is something not everyone knows about you?
One of my jobs previously was tasting, buying, and importing thousands of pounds of coffee from around the world. It was an amazing experience!
Who do you admire?
My wife Allissa. She is, in my opinion, the most gifted and creative artist in the world. As a person who wishes they were artistic, it is inspiring to see her create. She is incredibly talented with graphic design, interior design, and pottery — the kinds of things I would destroy if I touched.
How do you stay motivated?
I am a big goals and tasks person. In everything, I have a destination I want to get to. So that means I need a list of goals that will get me there, and I need to know the tasks that I have to do to accomplish those goals. I have to have my destination or else I feel aimless.
What have you found to be your secret to success so far?
Know what you bring to the table that is different than the person next to you. Everyone has a quality or skill-set that is different from the rest of their team. Identify that and use it for the betterment of your team.
What words of wisdom would you give to someone looking to acquire a role like yours?
I really don't think of myself as a salesperson. I think of myself as a promoter. I don't feel the need to convince people to buy my service. Rather, I am just going to talk about things that I am passionate about, and right now, Primitive is that thing. If you want to do a role like this, find something you're passionate about and talk to people about it.
And last but not least, if you could only eat at one restaurant for the rest of your life, what would it be and what would you order?
My wife and I are huge pizza fans! There is a pizza place by our first apartment called Craftpies that I would choose. I had this custom pizza that had pepperoni, sausage, pepperoncinis, and onions. I could eat that every day until I died.