Primitive Employee Spotlight: Hunter Bullock
Posted by Admin | October 22, 2020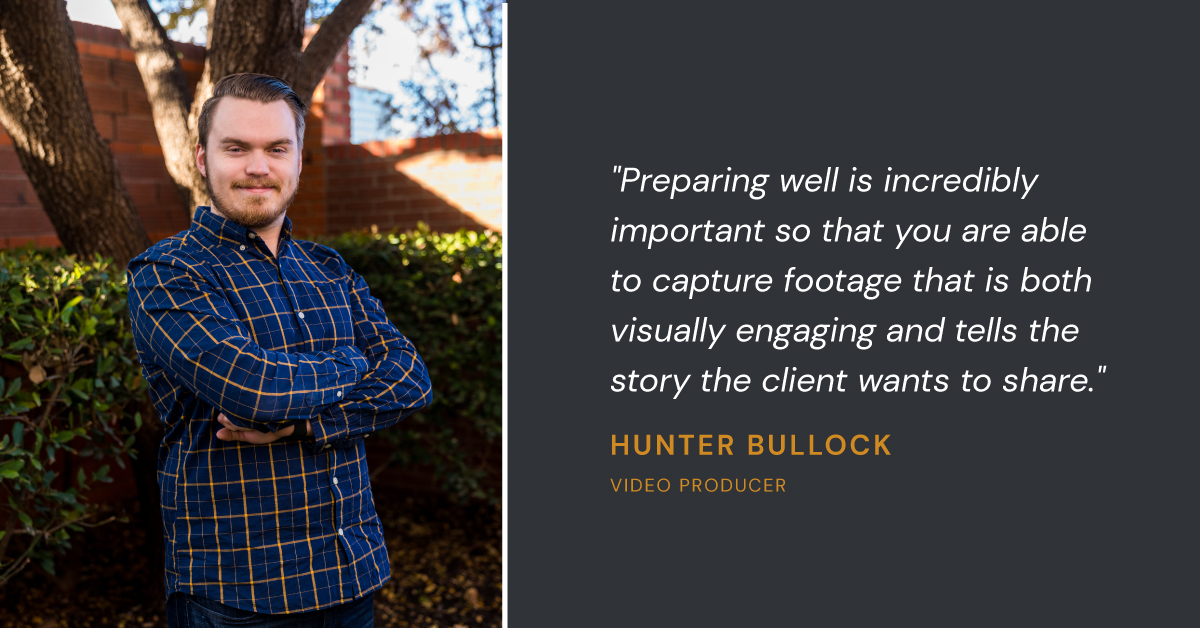 Name: Hunter Bullock
Position: Videographer
Location: Lubbock, Texas
Job Description: I produce The Primitive Podcast as well as produce videos and take photographs on Primitive's Studio team.
Tell us a little about your background.
I graduated from Texas Tech University Health Sciences Center with my Bachelor of Science in clinical laboratory science. I worked in the laboratory of a hospital for two and a half years as my passion was growing for photography and videography. One Christmas I got a drone and loved it, but it was just a hobby for me. I saw Kade at church and he offered me a job doing videography full time, and I couldn't pass up the opportunity to do what I love and get paid for it!
How did you hear about Primitive?
I heard about Primitive through our CEO, Kade, and other people that work at Primitive.
You just recently passed your one year anniversary with Primitive. In what areas of your career have you noticed the most growth in the past year?
I have noticed a ton of growth in my technical area of videography. I knew enough to get by when I started, but now I know enough to excel, while still growing every day.
What are some tactics you use to stay on top of creative projects?
Keeping track of what I am working on, and scheduling out time to do what I need to do. I am learning to say no or not yet to people instead of saying yes to everything that comes my way.
What are some of your favorite projects you've worked on so far?
I have really enjoyed all of our internal projects. I get to be as creative as I want to be while producing something that Primitive will use going forward.
What do you most enjoy about Primitive's culture?
I enjoy the fact that you can work from anywhere. In my previous professional life, I had to be at work in order to do anything, so it is nice that for part of my job I can work from home or a coffee shop.
What about Primitive's future are you most excited for?
I am excited to see Primitive grow and get new clients that need specific products. It is always interesting to learn what our clients do and be able to communicate that in video form.
Alright, let's get into more about you. What does the day in the life of a videographer look like?
A day in the life of a videographer looks like a lot of preparation. Preparing well is incredibly important so that you are able to capture footage that is both visually engaging and tells the story the client wants to share in a way that is informative and helpful for the viewer.
You actually have a background in clinical laboratory sciences. What did the switch look like when moving to a creative-based role as a Primitive videographer?
The switch was weird! I went from every single step of my job being laid out in a policy or procedure to having the creative freedom to jump around in work or decide what project to work on. That is a huge shift, and something that took me a little time to get used to.
It still amazes me daily that I get to do what I am passionate about and love doing as a career.
What are some of your favorite TV shows or go-to movies?
The Office. I love the Office, and if you know me at all, I quote it several times a day.
What are your other hobbies and interests?
I love to travel. I love seeing the world and getting to experience different cultures and landscapes. I want to learn to be a helicopter pilot. I am currently thinking through that seriously.
How do you balance work and personal life?
I work hard during the day and then make sure that I am logging off my computer in the evening so as not to be a distraction to personal life.
What is something not everyone knows about you?
Probably the whole clinical lab science part of my story.
Who do you admire?
I think about people who have been on The Primitive Podcast as people that I admire. Dan Williams had some great truth about how his family always comes first. I really appreciate that and want to be that same way. I really admire people who are intentional with their time and don't waste a minute of it.
How do you stay motivated?
I stay motivated thinking about the end result and getting excited about that. I love working hard and ending my day being able to see the result of that hard work.
What is your secret to success? (And why is it so hard to beat you to the office in the morning?)
Hahaha. These days I am not in the office so much, but I am a morning person. I love to get up and get to work early before a lot of people are there. I love starting the day off well and when I get to the end of the day, being able to see a tangible result from that day's work.
Any other words of wisdom you would like to pass along?
It is never too late. Last year, as a 24 year old, I thought it was too late for me to change my career, and I've heard that from other people who are younger than I was. But it is never too late to make a change, especially to something that you are passionate about and love doing.