Primitive Employee Spotlight: Austin Scott-Looney
Posted by Admin | September 18, 2020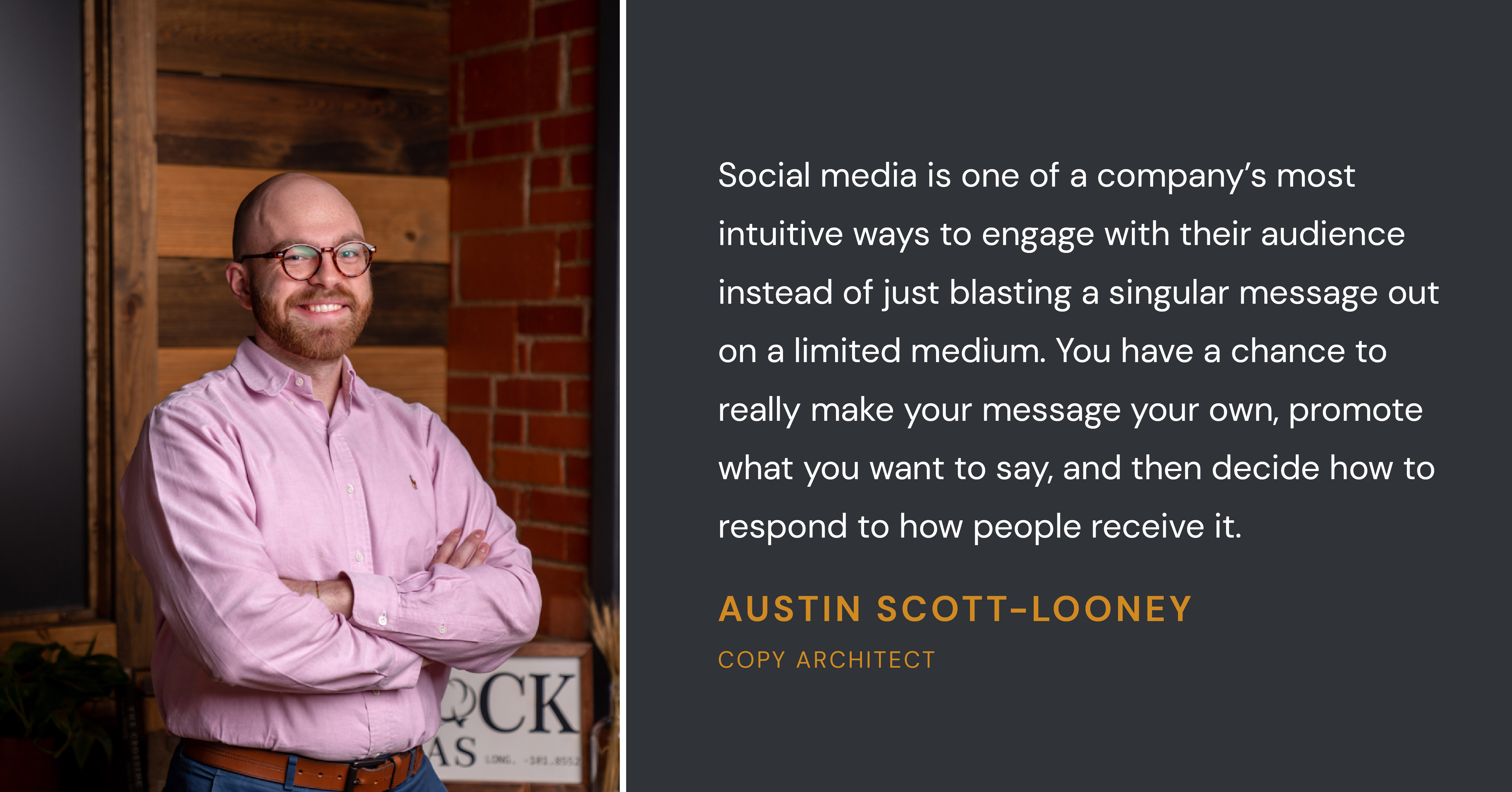 Name: Austin Scott-Looney
Position: Copy Architect
Location: Austin, Texas
Job Description: I'm in charge of writing copy for several different digital, inbound, and hybrid clients. That includes conducting research and building copy for social calendars, blogs, content offers, and more.
Education:
I graduated from Texas Tech in December 2017 with a bachelor's degree in advertising.
Background:
When I was going to school, writing was always kind of the one thing that I excelled at. I think that helped me a lot, especially when it came to going through various advertising courses that were super writing intensive. Then, by coming to Primitive, I've been able to refine that craft, so to speak. I've always felt that I'm decent at writing, but actually having a job where I "come in" and write everyday has really helped me get better.
Tell us how you started at Primitive.
During my senior year of college, I was looking for an internship and had started applying to different places when I was contacted by some friends that worked here at the time. They always seemed to be posting about how fun their job was on social media, so it seemed like a pretty attractive offer even from before the jump. My hiring process actually started as an internship opportunity and it's kind of all history from there. I started my internship in the fall of 2017, and after I graduated, Kade offered me a part-time job here. Then, about nine months later, I became full-time.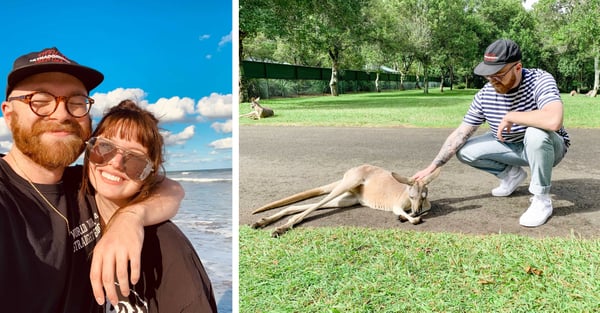 What drew you to join Primitive?
I think it's a wonderful and incredibly unique place to work, especially in a place like Lubbock. It's a super fun and really positive environment, with a strong company culture, that fosters creativity and personal and professional success and growth. Not to mention it's very closely related to what I went to school for, which is a rarity that I've come to appreciate since finishing school!
What do you enjoy most about your role as a Copy Architect?
I like how Primitive trusts you with what you do. They foster creativity and allow you the chance to operate in your own zone to create great things.
Do you feel like you've grown in your knowledge since you started this role?
One-thousand percent. I'm far from being done with learning, but I feel like I've already learned a lot more than I thought I would be able to in the short amount of time that I've been here. My time here has let me hone in on my professional writing chops and take notes from a group of people that have been doing this a lot longer than I have.
Why do you think a strong social media presence is so important for businesses?
I think social media is one of a company's most intuitive ways to engage with their audience instead of just blasting a singular message out on a limited medium. You have a chance to really make your message your own, promote what you want to say, and then decide how to respond to how people receive it. I think that any business or other creative endeavor that isn't making the most of it is missing out, to say the absolute least.
Has it been easy to learn from your coworkers?
Absolutely. The team here really cares about your success and the work you're doing, and it shows. They're really open to collaboration, and they're always willing to lend a hand in any way they can. Not feeling intimidated at the thought of approaching leaders is, in my opinion, a very valuable thing, and that's something that I'm proud that we have here.
What do you like about the company culture?
Primitive is an impactful company where the work environment is very grounded in personal freedom, creativity and the freedom to express both in whatever way it pertains to you. All the Primitive team members are friendly, easy to get along with, on the same creative plane, and in a similar headspace for creating things, which are all very unique aspects about a business in Lubbock. We're the only business around here doing this type of thing, and I think that shows through our work, as well as people's reaction when they see the building or hear the name!
Anything you're excited about in the future of Primitive?
Since I started at Primitive, I've learned firsthand just how quickly things can change on a day-to-day basis, and I'm lucky to have been a part of the team during some of its most significant stages of growth. The amount of growth I've seen in such a short amount of time has been incredible, and I can't wait to see what else is in store for the rest of this year and beyond..
Okay, now let's talk more about you. What's your daily routine?
On a typical work day, I get up around 7:30/8:00, pour a cup of cold brew (or go grab some if I happen to be out — living in Austin is great for that habit), and get to work. After work, I'll usually work out with my wife and/or play music (specifically, drums) for about an hour or so, make or order dinner (admittedly, it's been a lot more of the latter with coronavirus and all), walk the dog, and watch TV, read, or play video games until it's time to crash.
Before COVID-19 shut everything down, you could find me in the gym earlier in the day and in bed earlier at night, but you know how it goes!
Do you have any playlists you listen to while working?
I could go on all day about music, but I'll try to keep it short. When it comes to work playlists, I bounce around a bunch, but lately it's been a bunch of alternative 90s and 90s-inspired rock (Catherine Wheel, Deftones, etc.), electric-centric stuff (Aphex Twin) and a bunch of 90's metal (Bolt Thrower, Celtic Frost, etc.).
Do you have any favorite TV or Netflix shows?
My favorite show of all time is The Office, but since I've seen it all the way through probably five or six times, we're taking a little break from each other. Lately, I've watched Watchmen, a bunch of old It's Always Sunny episodes, and we're rewatching Game of Thrones.
What about favorite foods?
Mexican food/Tex-Mex is king!
Are you a dog or a cat person, and do you have any pets?
I consider myself a dog person, but cats need love, too! We have one dog named Eevee. We think she's a dachshund/chihuahua/corgi mix. (Your guess is as good as ours.)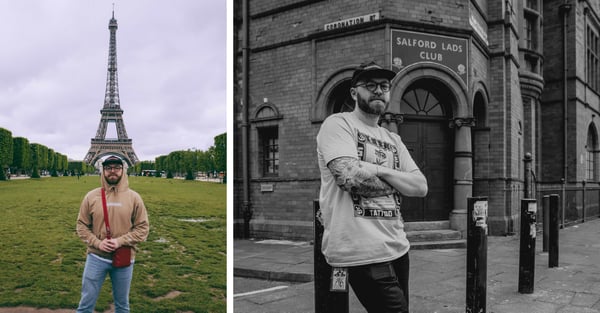 What do you like to do outside of the office?
Traveling! For as long as I can remember, my dad has always lived somewhere outside of Lubbock, outside of Texas, and for a brief time, outside of the country, requiring me to travel to see him since I was super young. Because of those many trips, I think he unintentionally gave me a travel bug that still bites to this day.
I also like to play, write, record, and perform music in a couple of bands, which hasn't helped get rid of the aforementioned travel bug.
Besides those two things, I love hanging out with friends and family, playing video games, swimming/kayaking, and anything else that involves keeping it lowkey.
Tell us more about your involvement in this band.
For the past six-ish years, I've played drums in a hardcore (metal, punk, etc.) band called Judiciary. In that time, we've self-released a couple of EPs, put out a full-length record on one of our favorite record labels, and toured every corner of the US countless times and Europe twice. It's an awesome experience that I've shared with my best friends and I wouldn't trade it for anything.
When did you start playing drums?
I started playing drums when I was 15, so right around 10 years ago.
How do you balance work and personal life?
The perfect balance is something we always strive for, but it's definitely a never-ending battle. For me, it's all about motivating myself, being passionate about my personal and professional work, and reminding myself of the reward that comes with commitment and jobs well-done.
However, we only have one life to live, and I want it to be filled with as many memories as possible. That's why I draw a hard line in the sand when it comes to devoting time to those I love and doing as much "life stuff" as possible, whether that's making music and touring the world with my friends, or making the most out of living in Austin with my wife!
What is something not everyone knows about you?
I've been collecting records since I was 15. At this point, my collection probably consists of somewhere around 300-400 metal, punk, hardcore, and alt rock records. I started about the same time I started going to shows and just never stopped.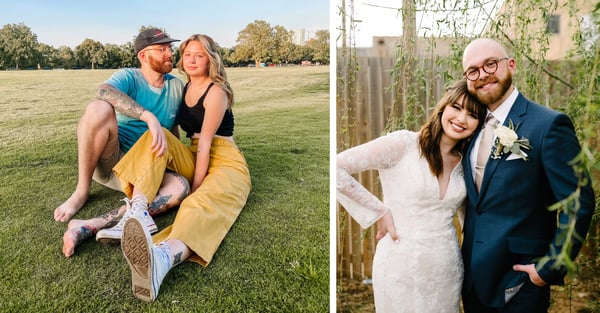 Who do you admire?
My wife, Katelynn, is my biggest inspiration, for sure. She's smart, funny, caring, and creative, and is a very compassionate and model person that always pushes me to do and be better.
How do you stay motivated?
By focusing on the end result and convincing myself that achieving that result is a non-negotiable necessity. That applies to my personal life, my professional career, and my goals with music.
What is your secret to success?
Not making excuses is what it all boils down to. You can say you want to do something all you want, but at the end of the day, it's totally up to your willingness to make moves. Be bold, take chances, and don't compromise yourself or your vision.