Primitive Employee Spotlight: Aaron Carlisle
Posted by Leisa Redmon | March 11, 2021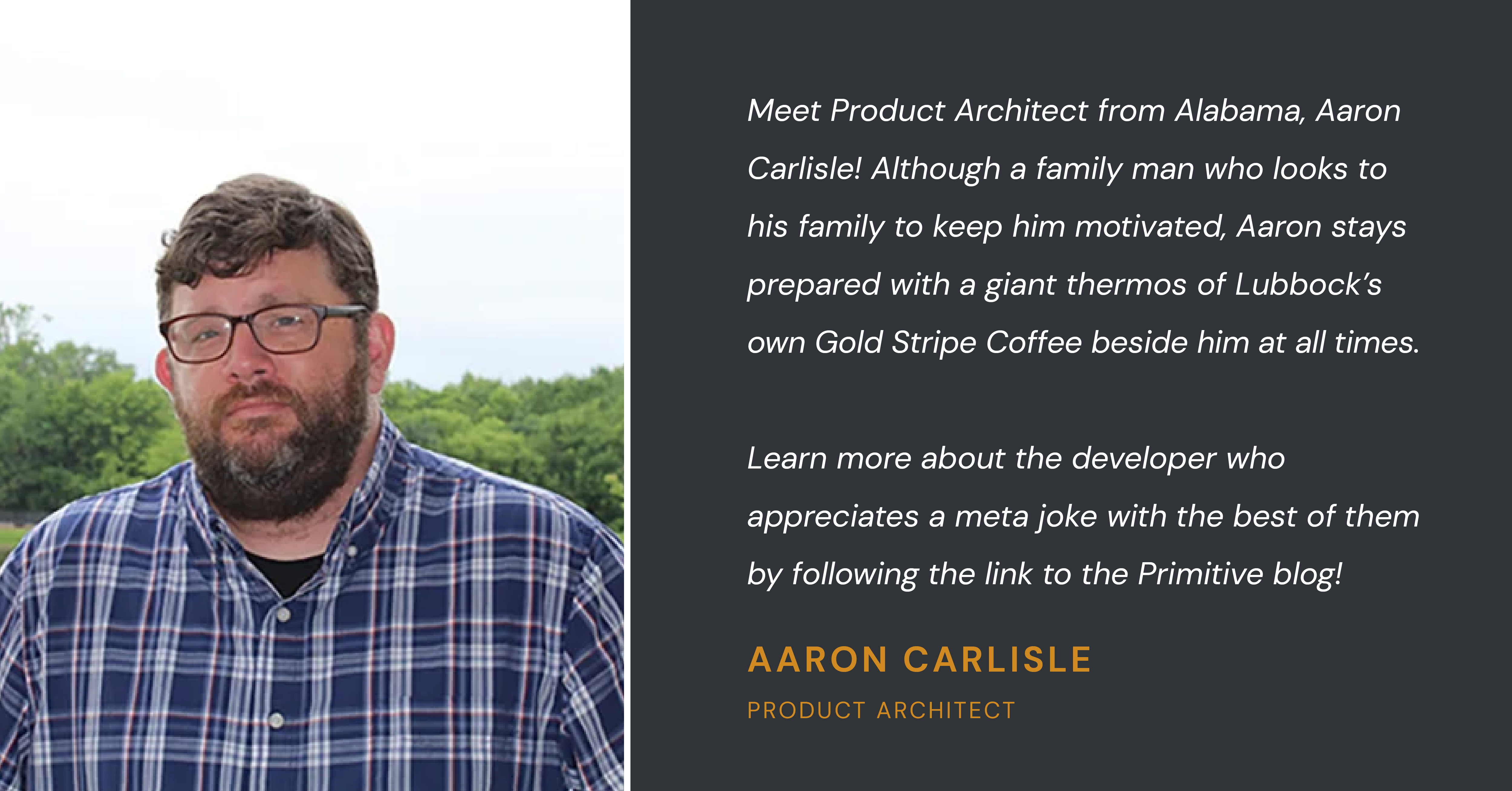 Name: Aaron Carlisle
Position: Product Architect
Location: Pike Road, AL (outside Montgomery)
Job Description:
I am a full stack software developer who designs and constructs web-based applications.
Tell us a little bit about your background and how you found Primitive.
I have been working in software for my entire adult life. My previous company was winding down, and I was put in touch with a developer at Primitive through a mutual friend.

What would you say are some of your favorite projects that you've worked on at Primitive?
Because of the threat of the pandemic, my favorite project is probably a virtual office space application that small businesses and freelancers can use to schedule virtual events and appointments and provide services safely.
How has Primitive helped shape you into the leader you are today?
Working with coworkers who live in various locations around the world requires a great deal of coordination and communication. Additionally, Primitive provides a great deal of flexibility and latitude in how to construct a project which requires a good deal of complex decision making.
What excites you the most about Primitive's future?
The ability of Primitive to attract and retain clients in a difficult economic environment speaks volumes about the talent and work ethic that the employees provide.
Now let's dive more into you! Do you have a daily routine or particular steps that you take every single day before you start work?
I make a large pot of coffee and fill a giant thermos to take into my home office. A coworker at Primitive has gotten me hooked on Lubbock's own Gold Stripe Coffee, which I order by mail.
How do you like to stay motivated?
My family keeps me motivated. They're why I get up every morning and do everything I do.
What's your favorite thing to do outside of work?
I work on old pinball machines. Trying to keep them in running order is a full time hobby, but they're very popular whenever we have company.
How do you juggle your work and family life? Do you feel as though you've achieved a good work-life balance?
I'm not the best at balancing work and home life. It's especially difficult working from home. However, Primitive is very good about encouraging me to keep my hours reasonable and take time off every once in a while.
What is something that not everyone knows about you?
I'm a huge fan of professional wrestling.
What is your secret to success?
That depends on how you define success, but choosing to get married to a wonderful spouse is key to pretty much everything.
Are there any words of wisdom or anything else that you would like to pass along?
Always show up to places you've promised to be. Being present is itself important.
And finally, if you had to watch one movie for the rest of your life, what would it be?
If I'm going to be inexplicably trapped watching one movie over and over, I'd probably pick a movie about being inexplicably trapped, like The Exterminating Angel, because that's how my sense of humor works.