Primitive Employee Spotlight: Tanner Dean
Posted by Admin | October 2, 2020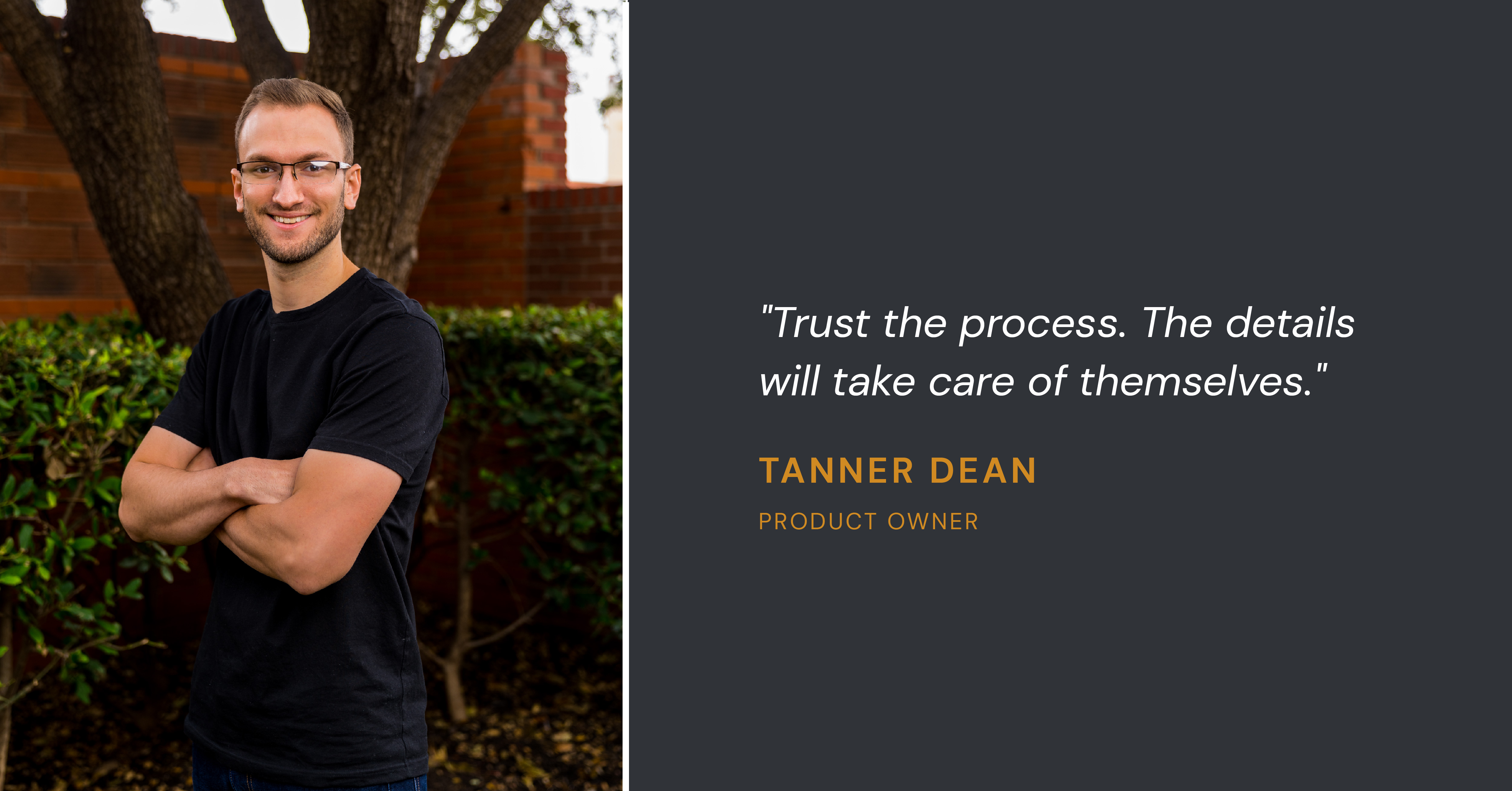 Name: Tanner Dean
Position: Product Owner
Location: Lubbock, Texas
Job Description: As a Product Owner, I solve problems and I communicate difficult (and sometimes puzzling) issues/concepts to clients. There is always more to learn and being a Product Owner means loving the details to the point of thinking most things lack value without a consistent trail of information and proof to support it.
Tell us a little about your background.
I was born and raised in a small(er) town in East Texas called Nacogdoches. I moved to Lubbock to attend Texas Tech University where I met my wife, Mackenzie. Through being married and Mackenzie loving her job in Lubbock I sought out jobs here as well and we have continued to build a life together in West Texas.
How did you hear about Primitive?
I heard about Primitive (from a distance) for a long time through going to church with Kade and/or just having friends that work/have worked here in the past.
You just recently passed your one year anniversary with Primitive. In what areas of your career have you noticed the most growth in that year?
First, I'd say just a continual learning of how software development takes place.
On a personal/practical note outside of just knowledge, I feel that I've grown a lot in managing multiple things (clients, features, timelines both internal and external, etc.) at one time. However, I hope that I will always grow in this area.
What are some tactics you use to stay on top of your inbox and communication?
First and foremost has been to address/handle what I can in the moment. After something is addressed/handled I file it away in its appropriate folder. Therefore, the only things that remain in my actual inbox are things that need my attention.
What are some of your favorite projects you've worked on so far?
This may sound like a cop-out way of answering this question, but I enjoy all of them.
It's awesome to have a front row seat to a diverse group of individual talent that comes together to function as a team. They all help companies across different industries through the development of custom software and it affects the end user, in some capacity, for their good.
What do you most enjoy about Primitive's culture?
The level of care for the people and the desire to do good work. It's unique how these things are interwoven. It's comforting to know that I'll be challenged in ways that I need to grow for my own good AND for the sake of delivering excellence. Not to say that Primitive does it perfectly, and honestly, I don't expect us to, but the effort speaks volumes to me, personally.
What about Primitive's future are you most excited for?
The endless potential.
Alright, let's get into more about you. You just recently had a baby (congrats!) What does the day in the life of a new father look like?
I am learning/becoming more aware that I am not interested in being a father that exhausts himself at work and then lackadaisical goes through the routine at home before bed. I am learning that I desire to do great work while at work, but when I get home, I desire to engage Laken (my daughter) and be present until she goes to bed. From there, I desire to actively engage Mackenzie (my wife) and go to bed exhausted for the sake of them. By no means do I do this perfectly, but this is a day in the life that I aspire to.
What are some of your favorite TV shows or go-to movies?
Chicago P.D. 100%. I feel like I get to watch my alter ego in action!
What are your other hobbies and interests?
I enjoy playing golf and bow hunting.
I feel like golf is a game that's restful but also requires mental toughness so it's challenging in that aspect.
I know this can be a little controversial, but I feel like hunting is all challenge and occasional reward. Definitely something that is not a walk in the park, but rather requires effort, persistence, resiliency, and game-time perfection. Beyond the provision for a family, or the enjoyment of the sport, there's a deep appreciation for the animals themselves that's magnified through it all.
How do you balance work and personal life?
This is something that I am continually learning. Something I am coming to grips with about my job is that there will always be SOMETHING to do. However, the best way I try to balance my work/personal life is by setting clear boundaries and using my time wisely.
If work is needed outside of the 8-5 requirements, I choose to use early mornings (4-6:30am) so that I don't sacrifice time with my family which is my highest priority. However, the requirement of that work outside the 8-5 is on occasion. Considering the second way of using my time wisely, I try to protect my personal life by being diligent while at work from 8-5 to ensure that I'm making the most of that time.
What is something not everyone knows about you?
Tanner is actually my middle name. My first name is Dustin.
Who do you admire?
My mom. The older I get the more I become aware of different levels of adversity she faced, but remained remarkably strong in the process that communicated stability to my sister and me.
How do you stay motivated?
I try hard to consider others. I think no matter the role, no matter the situation, someone somewhere is affected by what you do or don't do. Whether it's my work holding up a colleague from doing theirs or my family depending on me to provide, not just financially but by being present at home.
Considering how my apathy affects others causes me to keep pressing in.
Any other words of wisdom you would like to pass along?
If I could, I'd encourage people to keep their rooms clean. Not your actual bedroom at home (well that too), but oftentimes I feel like many people are too focused on growth opportunities and worried about "this door" or "that door" being opened or closed. We become so focused on the door of opportunity being opened that we turn around and the room we're living in is a wreck.
I try hard to just focus on keeping my world small by taking it a day at a time and ensuring my room stays clean in the process. Therefore, no matter your career/job, focus on being the best at that job. Trust the process. The details will take care of themselves.