Primitive Employee Spotlight: Brooke Barnes
Posted by Admin | June 3, 2020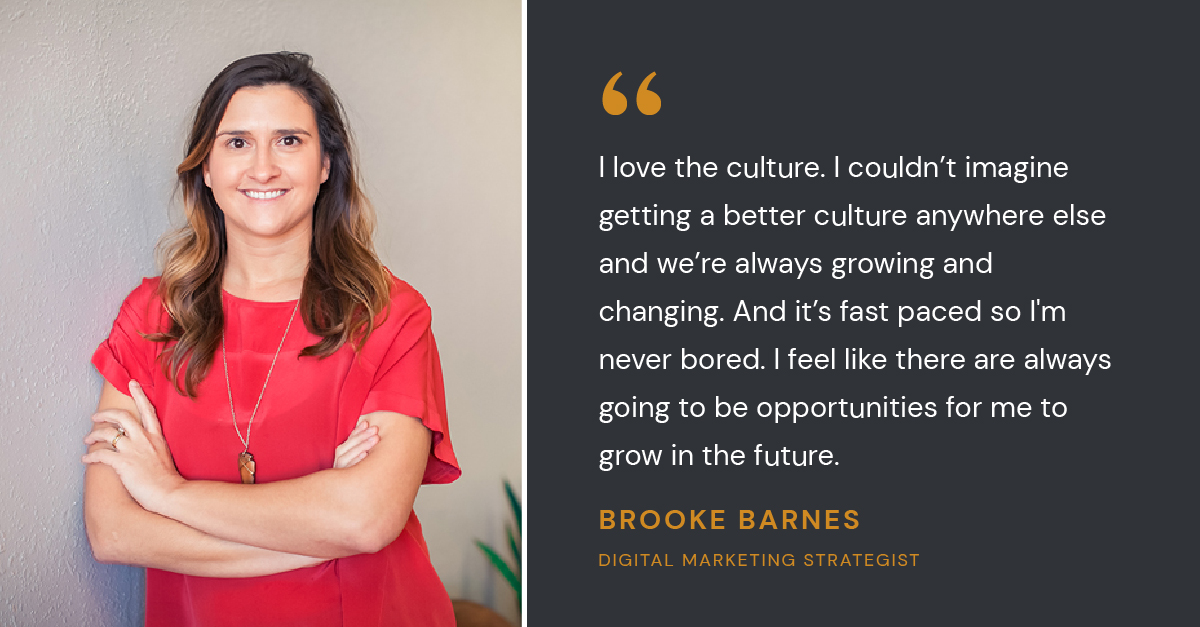 Name: Brooke Barnes
Position: Digital Marketing Strategist
Job Description:
As the Digital Marketing Strategist, I work with our teams of copywriters and graphic designers to execute and measure our clients' inbound marketing strategies.
Location: Fort Walton Beach, Florida
Background:
My love for creating content began in high school where I took my first journalism class and went on to become to editor-in-chief of the student paper. I found that writing and telling stories came naturally to me. In college, I set out to explore my love for all things current events, foreign policy, travel and culture. After many lengthy papers and presentations, a summer abroad, and a quick victory lap (5th year), I graduated from Texas State University in 2009 with a degree in international relations.
After graduation, I took a job with an oil and gas start up in Houston, Texas. (Not the most relevant career choice, but #hellostudentloans.) I started as an assistant to the VP of Sales and realized the company's need for an internal marketing team. I was able to play an integral role in developing the marketing department and strategy while the company doubled in size over the next few years.
How have you grown since your previous jobs?
I've been incredibly lucky to have great mentors at nearly every step in my career. These colleagues helped me to learn how a great marketing strategy can propel a business forward. I also learned early that I have a knack for learning about new industries quickly, understanding what different companies do, and being able to translate that into a great story.
Tell us how you started at Primitive.
After receiving my Inbound Marketing Certification from HubSpot, I started to look for a new role with a marketing agency. I found Primitive and followed the company on social media for about a year before I saw an open position as a copy architect. As soon as I saw the post, I hit pause on everything I was doing and applied right away. A few days later, I got a phone interview with Heather Parker and shortly after that I traveled to Lubbock to meet with Kade and a few other members of the inbound team.
What do you like about your role?
I love our culture of teamwork. I get the opportunity to work with a few different mini-teams inside of the larger inbound team. Whether it's a group of client allies or copywriters, or just a 1-on-1 with our team director, John, I love that we all brainstorms ideas and strategize together to deliver great work to our clients.
You actually work remote. Is this your first remote job?
It's not. In 2014, I married my husband Clayton, a pilot in the Air Force, which meant I had to pack up and leave Houston for a new life in Clovis, New Mexico. At first, I kept my job and transitioned to a remote role. I quickly learned that remote work is easier said than done. It takes a commitment from both the employee and the employer.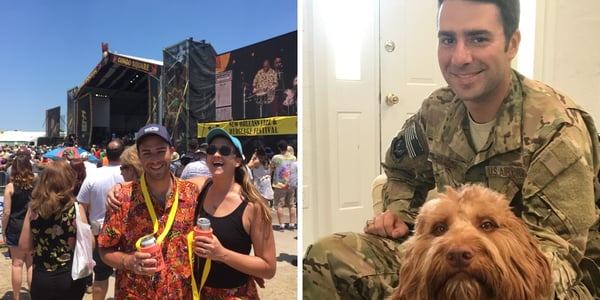 What are the benefits of working remote?
For me, the best benefit is that I'm building a portable career for myself. As a military spouse, my family moves around every 3-4 years. Since I started working with Primitive, we have moved from New Mexico to Florida and nothing changed for me career-wise.
Are there other benefits of working remote?
Oh, for sure. I'm an early bird so I love that I can wake up in the morning and get some work done before I even get dressed for the day. I don't have a commute and I'm also able to be home for deliveries - I am all about that Amazon Prime life. We also have a young golden-doodle at home and he really appreciates having me as a stay at home dog mom.
How do you stay focused outside of an office environment?
The most important thing for me is to have a dedicated office space in our home. I've created an office space that is comfortable for me and has a door that I can close to prevent me from getting distracted by housework. My husband's flying schedule can be a little unpredictable; there are days when he is home all day while I am here working. Having the door as a physical boundary that lets him know I'm working on or the phone is a big help.
I'd say having a routine is also helpful for me. My morning workouts help me get focused and in the zone before the workday begins.
Had you heard of inbound marketing before this role?
Indeed. I completed my HubSpot inbound marketing certification about a year and a half before I started working with Primitive.
What are some of your favorite projects you've worked on?
One of my all time favorite client projects is the work we are doing with the Texas Peanut Producers Board. They asked Primitive to help them tell consumers how Texas Peanuts are different and the benefits of adding them to a diet. When you think about marketing campaigns for nuts, it's easy to point to trendy campaigns like pistachios or almonds. We set out to change the way people use peanuts in the kitchen; to transform them from the "grandma nut" to something that people are excited about. That work has been a lot of fun.
What you do like about the culture of Primitive?
Everyone at Primitive is genuinely friendly. We have big team meetings in Lubbock once a year and I love it because you get to meet the people behind the video calls and funny Slack conversations. Everyone leads really interesting lives outside of work. It's fun to learn more about everyone and see how those outside interests influence the work we all do as a team.
Why are you committed to Primitive?
I love the culture. I couldn't imagine getting a better culture anywhere else and we're always growing and changing. And it's fast paced so I'm never bored. I feel like there are always going to be opportunities for me to grow in the future.
Anything you're excited about in Primitive's future?
I am looking forward to more growth as a company, even beyond Lubbock, which we've done a lot of in the last year. The opportunity to teach more clients about the benefits of inbound marketing and help them reach more people to grow their business excites me.
Okay, now let's talk more about you. Since you live by the beach, do you go there a lot?
Oh, definitely. I have my morning coffee at the beach once a week.
What's your daily routine?
I typically wake up at 5 a.m. each morning. Most days, I go to the gym first thing to take a spin class or meet up with a friend, if I'm not at the beach of course! I like to be at my desk and get started by 7 a.m., because I do my best writing and brainstorming from 7 to 11. Then I take a lunch break and come back to finish out the afternoon. After work, I take the dog for a walk and then he "helps" me water the outdoor plants. When my husband Clayton is deployed, I'm pretty boring. I'll cook dinner, have a glass of wine, and watch television. When he is home, we love to go to happy hour or find a place to listen to live music.
What's your favorite kind of music?
My favorite kind of music would have to be Folk or Americana. I really enjoy singer/songwriter types. My husband recently returned from a deployment and we were both listening to a lot of Jason Isbell while he was away. We went to see him in concert a few months ago and it was awesome.
Do you have any favorite TV or Netflix shows?
It's so embarrassing but I like Bravo - just about any of the Real Housewives franchises. They are ridiculous, but for me it's mindless entertainment.
What about favorite foods?
Recently, I found a recipe for fried rice that uses cauliflower and that has become a staple. If I'm being really bad, my favorite thing to make is lasagna. It's my go-to for friends who have recently had a baby. I make up a batch for them to put in the freezer. The recipe is huge, so I usually keep half for myself.
What do you like to do outside of the office?
We enjoy live music, we have a bucket list of music festivals that we are working our way through and in the meantime we also started hosting concerts in our home. We invite musicians who are traveling to stay for a night and play a show in our living room. It has been a lot of fun! It works out well for them as a stopover on a tour because it gives them a free place to stay and an engaged audience. We ask our friends and neighbors to contribute a donation, so the artists pick up some cash, too. We love getting to meet them and learn more about their music and their life. We call it "Dome Home House Concerts" because we live in a geodesic dome home.
How do you balance work and personal life?
I try to be a stickler about my schedule. I keep work hours for work and try not to get distracted by house chores. I like to start work early, but I make sure to cut it off by five so that I can enjoy downtime on evenings and weekends.
What is something not everyone knows about you?
One thing I mentioned earlier is that I live in a geodesic dome home. The other is that I co-founded and still own a coworking space in Clovis, New Mexico. When I first moved out to Clovis, I was working from home and I didn't know many people yet. I wanted to created a place to go that was dedicated to work, but would also help me meet new people. Wifi and coffee were also on the list of must-haves, but a coffee shop didn't always work.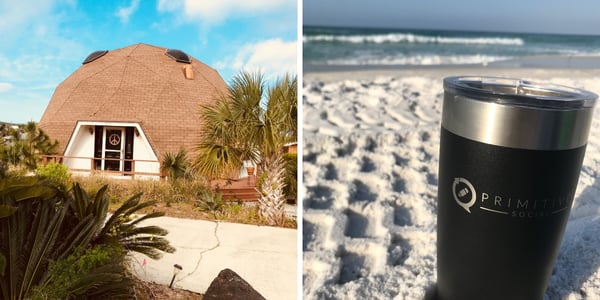 I met a friend who felt the same way as me and we decided to go for it. Many of our friends were also military spouses who had remote jobs and also felt lonely while working at home, so it's been a success. Both of us are in Florida now, but the coworking space is still going strong.
Who do you admire?
I truly admire my mom - both personally and professionally. As a single mom, she has always been hard worker and is a great role model. She is probably the reason I am such a hard worker.
She also introduced me to another professional role model - Sheryl Sandberg. My mom gave me her book, Lean In, a few years after college and it was a huge influence on me at that time in my life. It's a great book about leaning into your career as a woman and I believe everyone should read it.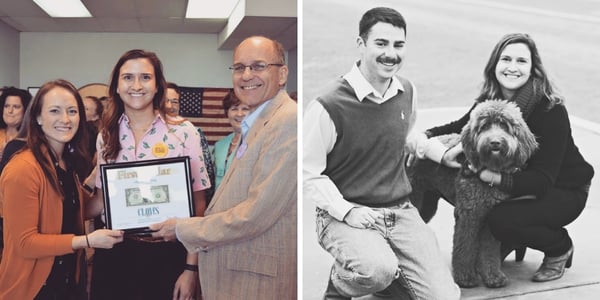 How do you stay motivated?
Number one: exercise. Also, reading professional development blogs and books, like Lean In. Anything career-focused or about the marketing industry can help reinvigorate my passion and prevent burnout.
What is your secret to success?
For me, it comes down to determination and hard work.
I didn't study marketing in college, and once I decided to pursue this career, I knew I had to prove myself. Over the years, that pressure has fueled my determination and hard work to get me where I am today.